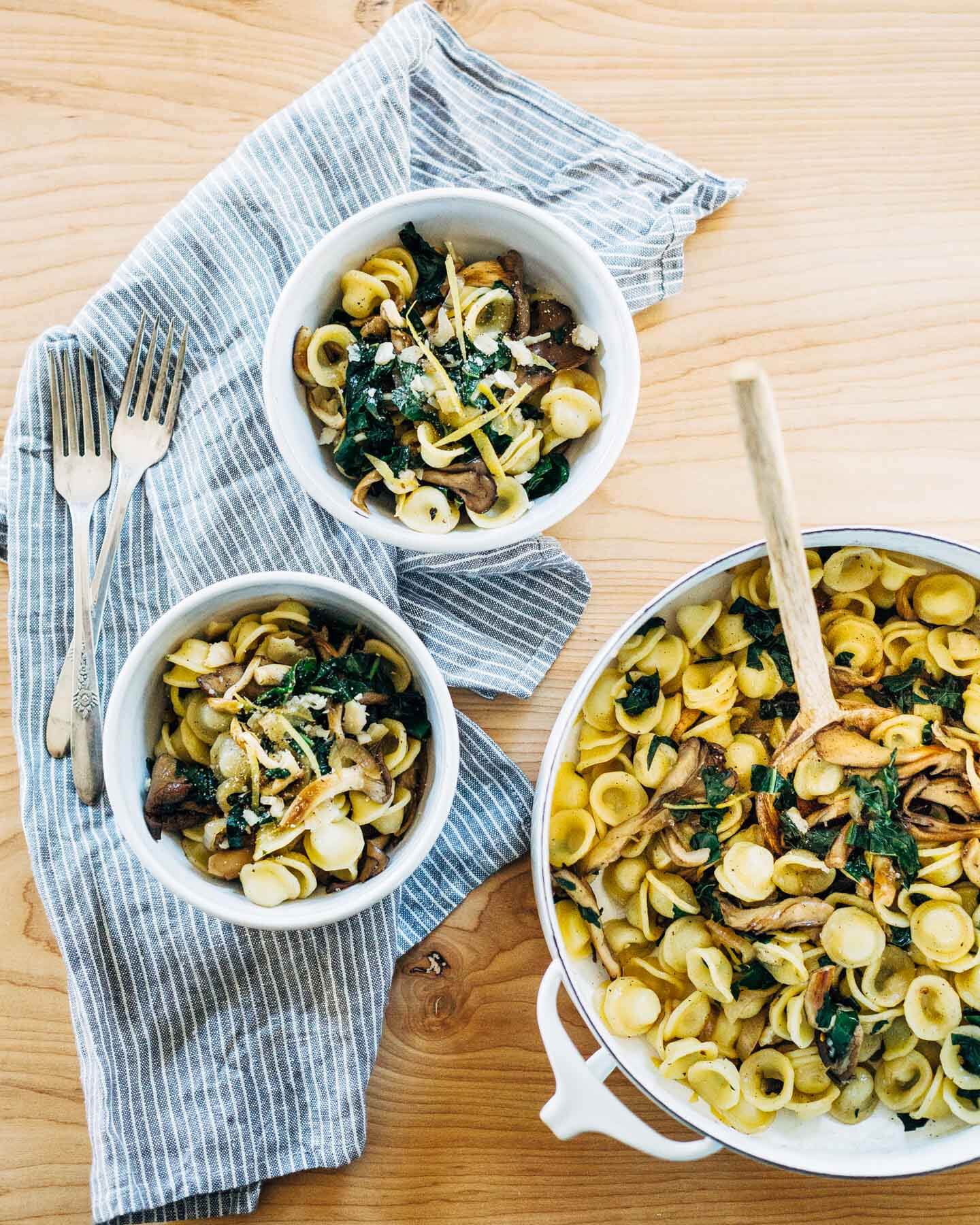 Ushering in the new year with brown butter mushroom orecchiette, a rich, yet simple, weeknight pasta recipe.
Sorting out my professional life and how and when it connects to my personal life continues to be a work in progress. So in these first few days of 2017, I've been thinking about goals and next steps. My hope for the coming year is to make more time for experimentation, artistic discovery, and growth, and to continue connecting with this community and you guys (Hi! I like you very much.), while also prioritizing life beyond the screen.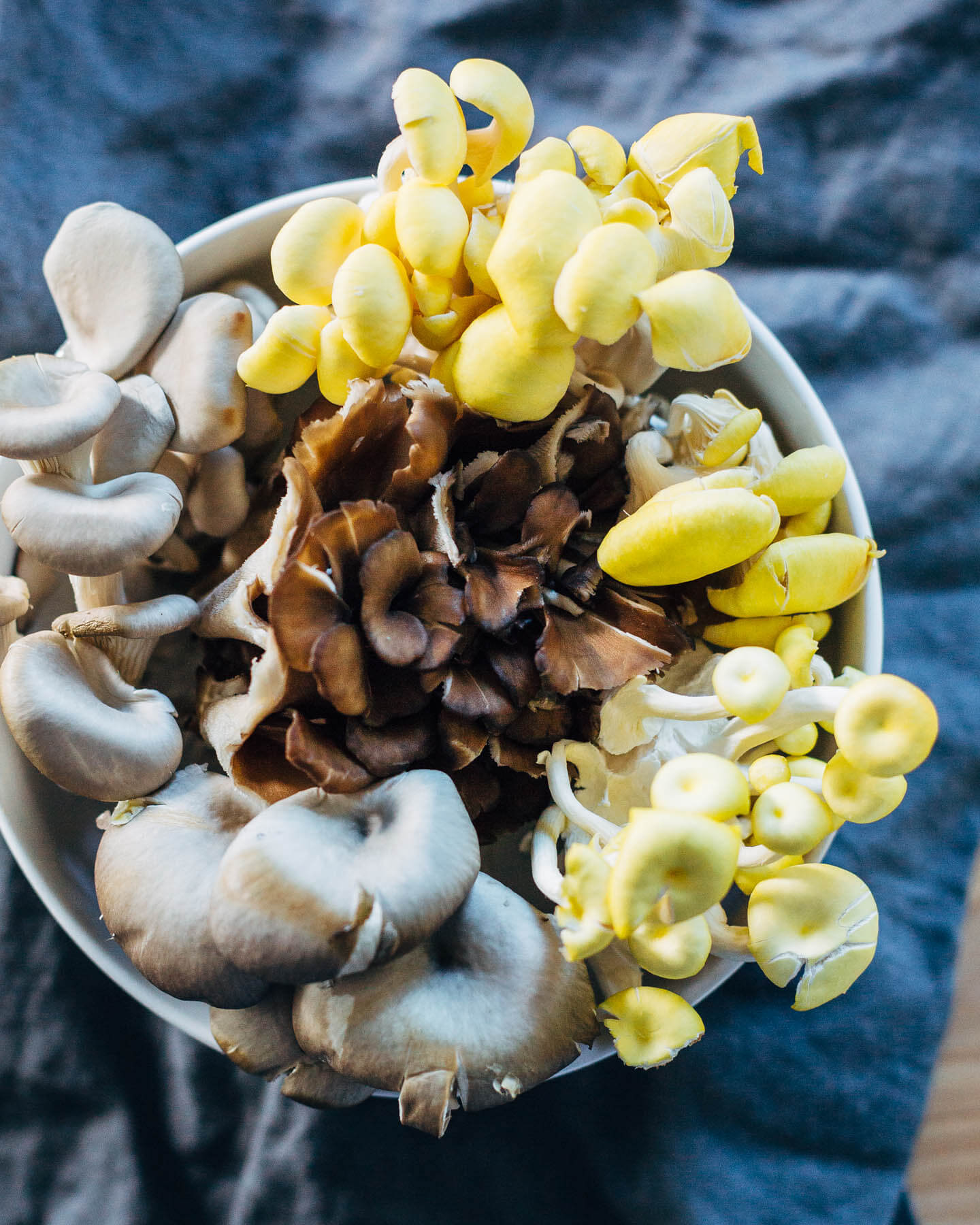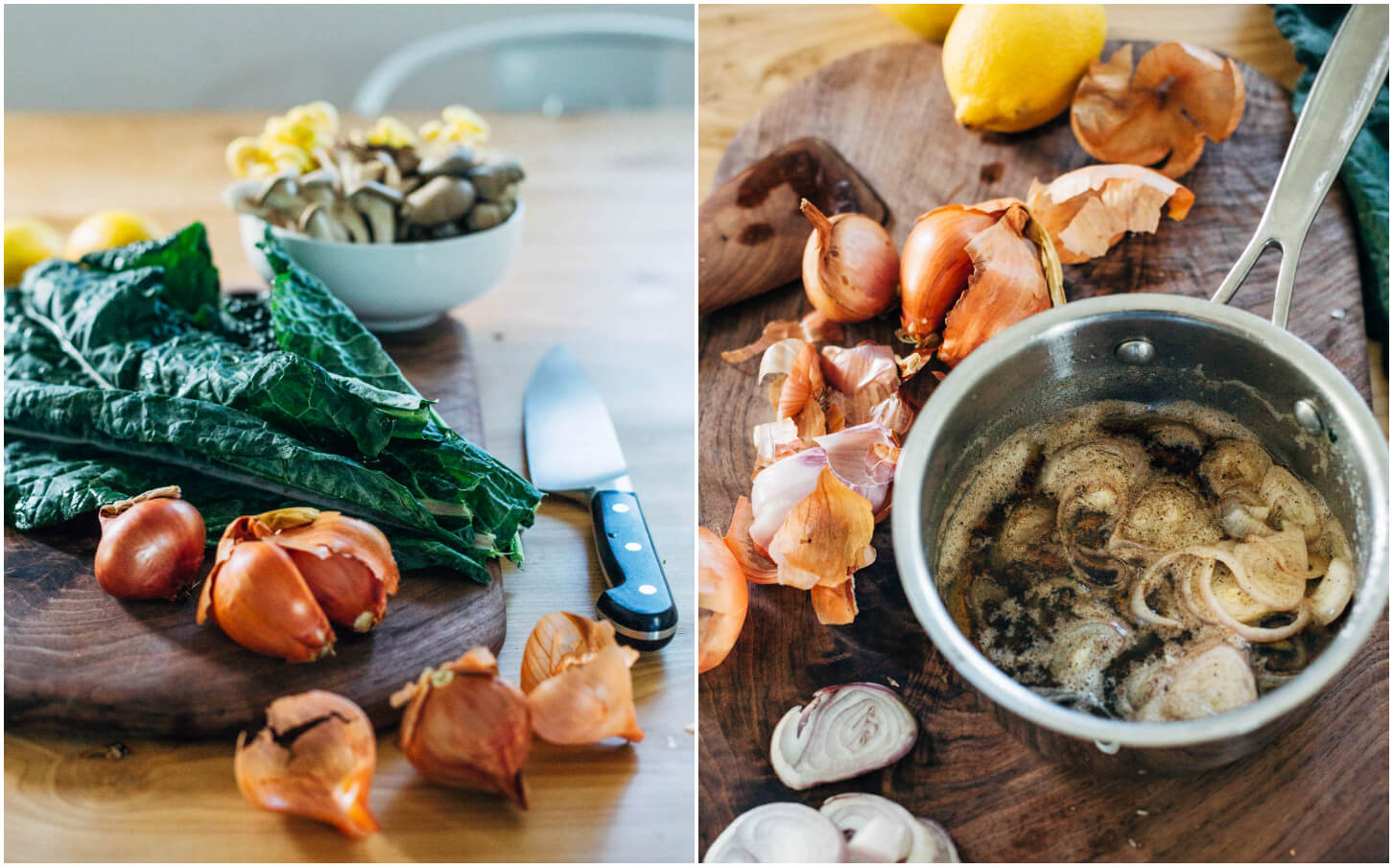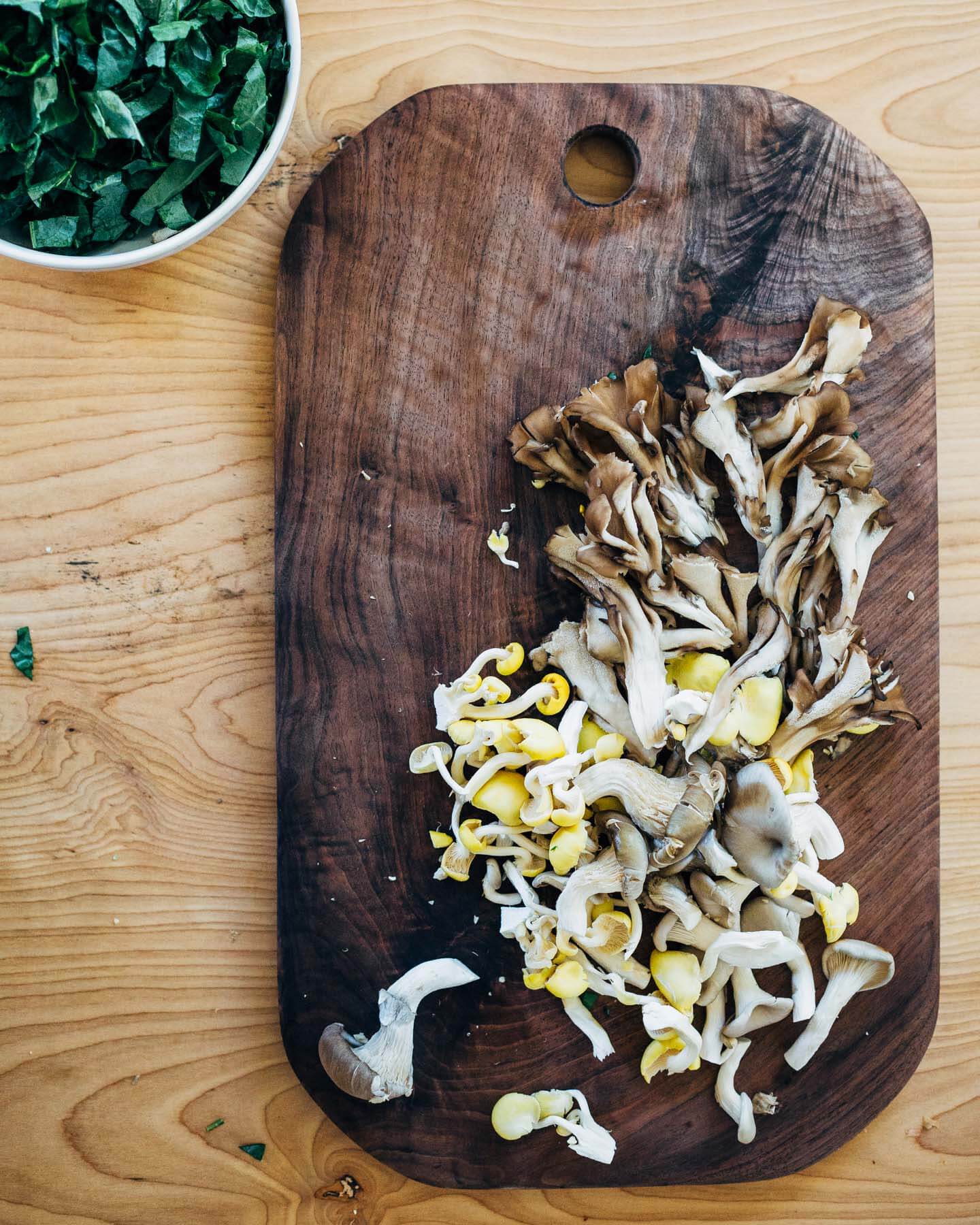 After taking some time off from work and social media in December, I stepped back into the kitchen and tackled a problem I love – making a simple, seasonal weeknight meal with memorable flavors. Enter brown butter mushroom orecchiette.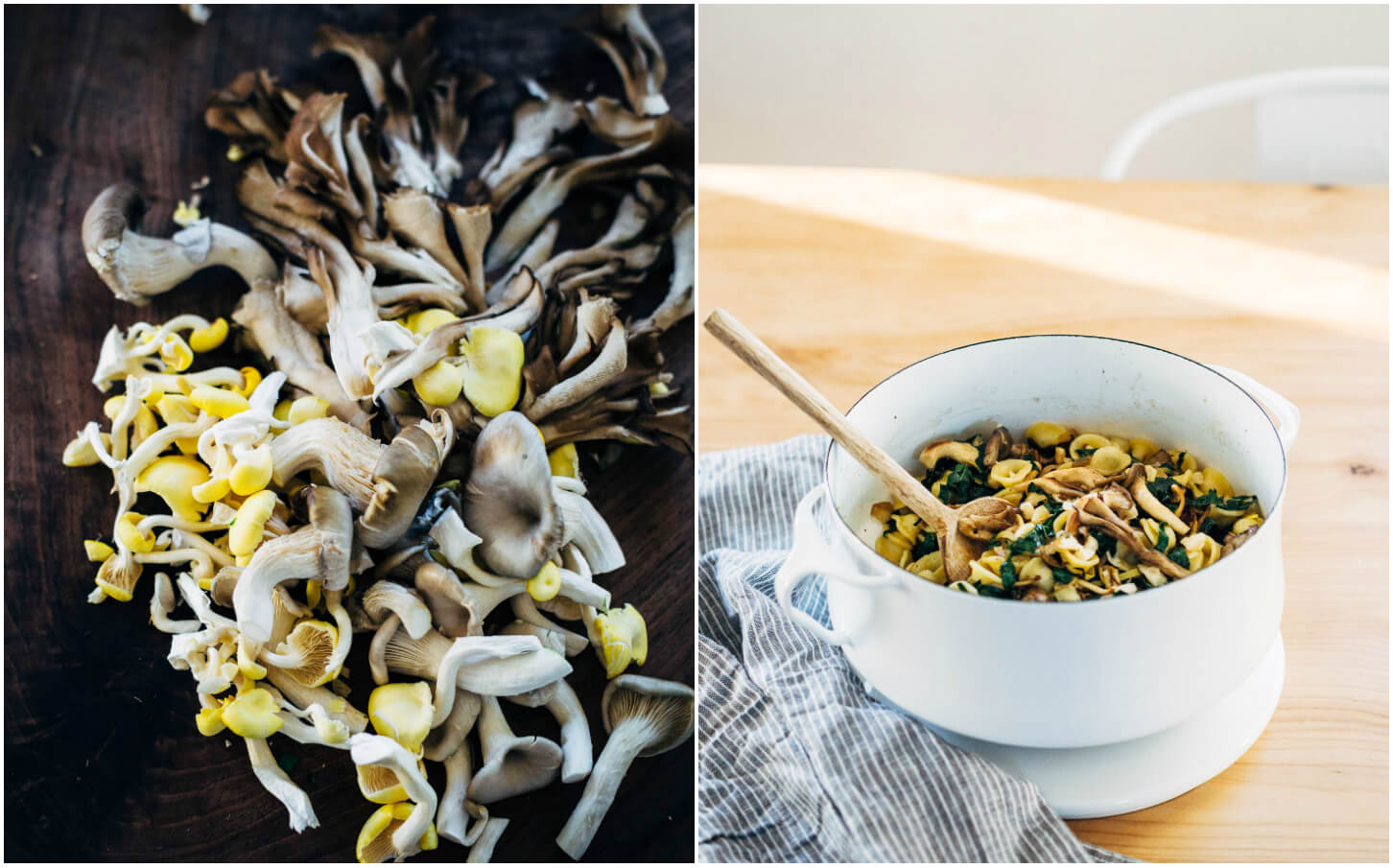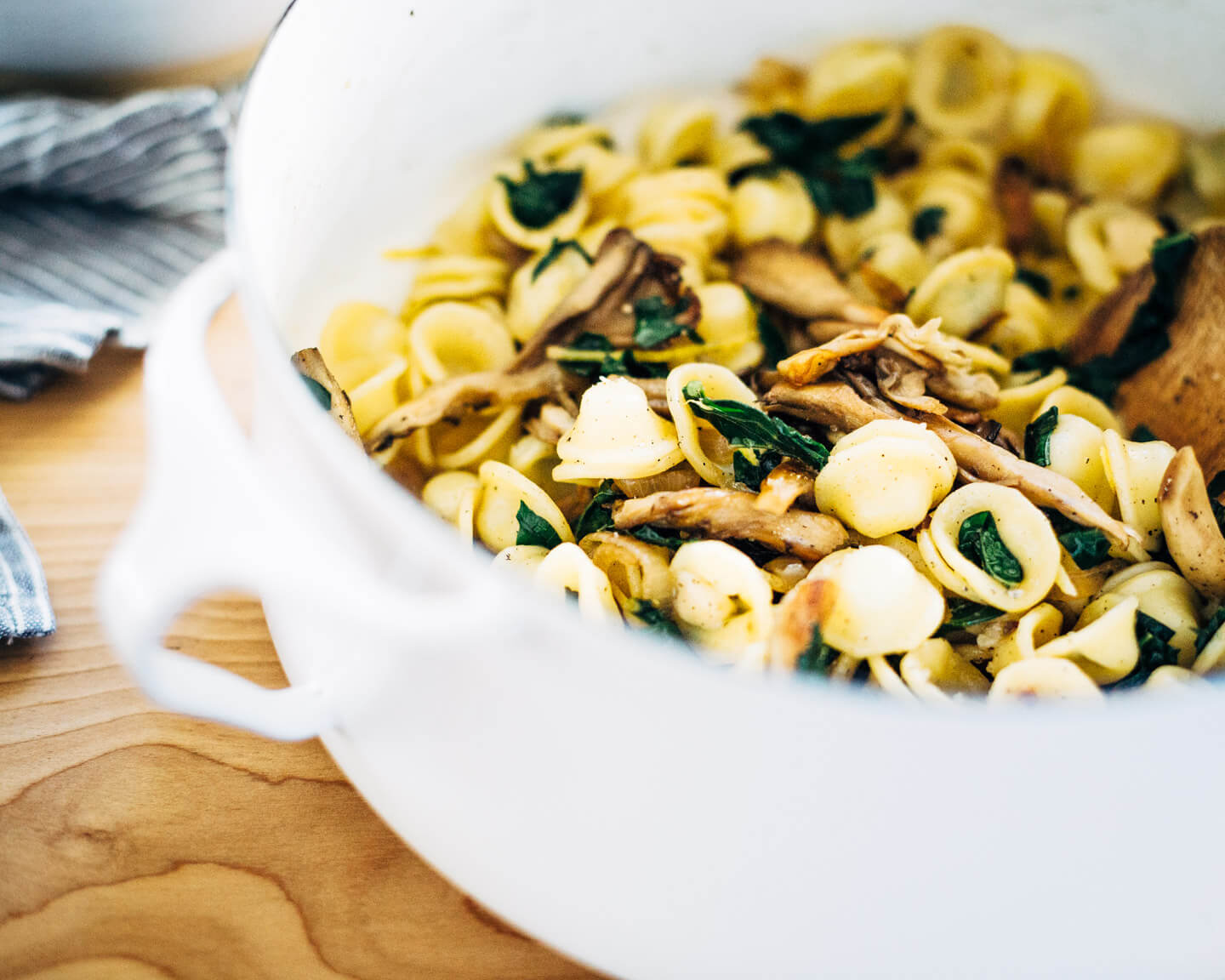 This hen of the woods and oyster mushroom orecchiette is a simple entree that makes the most of pantry staples and one of the few local ingredients kicking around in January, mushrooms. The dish starts with shallots caramelized in brown butter until they almost melt away. Later, wood ear and oyster mushrooms are carefully sautéed in brown butter, and then tossed with kale, lemon zest, and white wine. The brown butter wine sauce soaks into the orecchiette while the mushrooms are simultaneously lemony and earthy (aka delicious mushroom perfection). It's all topped with a lot of pepper, a little flaky sea salt, and Asiago crumbles.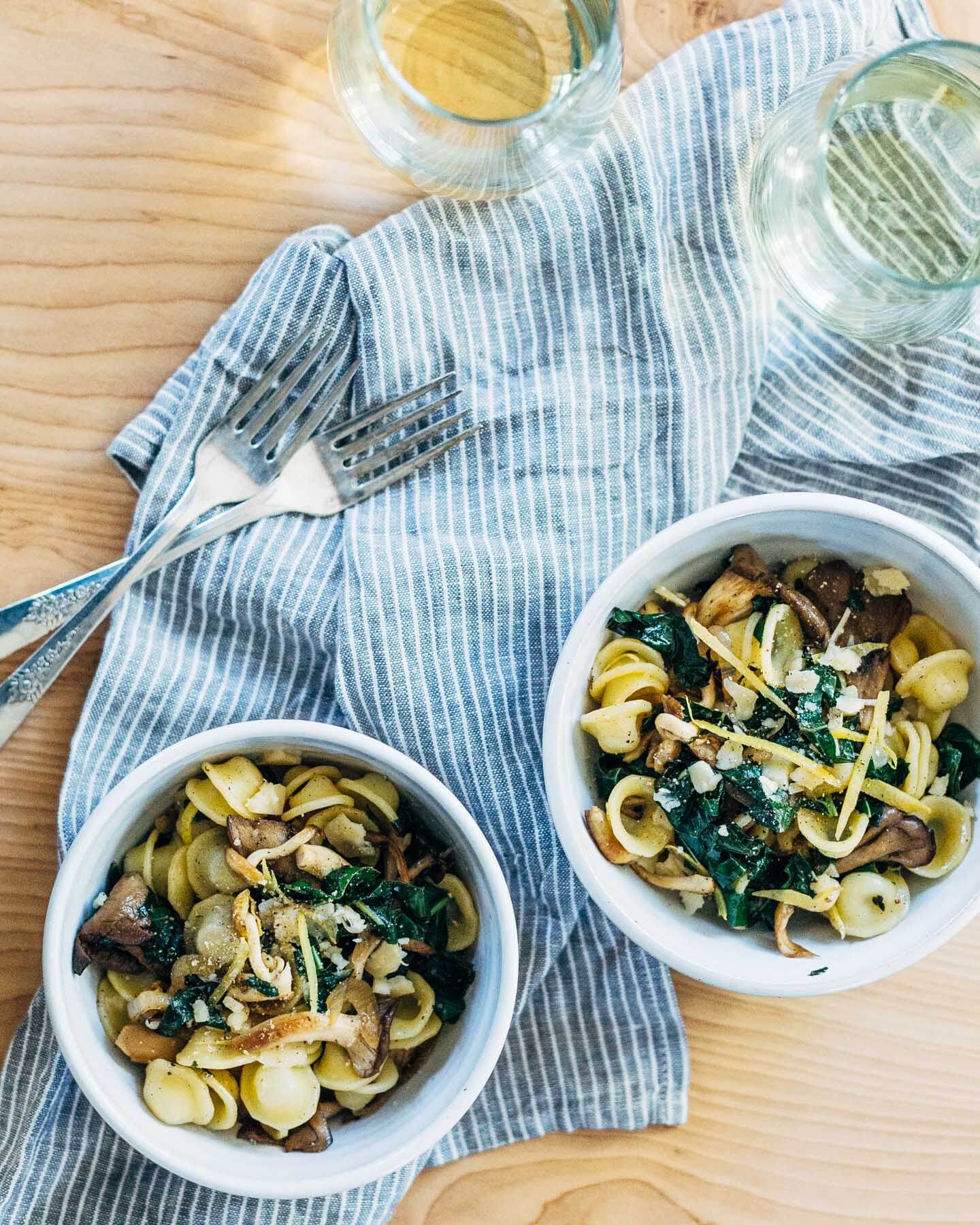 I like this dish best for those nights when you need a fantastic weeknight dinner, but I the flavors are good enough for a laid back dinner party too. Happy January, my friends.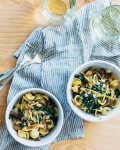 Brown Butter Mushroom Orecchiette
Brown butter mushroom orecchiette is a rich, yet simple, weeknight pasta recipe.
Ingredients
6

tablespoons

butter

2

inch

medium shallots,

sliced into 1/4- thick rounds

sea salt

red pepper flakes

8

ounces

hen of the woods and oyster mushrooms

or other flavorful mushrooms
1 lemon

4 - 6

leaves

lacinato kale,

stems removed and chopped

1/4

cup

dry white wine

freshly ground white or black pepper

1/4

cup

crumbled Asiago

10 - 12

ounces

orecchiette
Instructions
To prep mushrooms, wipe clean with a paper towel, and chop off the woody base. Break or chop into 1-inch clusters.

Peel 4 3-inch strips of lemon zest, then cut into very thin strips. Reserve lemon for juice.

In a small to medium saucepan, melt butter oven medium-high heat. Butter will melt, bubble up, then die down and start to edge golden after about 5 minutes. Keep a close eye – once butter begins to darken, it can burn quickly. Swirl butter until brown flecks appear on the bottom and the butter itself is a warm brown hue. Remove saucepan from heat, add sliced shallots (butter will bubble up a bit) and a generous pinch sea salt; set mixture over very low heat to caramelize while you prep the rest of the dish, about 20 minutes. Stir occasionally. Meanwhile, make pasta and sauté mushrooms.

Bring a big pot of water to a boil, add a few big pinches sea salt, and cook orecchiette to al dente. Drain, then set aside.

Set a medium-sized skillet over medium-high heat. Add a tablespoon of brown butter from the saucepan, and toss in half the mushrooms and a pinch sea salt. Let mushrooms develop a nice sear before turning, about 3 minutes a side. Mushrooms should be cooked but still pretty firm. Remove to a large bowl and repeat steps for the second batch, removing cooked mushrooms to the same bowl. With skillet still over medium-high heat, add white wine. When sizzling dies down after a minute or two, fold mushrooms back in, and add kale, lemon zest, and red pepper flakes. Fold in brown butter and shallots. Taste, and add sea salt, pepper, or lemon juice as needed. Remove from heat.

Fold mushroom mixture in with orecchiette. Season again with sea salt and pepper, and a squeeze of lemon. Top with Asiago crumbles. Set pot on the table, pour a few glasses of wine, and get to it.