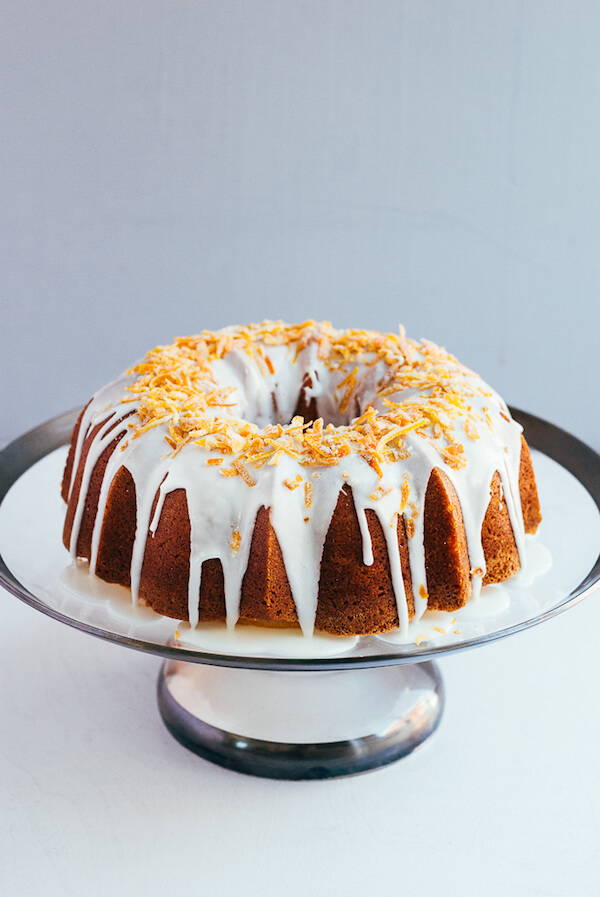 March has me feeling a little overwhelmed –– between colds, sick days, gentler weather, the time change (What is up with that? It's been brutal this year.), and too much work, I'm feeling the crunch. But, for now anyway, things are calmer and I'm ready to head into a restorative week.
I made this pound cake a few weeks ago, when spring still felt a little iffy. But now, as the sun shines and pretty blossoms start to dot the landscape, it feels like a good fit for the times –– bright, frosty, and a last hurrah for citrus season. Head over to Handmade Charlotte for the recipe.
On Food52, another kind of in-beween dish, but this time a marinated beet salad with a garlic confit dressing. Balanced, earthy flavors are a good way to bide our time until the first of the spring produce rolls in.
I also made a tray of shepherd's pie twice-baked potatoes. This dish may seem gimmicky at first blush, but then I hope you'll realize that all you've ever wanted in a meal is mess of vegetables and lamb tucked into a potato and smothered with buttery mashed potatoes. Get the recipe on Babble.
The past few weeks have seen a lot of chatter and debate in the food and media worlds surrounding Food 52's Piglet. I don't fully take anyone's side on this, but am so glad we're having the discussion. Tied up in the whole thing are big topics, like what it means when us bloggers share an idyllic form of our lives online, and when a person is also a brand –– what's the line between criticizing their work and just criticizing them? Helen Rosner wrote a great piece on Eater suggesting that it's all artifice –– whether you're living the rustic ideal in a French chateau or using a rock aesthetic to lend highbrow desserts an aura of cool. On Design*Sponge, Grace Bonney wrote eloquently on the difficulty in pinpointing the sweet spot between inspiring and ostentatious. There's so much good stuff to unpack here, touching on everything from diversity in food media, to the purpose of cookbooks, to the fundamentals of what and how we share our lives online.
For me, this debate has really crystallized how unequipped we are to tackle issues of class. Because there's been a lot of thoughtful commentary about sexism throughout this debate, but class is a central issue and it's hardly been mentioned at all. Perhaps it's asking a lot of food bloggers to have a sophisticated economic analysis ready to go when a cookbook controversy crops up. Readers come to us for pretty salads, not our take on Piketty. Still, if we're going to engage with larger topics that intrude upon the world of food and cooking, we'd be better off really grappling with tough issues (like food blogging's place in a performative culture that allows good aesthetics to stand in for good actions) instead of easy positions that we know will get us retweets (sexism=bad). It's a tough thing to do artfully, I'll admit, but it's something we're hoping to do a better job of on Brooklyn Supper in the future.