Things recently, and a substantial, spring-inspired fennel, radish, and asparagus salad with creamy buttermilk-lime dressing and steamed hard-boiled eggs.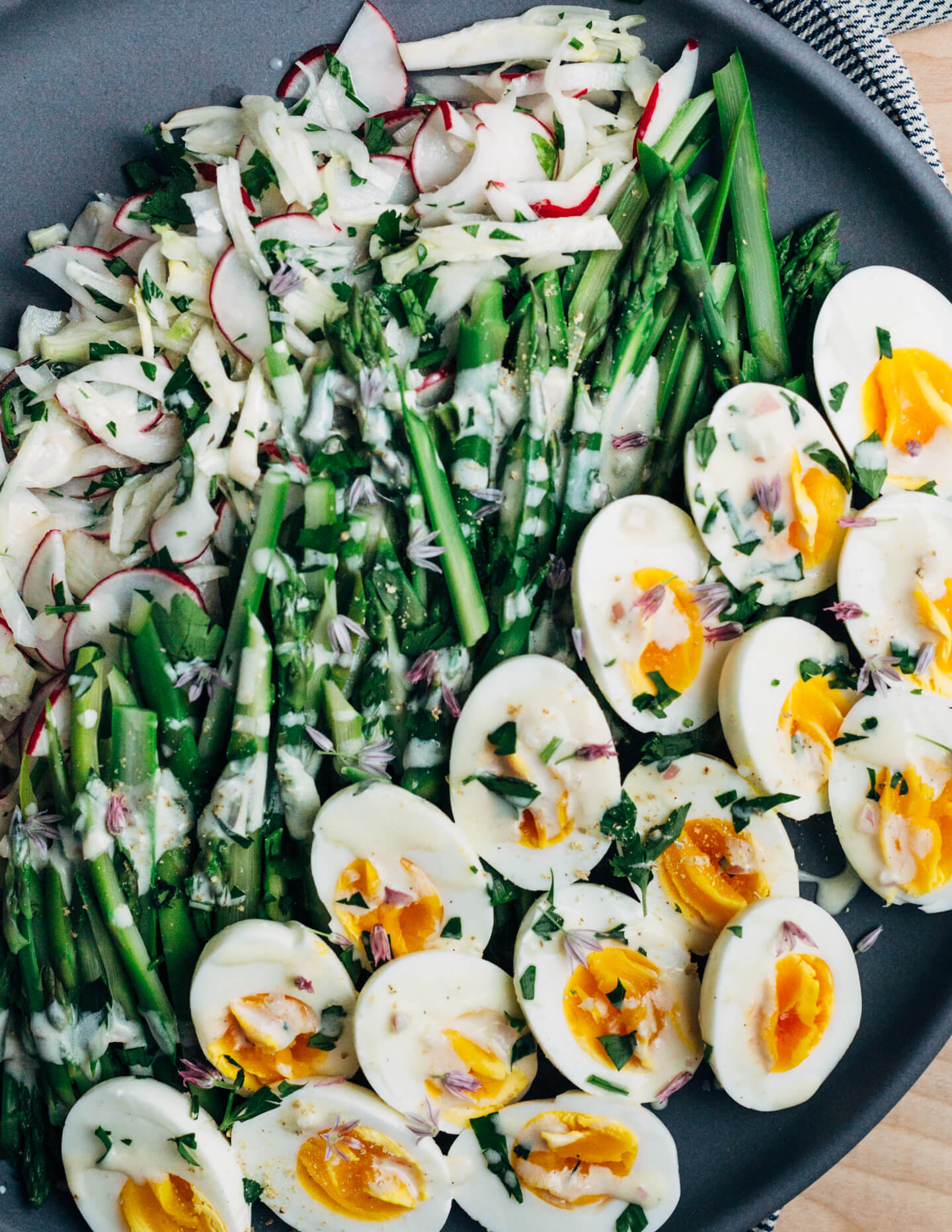 April was a difficult month. You may have noticed that things have been quieter here lately and posts are landing on Thursday or Friday instead of Tuesday at noon and that's why. On the first, my mom gave us a scare and needed to be hospitalized (thankfully, she's much better now). Later, a beloved family member died unexpectedly, leaving us to mourn a great, kind man. And even beyond that, we find ourselves holding our breath as a dear friend and other loved ones face down serious health concerns. These stories aren't mine to tell; even so, they're a part of our world.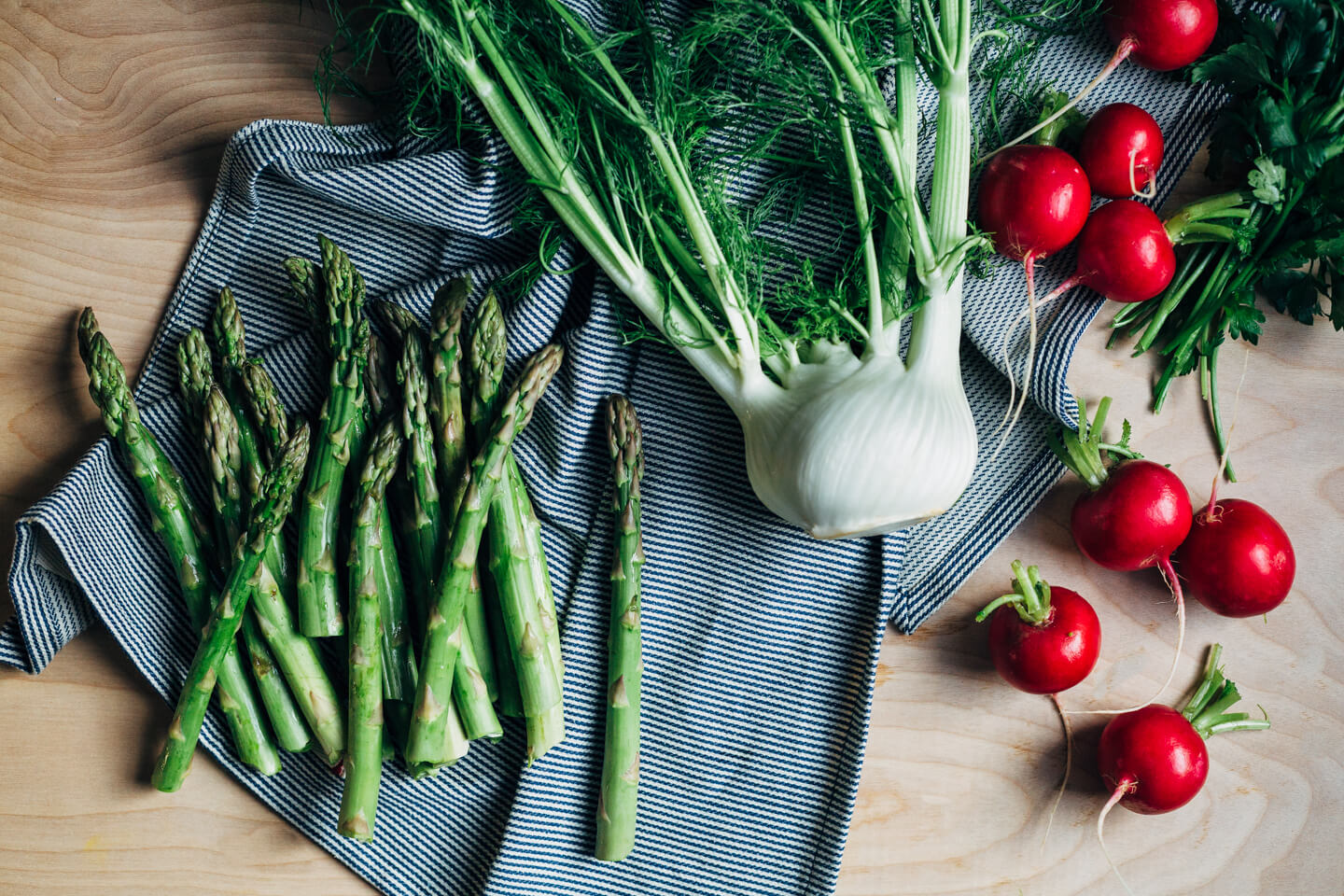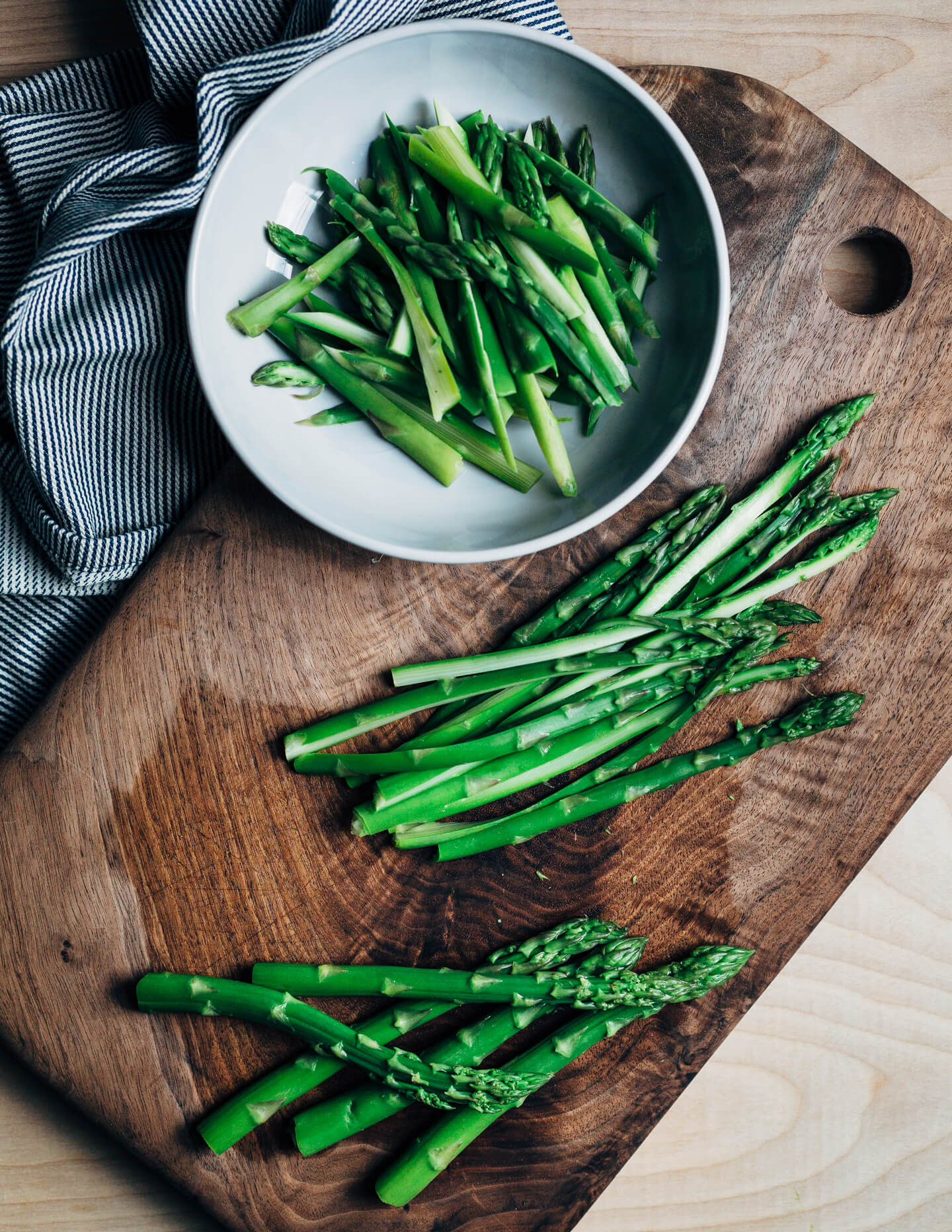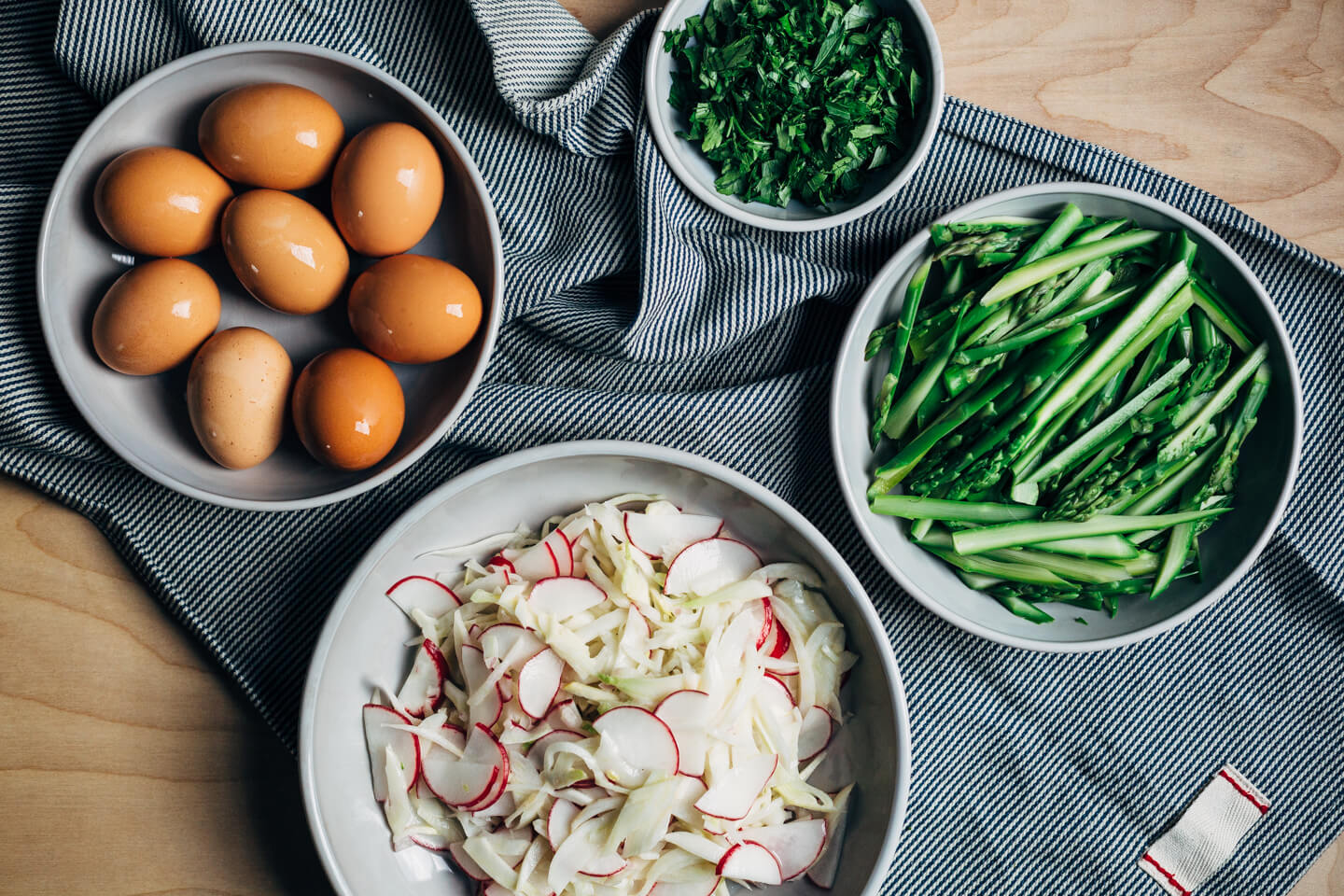 Sometimes, change comes quickly and I'm entering May feeling like a different person.
In these moments, I try to be better. I try to say yes to the girls more. To hold them closer, longer. Daily stressors fade instantly – missing socks and sibling squabbles become (almost) a joy to handle, highlighting how lucky we are to be here and well and together in any circumstance. It only takes an instant to be shaken out of the day to day, suddenly holding fast to the bigger, most important things in life.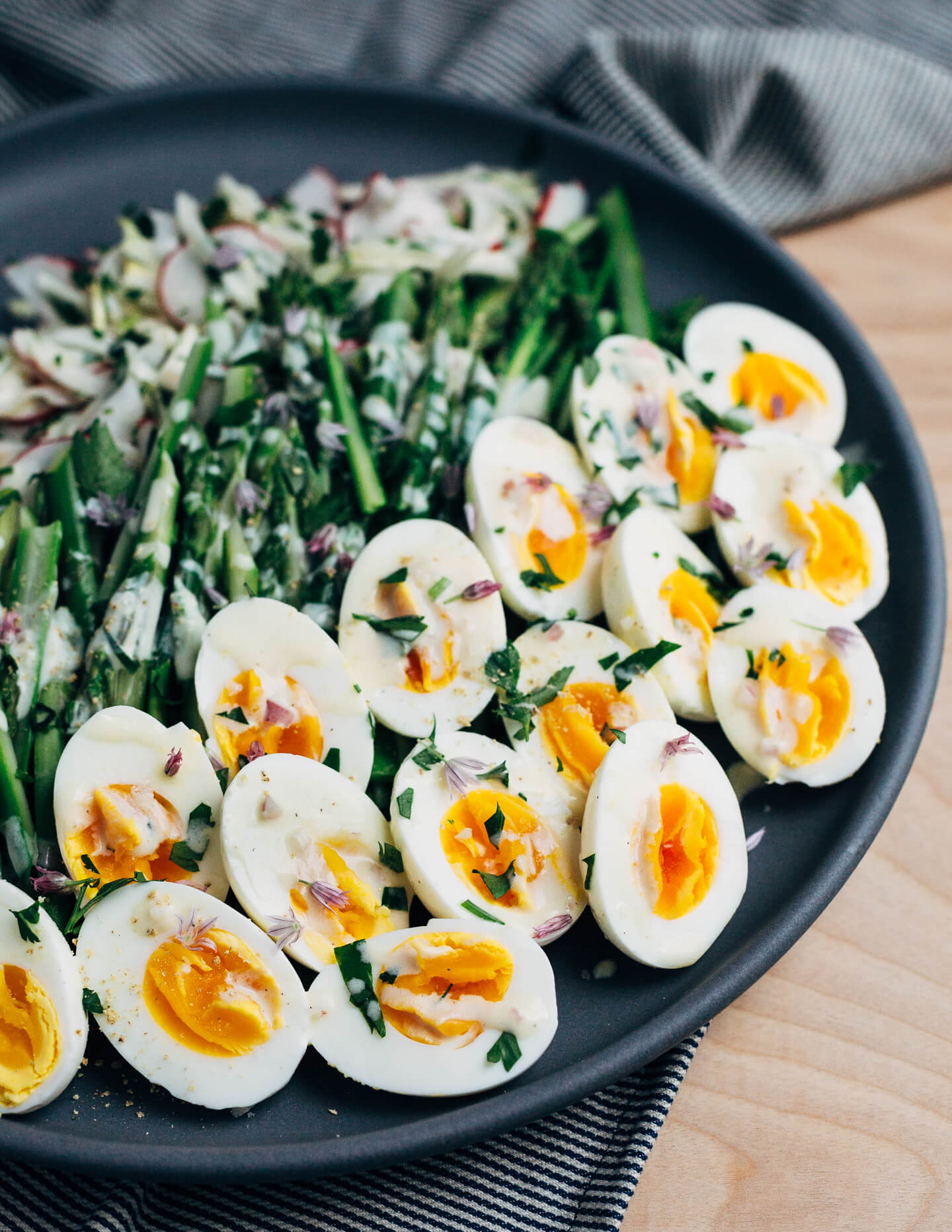 It's fitting that my periodic reckoning with mortality and the fleeting beauty of life comes just before Mother's Day. For many, it's a time to celebrate our mothers or our lives as mothers, while for others, the day shines a spotlight on mothers we've lost. However you spend the day, I hope it's with those you love.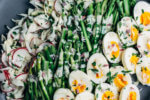 Fennel-Asparagus Salad with Buttermilk-Lime Dressing and Steamed Hard-Boiled Eggs
This fennel, radish, and asparagus salad is spring on a plate. Not only does it bring together a host of vibrant spring vegetables, it highlights one of spring's best seasonal offerings, the egg. Steamed (rather than hard-boiled), the eggs cook up with a silky golden yolk that contrasts beautifully with the layers of green asparagus and red-tipped radish slices. Finally, the asparagus salad is drizzled with a creamy buttermilk-lime dressing, made with hints of honey and mustard, the brings everything together.
Recently, I began steaming my hard-boiled eggs according to this method. For everyday eating, I like the yolks runny and cook them 6 - 7 minutes. Here, I was after a firm but not quite opaque yolk and cooked them for 9 minutes.
Prep shaved vegetables either very carefully with a mandoline slicer (I bought a protective glove for this and it's made mandoline work much simpler and safer) or with a very sharp knife.
Makes
:
4
generous servings
Ingredients
Salad
1

bulb fennel,

green fronds trimmed, cored, and thinly shaved

1/2

bunch radishes

(about 4 large), trimmed and thinly shaved

1/4

teaspoon

sea salt

1

pound

asparagus,

woody ends trimmed

8

eggs,

steamed 9 minutes, and immersed in an ice bath according to this recipe

1/4

cup

minced parsley,

divided

1

tablespoon

chive blossoms

(optional)
Dressing
2

tablespoons

minced shallot

1/4

teaspoon

sea salt plus more to taste

1

teaspoon

Dijon mustard

1

tablespoon

lime juice

1/4

cup

Greek yogurt

2

tablespoons

extra virgin olive oil

1/2

cup

buttermilk,

shaken
Instructions
In a medium bowl, toss fennel and radish slices with sea salt and set aside.

Fill a sink with water. Immerse asparagus and shake to dislodge any sand.

Next, prepare dressing. In a small bowl, combine shallot, sea salt, Dijon, and lime juice. In another bowl, whisk olive oil into Greek yogurt. Next, drizzle in buttermilk, whisking constantly. Finally, fold in shallot mixture. Taste and add sea salt as needed. Set in fridge to chill while you prepare salad.

Bring a large pot (preferably one that accommodates a steamer insert) filled with salted water to a boil. Blanch asparagus just until tender, about 1 minute. Remove from water and immerse in an ice bath. Wait 1 minute, then remove to a clean towel to drain. Cut the length of thick spears into quarters and small ones into halves, then cut lengths in half so you have 4-inch strips. Sprinkle with sea salt. Set aside.

Add 1- to 2-inches water to the same pot and bring to a boil. Arrange eggs in steamer insert and carefully lower into pot. Cover and cook 9 minutes. Remove from heat; plunge eggs into ice water. Allow eggs to cool completely in water, then peel under cold running water. Halve eggs.

To assemble salad, tip out any accumulated juices from the fennel and radish mixture. Toss with 3 tablespoons buttermilk dressing and half the minced parsley. In wide swathes, arrange fennel-radish mixture, asparagus, and halved eggs on a platter. Drizzle with buttermilk dressing. Finish with sea salt, fresh ground pepper, remaining minced parsley, and chive blossoms (if using). Serve immediately.
Recipe Notes
To make a day ahead, prep fennel-radish mixture, dressing, asparagus strips, and whole peeled eggs. Halve eggs and follow salad assembly instructions above just before serving.
SaveSave
SaveSave
SaveSave
SaveSave
SaveSave
SaveSave
SaveSave
SaveSave