A simple flourless chocolate cake recipe made with bittersweet chocolate, ginger, and sea salt, and dusted with powdered sugar.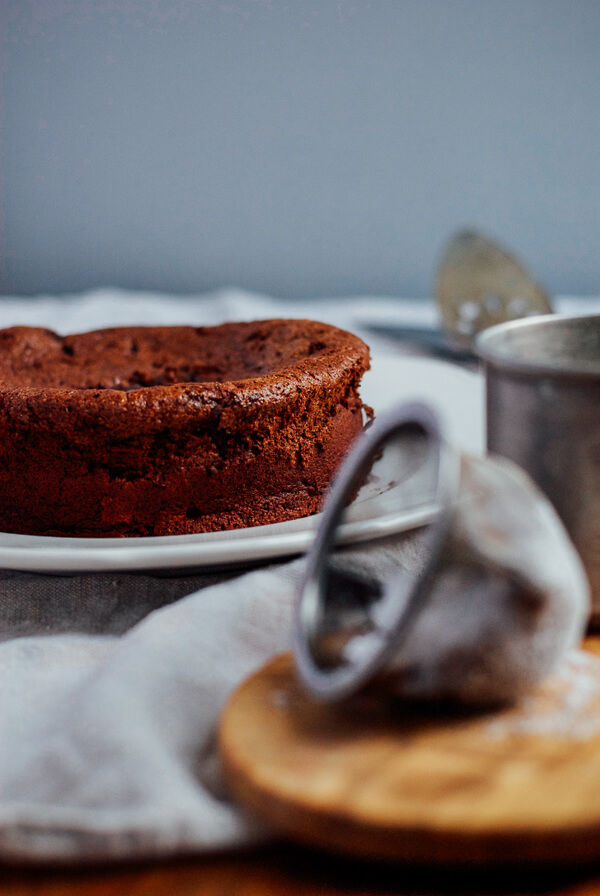 When you work for yourself, when a hobby turns into a job, it's tough to measure success. And, where the internet is concerned, it's nearly impossible.
My friend Kelly, the talented woman behind Design Crush, has an ongoing project to share a quote a day everyday this year. I must confess to kind of hating the typical quote sharing on the internet and can guarantee that I do not follow your inspiration board on Pinterest. (It's not you, it's me – if I never see the Keep Calm meme again it will be too soon.)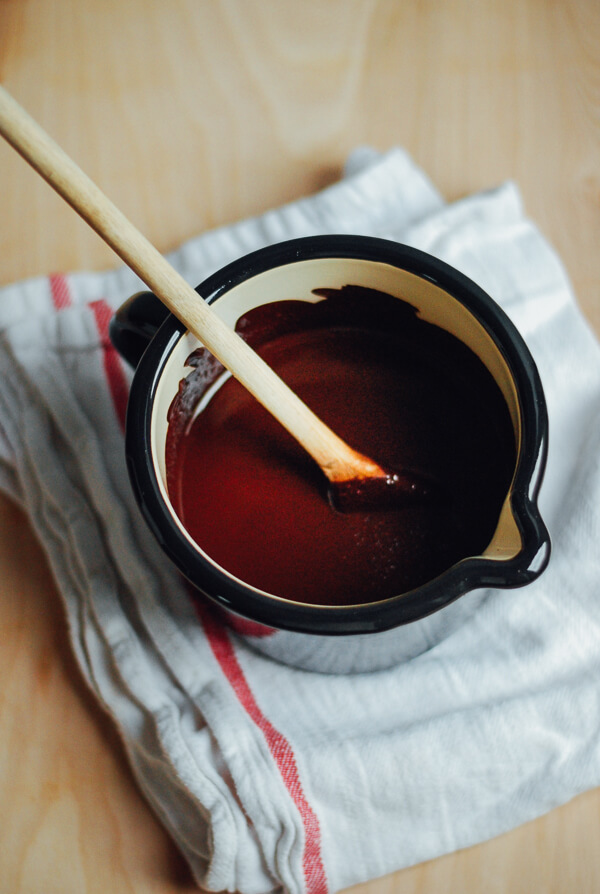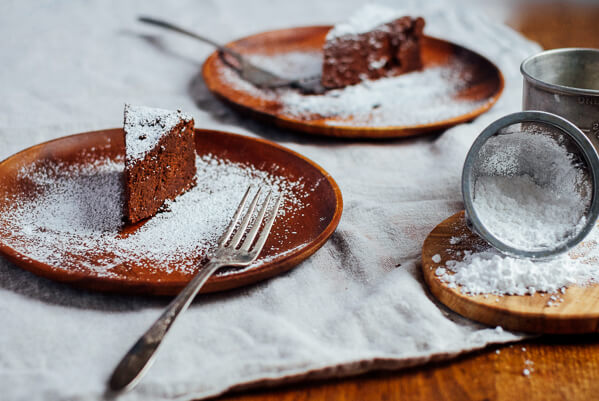 Kelly's quotes are different. They move beyond the fluff and hint at the best quiet, focused, or selfish bits of driven people. They reveal truths, minus the saccharine. And occasionally, the smart words she shares stop me in my tracks.
This quote from Bette Davis especially has stuck with me in the months since it popped up in my Instagram feed. I've often thought of success in this way, but never found a way to put it so succinctly.
My first inkling that success and happiness would be elusive was the day a professor was telling me how challenging the drudgery of life as a tenured professor of art could be. And you know, all jobs really have pitfalls and politics, but still, all I could think was, "You're complaining about the very thing I most want," and then this kiss of death, "and if I could just have that job, I'd be happy and wouldn't complain ever again." Uh, suuuuuuure.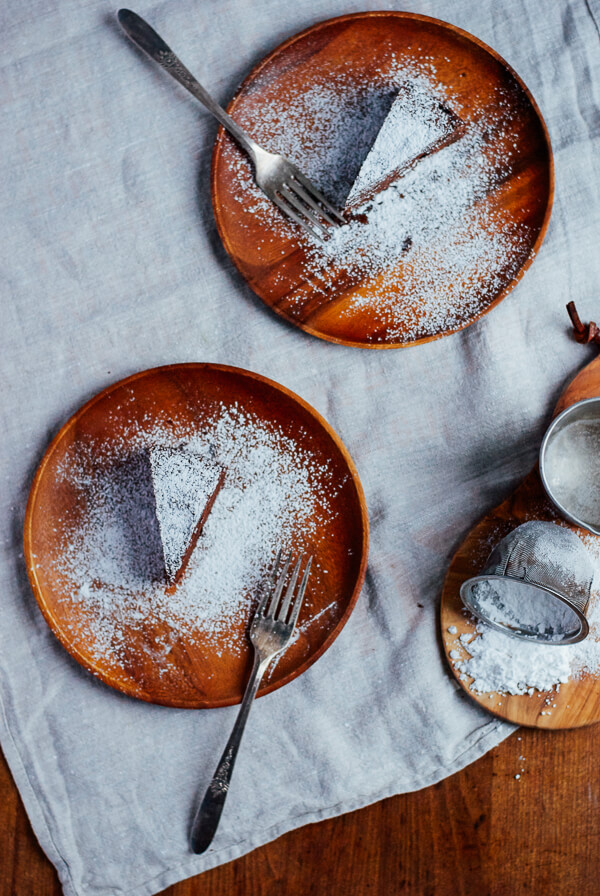 To reimagine our goals and refine our idea of success is an essential part of human nature. Lately, I've been focused really inward, trying to comb through all the changes and subtle shifts that have taken place. It can be hard to craft these ideas without the influence of what success looks like to the outside world, but really, our own version of success is the only kind that matters.
About the Cake
And then there's cake. Happily, I have not even a tiny doubt about what success in this arena looks like. In this case, we have a flourless chocolate cake all decked out for the holidays with fresh ginger and a sprinkle of sea salt. Just the slightest bit gooey in the center, with a fudgy, silky crumb. This beauty can be made ahead and refrigerated, and might even be better after a day.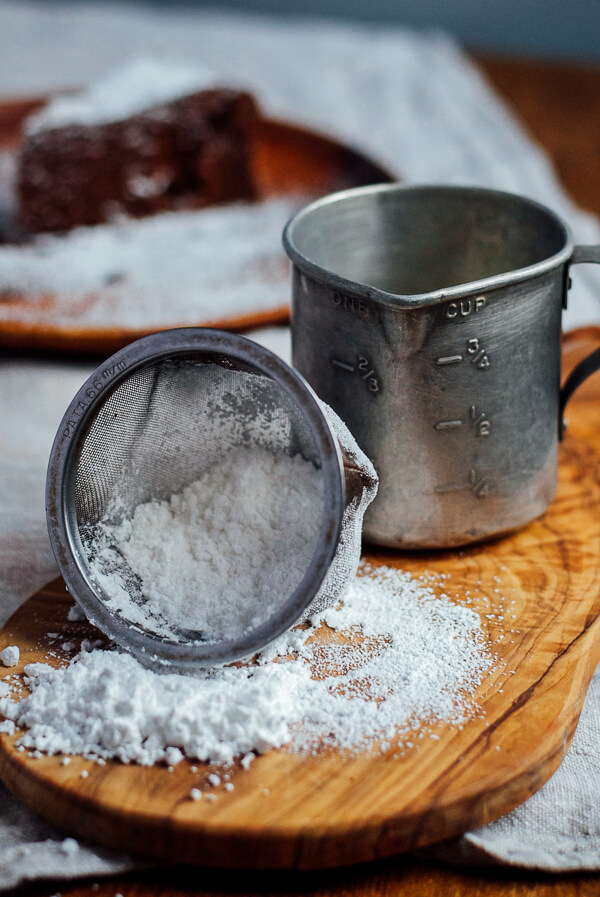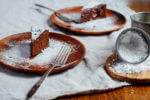 Bittersweet Flourless Chocolate Cake with Ginger and Sea Salt
Ingredients
unsweetened cocoa powder for dusting

16

ounces

bittersweet chocolate

(in bar form and at least 70 percent cocoa)

8

tablespoons

unsalted butter

, plus more for cake pan

2

tablespoons

finely grated fresh ginger

2

teaspoons

powdered ginger

1/2

teaspoon

sea salt

, plus a pinch more for the top

8

large eggs

, seperated

1/2

cup

plus 2 tablespoons sugar
Instructions
Preheat oven to 350 degrees F. Grease a 9-inch cake pan and dust with unsweetened cocoa powder. Set aside.

In a double boiler over medium heat, melt chocolate and butter. Add grated ginger, powdered ginger, and 1/2 teaspoon sea salt. Stir until melted and smooth. Off the heat and set aside.

Meanwhile, combine egg whites with 2 tablespoons sugar, and beat to soft peaks. Set aside.

In a large bowl, whisk to combine egg yolks and 1/2 cup sugar until pale and fluffy. Slowly stir melted chocolate mixture into yolks. Next, fold in egg whites. Gently spoon batter into prepared cake pan. Sprinkle top with a pinch of sea salt.

Slide cake into oven and bake, undisturbed, 25 minutes. Slide cake out and give a gentle shake; cake should be pulled when all but the very center is set and a toothpick inserted in the center comes out with just a few crumbs and a little moist batter a the very bottom. Bake cake for a total of 25 - 30 minutes.

Set aside to cool for 15 minutes. If unmolding is desired, swipe sides with a straightedge, flip out onto a plate, and flip again so the original top is facing upwards.

Cool completely. Serve with a dusting of powdered sugar.

*Note: Cake recipe can be halved and baked in a 6-inch cake pan. Reduce cook time to 20 - 25 minutes.
SaveSave
SaveSave