This ginger peach galette with fresh and ground ginger, lemon, and a hint of cinnamon is the laid back, totally delicious dessert you need for late summer cookouts and potlucks with friends.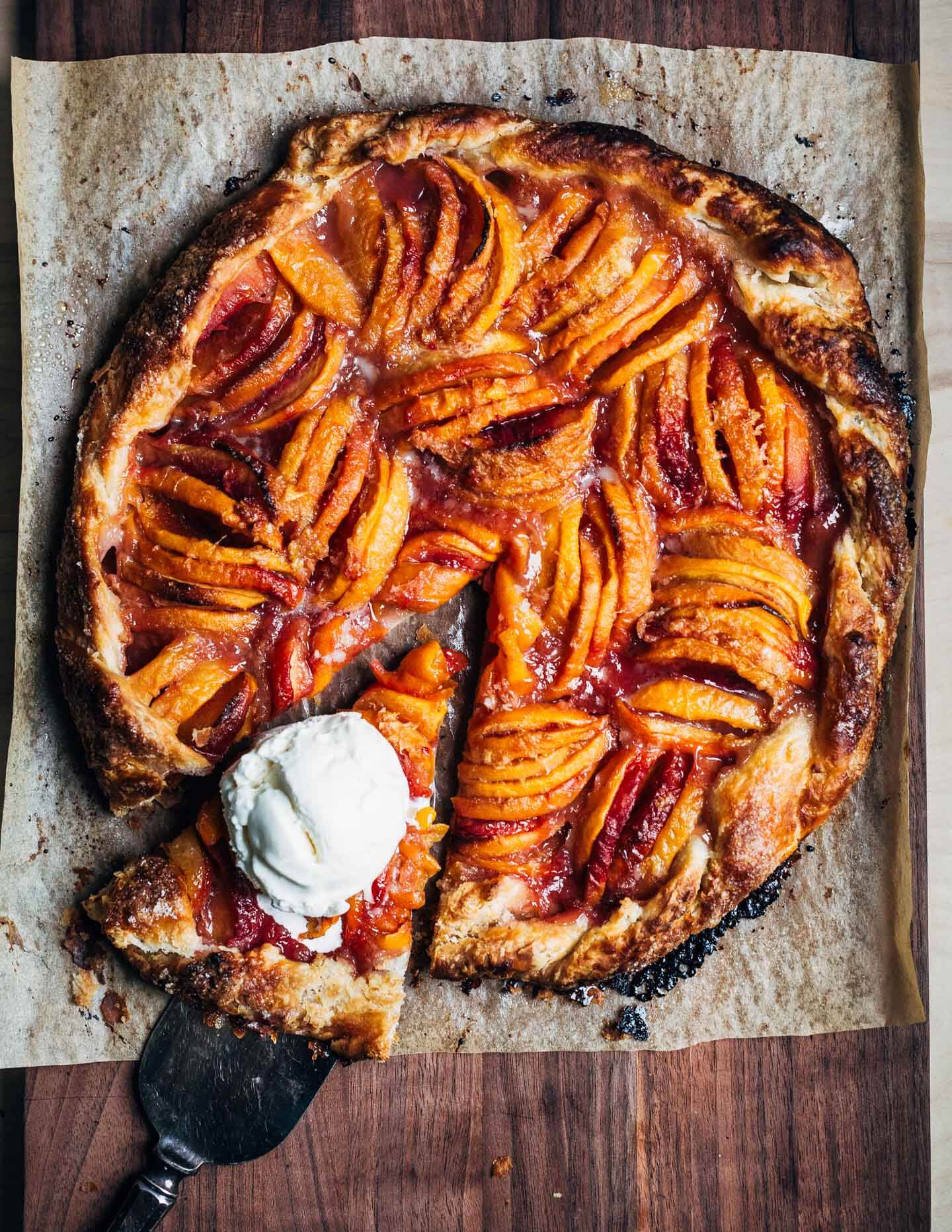 Get the Right Now Newsletter!
Are you signed up for the Right Now newsletter? Right Now hits inboxes twice a week with exclusive recipes and seasonal ingredient inspiration. Subscribe today!
As we head into the long Labor Day weekend, and the unofficial end of summer, it's a good time to savor the best of summer ingredients. For me, that means peaches, plums, corn, okra, and tomatoes will all be top of mind as I plan for cookouts and time with friends.
It's also a good time to embrace the ease of galettes – specifically, this ginger peach galette. Pies are a whole thing. The dough can be tough to work with on hot summer days and pies take a long time to cool. But galettes, the laid back siblings of pie, are oh-so-easy and forgiving. And for parties and potlucks, there's something very alluring about seeing a beautiful galette filling composed in a flaky golden crust.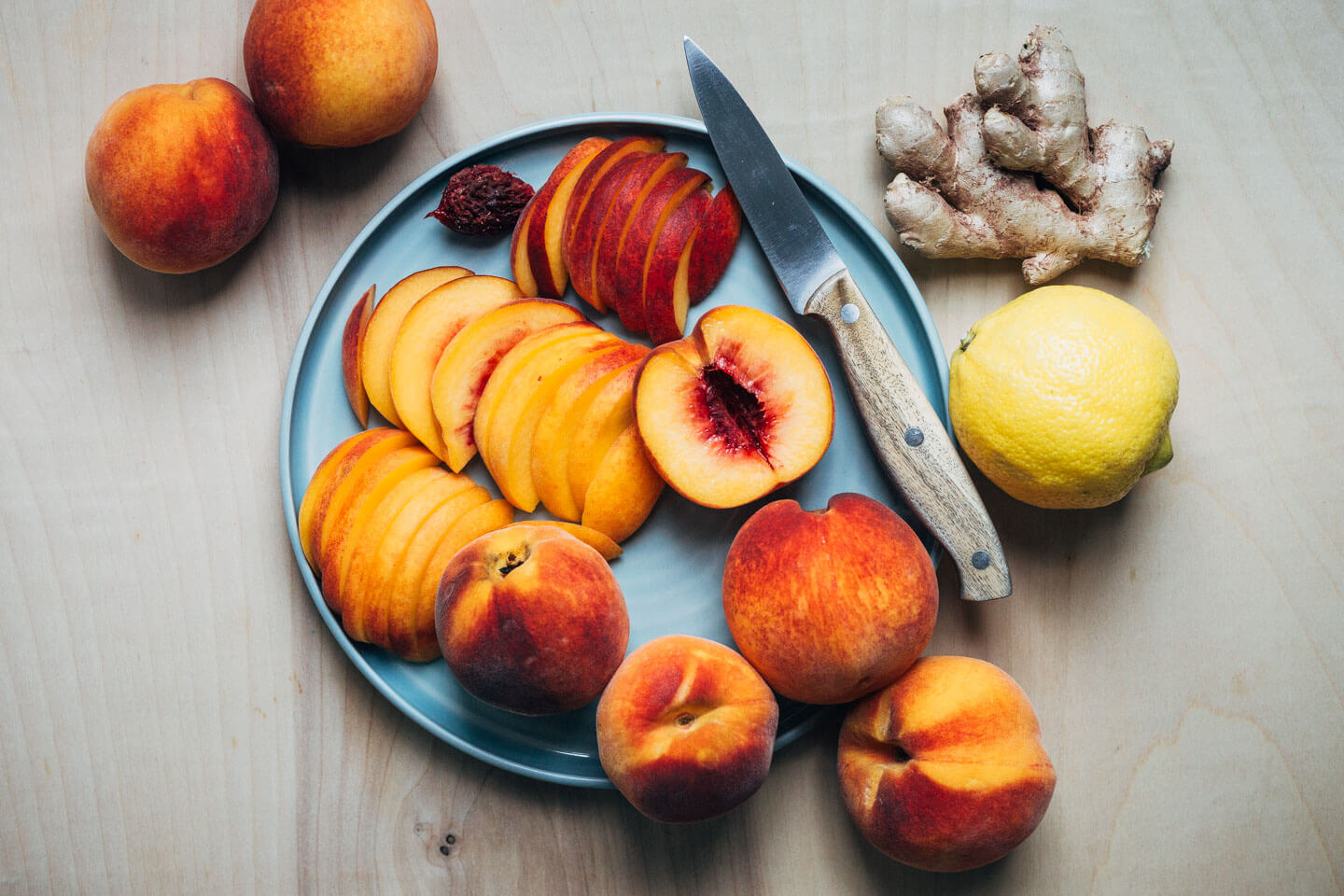 Ginger Peach Galette
Ginger and peaches are a lovely combination. This ginger peach galette has juicy ripe peaches, fresh and ground ginger, and a pinch of cinnamon to round out the flavor and give the teensiest hint of fall flavors to come. Zest of a lemon adds zippy contrast to all the sweet ingredients.
This is really a very good galette.
What You'll Need to Make this Ginger Peach Galette
This ginger peach galette has a simple list of ingredients and bakes up with beautiful peach-y flavor. Here's what you'll need:

All-purpose flour
Unsalted butter
Egg
Peaches
Lemon
Fresh and ground ginger
Cinnamon
Salt
Cornstarch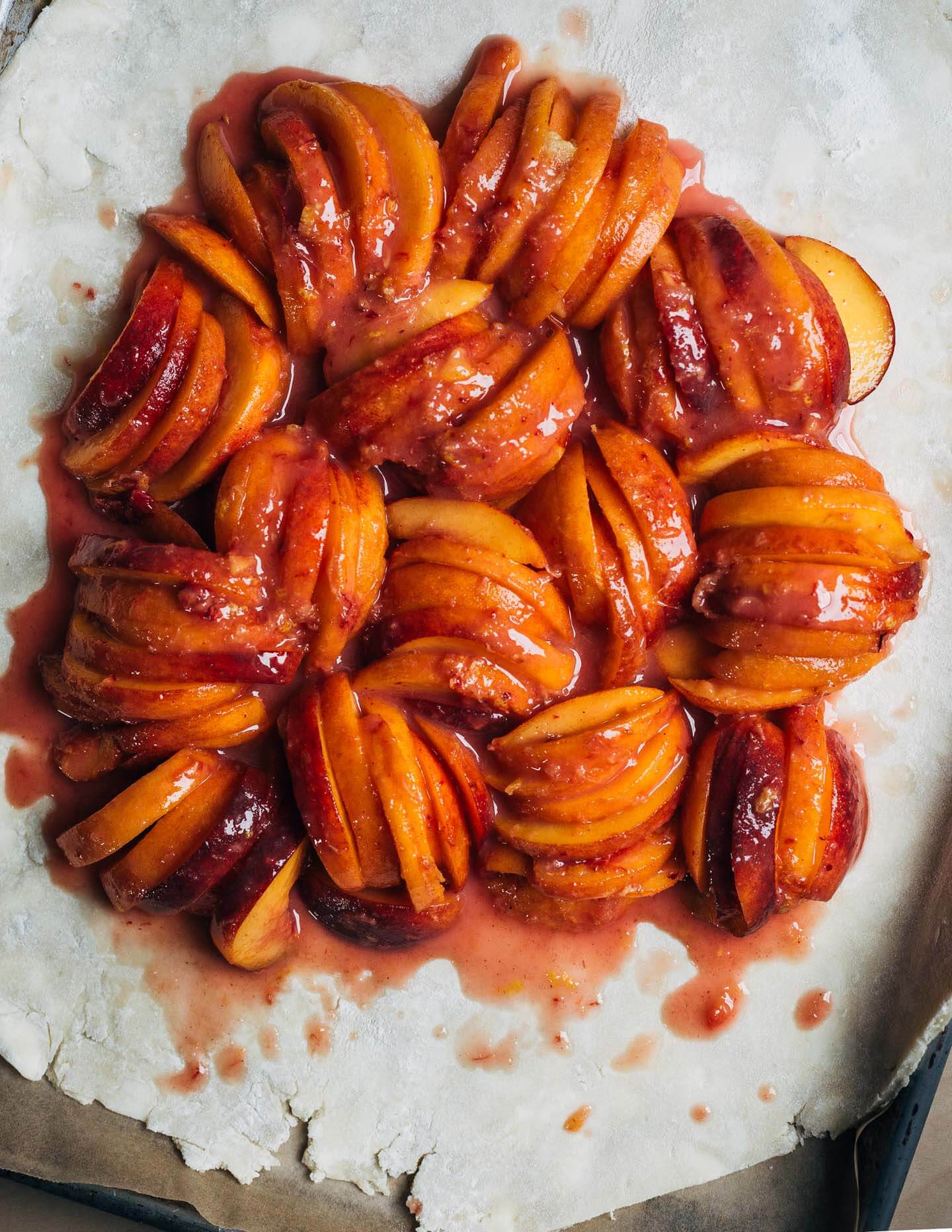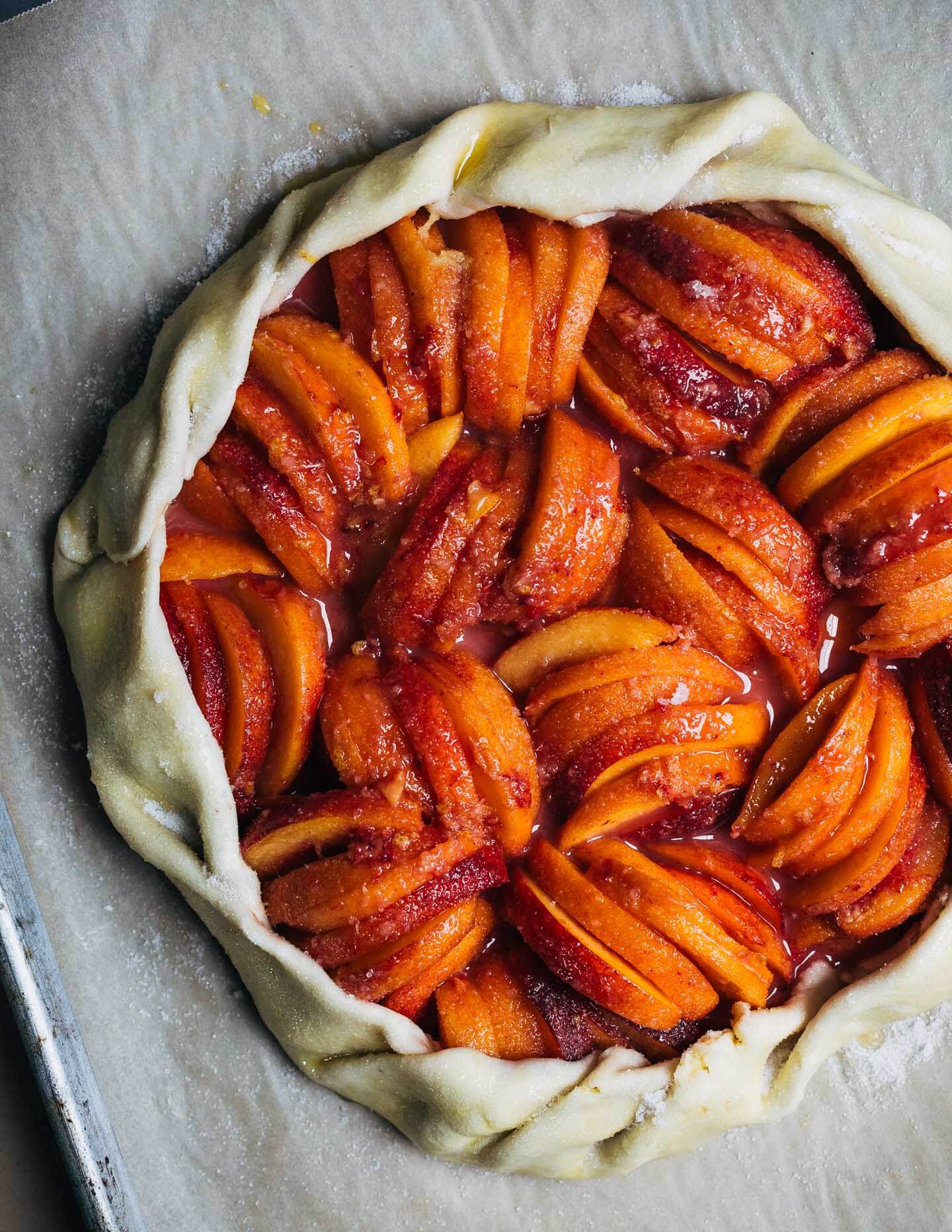 Handling Pastry Dough on Hot Days
This is the first summer I've had real issues with the heat affecting my pastry dough. Butter easily melts out of warm dough, pooling on the baking sheet instead of creating lift and flakiness. Taking steps to keep your dough well-chilled at every step will help ensure the pastry dough is light and flaky.
Make the dough ahead of time and give it at least two hours to chill in the fridge. Overnight is even better.
Before rolling the dough, prep a parchment-lined baking sheet and make room in the fridge. Roll the dough, place the dough round on the baking sheet, and set in the fridge to chill while you prep the filling and the oven comes to temp. On very hot days, consider chilling the filled, crimped galette for 20 minutes before baking.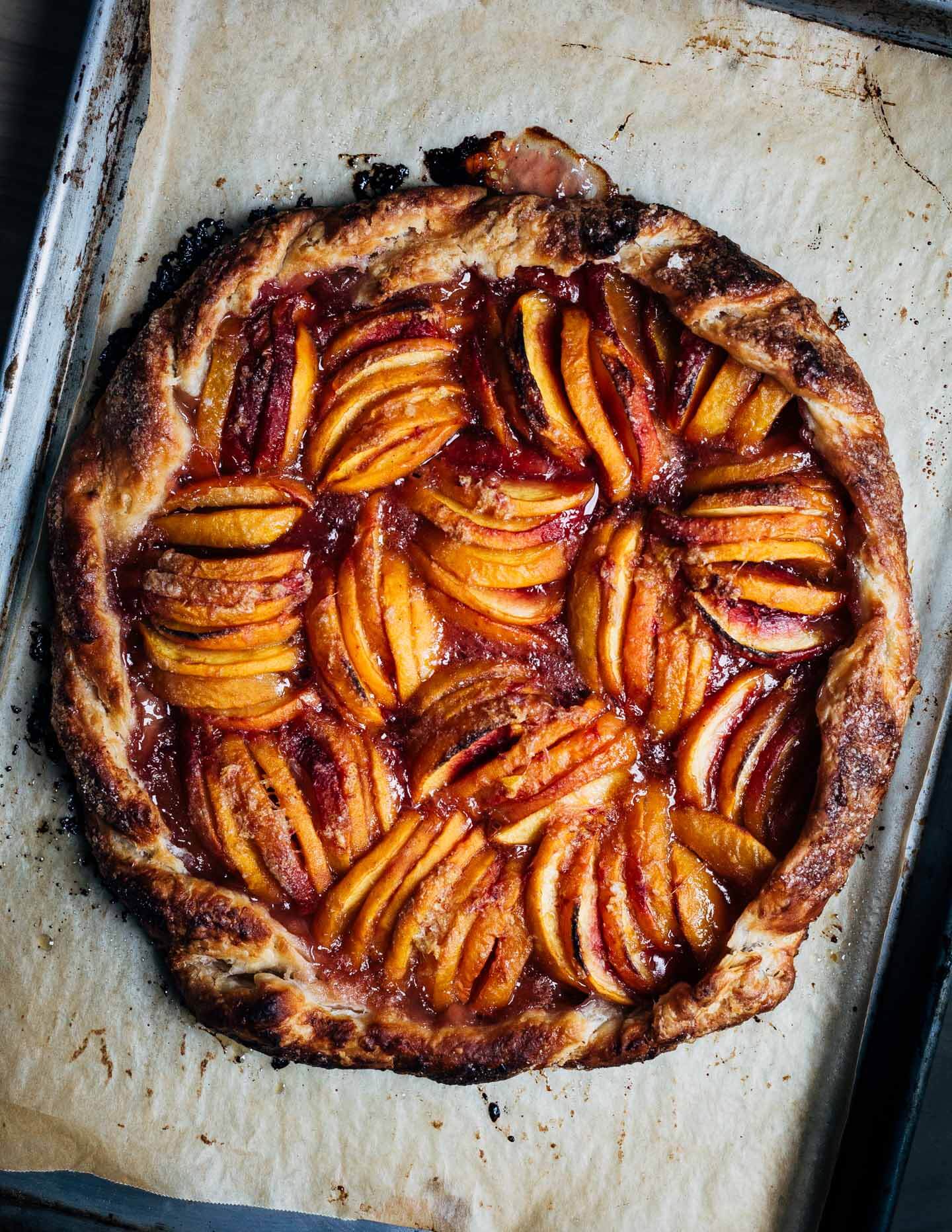 Getting the Perfect Filling Set
I used to be extremely cornstarch averse, fearing it would leave my pastry flavors muddled or chalky. And while cornstarch does muddle things ever so slightly, it reliably sets my pie and galette fillings perfectly.
The secret to baking with cornstarch is to make sure the filling gets very hot and bubbly, so give your pie or galette some extra time in the oven to make sure the filling hits that gelling point. If the crust gets too dark, add a tin foil shield around the edges.
As the galette cools, the filling will gel. Make sure you give the galette at least an hour or two to cool completely before you slice and serve. If you're running behind and need to slice it sooner, just be ready for the filling to run a bit.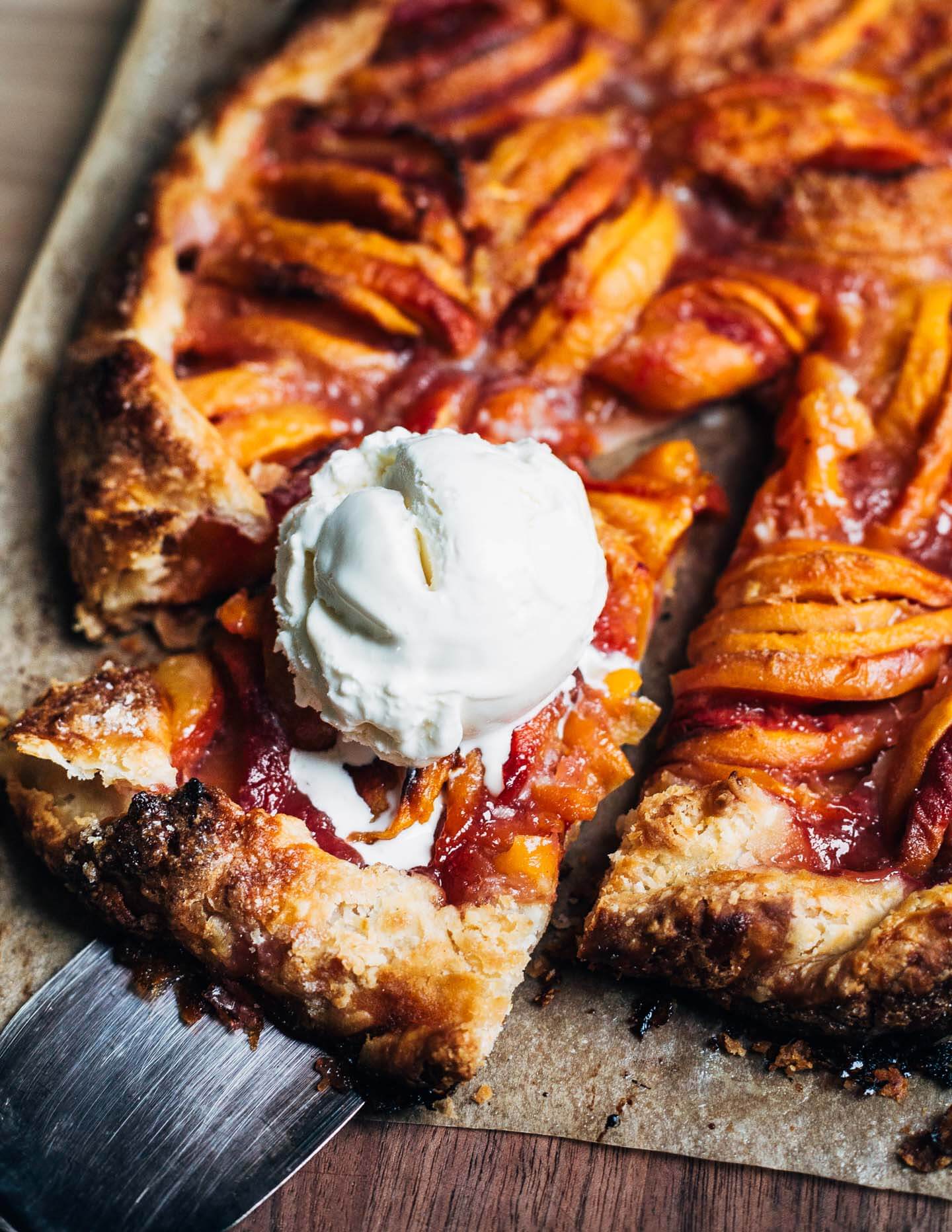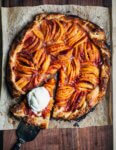 Ginger Peach Galette
This ginger peach galette with fresh and ground ginger, lemon, and a hint of cinnamon is the laid back, totally delicious dessert you need for late summer cookouts and potlucks with friends.
Keyword:
ginger peach galette
Ingredients
Dough
1 1/4

cups

all-purpose flour

1

tablespoon

sugar

1/2

teaspoon

salt

8

tablespoons

unsalted butter,

cut into 1/2-inch cubes

1/4

cup

ice cold water,

plus more as needed
Filling
3 1/2

cups

sliced peaches

1/2

cup

sugar

Zest of 1 lemon plus 1 tablespoon juice

1

tablespoon

grated fresh ginger

1

teaspoon

ground ginger

1/4

teaspoon

cinnamon

Pinch

salt

2

heaping tablespoons cornstarch
To assemble
1

egg,

beaten

2

tablespoons

cane,

turbinado, or other large grain sugar, for sprinkling
Instructions
Working at least 1 hour or up to 3 days ahead, make and chill the dough. In a large bowl, combine the flour, sugar, and salt. Fold in butter. Working quickly, use fingertips to smush and flatten most of the butter cubes, making sure each piece is coated with flour. You should have a shaggy, clumpy dough with some large butter chunks when you're done. Fold in the ice water, gently nudging the dough until it holds together. If needed, add 1 - 2 tablespoons more ice water to help the dough hold together.

Turn dough out onto a sheet of parchment or plastic wrap, shape into a disc, and wrap tightly. Chill for at least 1 hour (2 is ideal for a hot summer day) or up to 3 days ahead.

When ready to make the galette, preheat oven to 425 degrees F and move a baking rack to the top third of the oven.

On a lightly floured sheet of parchment, roll the chilled dough into a 14-inch circle. Check that dough isn't sticking to the parchment and add flour underneath as needed. Place dough and parchment on a large rimmed baking sheet and set in the fridge to chill while you prep the filling. Reserve any extra dough in the fridge.

To make the filling, combine peaches, sugar, lemon zest and juice, ginger, spices, and salt in a large mixing bowl. Fold in the cornstarch.

Remove chilled dough from the fridge. Working quickly, spoon the filling into the center. For a more decorative filling, bundle the sliced peaches into groups of 6, and arrange in various directions around the dough. Spoon remaining filling juices over the peaches. Brush the edges with the egg wash, and fold up the sides, taking care to plug any holes with extra dough. Make sure each fold is well sealed. Brush the top crust with egg wash and sprinkle the top of the galette all over with cane sugar.

Slide galette into the oven, turn heat down to 400, and bake 35 - 45 minutes, or until galette is a deep golden brown and the filling is bubbling vigorously. Leaks can and will happen, and may start to burn in the oven, but it's not a big deal.

Cool 1 hour, then slice and serve with really good vanilla ice cream.