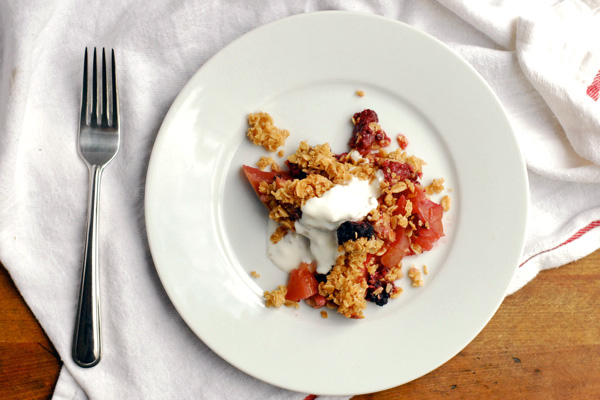 October blackberries are totally a thing. Consider them a gift from a mild fall. We've been delighting in the occasional, kind of pricy, half pint of berries for a few weeks now. But since these late season berries are delicate and maybe even mushy, they are ideally suited to fall baking.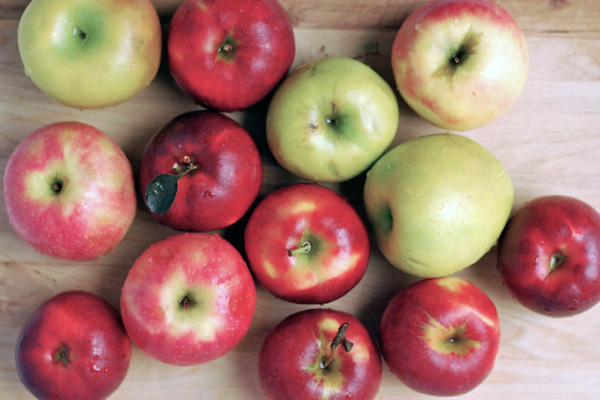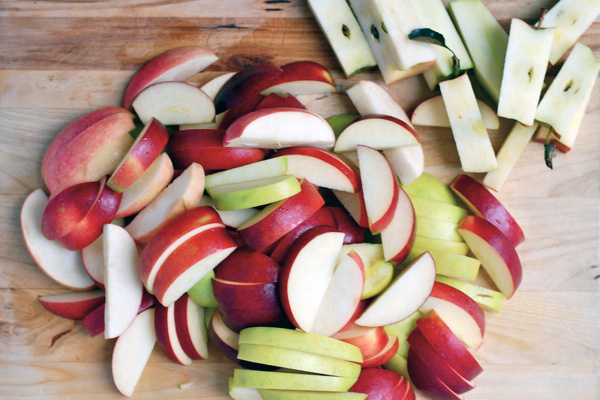 In this simple apple crisp recipe, blackberries meld beautifully with a mix of heirloom apples (hybrid Crimsoncrisps, with plain old Crispins and a couple Pink Ladies too) and just a bit of citrus. Tuck it all under a buttery oat topping, bake for an hour, and top with quark or creme fraiche for a stunningly good, if homely, fall dessert.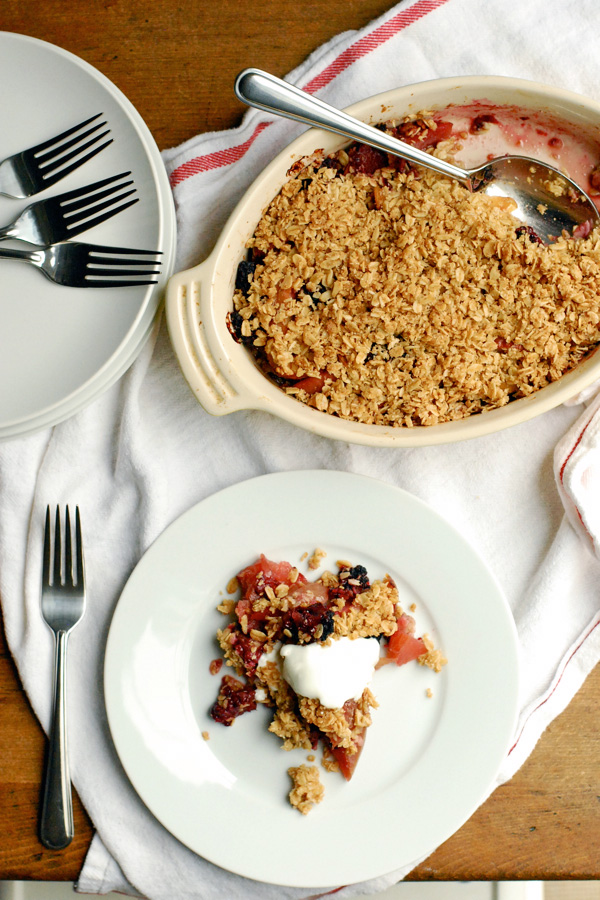 I'll be leaving for Camp Mighty in just a few days, and we're still working to raise funds for charity:water as part of the conference. So far, I've been blown away by the generosity of our readers. If you'd like to give to this important charity, and receive a homemade thank you gift from us, check out our post about charity:water here. And thank you all––our readers totally rule.
Finally, if apples are your thing too, we have a fun sponsored post over on Babble featuring easy after school apple yogurt parfaits. You can check out the recipe here.
Gluten Free Apple Crisp with Blackberries
serves twelve to fifteen
This recipe works well in a large baking dish or divided between two smaller dishes. For a smaller crowd, halve the recipe.
for the filling
8 medium apples, cored and cut into 1/2 inch slices
1 cup blackberries
1/2 cup turbinado sugar
3 tablespoons tangerine, or other sweet citrus, juice
1 tablespoon tangerine zest
2 tablespoons coconut flour
1/2 teaspoon freshly-grated nutmeg
1/2 teaspoon sea salt
for the topping
1 1/2 cups gluten-free, old-fashioned oats
1/2 cup turbinado sugar
2 tablespoons coconut flour
1/2 teaspoon sea salt
8 tablespoons cold butter
Preheat oven to 350 degrees F. Grease a deep 9 x 13″ baking dish, or two smaller dishes, and set aside.
Toss the filling ingredients together in a large bowl. Set aside while you prepare the filling.
In the bowl of a food processor, combine the oats, sugar, coconut flour, and sea salt. Chop the butter and pulse into the mixture, just until it's incorporated.
Arrange the fruit in the prepared baking dish and spread the topping over the fruit.
Slide into the oven and bake for about an hour, or until the filling is bubbling vigorously and the topping is light golden.
Cool for thirty minutes or longer. Serve with a dollop of quark or another creamy, tangy dairy product.