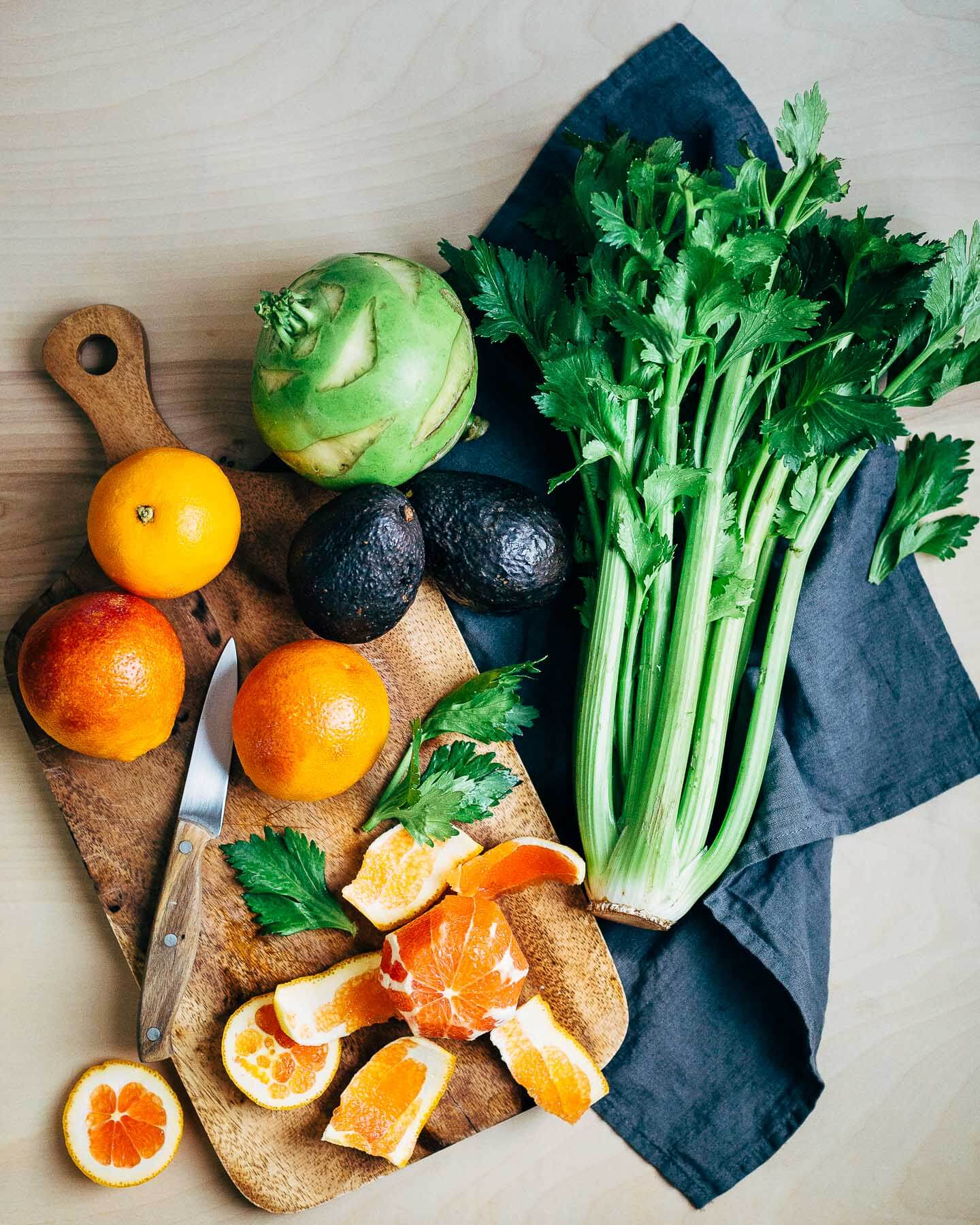 A bright and crunchy kohlrabi, avocado, and orange salad recipe with a spicy sriracha lemon dressing. Jump to recipe.
Around here, winter is a novel thing. We're still shaking off an extended fall, and the recent foot and a half of snow that fell in Charlottesville is equal parts wondrous and exhausting. Wondrous for all the reasons you can imagine – the world suddenly transformed into a snow globe, the intense coziness of a multi day snowfall, sledding followed by popcorn and lots of hot cocoa. But it's exhausting because experiencing and shoveling and just walking through that much snow is really hard work.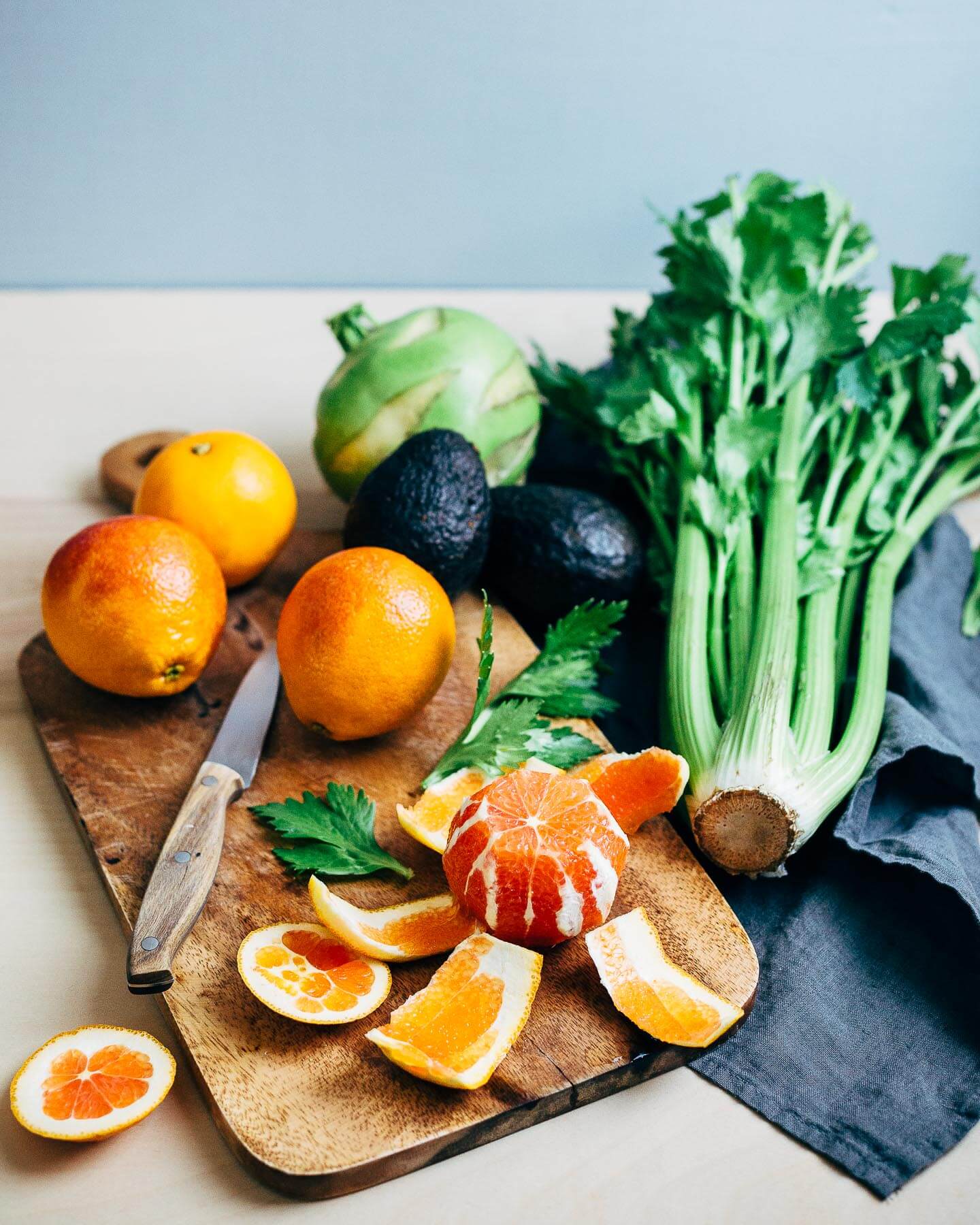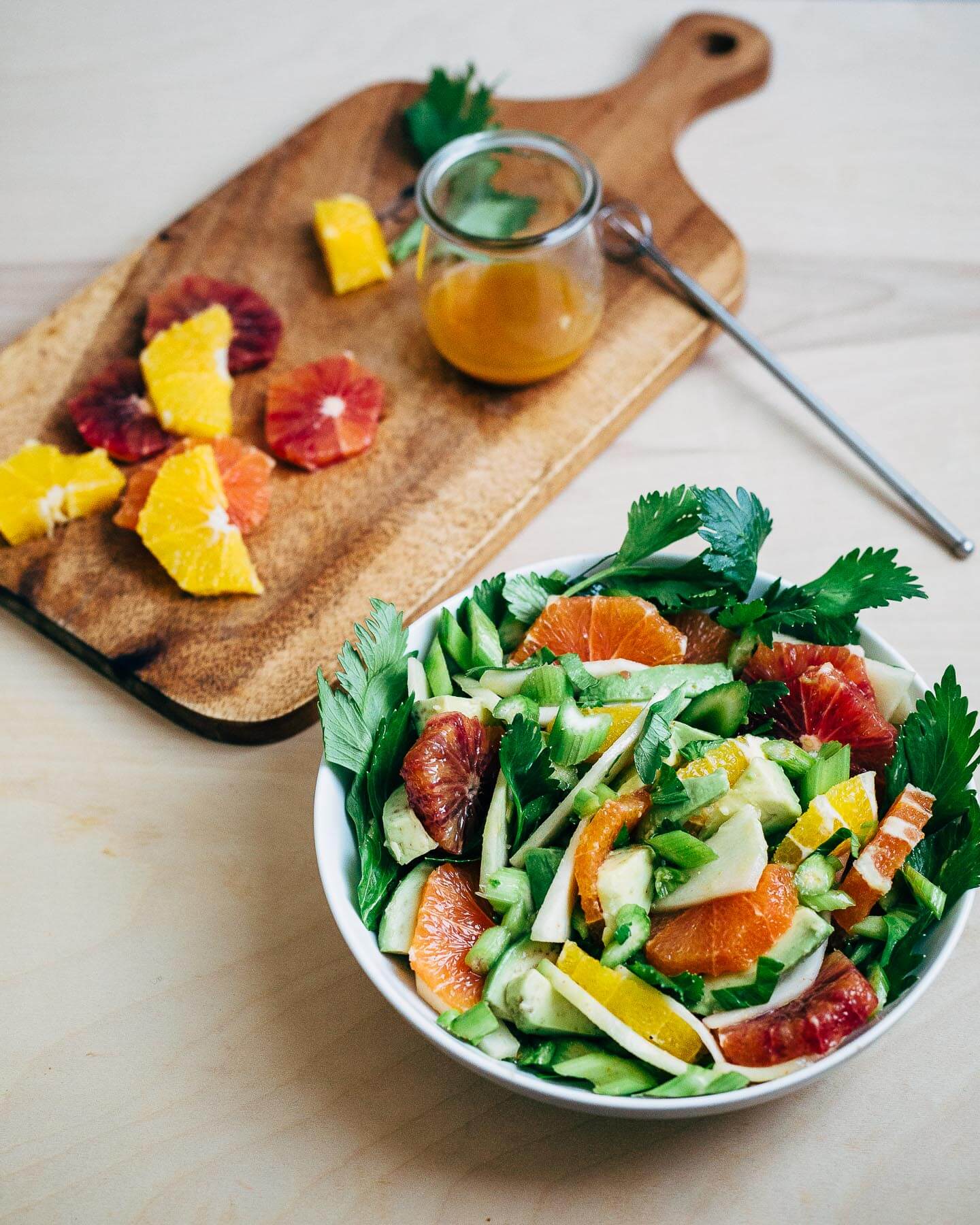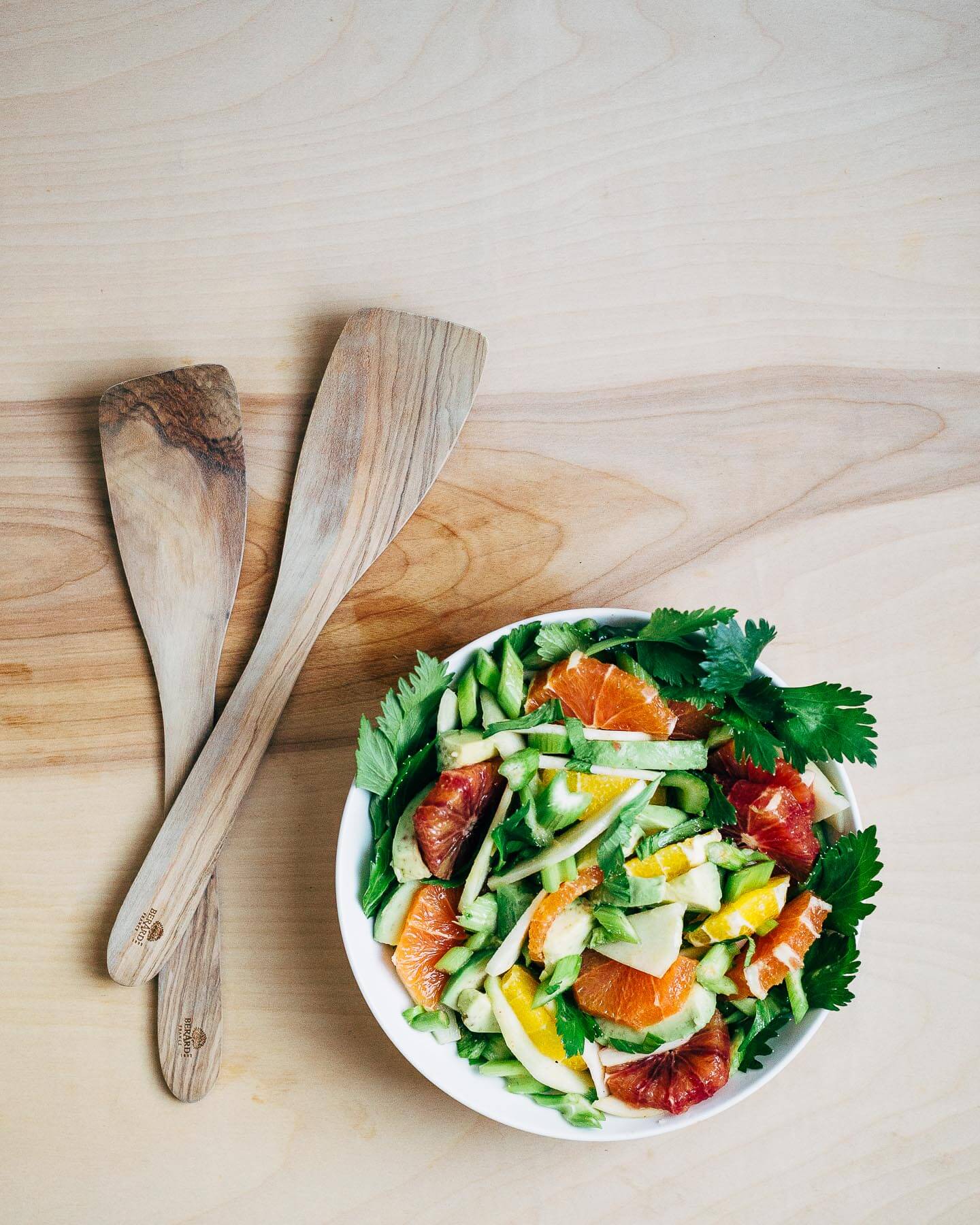 At least we were well prepared. Save forgetting ice melt and buying every kind of bread except sliced (because French toast plans always trump sandwich plans), our fridge and pantry were stocked. It was during one of my three pre-storm shopping trips, that I settled on the ingredients for this avocado and orange salad. It's a riff on the Lee Brothers' riff on ambrosia; but since my final salad had neither coconut, dairy, nor marshmallows, calling it ambrosia felt like a bit of a reach.
Still, like ambrosia, this crisp and citrusy salad is playful. Crunchy elements like thinly sliced kohlrabi and celery moons contrast with creamy bits of avocado and sweet citrus rounds. After a few failed attempts at making a sweet, creamy dressing, I gave up and opted for a lighter dressing made with olive oil, lemon juice, and sriracha, and found it added the perfect amount of brightness, brine, and heat to the salad.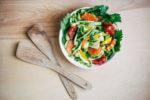 Kohlrabi, Avocado and Orange Salad
A bright and crunchy kohlrabi, avocado, and orange salad recipe with a spicy sriracha lemon dressing.
Ingredients
For the Sriracha Lemon Dressing
1

tablespoon

minced garlic

pinch sea salt

1 1/2

tablespoons

freshly squeezed lemon juice

3

tablespoons

extra virgin olive oil

1/2

teaspoon

sriracha

1/2

teaspoon

maple syrup
For the Salad
1

medium kohlrabi,

peeled, trimmed, and thinly sliced into triangles

1/2

a head of leafy celery

(5 stalks plus leaves)

sea salt

4

oranges

(I used a mix of blood orange, Cara Cara, and navel oranges)

2

avocados,

peeled and cut into 1/2-inch chunks

freshly ground pepper
Instructions
To make dressing, combine garlic, sea salt, and lemon juice in a small bowl, and let sit at room temperature for 10 minutes. Slowly whisk in olive oil – mixture should thicken and turn opaque. Whisk in sriracha and maple syrup. Adjust seasoning as needed.

Trim celery and sliced diagonally into 1/2-inch half moons. Reserve 1/3 cup of celery leaves to toss with the salad.

In a large bowl, toss kohlrabi and celery with a pinch of sea salt and a tablespoon of dressing, and set aside.

Trim top and bottom from citrus and then slice off peels using downward strokes. Slice into rounds or half moons (whichever is easiest).

Just before serving, prep avocados.

Taste salted kohlrabi and celery mixture, and add more sea salt and dressing as needed. Arrange in a wide, shallow bowl. Tuck citrus, avocado, and reserved celery leaves throughout. Add a few drizzles of dressing, and finish with a pinch each sea salt and freshly ground pepper.