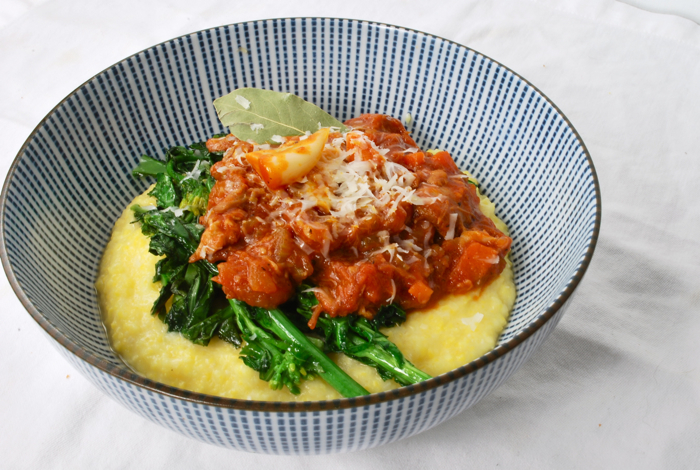 There's something undeniably wonderful about having a fragrant, slow-simmered ragù on the stovetop for an entire Sunday. The richness permeates the air and gives the entire day a slow and luxurious feel. Languorous weekends have been in short supply for us lately, so smelling this ragù all day almost felt decadent.
Lamb is a favorite in this apartment, doubly so for stews and slow sauces. The heartiness of lamb shoulder and neck (the cuts we used here) is just unsurpassable. To keep the richness and fattiness of the lamb from being overwhelming, we use red wine and red wine vinegar to give the dish a little bracing edge, which is tempered by the sweetness of tomato paste. The trio of carrots, onion, and celery give it a classic feel, while the garlic and bay leaves keep it from being a staid dish even if it doesn't have any unusual ingredients.
Lamb Ragù Over Polenta
2 tablespoons olive oil
1 1/4 lbs lamb
3 medium carrots, diced
2 stalks celery, diced
1 onion, diced
8 cloves garlic, crushed
2 bay leaves
1/2 cup water
1/2 cup red wine
1/4 cup red wine vinegar
5 tablespoons tomato paste
In large heavy bottomed pan that has a lid, heat the olive oil over high heat. While it's heating up, salt the lamb, add pepper to taste, and then brown it on all sides. Remove to a bowl.
Turn the heat to medium and add the onion, celery, carrot, and garlic to the pan. Stir several times until the onion begins to become translucent, about five minutes.
Return the lamb to the pan, add the water, wine, vinegar, bay leaves, and tomato paste. Add salt and pepper to taste. Turn the heat to high and bring to a boil, then turn to low, cover, and simmer for as long as you can but at least two hours. We did this one for six hours and were really happy we were able to let it go so long. Cook uncovered for the last 45-60 minutes to allow the sauce to thicken.
Serve over creamy polenta with wilted greens, and a sprinkle of shredded Pecorino Romano.