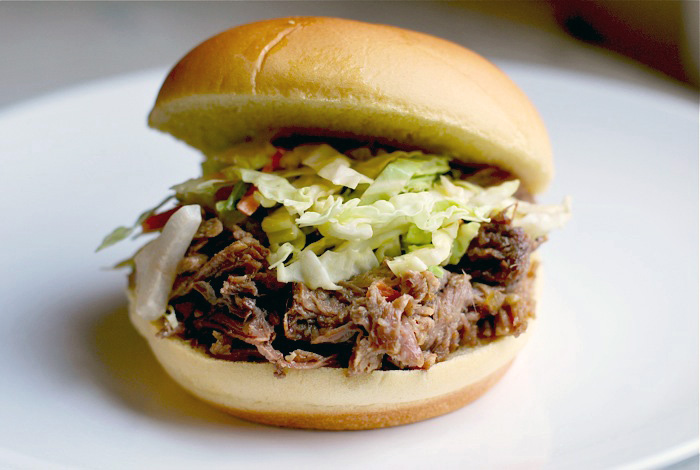 Barbecue is a kind of food that people can get real fussy about. Read user reviews for any barbecue place and half of them are complaints that things aren't being done "the real way." People get that way about Mexican food, too. And, embarrassed as I am to admit it, I've been that fussy person. But living in New York and being away from the barbecue I'm used to has forced me to loosen up a little and admit that North Carolina-style is "the real way" only because it's what I'm used to and if I'd been born in Memphis or Kansas City or Dallas I'd look at Carolina-style like it was all wrong. This has had the benefit of allowing me to experiment with ingredients and techniques while still staying true to the flavors I grew up with.
I've also learned to let go of correcting people when they call just any pulled pork "barbecue." There aren't a lot of places with real smokers in the city (although I'm fortunate enough to live very close to one of the best) and there's no way you have place to smoke your own unless you are rich or lucky (I'm neither). So, while I'll never call it barbecue when it isn't smoked, I'll let it slide when others do. And really, a braised pork shoulder with your favorite sauce is a fine substitute on a spring day.
These pulled pork sandwiches were served on toasted potato buns with plenty of vinegar sauce and coleslaw–but please, make them however you like. I won't judge.
North Carolina-Style Pulled Pork with Quick Coleslaw
serves 6 
for the pulled pork
1 teaspoon olive oil
2 shallots, rough chopped
2 lbs. pork shoulder, fat mostly trimmed
1 1/2 cups white wine
1/2 teaspoon sea salt
1/2 teaspoon fresh ground white pepper
1/2 teaspoon red pepper flakes
1 teaspoon spicy Hungarian paprika
2 bay leaves
1 tablespoon honey
Heat a large dutch oven, or other heavy bottomed pot, over medium-high heat. Add the olive oil and shallots and saute for 2 minutes. Next add the pork shoulder. Sear on all sides, until you've achieved a nice color all around (this will take about 12 minutes). Pour in the wine, salt, peppers, paprika, bay, and honey. Bring liquids to a quick boil, and then turn heat to low, and cover.
Continue to cook over low heat for 4 – 8 hours. Flip the meat occasionally, and check the liquid levels–the liquid should cover roughly half of the meat. If the liquid runs low, add a bit of wine, water, or vinegar. Remove from heat when meat is tender–the longer it cooks, the more tender it will be.
Place on a carving board, trim any remaining fat, and then use the tips of tongs to pull the pork apart. Place back in the cooking liquid, bring heat back up, and warm. Serve with a slotted spoon.
for the North Carolina-style vinegar sauce (adapted from Serious Eats)
2 cups apple cider vinegar
1 teaspoon sea salt
1 tablespoon honey
1 tablespoon red pepper flakes
1 1/2 teaspoons fresh ground white pepper
1/2 teaspoon chili powder
Combine all of the ingredients in a small sauce pan. Bring to a boil, and then turn heat to low. Cook for 20 minutes. Remove from heat, and allow the flavors to mature, anywhere from 30 minutes to 4 hours.
for the quick coleslaw
1/2 head savoy cabbage, sliced into thin ribbons
1 carrot, grated
1 onion, minced
1/4 cup mayonnaise
1 teaspoon rice wine or apple cider vinegar
1/2 teaspoon salt
1/2 teaspoon fresh ground white pepper
Toss the ingredients together. Check salt and acid levels, adjust if necessary. Place slaw in the fridge and allow the ingredients to co-mingle for 30 minutes or longer.
for the sandwiches
Use a slotted spoon to pile the pork on a toasted bun (I like potato buns). Add a big spoonful of slaw. Sit down and, just before digging in, spoon on the vinegar sauce.