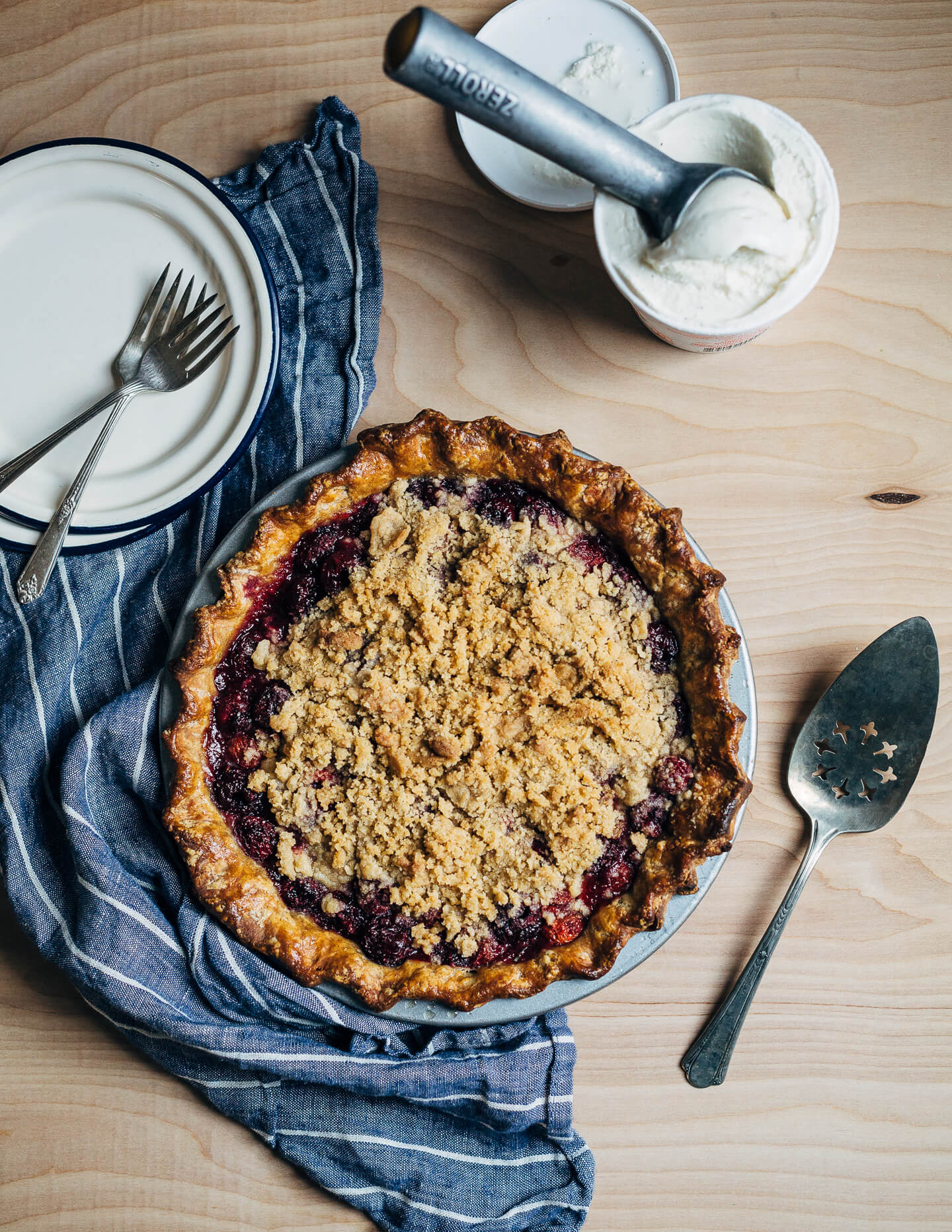 A whole wheat sour cherry crumb pie that celebrates the fleeting sour cherry season and skirts the line between pie and crumble beautifully. Jump to recipe. 
Last week, the message arrived: The sour cherry harvest over at my friends' house was in. This year's crop was modest, but they were kind enough to have my two girls and me over to pick what we could. My almost 10 year-old was an excellent assistant, save the fact that she ate maybe half her harvest. Her little sister spent the time running, sliding, and tackling a homemade seesaw. It was a beautiful early June afternoon.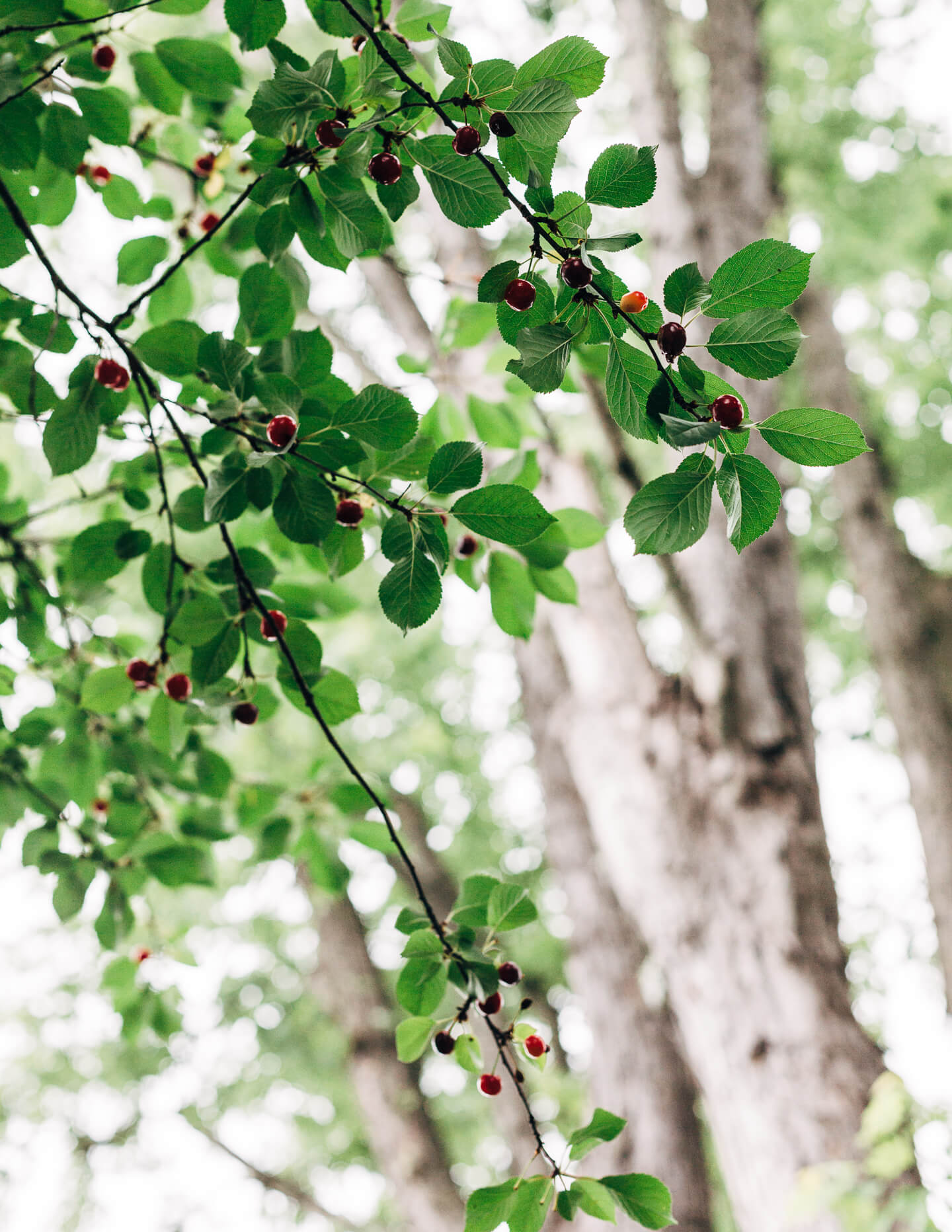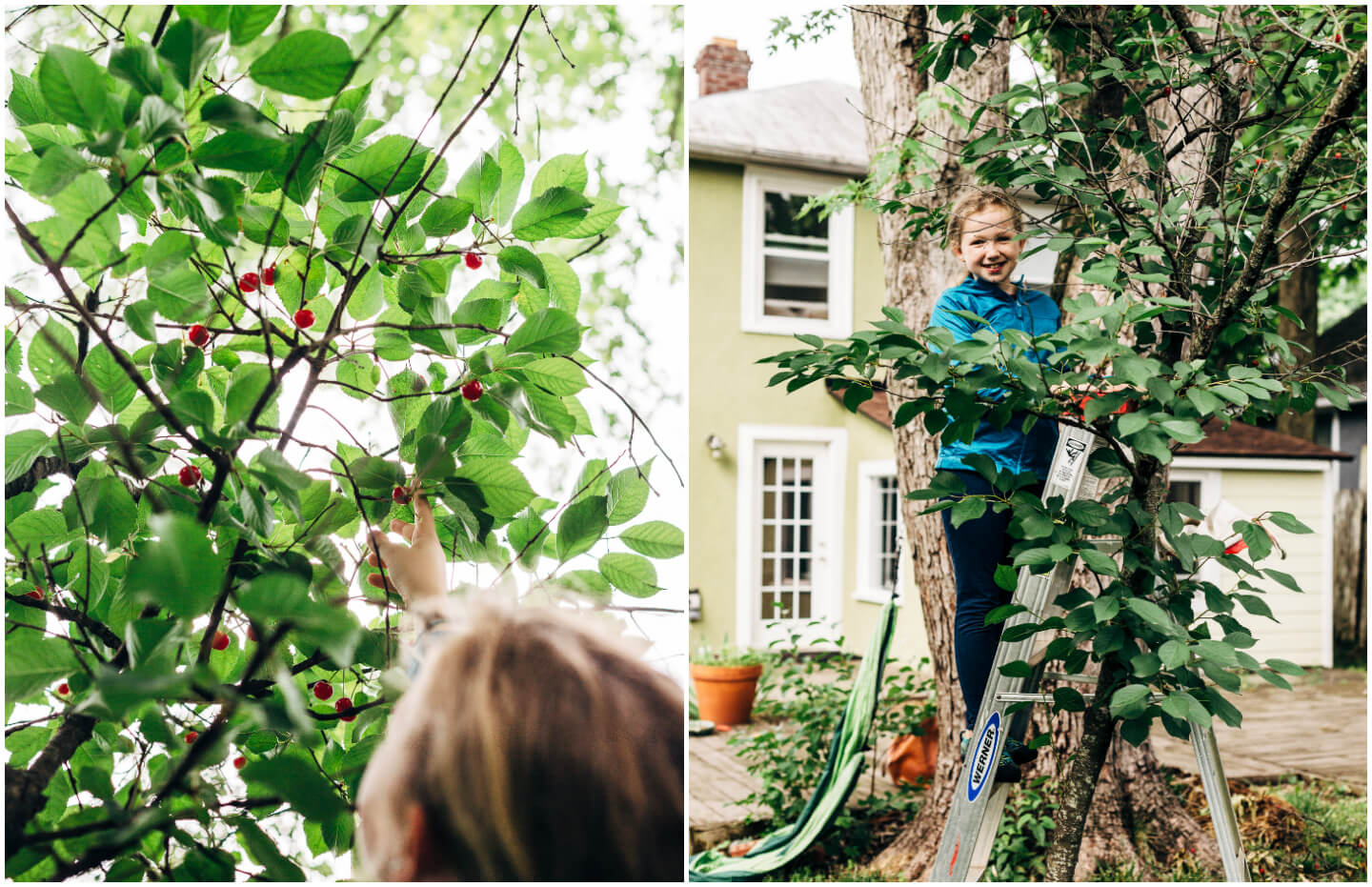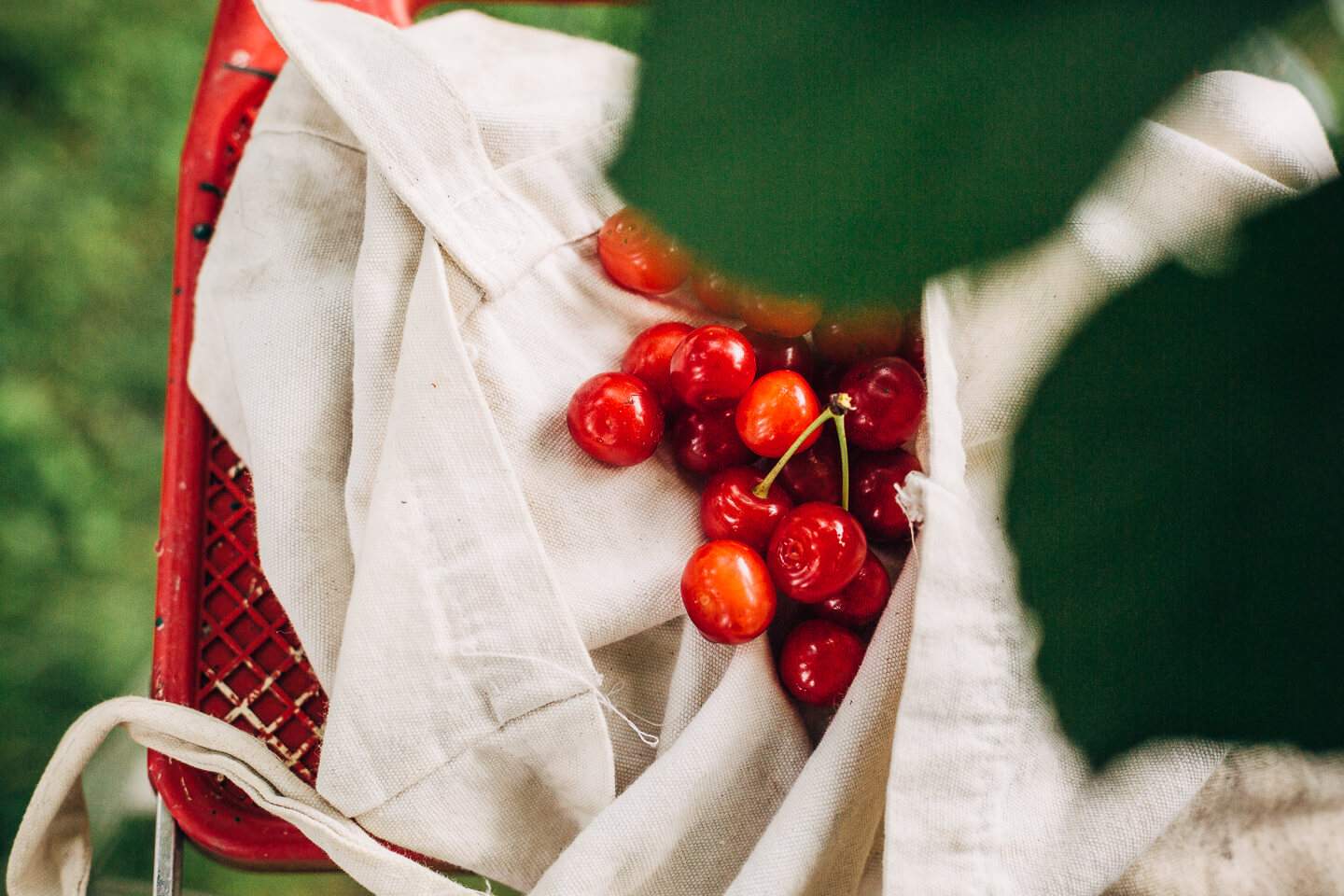 I once believed sour cherries enjoyed a season of ripeness, as in: Sour cherries are in season now. Upon moving to Virginia, the "season" I'd enjoyed in NYC shrunk to the day my friend texted me with news of their arrival. Of course, it's that incredibly fleeting, literally once in a year availability that make sour cherries my favorite. Sour cherries – complex, sour, and bright – cook up with depth and an almost caramel sweetness. They are the ideal pie filling.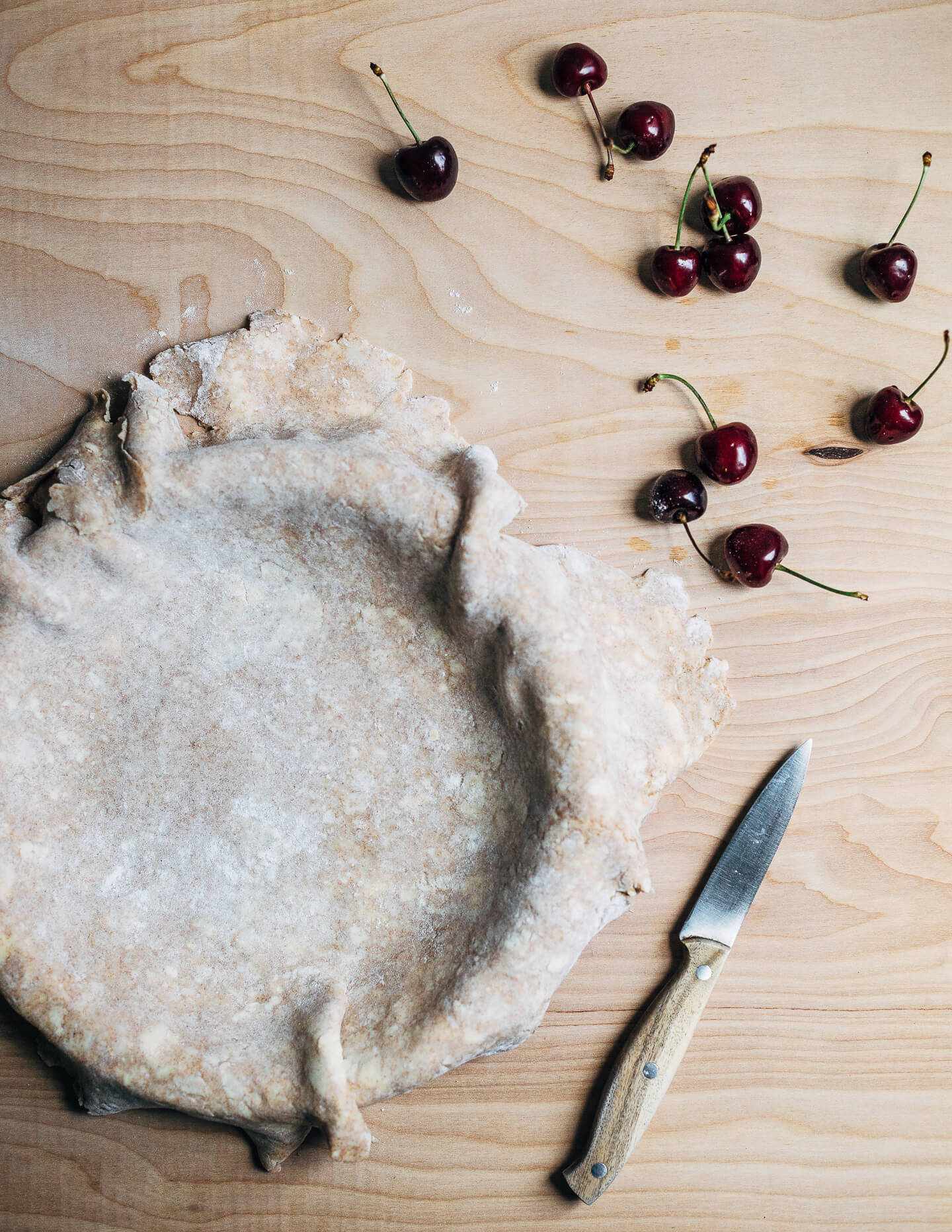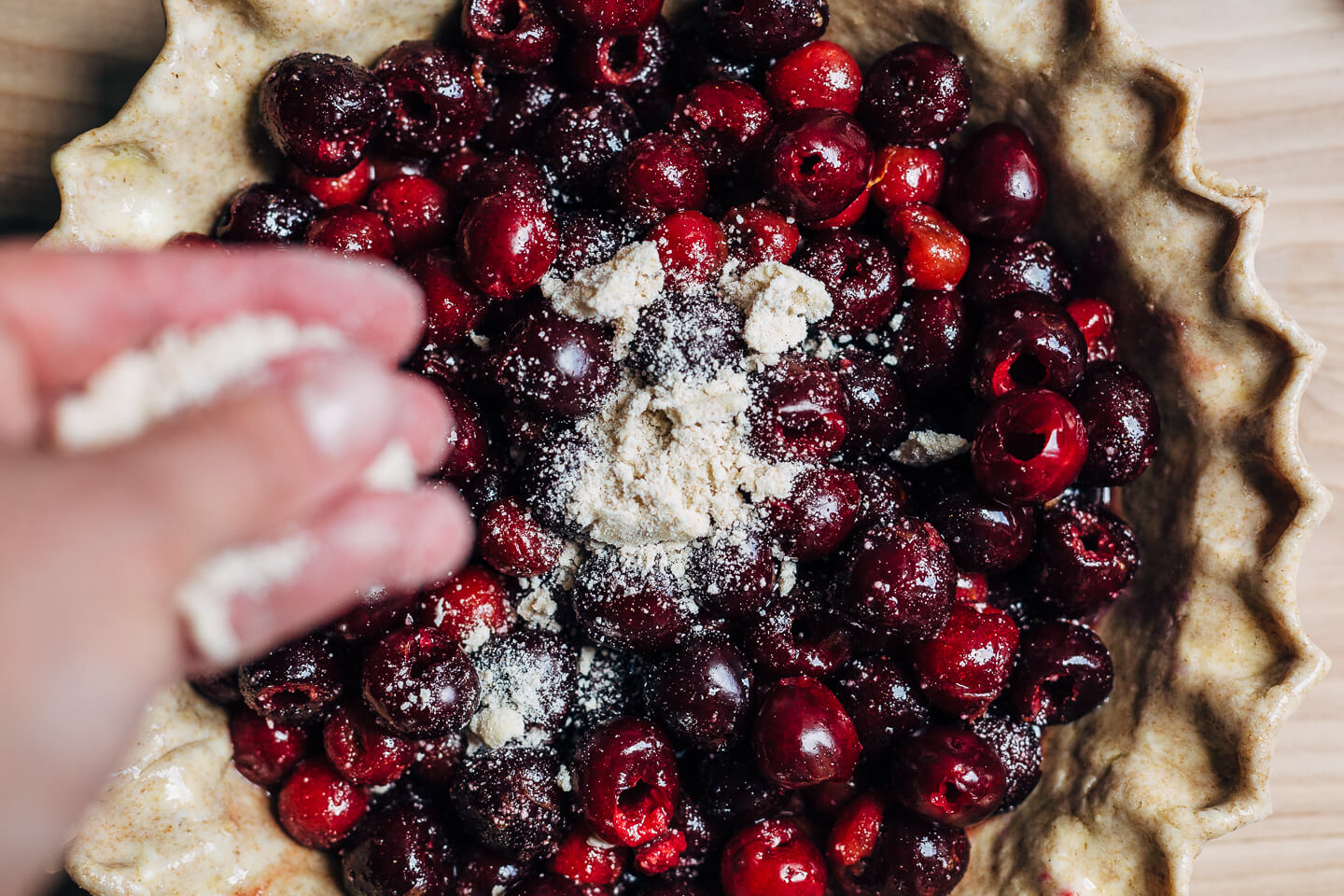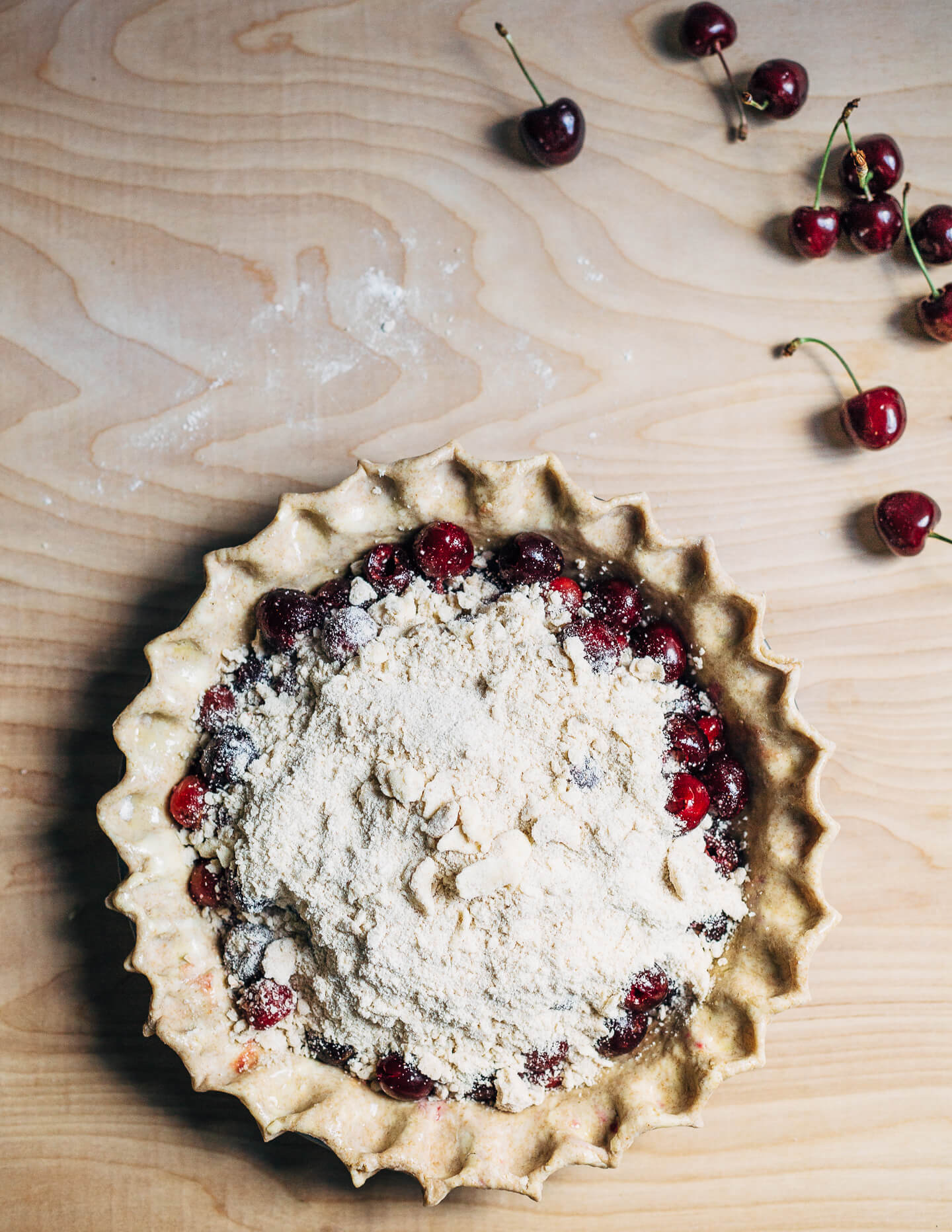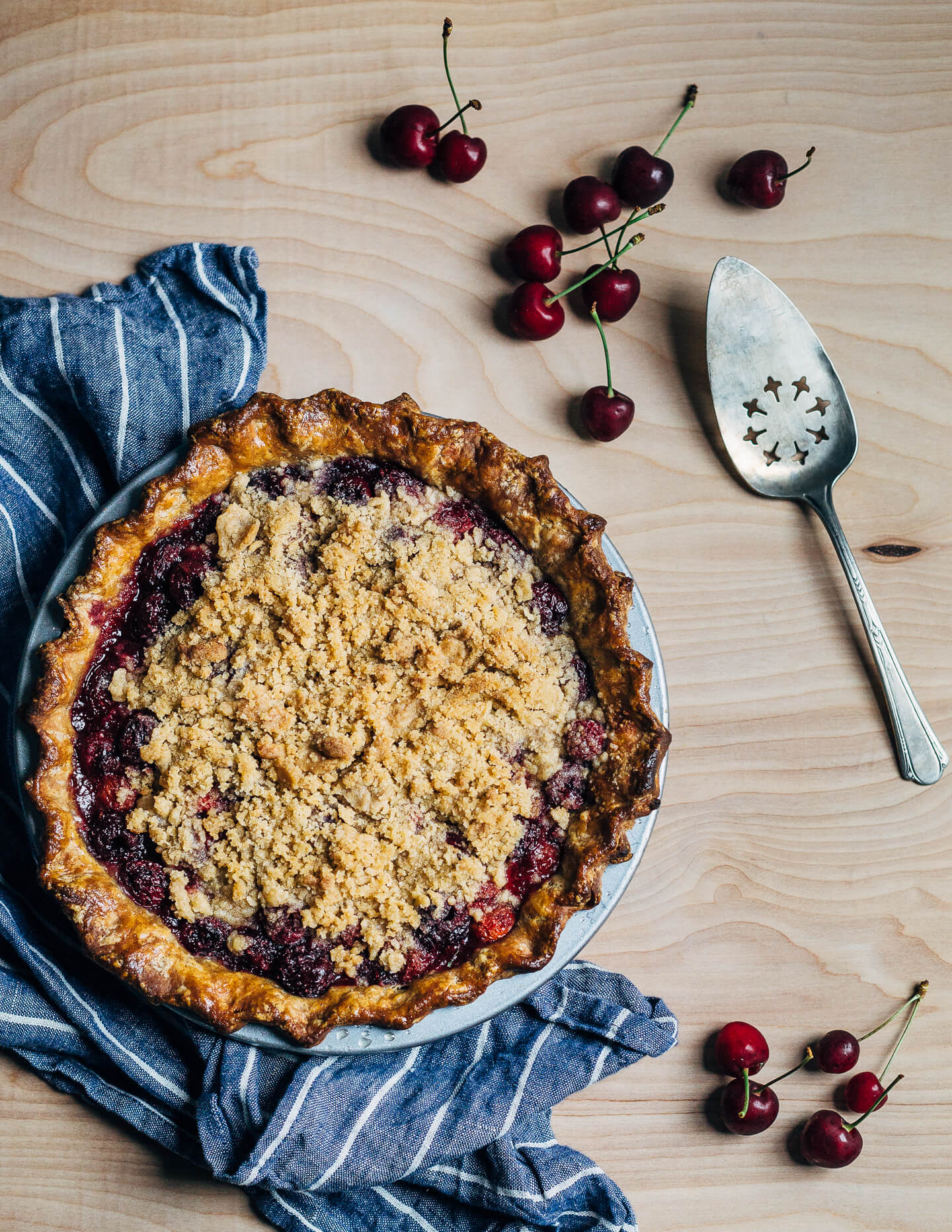 Owing to the scarcity of my supply, this particular sour cherry pie features a mix of sour cherries and plain old delicious Bing cherries, plus cinnamon, ginger, and lemon zest. It's a nice balance. The filling is tucked into a flaky whole wheat crust and topped with a buttery whole wheat crumb on top. Because I'm a pie purist, I generally like to make mine with as little sugar as possible, but this pie is sweetened generously, enough to stand up beautifully to a scoop of vanilla ice cream. (I splurged on a completely worth it pint of Jeni's Ndali Estate Vanilla and maybe you should too.)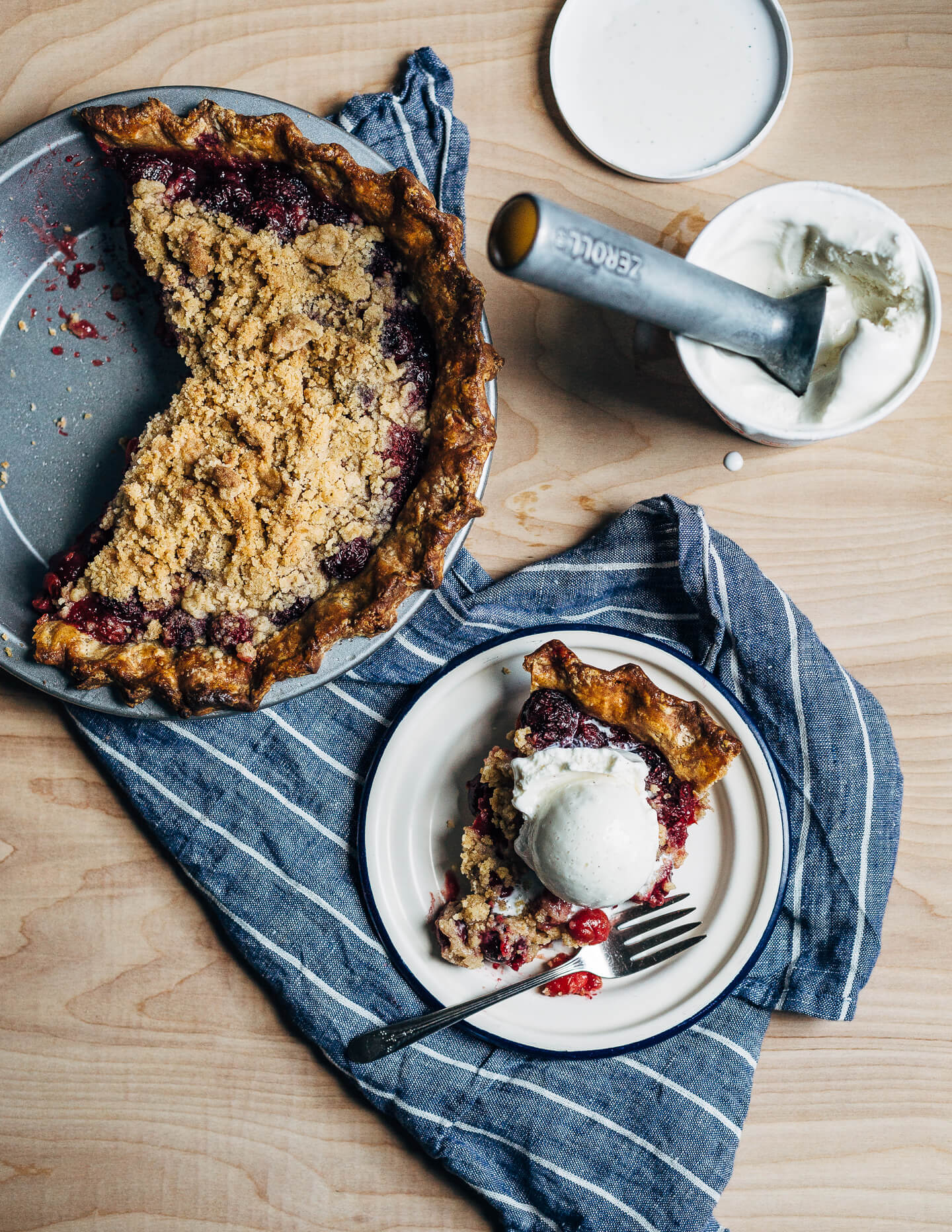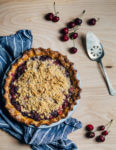 Whole Wheat Sour Cherry Crumb Pie
A whole wheat sour cherry crumb pie that skirts the line between pie and crumble beautifully. This pie can be made with sour or sweet cherries, or a mix as I've done here. Likewise, I've made the crust with whole wheat flour, though it can be made with just all-purpose.

Be sure to use a metal pie pan, as the crust goes quickly from freezer to hot oven and a glass or ceramic pan can shatter.
Ingredients
Crust
3/4

cup

all-purpose flour

1/2

cup

whole wheat flour

1

tablespoon

sugar

1/2

teaspoon

sea salt

5 - 6

tablespoons

ice water

8

tablespoons

unsalted butter

, cold

1

egg

, lightly beaten
Filling
2

cups

sour cherries

, pitted

2

cups

Bing or other sweet cherry

, pitted

1/2

cup

sugar

zest of 1 lemon

2

tablespoons

ground instant tapioca

(store-bought or ground in a coffee grinder)

1

tablespoon

ground cinnamon

pinch sea salt
Crumb Topping
1/2

cup

all-purpose flour

1/4

cup

whole wheat flour

1/4

cup

plus 1 tablespoon sugar

pinch sea salt

6

tablespoons

unsalted butter

, cold
Instructions
To make the crust, whisk to combine flours, sugar, and sea salt in a large bowl. With a course grater, grate in the butter. Rub into flour mixture with fingertips until well combined. Drizzle in ice water a little at a time, folding into flour mixture with a silicone spatula. Add just enough so that the mixture holds together in a rough, floury ball.

Turn dough out onto a lightly floured surface and gather dough into a disk. Cover tightly with plastic wrap. Chill dough in fridge for 30 minutes or as long as 5 days.

Preheat oven to 425 degrees F. Set a large rimmed baking sheet in oven to preheat as well.

Set pitted cherries in a large mixing bowl. Fold in sugar, lemon zest, ground tapioca, cinnamon, and sea salt. Set aside while you prepare crust.

On a lightly floured piece of parchment paper, roll crust into a 14-inch circle. Fold into quarters and then unfold in a 10-inch metal pie pan. Press dough into pan. Trim crust to a 1-inch overhang, tuck edges under along the rim and crimp. Set pie crust in freezer for 20 minutes. 

Meanwhile, make the crumb topping. In a medium-sized bowl, combine flours, sugar, and sea salt. Chop butter into little pieces; rub into flour with fingertips. Set crumb topping in the fridge until needed for the pie.

To assemble pie, brush crust all over with egg. Working quickly, spoon filling into pie shell and cover with crumb topping.

Set pie on preheated baking sheet, slide into oven and bake 15 minutes. After 15 minutes, rotate baking sheet and turn heat down to 350 degrees F. Baking another 35 - 45 minutes, or until crust is a deep golden hue and the filling is bubbling.

Cool 2 hours, slice, and serve with a scoop of ice cream.
Recipe Notes
If you're new to pie crust, make a wetter dough so that it will be easier to handle. Roll dough out on parchment paper with plenty of flour.
If you're going to make even one cherry pie, a cherry pitter is essential. OXO's cherry pitter is hands down the best and simplest I've ever used.