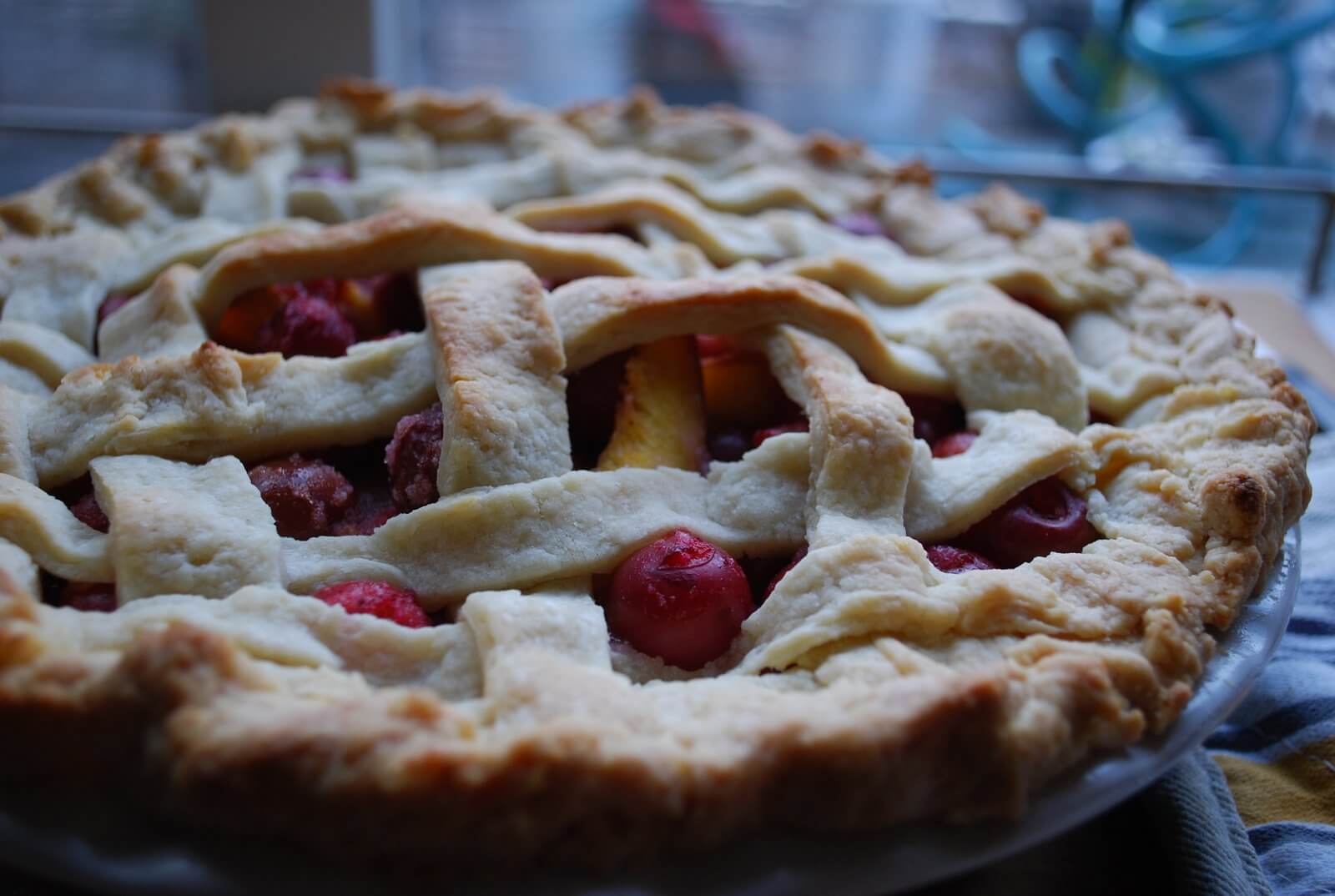 Some hasty research on the internet tells me that cherry pie is America's second favorite pie (you don't even want to know what the first most popular is). Yet so few people have had a cherry pie made from fresh cherries. It's a sorry state of affairs. I suggest you remedy the situation immediately since sour cherries just popped up at East Coast farmer's markets. Take heart, if you can't find sour cherries, sweet ones will do, just add some lemon juice and a little lemon and/or orange zest.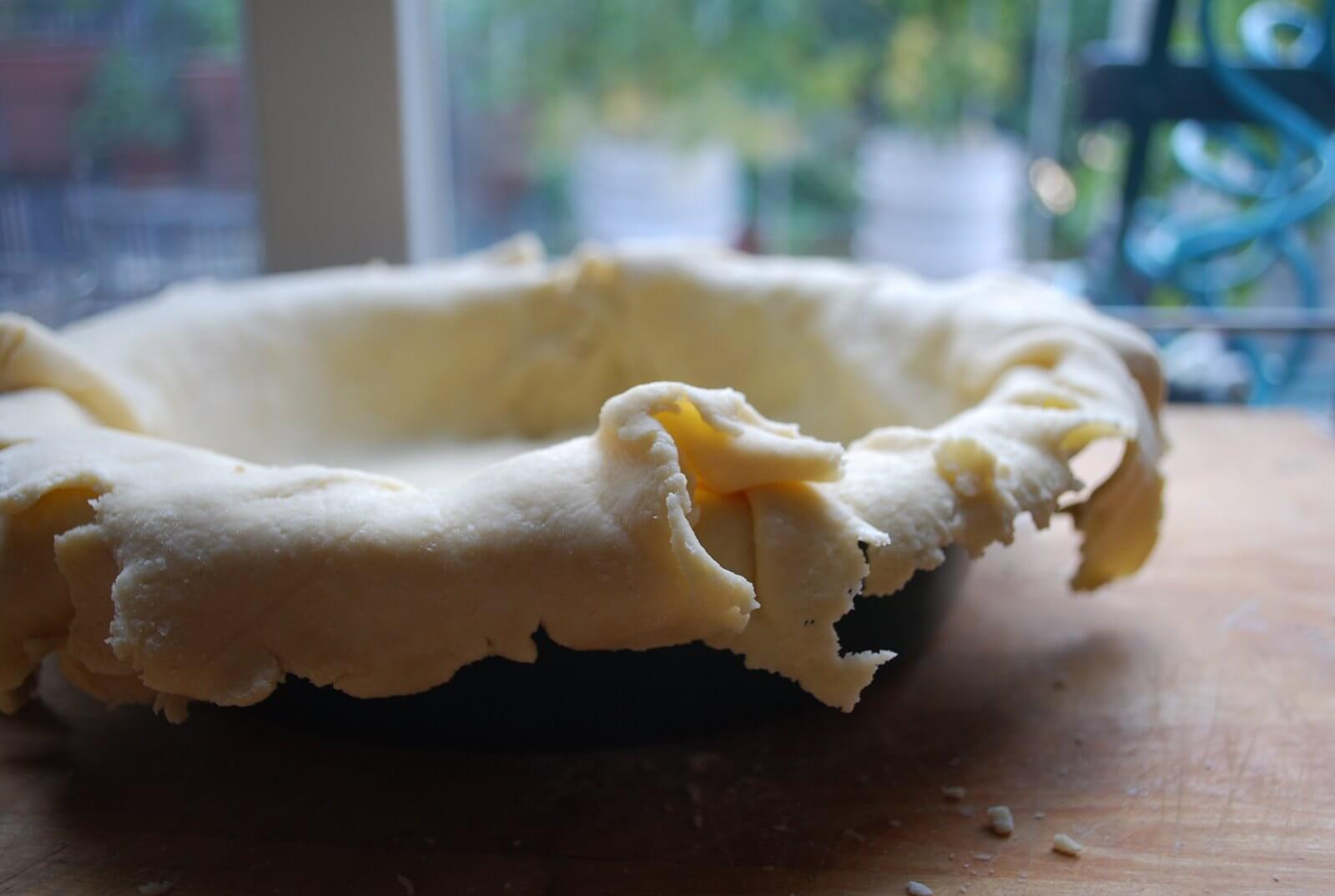 The recipe is a variation on my standard cherry pie. A couple of additions make for a more complex, well-rounded flavor. The ginger butter melds spectacularly with the sour cherries. You have my word that this is a very good pie. Way better than your grandma's.
This crust is the one I use for my apple pie, and I like it here because it yields a light, flaky crust, is made almost entirely in the food processor, and because of this, requires very little handling, which is good on a hot summer day.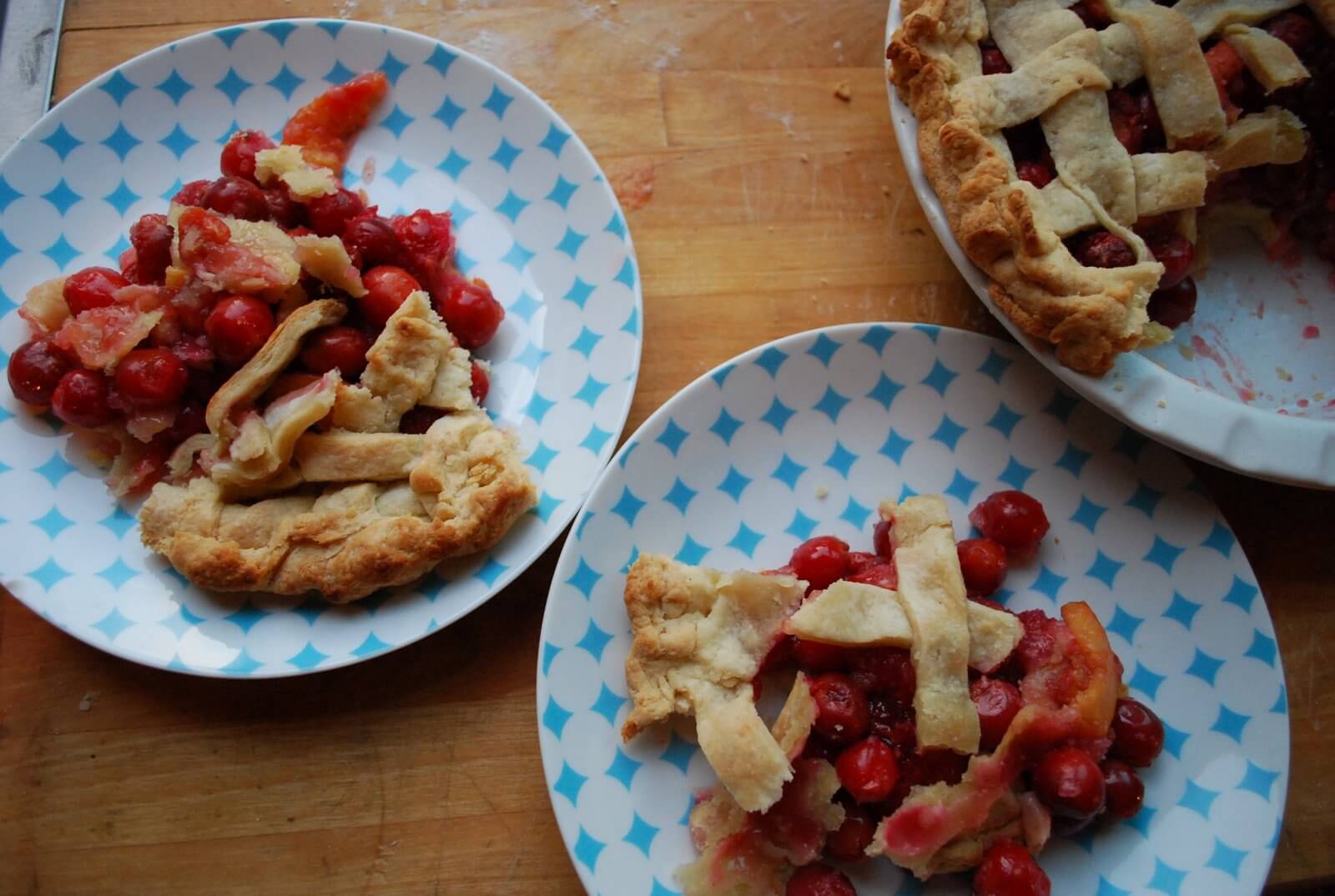 Lattice-Top Sour Cherry Pie with Peaches and Ginger Butter
for the crust (adapted from Cooks Illustrated)
2 1/2 cups unbleached all-purpose flour
1 teaspoon salt
1 tablespoon sugar
16 tablespoons unsalted butter (2 sticks), cold, cut into 1/2-inch cubes
3 tablespoons sour cream
1/3 cup ice water, or more if needed
Process flour, salt, and sugar together in food processor until combined, about 10 seconds. Add butter and pulse until butter is size of large peas, about ten 1-second pulses.
Mix sour cream and 1/3 cup ice cold water in small bowl. Add half of sour cream mixture to flour mixture; pulse for three 1-second pulses. Repeat with remaining sour cream mixture, just until ingredients are combined. Turn the dough out onto your work surface. Divide dough into 2 balls and flatten each into 4″ round; wrap each round in plastic and refrigerate until firm, 1 to 2 hours or overnight, before rolling. Especially in the summer, the dough will soften quickly at room temperature.
for the filling
2+ quarts of fresh sour cherries
3-4 medium peaches, pitted and cut into 1/2″ segments
1/2 cup sugar (more if you like things on the sweet side, slightly less if using sweet cherries)
3 heaping tablespoons of pulverized instant tapioca (I make mine in the coffee grinder)
1 tablespoon ginger, finely diced
2 tablespoons butter
dash salt
dash cinnamon
dash nutmeg

Put the oven rack in the center and heat oven to 450 degrees. Place a cookie sheet into oven for preheating.

Rinse and pit the cherries. If you have a cherry pitter, it will take you 20-30 minutes. If you don't and you're using smaller, sour cherries, it could take well over an hour. It is best have whole cherries which will be easy with a pitter and very hard without. Just buy a cherry pitter.
Remove one dough round from the refrigerator and roll on a on a lightly floured surface or a large piece of parchment paper into a 14 inch circle. Fold dough in quarters, then place dough point in center of a buttered deep dish pie pan. Unfold dough. Gently press dough into sides of pan leaving portion that overhangs lip of pie plate in place. Refrigerate while preparing fruit.
Melt 2 tablespoons butter over medium-low heat. When it is foamy and bubbly, add the ginger and a dash of sugar. Cook slowly for a while, maybe 30 minutes, being careful that the ginger doesn't burn or get any more than the slightest bit brown.
Gently fold the peaches, pulverized instant tapioca, sugar, and spices into the bowl of cherries. Let stand at room temperature while the crust continues to chill and you are rolling it out.
Next, get the second dough round and roll it out. It is fine if this dough is more rectangular than round. Working quickly, cut long strips with a sharp knife. Then, weave the lattice. I learned how to do this from some Cook's Illustrated illustrations, but it's fairly straightforward when you see it. Think kindergarten weaving and you'll be fine.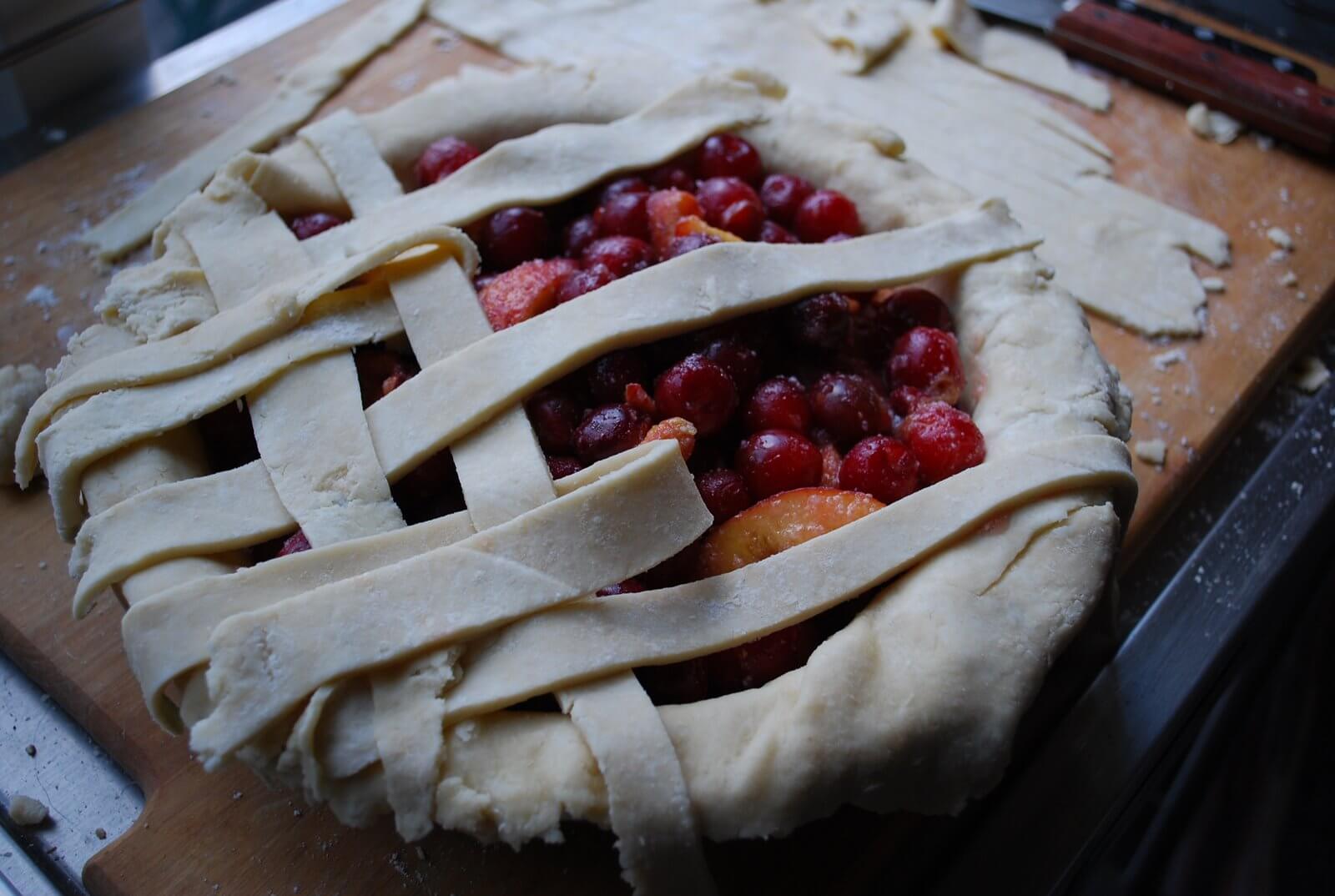 Place pie in oven onto preheated cookie sheet. Bake for 10 minutes at 450 degrees, and then turn down to 350 and cook for an additional 35-40 minutes until lattice is just golden and the filling is bubbly. Watch that the crust doesn't burn and shield with tin foil if it gets too dark. Transfer pie to wire rack and cool thoroughly, for at least 2 hours for optimal fruit set. If you want something creamy, serve with slightly sweet whipped cream–full blown vanilla ice cream would overwhelm the subtle flavors and light sweetness.