A weekly spring produce guide to what's in season at farmers' markets and CSAs in the Mid-Atlantic region (and lots of other places). This week, we have eggs, radishes, asparagus, and strawberries.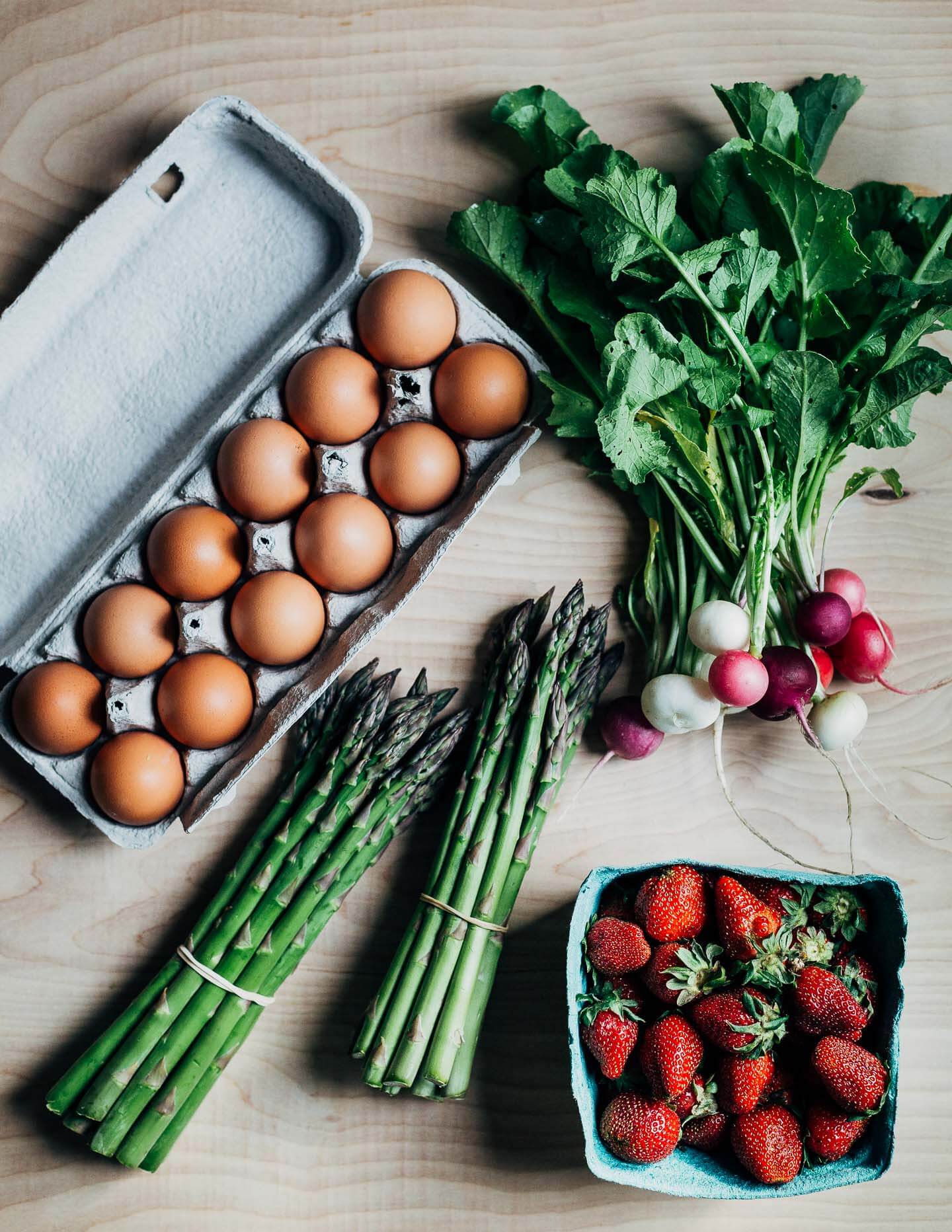 I'm reprising my weekly spring produce guide! I'll post mostly every week with a simple guide to what's in season this week and what you should cook with your farmers' market or CSA (community supported agriculture) haul. Along the way, I'll also offer some of the tips and tricks I've accumulated over the years. Whether you've just signed up for a CSA and need inspiration or you're a seasoned farmers' market pro, this guide will help you get the most out of local produce and cook a lot of delicious food along the way.
At the Market
Many CSA shares in the Mid-Atlantic region are getting underway and farmers' markets are hitting their stride. This week marked a key moment in the spring for me, with the little Wednesday afternoon market in our neighborhood park starting back up. I came home with a couple dozen eggs, two beautiful bunches of asparagus, and a tub of strawberries. In my ever-expanding backyard garden, I dug up a bunch of Easter egg radishes from the raised beds. Both my partner Brian and I are very impressed at how legit these radishes look! Definitely the best I've ever grown.
Spring Produce Guide: What to Eat Right Now (Early May)
Asparagus
For optimal flavor, eat your asparagus as soon as you're able. Look for thinner, tender stalks, as larger ones can be tough and fibrous. If your asparagus has a tough exterior, peel the outer layer before cooking.
Eggs
Sure, eggs are pretty much a year round thing and may not necessarily qualify as produce, but there's no better time for delicious eggs than the early spring. Right now, good local eggs from pastured hens have electric yellow, wonderfully creamy yolks, and are delicious alongside spring vegetables.
Radishes
Radishes are wonderful this time of year. Look for medium-sized radishes that look fresh and smooth. Young radishes are ideal for salads, garnishes, and eating with butter and sea salt. As they age, radishes and their greens get tough and spicy. Older, larger radishes are best roasted or blended into a soup.
Strawberries
Strawberry season has officially begun! Right now, there are a lot of smaller, early berries available at markets. As we head into June, the berries will get big and plump. I have more recipes on this blog dedicated to strawberries than any other ingredient, so keep an eye out for more strawberry recipes as the season progresses. For now, here are a few that highlight early strawberries.
To best store your berries, keep them loosely covered in plastic wrap on a paper towel-lined tray. Berries that have slumped or are on the edge of being overripe are ideal for cooking.
Obviously, I adore all these recipes. But the strawberries in red wine syrup recipe is absolutely magical, especially if you pair it with a really nice vanilla ice cream.