A weekly summer produce guide to what's in season at farmers' markets and in CSA shares in the Mid-Atlantic region (and lots of other places). Early June brings us lots of fresh fruit. In season this week, sweet and sour cherries, blueberries, strawberries, and wild mulberries.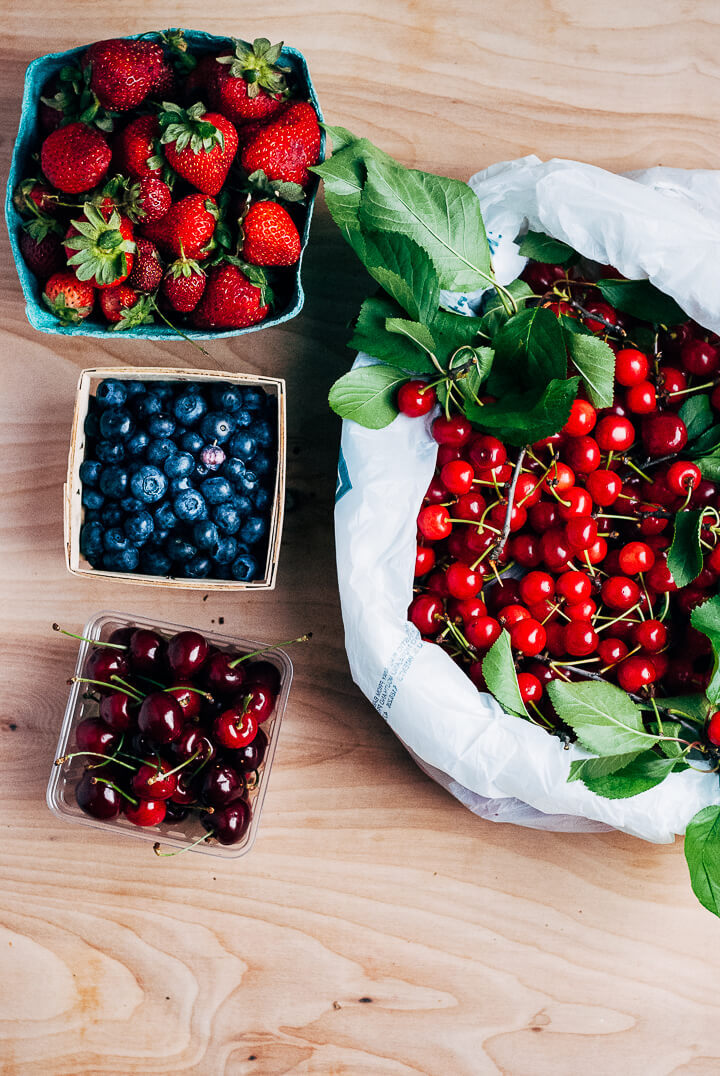 This post was originally published in 2015 and has been updated.
We'll get back to vegetables next week, but for now, let's have some fruit. In Virginia, the sour cherry season is just a week or two, while sweet cherries stretch out a bit more. Weather depending, blueberries should be around for much of June. Strawberries are wrapping up, and mulberries are ripe for a hot second before all that fruit splats on the sidewalk.
New York is a couple of weeks behind Virginia fruit-wise. Of course, once ripe, all these fruits enjoy a longer season at the NYC Greenmarkets since the markets draw from farms stretching from southern Jersey to Vermont.
To stretch the brief season a bit, consider freezing your fruit. Any of these fruits can be rinsed and dried (and pitted, if needed), and arranged in a single layer on a wax paper lined baking sheet, and frozen. Once the fruit is frozen solid, tip it all into a labeled zip-top bag, and keep in the freezer until you need it.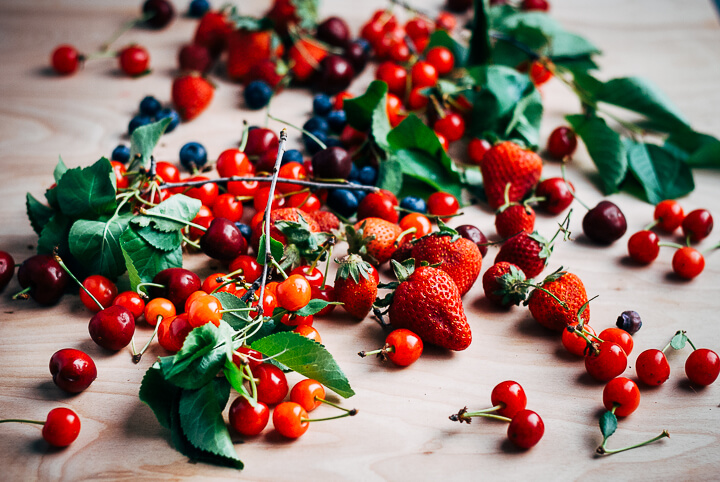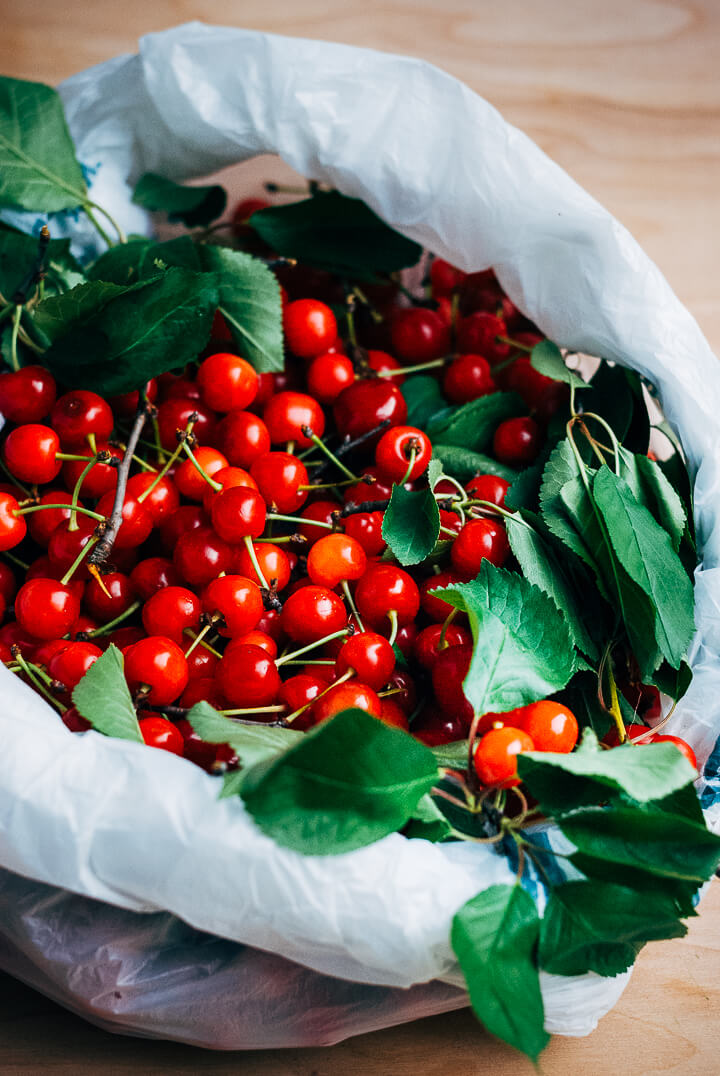 Sweet Cherries
Sweet cherries are in! And while I love baking with sweet cherries, they are just as wonderful in summery salads or as a topping for rich meats. Below, I have a few favorite desserts and salads so you can eat cherries all the time. There's also a quick-pickled cherry recipe. It sounds odd, but they are so, so good.
Sweet cherries keep fairly well loosely wrapped in the fridge. If you need them to last several days, lay them in a single layer on a baking sheet and wrap loosely with plastic.
Blueberries
Here are a few blueberry recipe to help you make the most of the season. I've found that the deep sweetness of blueberries is complemented beautifully by a tangy note like cream cheese or sourdough. Grocery store blueberries usually come from far away and are bred to withstand the journey. But the kind you'll find at the farmers' market are delicate, super sweet, and wonderfully bright. Get them while you can!
Sour Cherries
Longtime readers will know that sour cherries are my absolute favorite. My nana was known for the pies she'd make for church events, and one of my fondest memories is being in her old fashioned kitchen with her while she made a cherry pie. Like lots of cooks of her day, my nana used canned cherries for her pies, but I recommend that you get yourself a good cherry pitter and use fresh sour cherries.
Sour cherries are very fragile, and typically need to be sourced from farmers' markets, specialty markets, or a friend's backyard. Once you have the cherries, move quickly to cook them. The can be loosely wrapped in plastic and stored in the fridge for a day or two if needed, but it's best to cook them as soon as possible.