A weekly summer produce guide to what's in season at farmers' markets and in CSA shares in the Mid-Atlantic region (and lots of other places). What's in season in mid-June? Beets, broccoli, green beans, garlic scapes, and blueberries.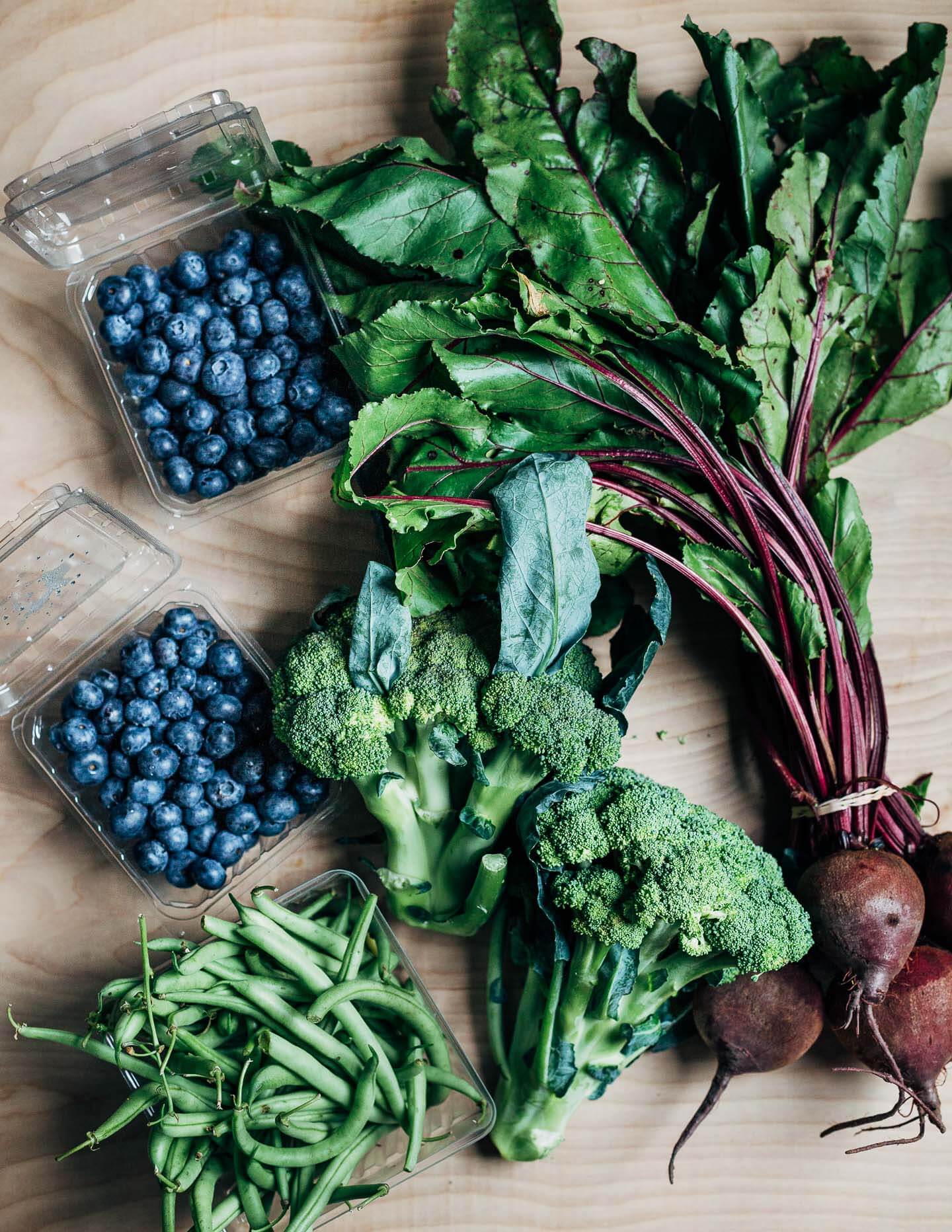 This post was originally posted in June 2015. It was updated in June 2022.
In the garden, the transition from the greens and lettuces of spring to real deal summer produce continues. Cabbage, cucumbers, hot peppers, green beans, zucchini, and of course tomatoes, are all growing like crazy, but first harvests are still a week or two away.
In CSA boxes and at farmers' markets this week, roots and greens are coming in strong, along with early cucumbers and summer squash, and berries galore. Blueberries are right at their peak and super delicious. (I featured blueberries in last week's guide.) Garlic scapes are in too. Scapes have a more mild garlic flavor and can be used anywhere you'd use regular garlic.
Garlic Scapes
Garlic scapes are one of the many iterations of garlic, along with green garlic and garlic chives. Scapes are the curly flowering top of a garlic plant that farmers often remove to send more growing power to the bulb. Look for garlic scapes at farmer's markets or ask a grower of garlic. Garlic scapes do have a garlicky kick, but it's more mild and delightfully green tasting than regular garlic.
Beets
Earthy and sweet, beets are delicious right now. I like to use the beets and the greens whenever possible. Below, the beet soup, pickled beet sandwiches, kraut, and Roasted Beets and Carrots all make use of both. Leftover beet greens can also be sautéed as you would any other greens, eaten in salads, or added to smoothies.
Green Beans
Snapping the ends off of the first green beans of the year is a big summer moment for me. Bigger beans can be tough and fibrous, so look for smaller or medium-sized beans.
Really tender green beans don't require much to be perfect – just blanche, dip in ice water, and toss with lemon, olive oil, and sea salt. But just in case you want to do a little more with them, here's a selection of recipes that highlight green beans.