A weekly summer produce guide to what's in season right now based on the contents of our CSA share, with CSA and farmer's market recipes and ideas. This week's mid-August inspiration: red peppers, fennel, leeks, peaches, and nectarines.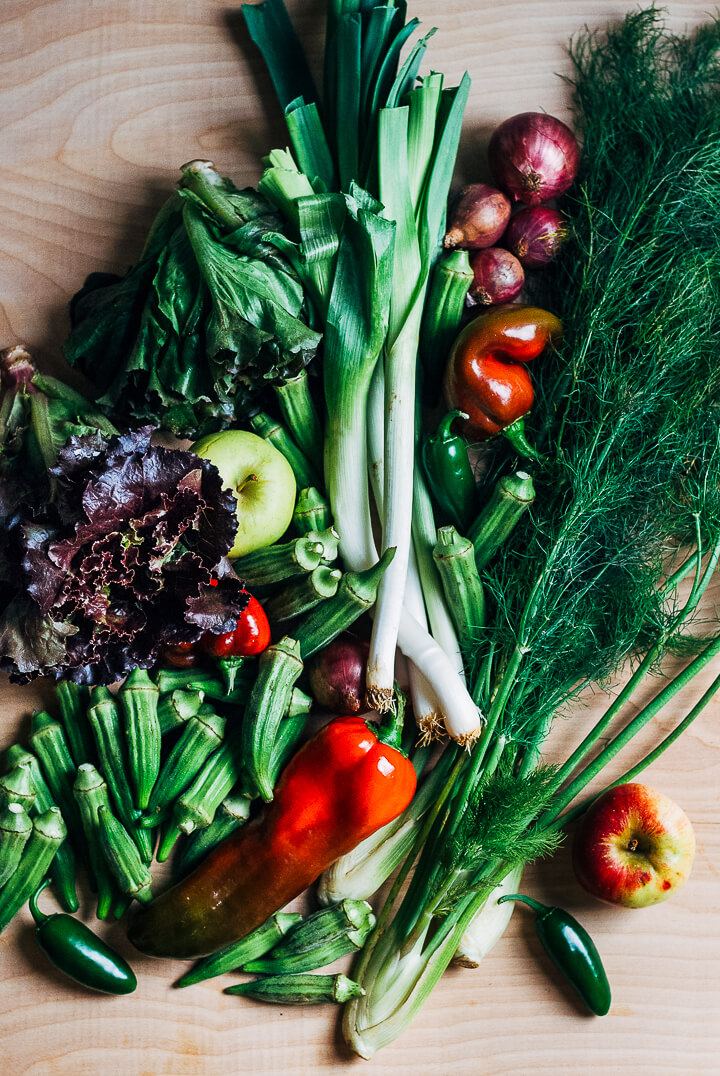 This week brought a palpable shift towards fall. Summer produce traded bright greens and reds for saturated jewel tones. The hue of the tomatoes deepened, red peppers appeared, pale green summer apples made way for early MacIntosh with their flashes of scarlet, and even the late season peaches and nectarines took on rich maroon hue. I spotted the first green acorns under foot. And, in what may be the biggest harbinger of all, a friend brought a bunch of backyard concord grapes to a party.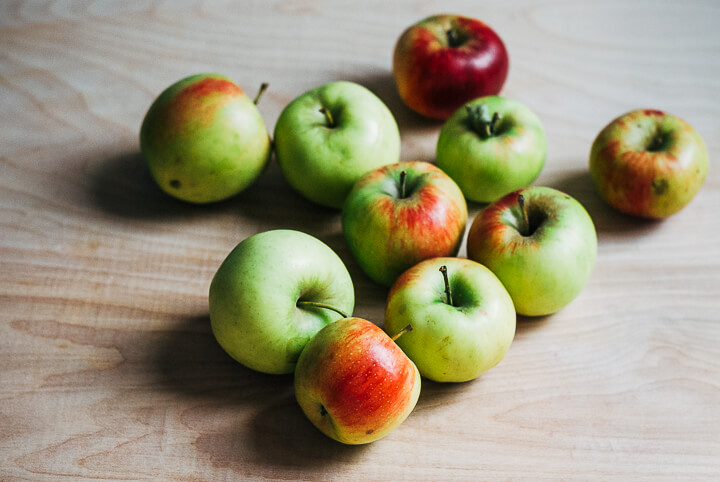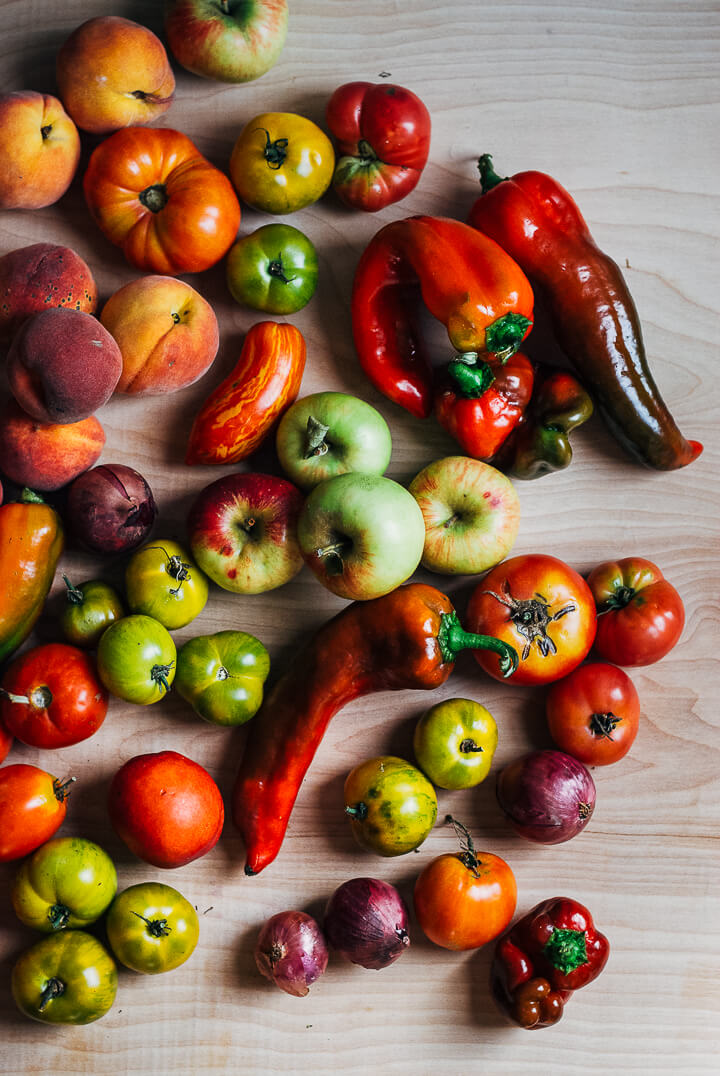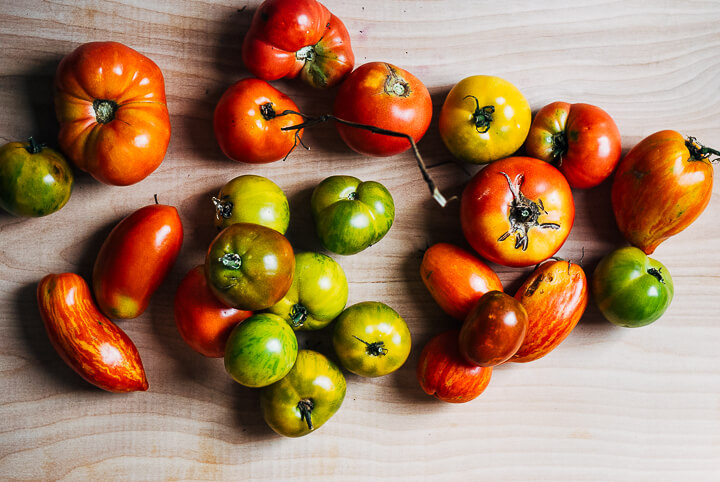 If this series has shown me anything, it's just how fleeting the season is. Ingredients show up for a couple of weeks and then they're gone. Now that we've entered the middle of August, my annual produce panic has set in, and with it, inadvisable fruit buying. I find a good price on 40 pounds of peaches and nectarines  or stumble into 15 pounds of free tomatoes and suddenly I've got 55 pounds of extremely perishable produce to deal with. Canning's my thing – a thing I'm really not very good at – so I've been up late making jam and crushed tomatoes all week. No matter what it takes, it'll be worth it when we're braising pork in crushed heirlooms on a frigid December night. (I say December because that's the very longest our canned tomato supply has ever lasted.)
Our CSA share was abundant this week. Two small heads of lettuce were a welcome sight, along with gorgeous okra, leeks, fennel, red onions, and the first red peppers. (There's eggplant, too, but I'm allergic so we skip it.) All these vegetables proved the perfect complement to the piles of apples, nectarines, and peaches I picked up at a local orchard earlier in the week.
Tomatoes are still going strong – especially heirlooms and paste tomatoes. If you're on the hunt for preserving recipes, I pulled together some of my favorites in last week's post.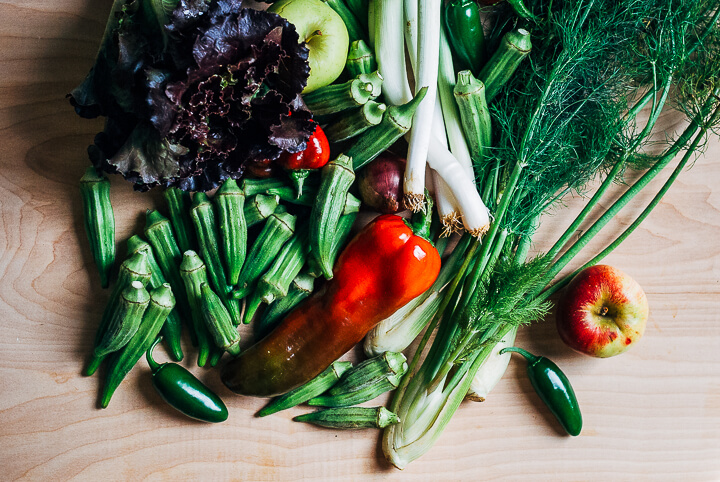 Red Peppers
Saffron Shakshouka // Brooklyn Supper
Grilled Polenta with Zucchini Salsa // Brooklyn Supper
Jalapeño Pimento Cheese // Brooklyn Supper
Cold Soba Summer Salad // i am a food blog
Red Pepper Pesto // Cookie + Kate
Fennel
Broiled Salmon with Fennel and Radish Risotto // Brooklyn Supper
Arugula Salad with Almonds, Avocado, and Fennel // Yummy Supper
Roasted Fennel and Quinoa Crunch Salad // The First Mess
Shaved Fennel Toasts // Love and Lemons
Leeks
Wild Mushrooms Tartlets // My Blue & White Kitchen
Pot Roast Sliders with Sriracha Aioli // The Candid Appetite
Leek, Fennel, Apple, and Walnut Soup // The First Mess
Aduki Bean and Black Lentil Soup // A Brown Table
Peaches
Peach Sorbet // Brooklyn Supper
Lattice-Top Peach Slab Pie // Brooklyn Supper
Peach Shrub Cocktails // Brooklyn Supper
Bourbon and Brown Sugar Peach Pie // Hummingbird High
Peach and Amaretto Jam // Turntable Kitchen
Nectarines
Charred Corn Salad with Quick-Pickled Onions and Nectarines // Brooklyn Supper
Chicken and Nectarine Poppyseed Salad // Pinch of Yum
Strawberry, Nectarine, and Peach Whole Grain Buckle // Hummingbird High
Chopped Kale Salad with Nectarines // With Food + Love