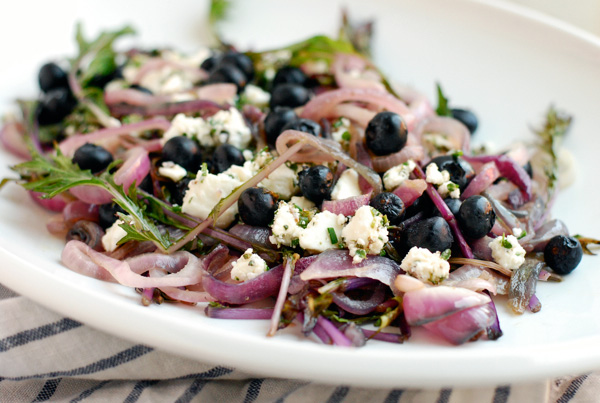 Two weeks ago, I spotted a couple of farmers at the market with a sparse table scattered with several quarts of storage apples and a few pints of blueberries. Eager for the first blueberries of the season, I asked how much they were. To which the lady replied, "What blueberries?" And that was funny, because they were right there. I indicated the blueberries and politely said, "These," and she said "Oh, those blueberries. They're $5." Sold. We got them home and they turned out to be the best blueberries anyone on earth has ever had. Since then, I've been stalking her farm stand and have only found the storage apples, but I'm not giving up.
That distracted blueberry lady is on to something. She could have the best blueberries ever and then forget she was even selling them because even the best-ever blueberries aren't what matters. What seemed to matter to her was being at the market and watching the people. Inspired by our recent move and all my long walks, I've been thinking a lot lately about what really matters to me.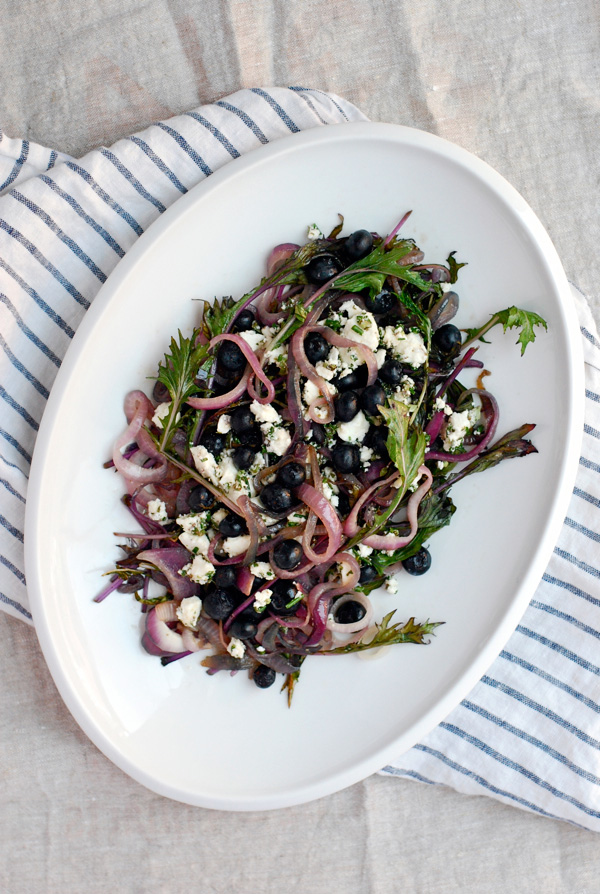 I had an epiphany of sorts the other day that started with a twinge of internet jealousy. Do you ever get that? I like to pretend I'm immune to it and say to myself "She's on her path and I'm on mine," or "I don't even want a cookbook," or "Brooklyn Supper is a niche blog," but it's difficult for me to really reflect on it more deeply than that because usually in a contemplative moment, I'm interrupted by a child. I have two, so it happens a lot. But the other day I realized––these two little people, Brian, even myself becoming a better person, these are the things that matter. So internet, consider yourself warned. We're on the outs, you and me.
To celebrate, I'm out wandering more, reading books again, and playing with my daughters for hours. I can do all that, because I'm just not that into the internet anymore. Not you though. You I love, and I'm ever so grateful for every single eyeball that lands on this blog. That part of the internet is totally cool. But like that blueberry lady, I'm going to stop worrying about whether or not I'm the best and focus instead on the moment and I'm in and treasuring it. In her honor, I'm sharing this mizuna and blueberry salad. You should try it, it's the best.
Sautéed Mizuna with Herbed Feta, Caramelized Onions, and Blueberries
4 tablespoons olive oil, divided
1 large red onion, cut into round, 1/4 inch thick slices
1/2 teaspoon fresh ground white pepper
1/2 teaspoon sea salt, divided
1 large bunch mizuna, stems trimmed
1 tablespoon rice wine vinegar
1/2 cup good feta cheese
1/4 cup mixed herbs, minced (I used lemon thyme, rosemary, chives, and marjoram)
1 cup blueberries
Start by caramelizing the onions. Heat 2 tablespoons of olive oil in a large, heavy bottomed skillet over medium heat. When the oil is hot, add the onions, pepper, and 1/4 teaspoon sea salt, turn to coat with oil, and turn heat to low. Cook, stirring often, over low heat for an hour, or until onions are lightly browned and sweet.
Remove the onions from the pan, turn heat to medium high, and add the remaining 2 tablespoons of olive oil. Add the mizuna, the remaining 1/4 teaspoon sea salt, and the rice wine vinegar. Sauté for 5 – 7 minutes, or until the mizuna has wilted a bit.
Meanwhile, combine the minced herbs and feta in a small bowl.
Layer the mizuna and onions with the feta, and top with blueberries.