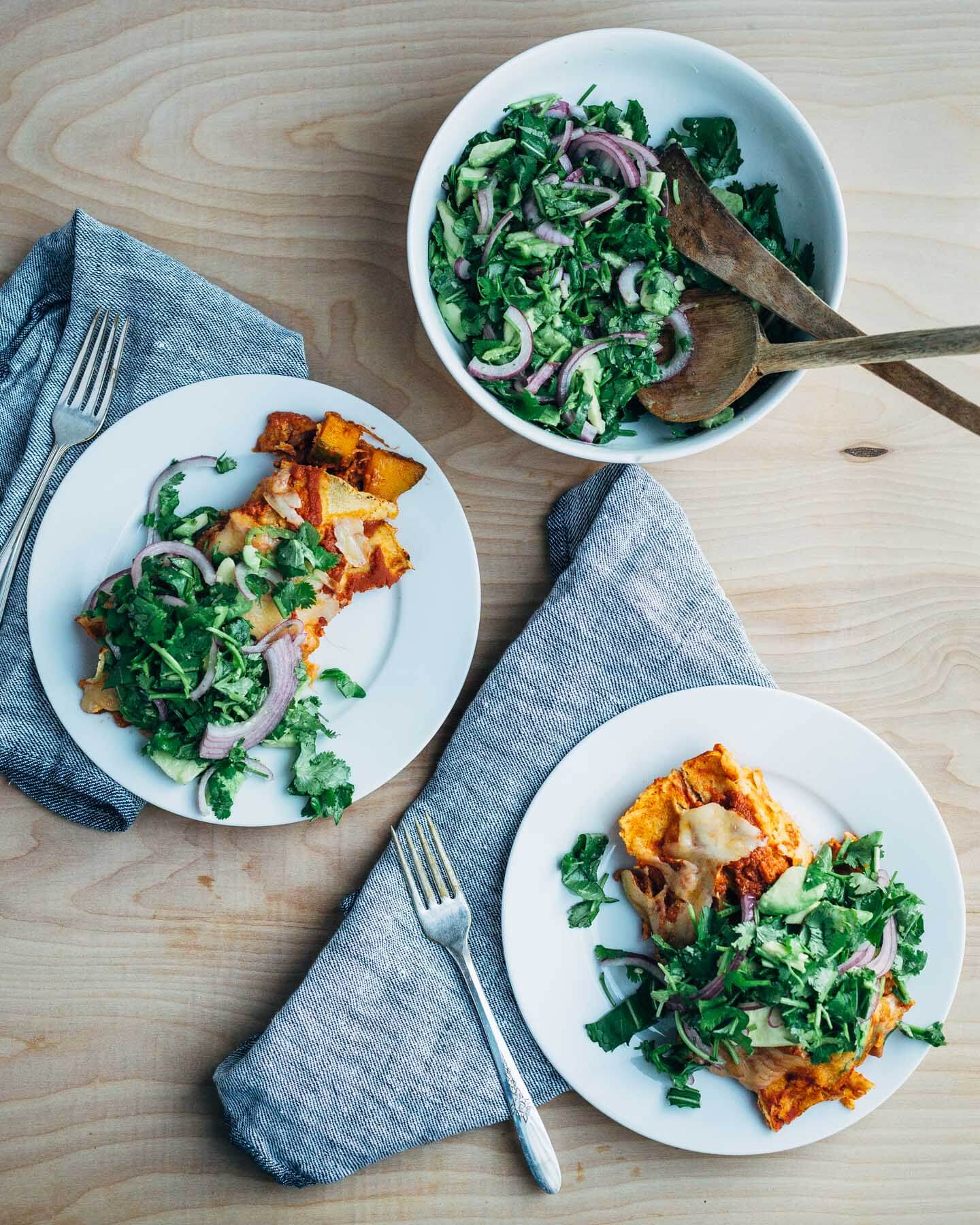 We're partnering with Muir Glen Organic to bring you these smoky delicious roasted winter squash enchiladas topped with a bright cilantro and arugula salad.
Almost every night, Brian and I sit down to a family dinner with the girls. Menu planning for a family is tough because we don't believe in making different meals or substitutions for the kids, but we try to take account of everyone's preferences – to a degree. And while it's pretty easy to negotiate tastes with fellow adults, kids have preferences like "no herbs" or only eating foods that pair well with ketchup.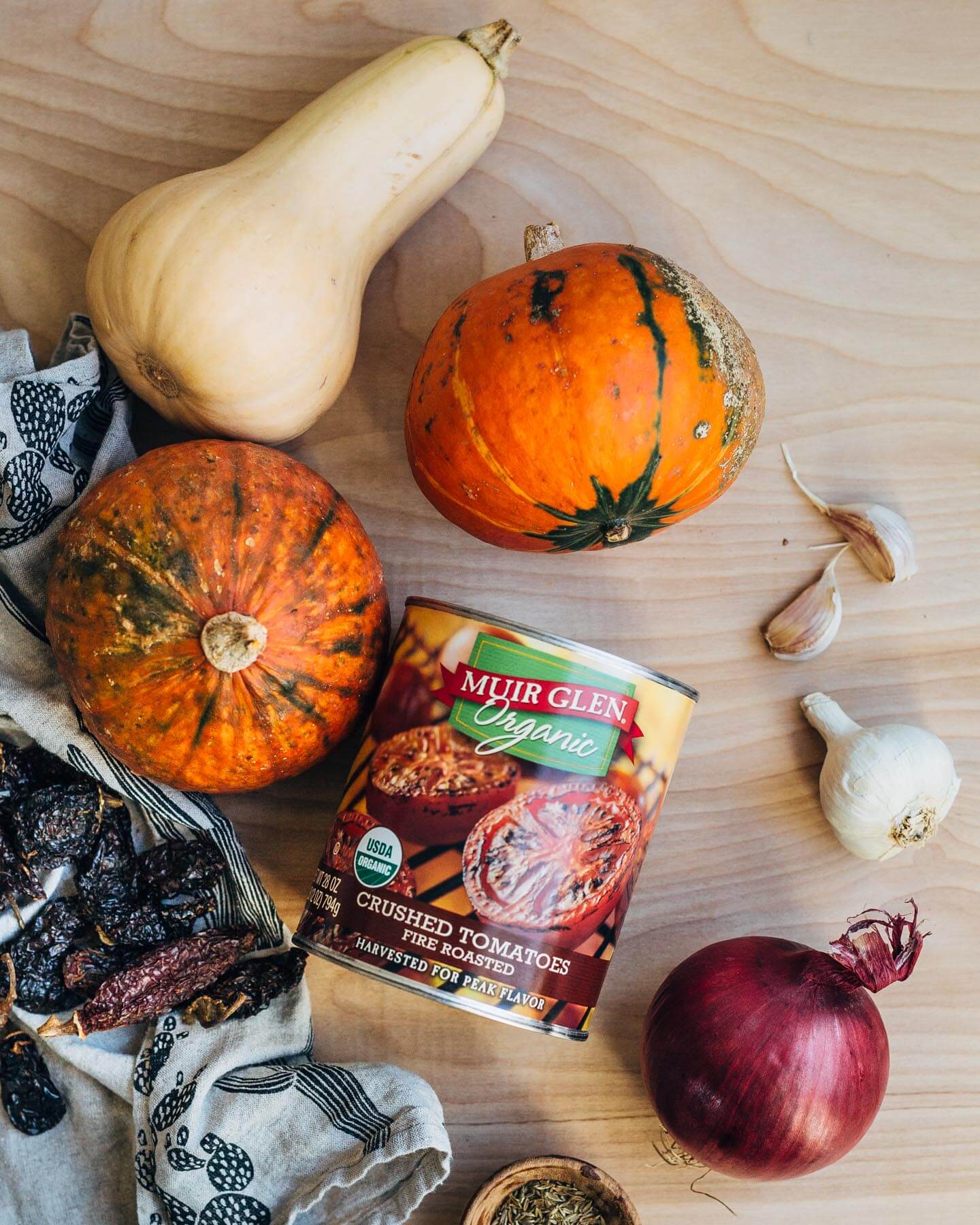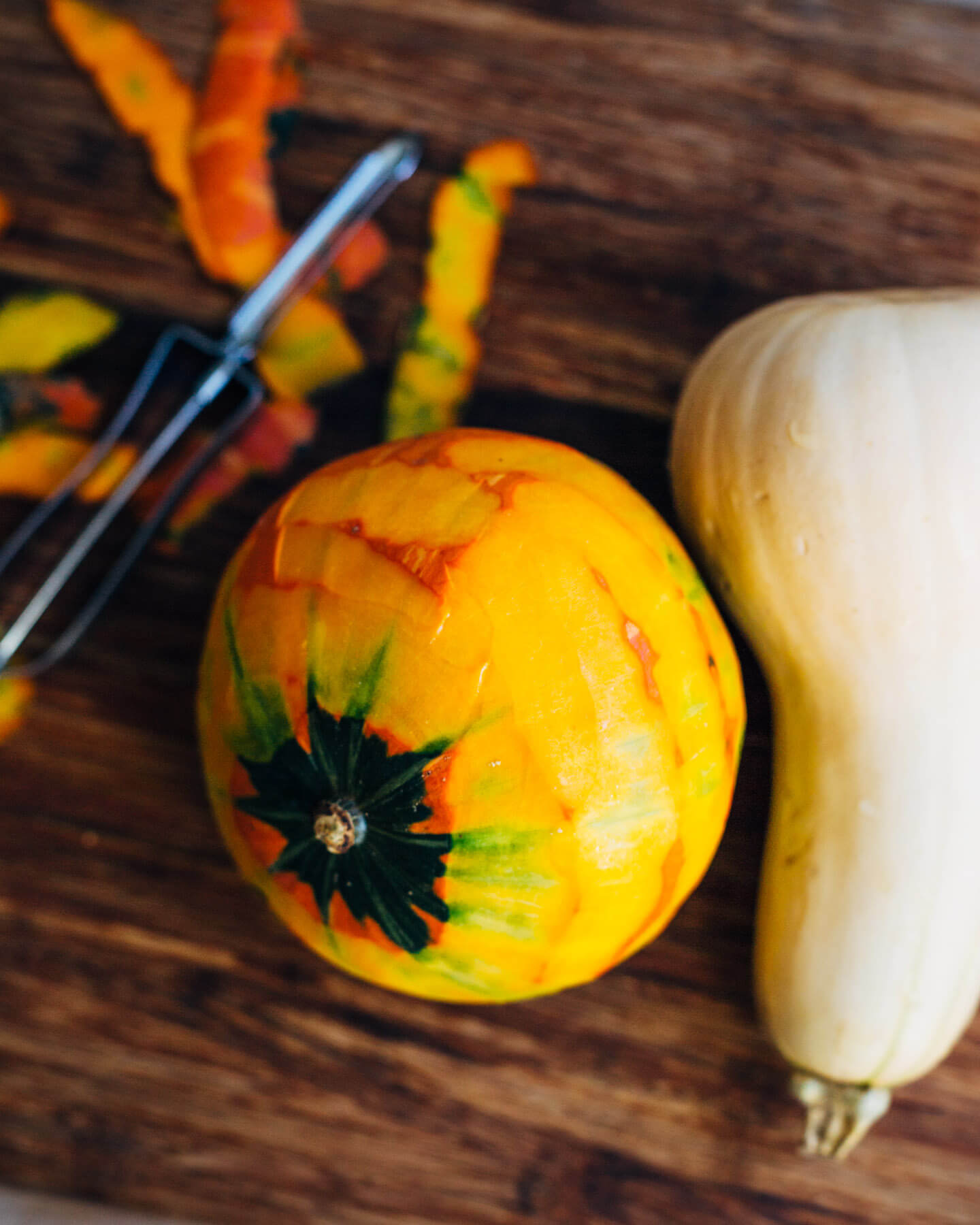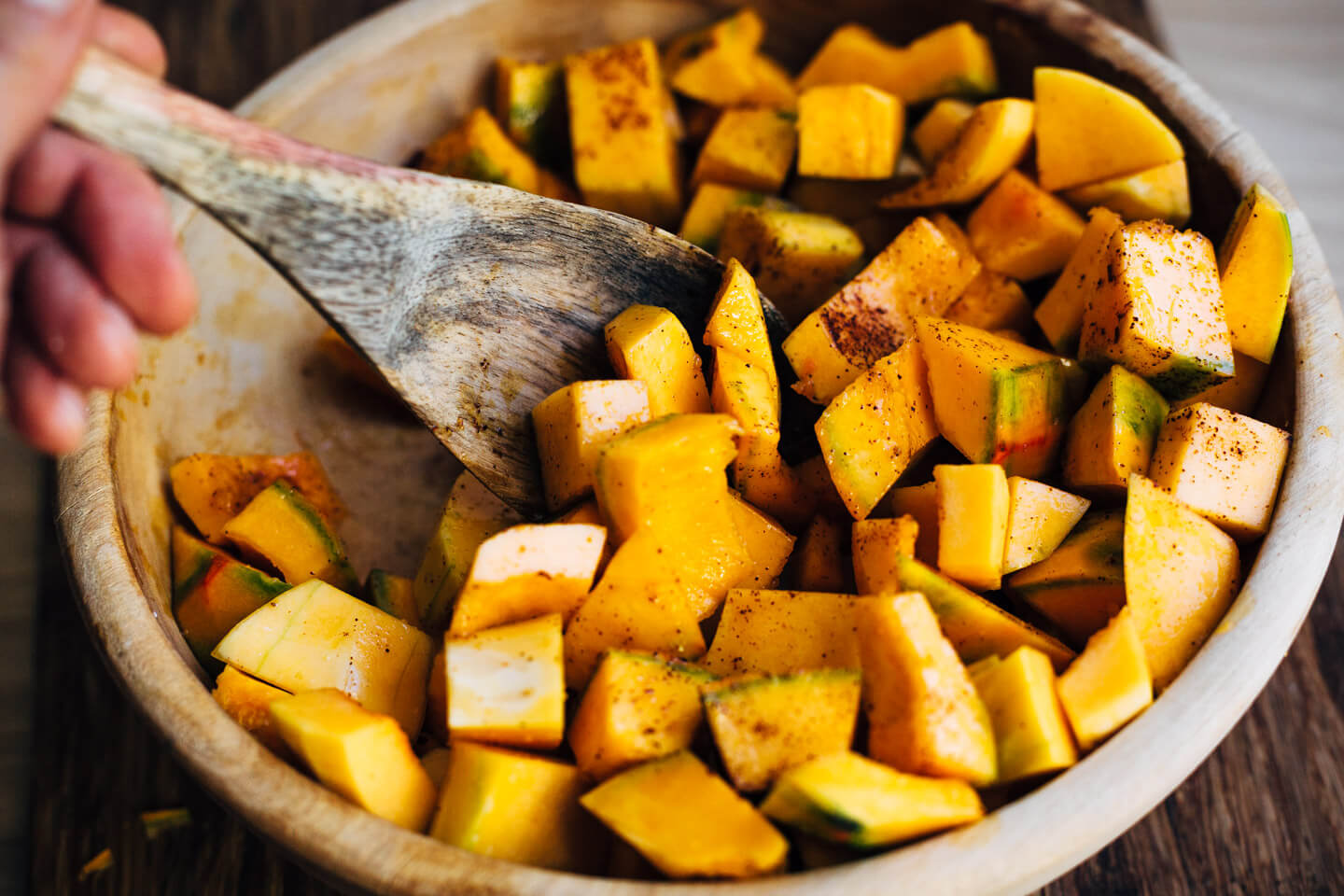 Still, we've managed to find a rhythm. My oldest likes her vegetables cooked up with grains or cheese, tortillas or pasta. The littlest's eating preferences are inscrutable, save her love of plain old salad. When faced with a vegetable that we know is going to be a tough sell like, say, squash, we've found a batch of enchiladas is great way to make something all four of us will love. A fantastic enchilada sauce and a little cheese make for a crowd-pleasing dish with at least a solid chance that kids will eat it. This time around, I opted to stuff my enchiladas with golden cubes of just-roasted red kabocha and a baby butternut squash along with pinto beans and jack cheese.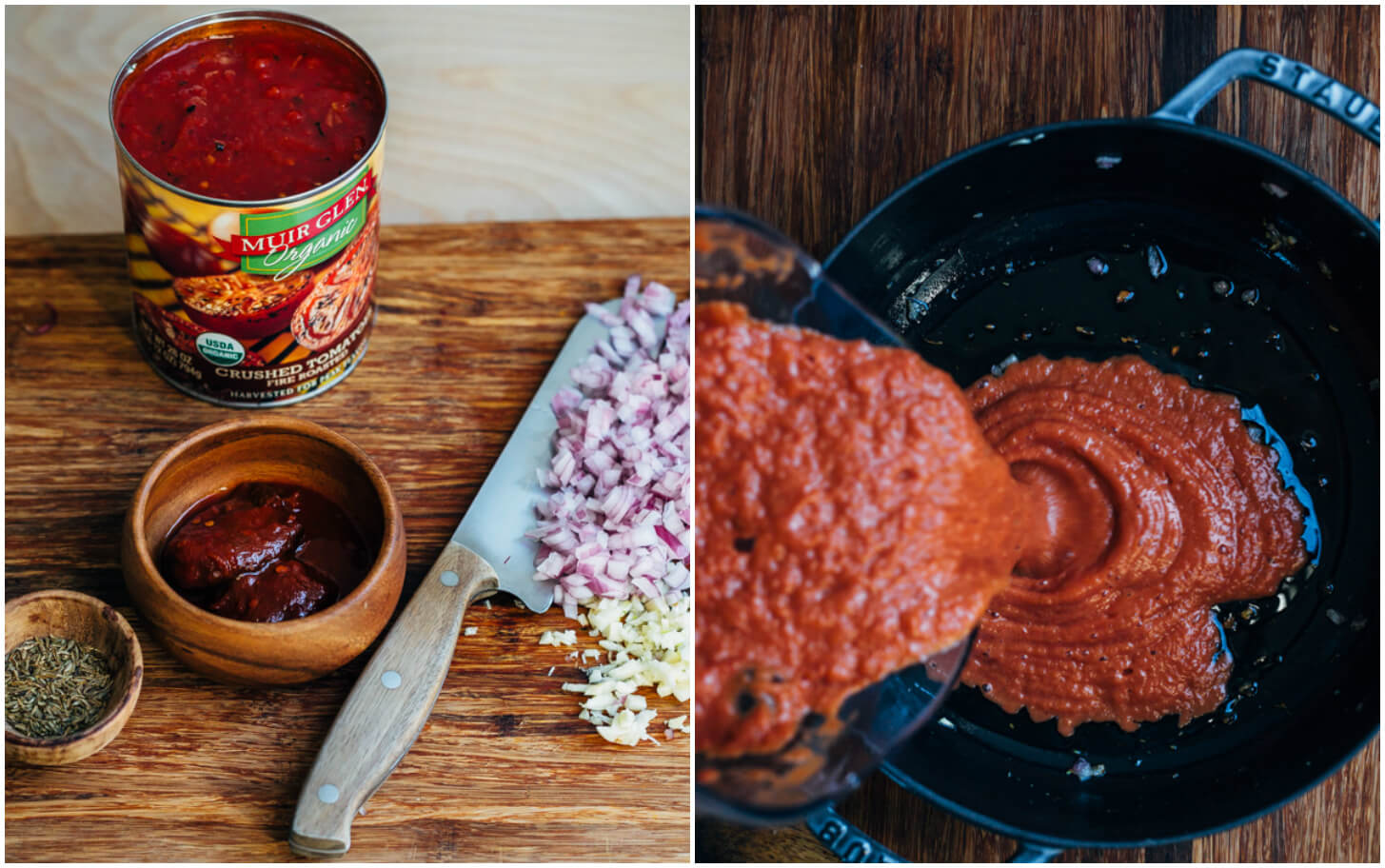 I like my enchilada sauce smoky and spicy, tomato-y and bright. I went with Muir Glen Organic Fire Roasted Crushed Tomatoes as the base of the sauce since I love all those smoky flecks of roasted goodness, not to mention the way Muir Glen's vibrant tomato flavor shines through in each bite. To make it kid-friendly, I went easy on the chipotle spice, but feel free to add as many peppers as feels right to you.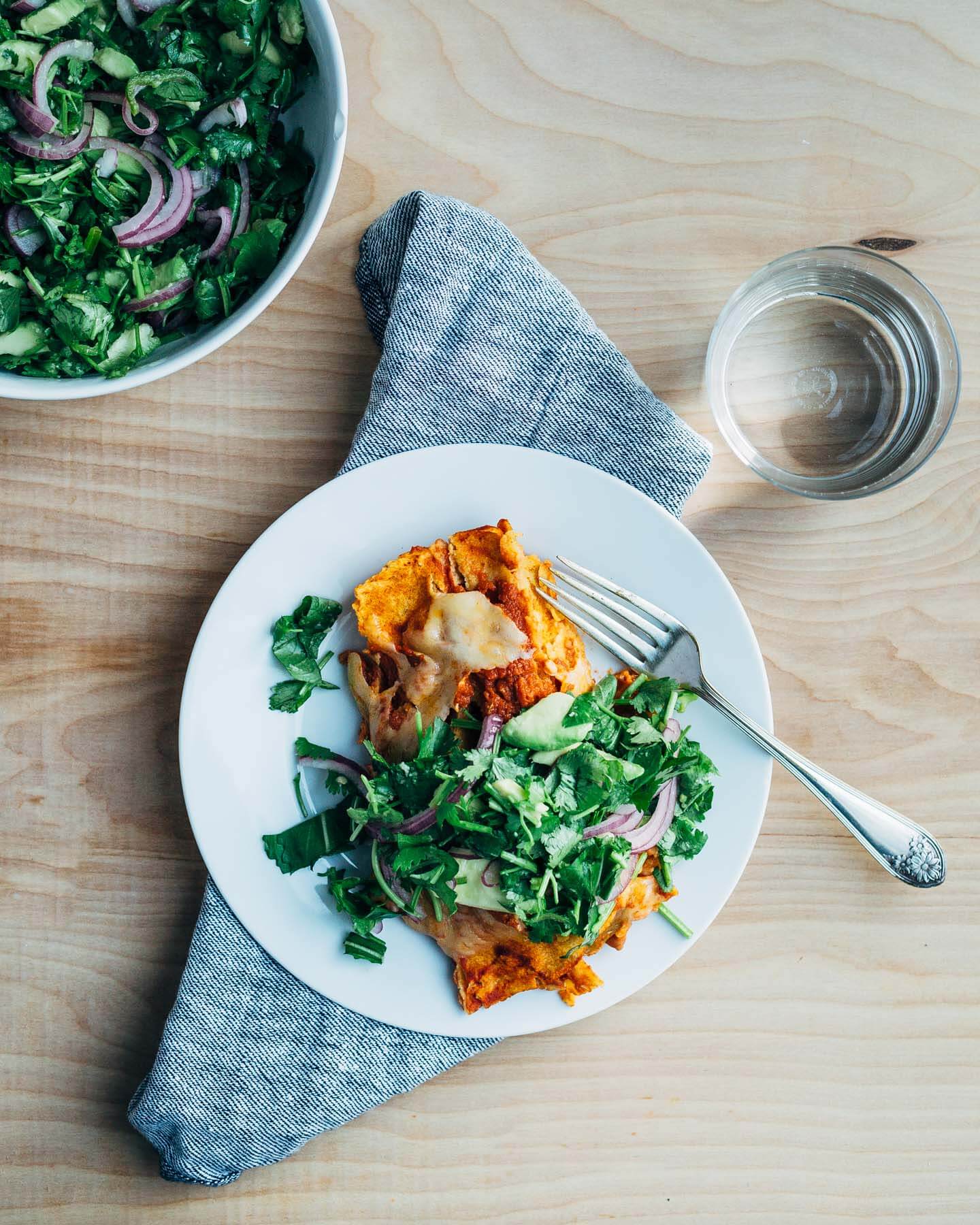 I paired my squash enchiladas with a cilantro and arugula salad, served on top rather than alongside, a stroke of brilliance inspired by Sprouted Kitchen. The juxtaposition of cheesy, smoky enchiladas and a bright, crunchy, herbaceous salad is a total knockout and adds a little insurance that a salad-loving 5 year-old (should your house have one) will definitely eat something for dinner.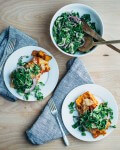 Roasted Winter Squash Enchiladas
Smoky delicious roasted winter squash enchiladas topped with a bright cilantro and arugula salad.
Ingredients
For the Roasted Squash
1

medium or 2 small red kabocha or butternut squash

peeled and seeded

2

tablespoons

grapeseed oil

(or other heat tolerant neutral cooking oil such as canola)

1/2

teaspoon

chipotle chili powder

1/2

teaspoon

sea salt
For the Enchilada Sauce
2

tablespoons

grapeseed oil,

divided

1/2

red onion,

minced (reserve other half for salad)

1/2

teaspoon

sea salt

2

cloves

garlic,

smashed, peeled, and minced

1 28-

ounce

can Muir Glen Organic Fire Roasted Crushed Tomatoes

1 - 3

in

canned chipotle peppers adobo sauce

plus 2 tablespoons sauce

1

cup

vegetable or chicken broth

1

teaspoon

ground cumin

(fresh ground if possible)
For the Filling
1

can pinto beans

drained and rinsed

sea salt

12

corn tortillas

8

ounces

grated Monterrey Jack cheese
For the Salad, adapted from Sprouted Kitchen
1/2

red onion

sliced, reserved from enchilada sauce

juice of 1 lime

sea salt

1

bunch cilantro

stems removed and chopped

2

handfuls arugula

chopped

1

avocado

cubed
Instructions
Preheat oven to 425 degrees F.

Toss cubed squash with oil, chili powder, and sea salt. Spread out on a rimmed baking sheet. Roast 40 - 45 minutes or until squash is golden with crisp edges; use a spatula to flip squash halfway through cook time. Set squash aside to cool. Set oven heat to 350 degrees.

Meanwhile, make the sauce. Set a large, deep-sided skillet or Dutch oven over medium heat, add 1 tablespoon grapeseed oil, and then the onion and sea salt. Cook until onion is translucent and soft, about 5 minutes. Add garlic and sauté 1 minute more. Spoon onion mixture, canned tomatoes, 1 chipotle pepper, adobo sauce, broth, and cumin into a blender pitcher and puree. Taste and add sea salt or 1 -2 additional chipotle peppers to taste; puree once more if needed.

Set the same skillet used for onions over medium heat, add remaining tablespoon oil, and then pour in the enchilada sauce. Cook sauce, stirring often, 15 minutes.

While sauce cooks, warm beans in a small saucepan. Add sea salt to taste and several tablespoons enchilada sauce. Wrap corn tortillas in a foil packet and warm in the oven 5 - 10 minutes.

Grease a 9 x 13-inch baking dish. Add several tablespoons enchilada sauce to the bottom.

To assemble enchiladas, dip corn tortilla in enchilada sauce, then lay flat and add 1 - 2 tablespoons each cheese, squash, and pinto beans. Carefully roll and set in baking dish seam side down. Repeat for all remaining tortillas, squishing the rolled ones together to make room. Top rolled tortillas with remaining enchilada sauce and cheese. Slide into oven and bake 15 minutes, or until cheese has melted and sauce is bubbling.

To make salad, toss red onions with lime juice and sea salt in a large bowl. Just before serving, add cilantro, arugula, avocado, and sea salt to taste.

To serve, use 2 spatulas to set 2 enchiladas on each plate and top with a handful of salad.
This post is sponsored by Muir Glen Organic. Thanks for supporting the brands that we love!