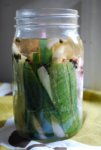 How to make quick-pickled cucumbers.
Load a quart jar with the cucumbers, fennel, and onion.

In a medium saucepan, bring vinegars, sugar, and spices to a low boil, and simmer until everything is dissolved and steamy, 5 minutes. Pour hot liquid over cukes and set aside, uncovered, to cool. When jars are cool enough to handle, screw the lid on tight and refrigerate several hours.