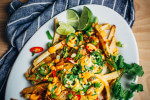 Homemade fries topped with kimchi, lime, herbs, and Sriracha mayo make for an unexpected, seriously delicious snack.
In a bowl, whisk to combine, mayonnaise, curry paste, Sriracha, and fish sauce.

Slice potatoes into 1/4-inch thick sticks. Heat oil in a large heavy pot over medium-high heat until oil reaches 350 degrees F (see note above). Being careful not to overcrowd, fry potatoes in small batches for 2 minutes per batch. Transfer to paper towels to drain. Again working in batches and with oil still at 350 degrees F, fry potatoes in small batches for about 5 - 6 minutes a batch or until golden. Drain on a paper towel and season with salt.

Place fries on a serving plate and top with kimchi, onions, cilantro, jalapeño, prepared sauce, and lime juice. Serve immediately.