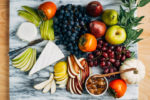 A quick and easy pear and Moscato jam recipe.
Combine all the ingredients in a medium saucepan over medium-high heat. Stirring often, bring mixture to a vigorous boil and then turn heat down to a gentle simmer. Cook 35 - 45 minutes, stirring frequently, until jam thickens and pears have mostly broken down.

Turn heat to medium-high; when mixture boils, stir in pectin. Adjust heat so jam bubbles vigorously. Stirring frequently, cook 5 minutes more.

Spoon jam into sterilized jars. Sealed and refrigerated, jam will keep 1 - 2 months; opened jam will keep about a week in the fridge.