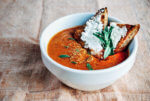 An effortless, warming roasted tomato soup made with fresh tomatoes and tarragon.
Preheat the oven to 350 degrees F.

Scoop seeds out of halved tomatoes with your finger. Tuck garlic into the tomatoes, and lay them and the onions out on a rimmed baking sheet. Drizzle with olive oil, and turn everything to coat. Sprinkle with sea salt and pepper. Roast tomatoes for 30 - 40 minutes, until tomatoes are bubbly and edges are brown.

Combine broth, roasted tomatoes, and onions in a large stock pot. Bring to a boil, turn down to medium-low, and simmer for 10 minutes. Add herbs. Puree with an immersion blender or regular blender so that you maintain some of the texture. Add balsamic, check salt and acid levels and adjust as needed. Serve with an herb garnish and a piece of toast slathered with goat cheese.