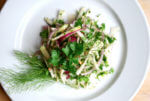 A simple julienned fennel and kohlrabi salad recipe with red onion, parsley, and a lemony dressing.
1

small bulb fennel

well-cleaned and trimmed

1

small

tender kohlrabi, peeled and trimmed

1/2

red onion sliced thin into half-moons

1

cup

minced flat leaf parsley

zest of 1 lemon

1/4

cup

extra virgin olive oil

2

tablespoons

lemon juice

salt and pepper to taste

pinch

of red pepper flakes

fennel leaves
Julienne the fennel and kohlrabi. Toss with the red onion and parsley. Combine the olive oil and and lemon juice, drizzle on the dressing, and add a few pinches of salt and tons of pepper. Taste, adjust salt and acid levels. Plate and give each serving a good squeeze of lemon juice, a pinch of red pepper flakes, and garnish with parsley and fennel leaves.