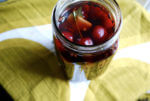 How to make quick-pickled cherries.
Pack the cherries into a quart jar, pits and stems in tact.

In a medium saucepan combine the vinegars and water, zest, sugar, and spices, over medium high heat. Bring to boil and then turn down to a simmer until everything is dissolved and the brine is steamy. Remove from heat and set aside while the liquid cools for ten minutes. Then pour the liquid over the cherries and set aside until the jar is cool to the touch. Screw on the lid and refrigerate for several hours.