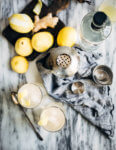 A quick and simple recipe for fresh ginger simple syrup.
4-

inch

section of ginger

grated (peel and all)

1/2

cup

sugar

1/2

cup

water
In a small non-reactive saucepan, combine grated ginger, sugar, and water. Bring to a gentle boil, stirring just until sugar has dissolved. Steep 20 minutes and then strain with a fine mesh sieve. Pour into a clean jar, seal, and refrigerate until needed.