A bright, richly spiced blackberry-apple crisp that pairs the best of early fall fruit with a buttery baked oat topping.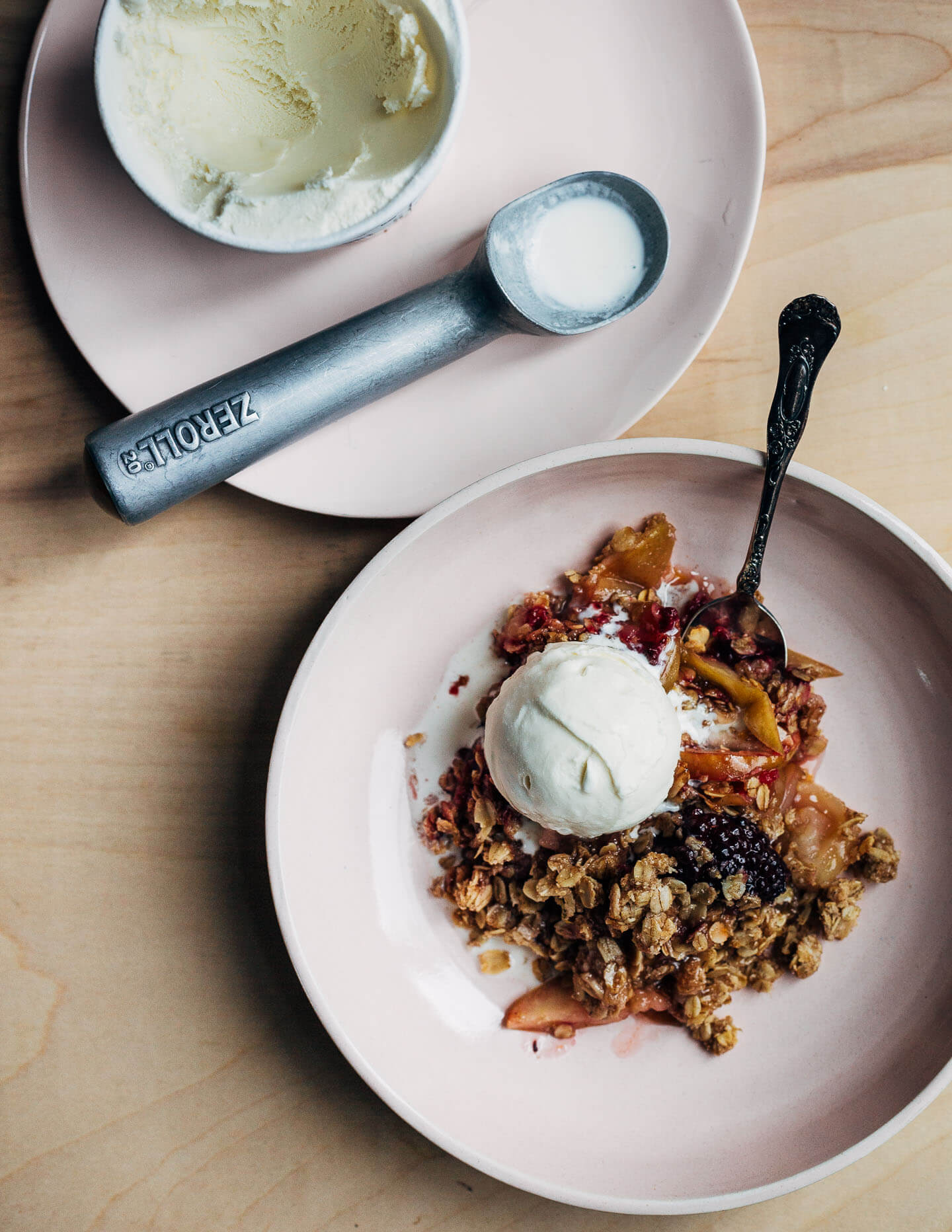 Post updated: September 2023
Get the newsletter
Are you signed up for the Right Now newsletter? It hits inboxes twice a week with exclusive recipes and seasonal ingredient inspiration. Subscribe today!
A Simple Blackberry-Apple Crisp
Crisps are among the most simple and forgiving baked fruit desserts. Though they're best when they've had time to cool and set up, they can also be served warm if you're under a time constraint. This simple blackberry-apple crisp has a hint of lemon and just enough sugar to bring out the flavor. Once you have the basic recipe down, swap in pears or other berries, or make an all-apple crisp.
A quick spin in the food processor breaks the oats down slightly and helps to incorporate the butter. If you prefer, you can skip this step and rub the butter into the whole oats with your fingertips.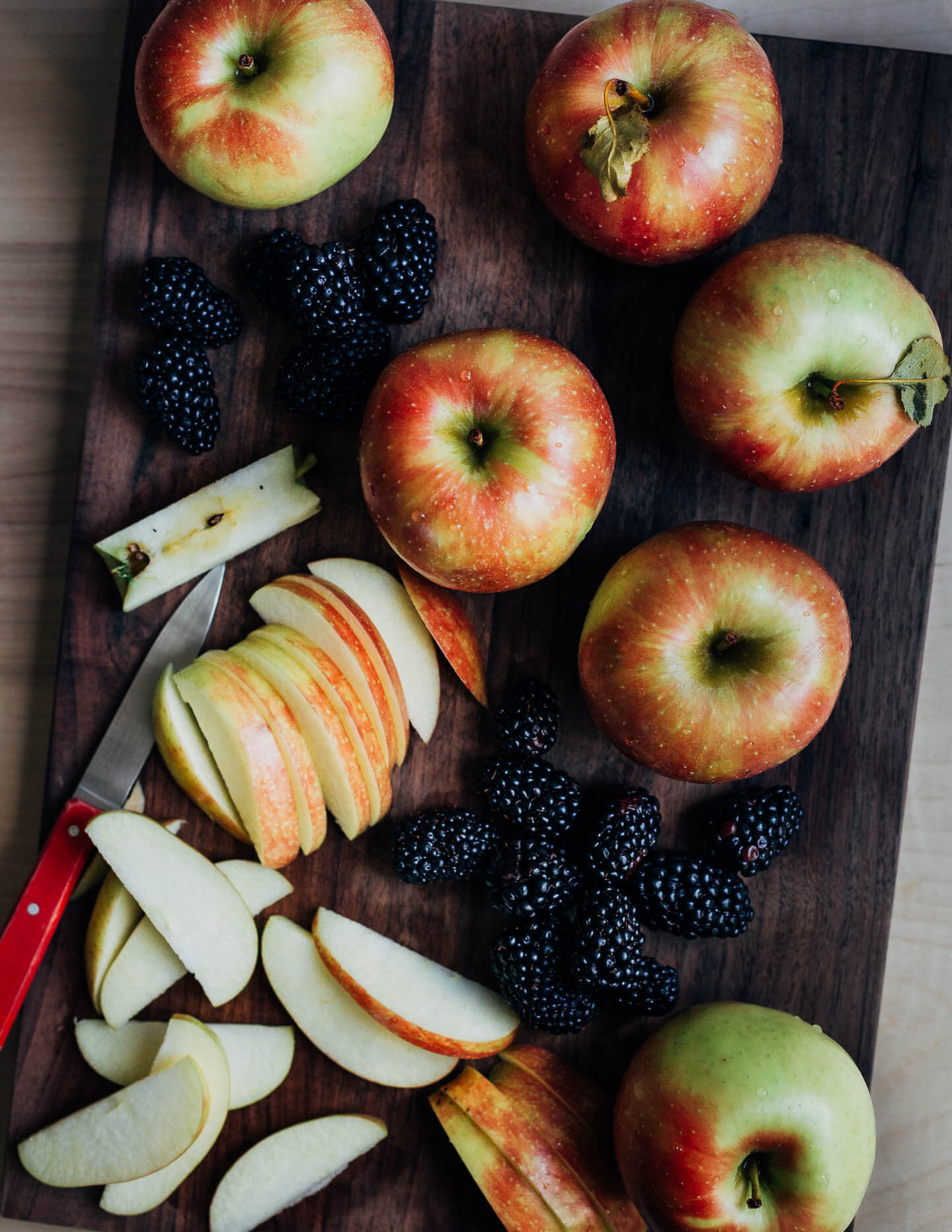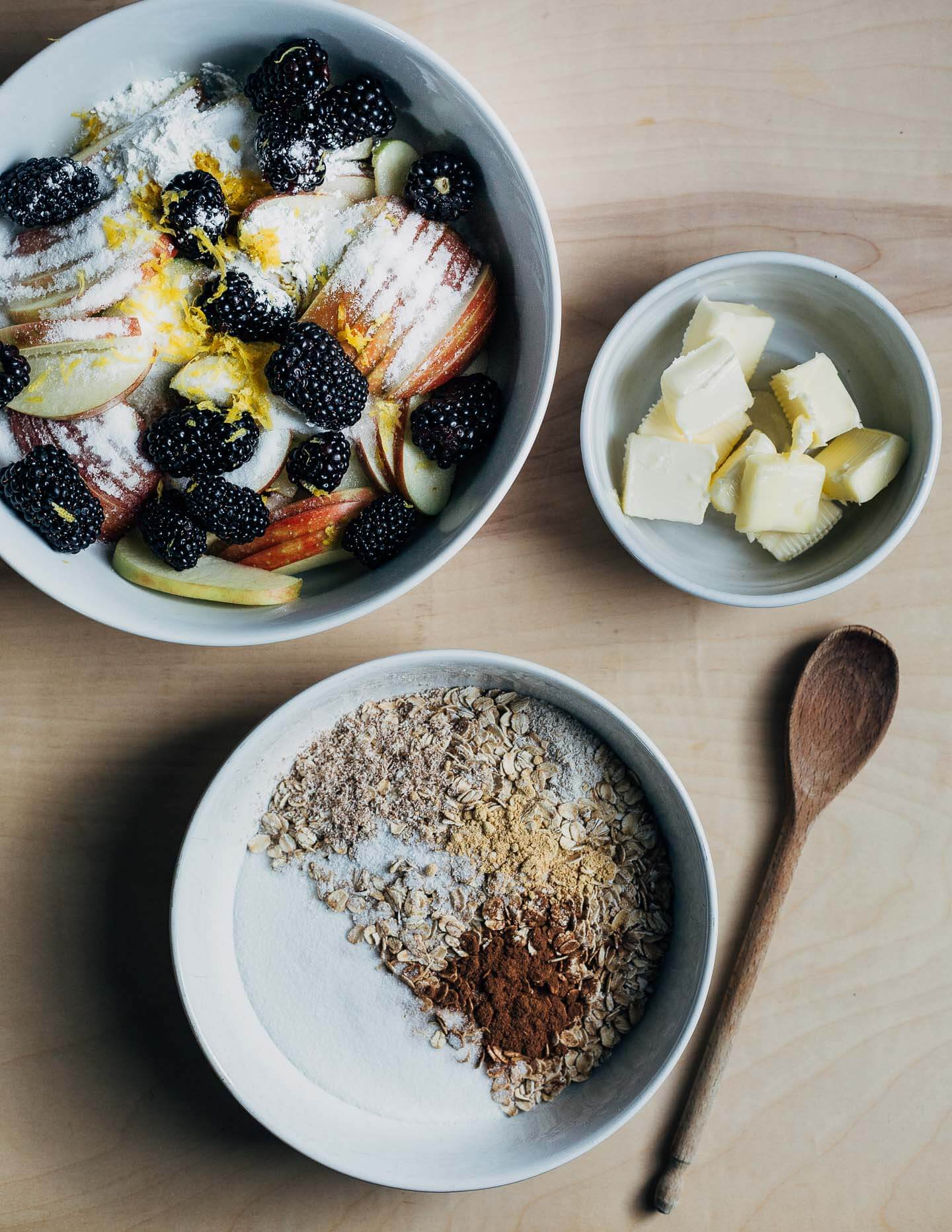 Fall Blackberry Harvest
Fall blackberries are totally a thing. Especially in mild years, a second blackberry harvest comes in once the heat of summer has abated. We've been delighting in the occasional half pint of berries for a few weeks now. In this crisp, blackberries lend bright jamminess and vibrant color. A crisp is an excellent way to use up blackberries that are on the edge.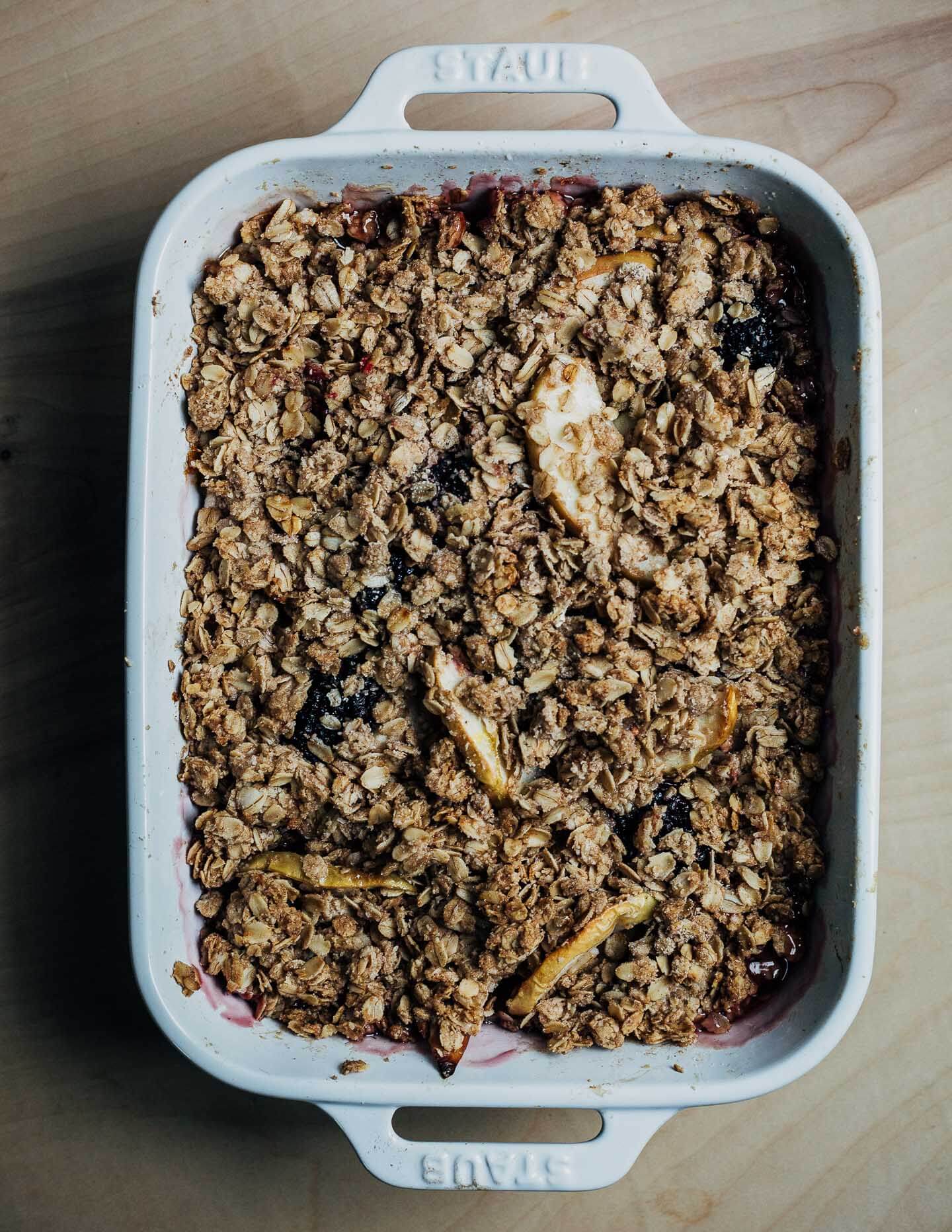 Selecting the Best Apples for Fall Baking
It's also peak apple season. For me, this means lots of fleeting flavorful regional varieties that don't store for a long time or make it to the grocery store. At the farmers market, go ahead and taste all the different apples and find the ones you like. Or head to an orchard for an heirloom apple tasting. I've learned so much from the folks at Red Jacket Orchards and Fishkill Farms in New York, and Henley's Orchard and Albemarle Ciderworks here in Virginia.
Culinary apples are often classified on a sweet/tart spectrum, but flavorful in-season varietals can be complex – sweet and tart at the same time. For baking, an apple with a more tart profile is ideal, but look for apples that also have big flavor. Varieties such as Pippins, Black Twig, Braeburn, Cortland, Crispin, Jonagold, Idared, Northern Spy, and Winesap are some of my favorite baking apples, whether for pies, crisps, or other apple desserts.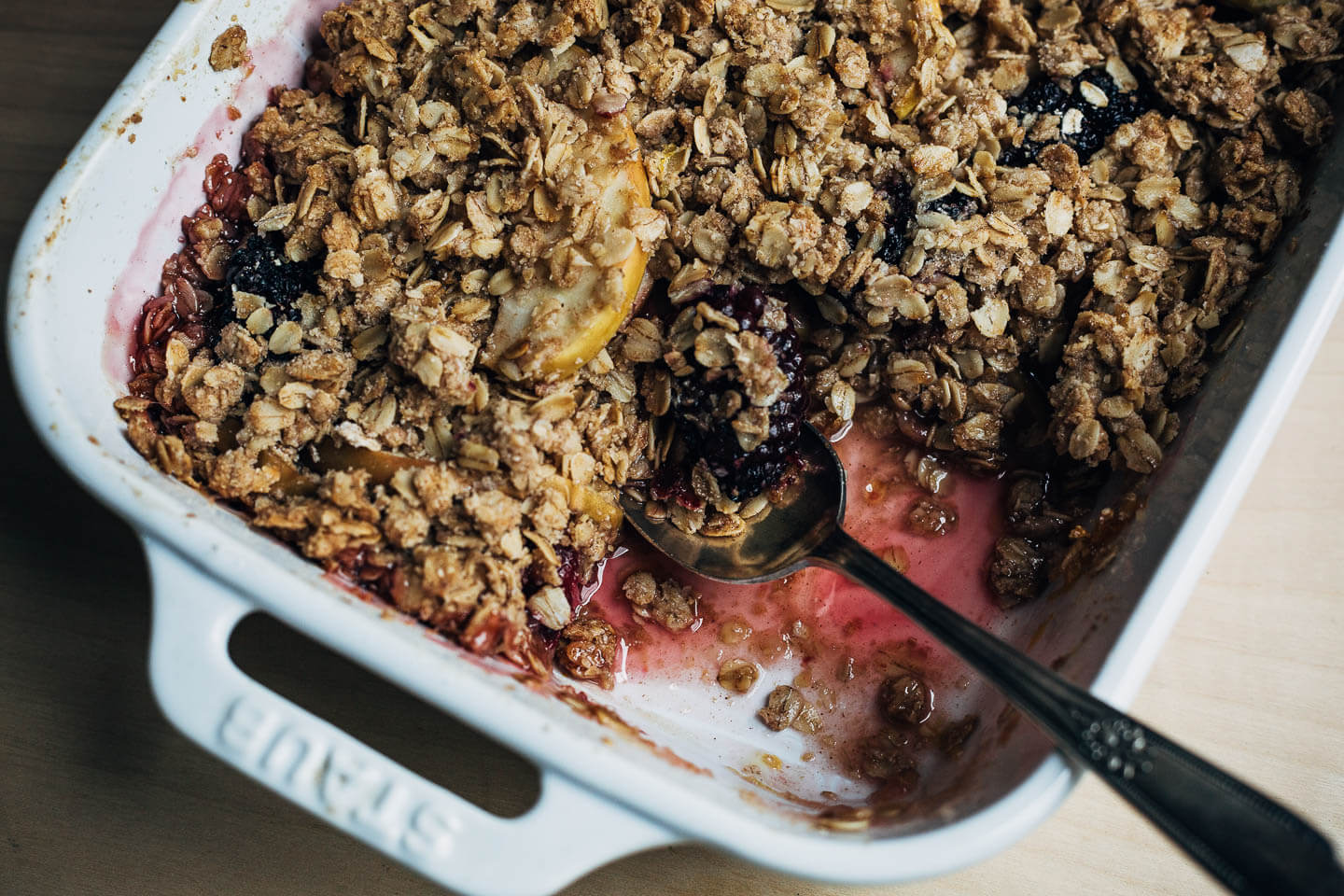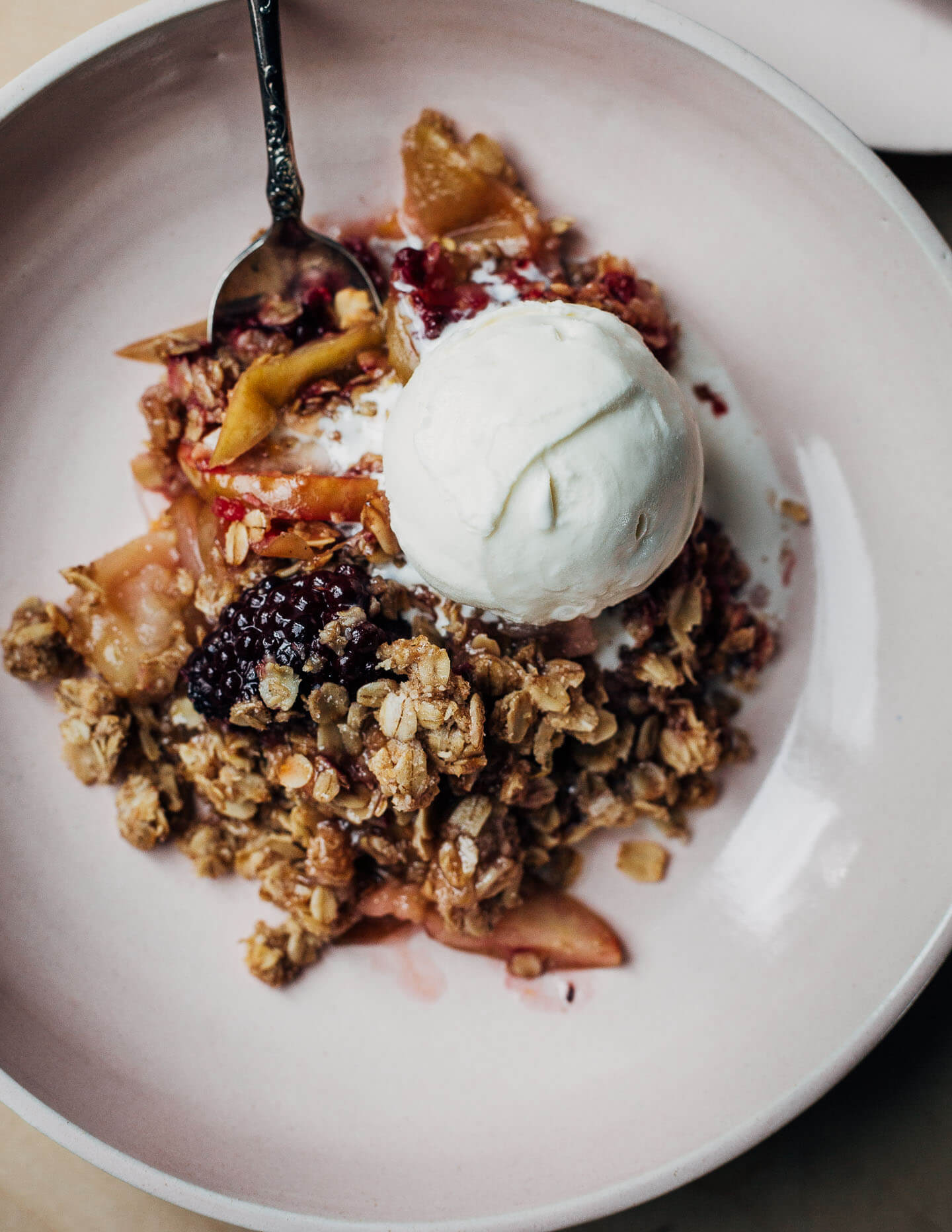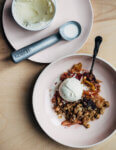 Gluten-Free Blackberry-Apple Crisp
In this simple blackberry-apple crisp recipe, blackberries meld beautifully with a mix of heirloom apples and just a bit of lemon. Tuck it all under a buttery oat topping, bake for an hour, and top with ice cream, whipped cream, or creme fraiche for a stunningly good fall dessert.
Keyword:
blackberry-apple crsip
Ingredients
Filling

6

medium apples,

cored and cut into 1/2-inch thick slices

1

cup

blackberries

1/4

cup

plus 2 tablespoons cane or granulated sugar

1

heaping tablespoon cornstarch

1/2

teaspoon

freshly grated nutmeg

Pinch

of salt

Zest of 1 lemon plus 2 tablespoons juice

Topping

2

cups

gluten-free

old-fashioned oats

1/2

cup

cane or granulated sugar

½

teaspoon

freshly grated nutmeg

½

teaspoon

ground cinnamon

½

teaspoon

ground ginger

1/2

teaspoon

sea salt

8

tablespoons

cold butter,

cubed
Instructions
Preheat oven to 350 degrees F. Butter a deep 7 x 11-inch baking dish.

Toss filling ingredients together in a large bowl. Set aside while you prepare the topping.

In the bowl of a food processor, combine oats, sugar, spices, and salt. Pulse butter into the mixture, just until it's well incorporated.

Spoon fruit into the prepared baking dish and top with the oat mixture.

Bake 50 - 60 minutes, or until the filling is bubbling vigorously and the topping is light golden.

Cool 30 minutes or longer. Serve with good vanilla bean ice cream, lightly sweetened whipped cream, or a dollop of crème fraîche.