Deliciously tender, impossibly springy butternut squash muffins suffused with fresh ginger, cardamom and cloves.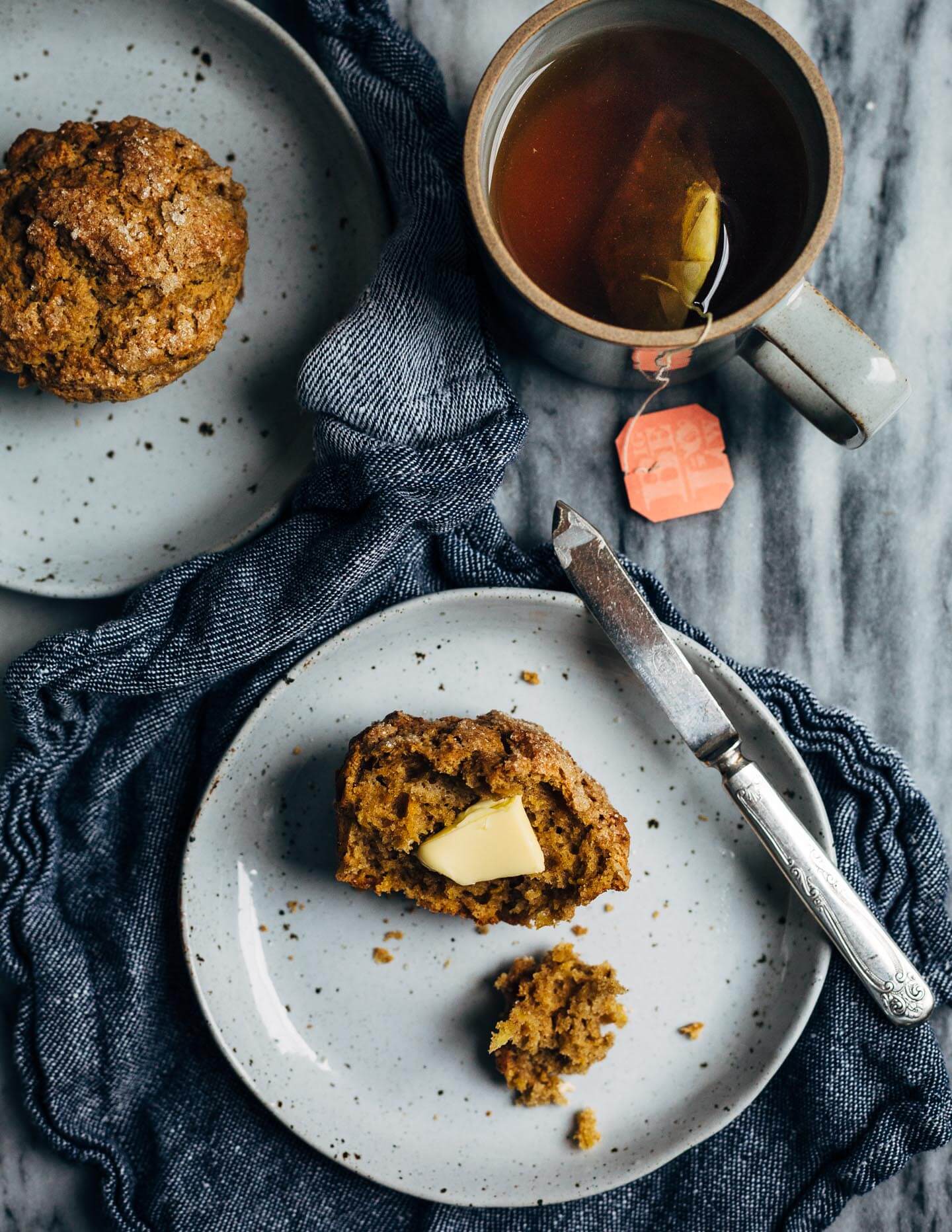 Yesterday, a series of grueling deadlines finally met, I carved out time to walk on my favorite trail. There's a little maple tree that always resplendent in the fall and I feared that in the chaos of work and Halloween, I'd missed its glory. Happily, the tree in question is still a bright shade of green. I did find another gorgeous maple that was practically a rainbow of fall color. With that walk and the perfect fall weather, I found myself shifting back into personhood after the work-driven mania of the past weeks.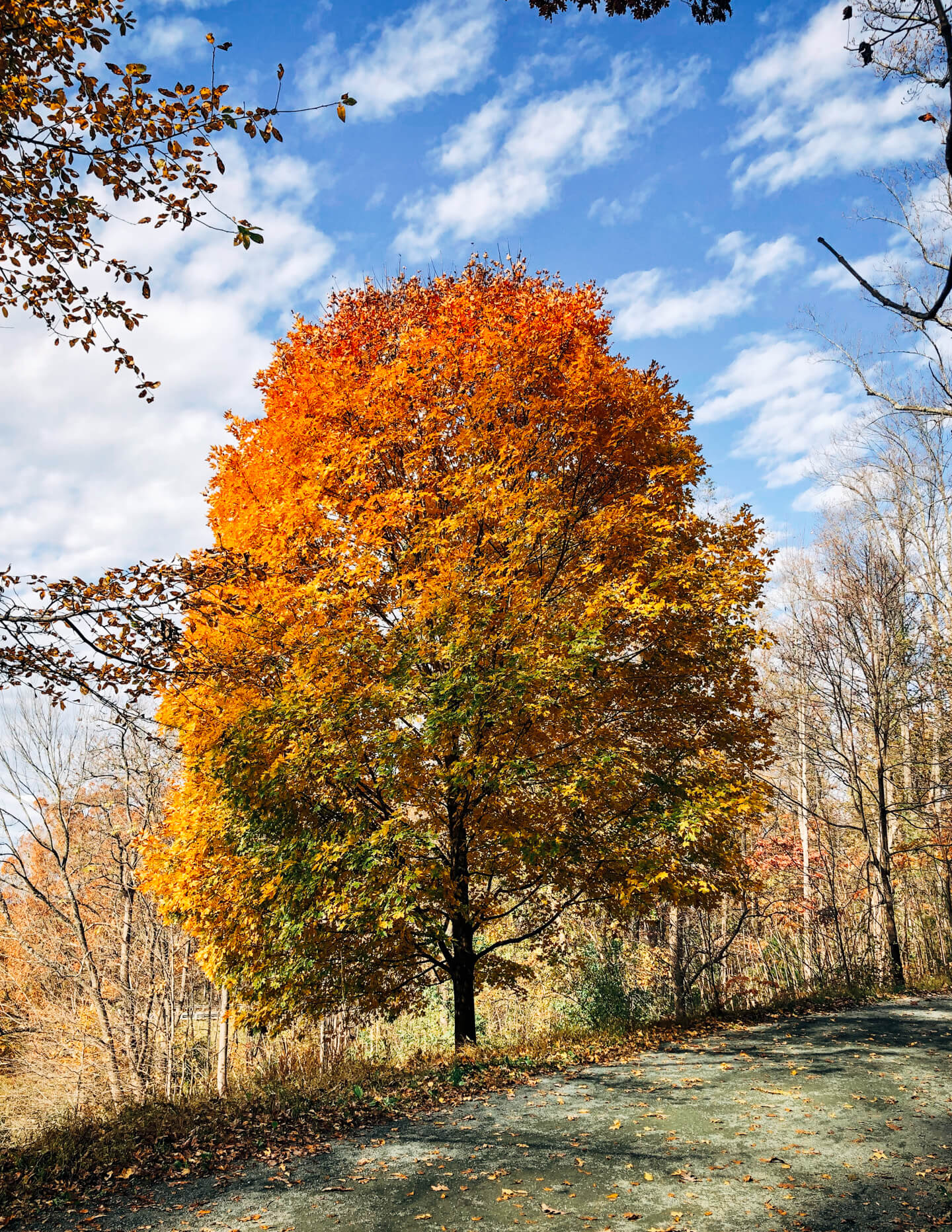 I came home exhilarated and inspired and was ready for some real-deal fall baking. (I needed a bridge recipe before I dive into Thanksgiving prep. Even though, impossibly, Thanksgiving is just TWO WEEKS from today.) And so I offer these spiced butternut squash muffins.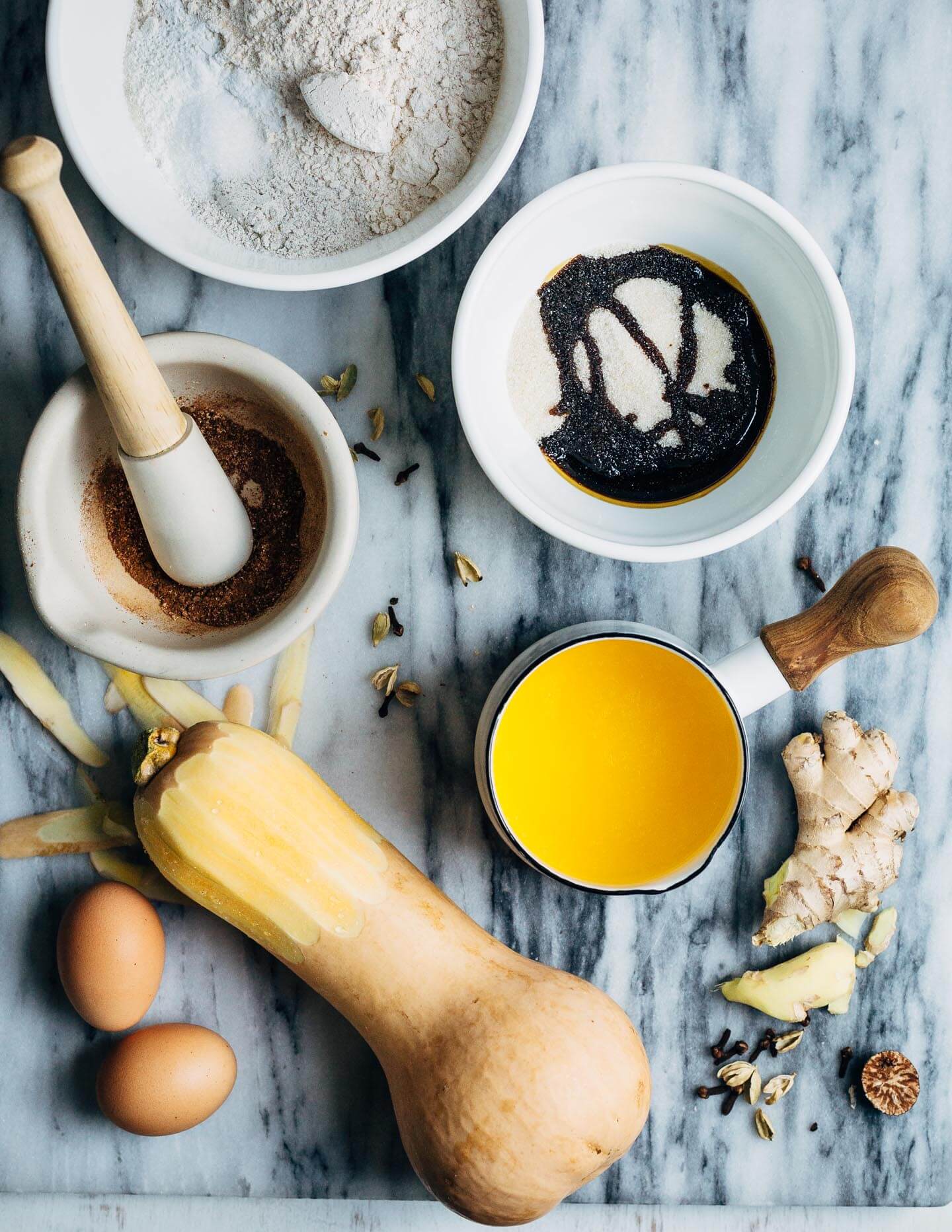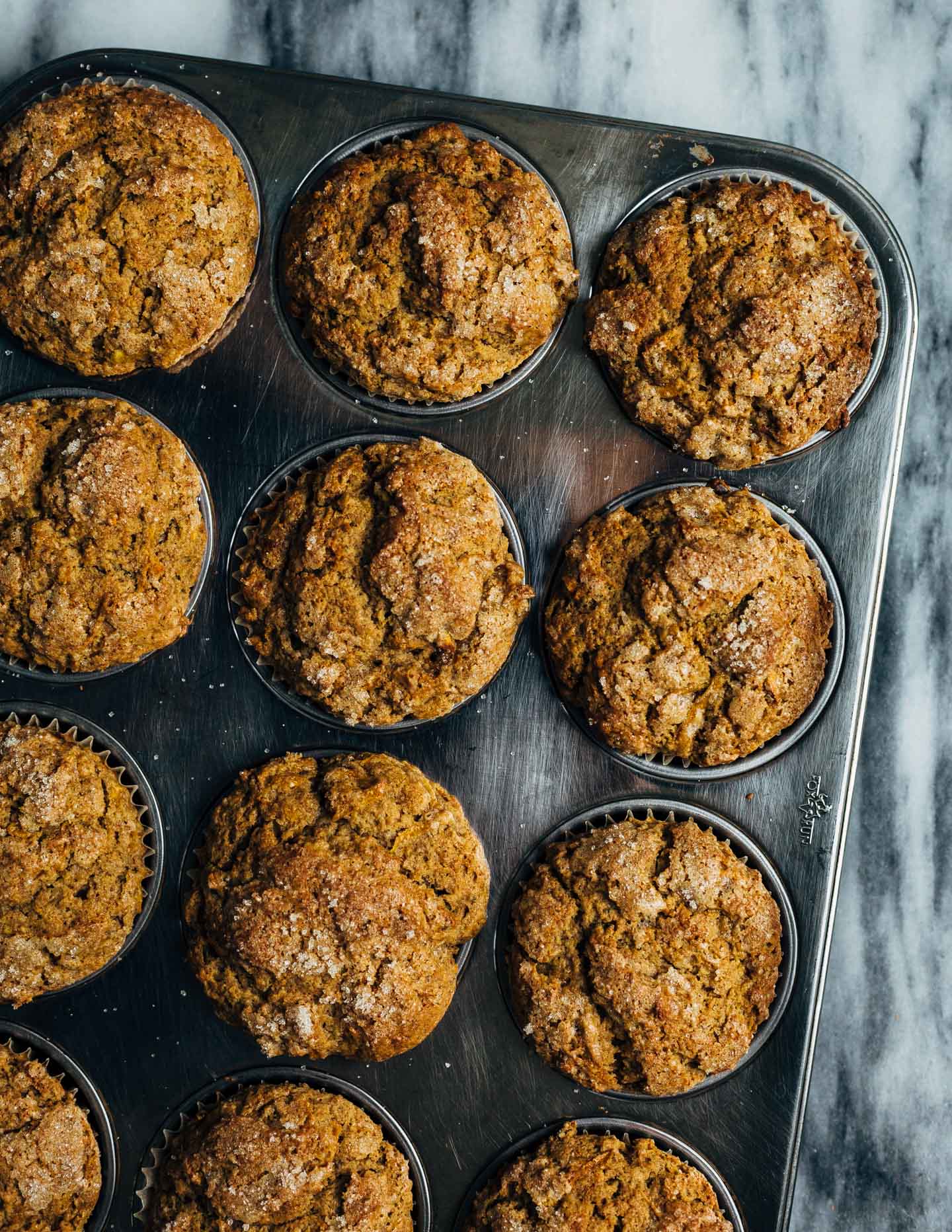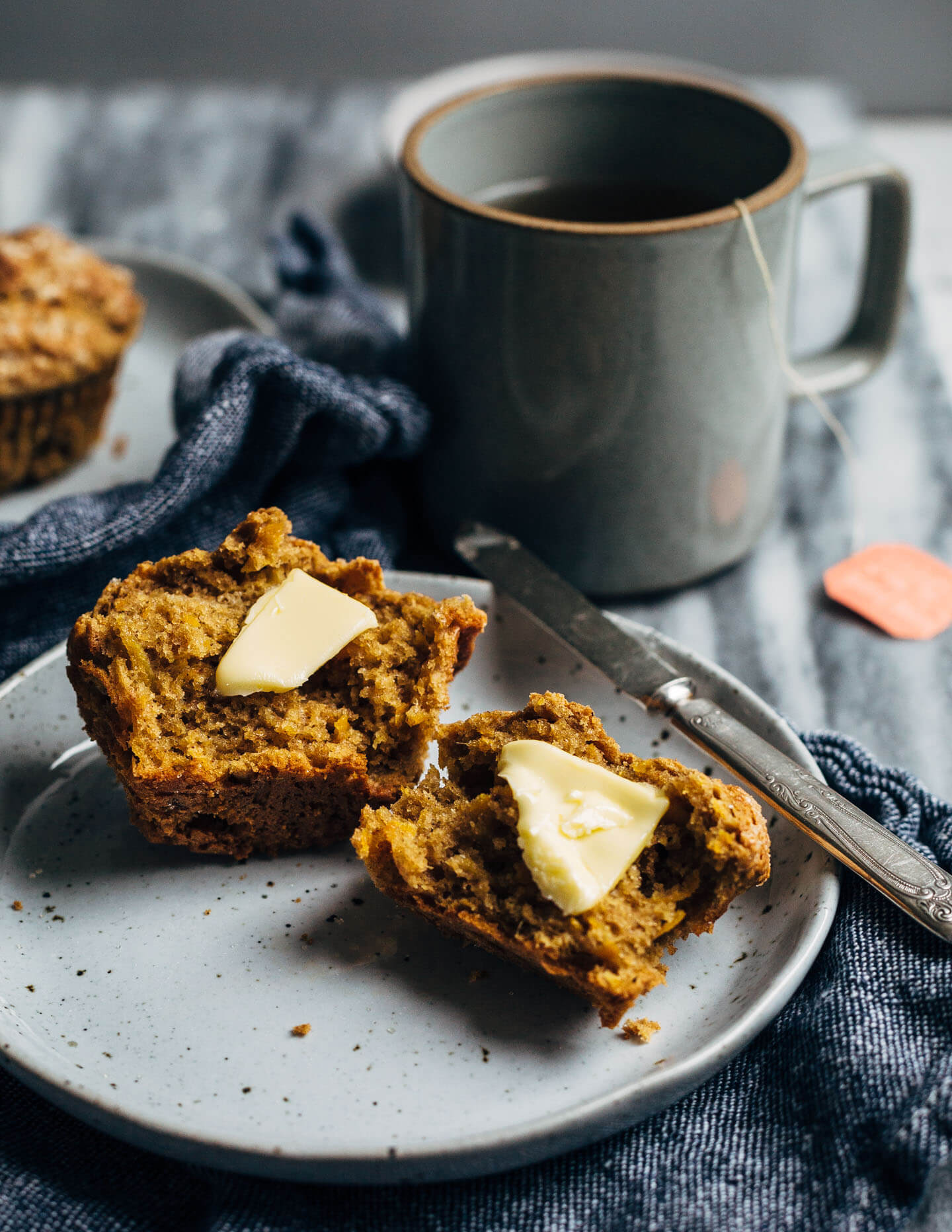 Much like carrot cake, these butternut squash muffins start with shredded butternut – no baking or roasting needed. And because the butternut squash goes in fresh, it tastes bright and vital, without the muddiness of canned squash puree. A mix of whole wheat pastry and rye flours makes for a nutty, toothsome crumb. They muffins are springy with just the right amount of chew. Because it's November, I was unsubtle with the spices, and each bite is suffused with the fragrance of freshly ground cardamom and clove, grated nutmeg, fresh ginger, and cinnamon.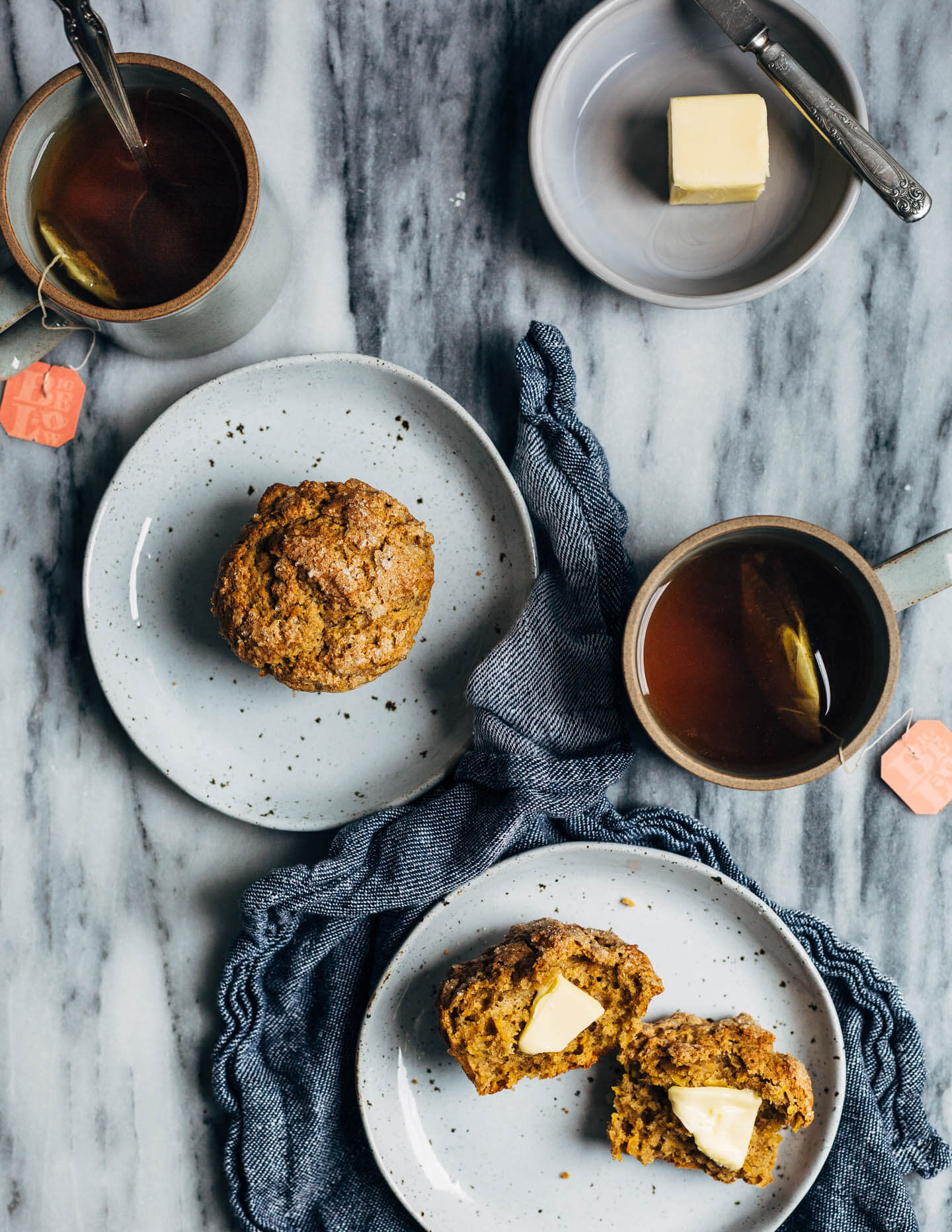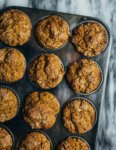 Chai-Spiced Butternut Squash Muffins
Deliciously tender, impossibly springy butternut squash muffins suffused with fresh ginger, cardamom and cloves. Recipe adapted from Bon Appetit.
A note on sugar: I've given up on dealing with brown sugar. I just add molasses to regular sugar as needed. I've found it's much simpler than bothering with temperamental brown sugar. If you'd prefer to use it, though, just sub brown sugar for the sugar and molasses. I used cane sugar in this recipe and liked the crunch it lent to the top of the muffins. If you don't have any on hand, regular granulated sugar is fine.
The spices here should be as fresh as possible. I bashed a few green cardamom pods with my mortar and pestle and then removed the black seeds from the papery green pods. In the same mortar, I ground the cloves and cardamom seeds together. You can also use a spice/coffee grinder to do the job.

Ingredients
6

tablespoons

unsalted butter,

melted and cooled slightly

2

large eggs

2/3

cup

whole milk yogurt

2/3

cup

cane or turbinado sugar plus 2 tablespoons for sprinkling

2

tablespoons

blackstrap molasses

1

tablespoon

grated peeled fresh ginger

1 1/2

cups

whole wheat pastry flour

1/2

cup

dark rye flour

(optional – sub with flour of your choice)

2

teaspoons

baking powder

1/4

teaspoon

baking soda

1

teaspoon

sea salt

1

teaspoon

ground cinnamon

1/2

teaspoon

fresh ground cloves

1/2

teaspoon

fresh ground cardamom seeds,

from 1 heaping tablespoon cardamom pods

1/2

teaspoon

freshly grated nutmeg

2

loosely packed cups grated,

peeled butternut squash (about 8 ounces)
Instructions
Preheat oven to 375 degrees F. Line a 12-cup muffin tin with paper liners.

In a medium bowl, combine the butter, eggs, yogurt, sugar and molasses or brown sugar (see headnote), and ginger.

In a large bowl, combine the flours baking powder and soda, sea salt, and spices. Fold the wet ingredients into the dry, add the squash, and mix just until all the flour is combined. Spoon into the muffin tin, filling cups right to the top.

Bake 28 - 33 minutes, or until the tops are golden and a toothpick inserted in the middle comes out with just a few crumbs attached.