These pot pies were inspired by a vivid array of seasonal offerings spotted on a recent trip to the butcher. Besides meats, our neighborhood butcher has a nice selection of local foods and on this day I fell in love with a host of colorful winter vegetables. Purple carrots, golden beets, and pale rutabagas seemed dazzling there in the open cooler. So, we picked up some chicken thighs and headed home with our hearts set on pot pie.
Pot pies aren't for the faint of heart. They take time, and have lots of steps. The reward, though, is a satisfying one bowl dinner replete with the earthy flavors of the season–just the thing to snuggle up to on a chilly mid-winter night.
A few notes on ingredients: No doubt you've heard a lot about chicken breasts as nearly every recipe calls for them. And chicken breasts do have less fat and calories than darker chicken cuts. But because everyone only wants the white meat, chicken thighs are often half the price of breasts. It's an easy way to buy high-quality, sustainable meats while still saving a bit of cash. Plus dark meat is where the flavor is. Whole chickens are also economical–feel free to roast one for this recipe.
I made my crust with whole wheat pastry flour, which made things decidedly rustic. If you're after a flaky crust, sub in a little or a lot of all-purpose flour.
As for the filling, use whatever earthy winter vegetables you'd like. I'd steer clear of red beets though, since they're likely to make a pink mess of everything, and besides, they're a little sweet.
One last thing–purple carrots are only purple in the outermost layer of skin. Bummer, right?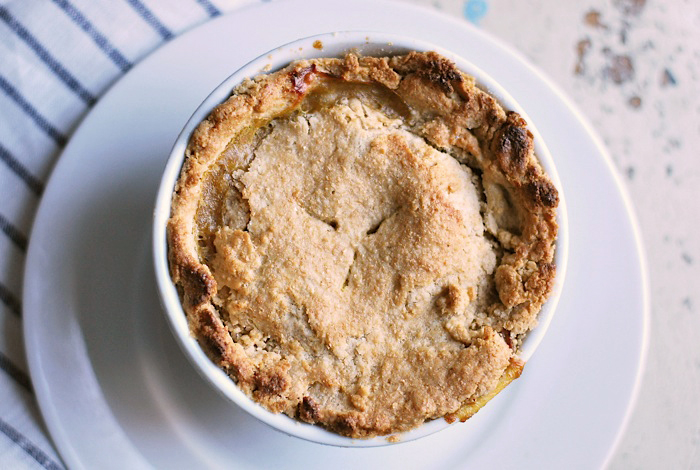 Chicken Pot Pie with Golden Beets, Purple Carrots, and Rutabagas (adapted from Smitten Kitchen)
makes 4 – 6 servings
for the crust
3 cups whole wheat pastry flour
1 1/2 teaspoons sea salt
1 teaspoon baking powder
2 sticks cold unsalted butter, cut into cubes
1/2 to 2/3 cup ice water
1 egg beaten with 1 tablespoon water, for egg wash
sea salt and fresh ground pepper to taste
In the bowl of your food processor, pulse to combine the flour, salt, and baking powder. Add the butter and pulse 6 or 7 times to cut in. Drizzle in some of the ice water, pulsing just until the dough begins to hold together. Continue adding water as needed, noting  that a slightly wetter dough will be a bit easier to work with.
Transfer to a lightly floured surface and mold into a 4″ disc. Cover tightly with plastic and chill for at least 30 minutes.
This recipes makes enough for four to six pies, depending on the size of your baking dishes.
for the filling
1 lb chicken thighs
2 tablespoons olive oil
salt to taste
1 stick butter
1 large yellow onion
1/2 cup whole wheat pastry flour
5 cups chicken broth (preferably homemade)
3 tablespoons heavy cream
3 golden beets, peeled and cut into 1/2″ cubes
3 carrots (purple or otherwise), peeled and cut into 1/2″ cubes
2 medium rutabagas, peeled and cut into 1/2″ cubes
1/2 teaspoon salt, plus more for chicken
fresh ground pepper to taste
1 tablespoon apple cider vinegar
4 bay leaves
2 tablespoons sage, chopped
1/4 cup parsley, chopped
Sprinkle the chicken thighs with salt on both sides. Heat a large skillet over medium-high heat and add the olive oil. Place the thighs in the skillet skin side down, and cook for 10 minutes, then flip and cook for 15 – 20 minutes more, until the thighs are no longer pink and the juices run clear. Remove chicken from skillet and set aside. Once cool, pull the meat off the bone and give a rough chop.
Meanwhile, blanch the beets, carrots, and rutabagas in salted water for two minutes, drain, and set aside. In the same pot, or a different one, heat the broth over medium heat.
Pour off any excess fat, and add the butter to the same skillet used to cook the chicken. Add the onions and cook for 5 minutes, stir in the flour, and cook for 2 minutes more. Slowly whisk in the broth, allowing the mixture to bubble vigorously and thicken. Add the heavy cream. Next, add a 1/2 teaspoon of salt, several turns of fresh ground pepper, and a teaspoon of apple cider vinegar. Stir in the chicken, beets, carrots, and rutabagas. Finally, add the herbs. Check salt and acid levels, adjust if needed. Set mixture aside while you prepare the dough.
Preheat oven to 375 degrees. On a lightly floured surface, roll out dough into four to six 8″ circles. The dough will be quite thick.
Spoon mixture into four to six large oven proof bowls, and cover with dough. Crimp the edges, brush with the egg wash, sprinkle on the salt and pepper, and use a sharp knife to cut three slits in the top.
Set on a rimmed baking sheet and bake for about an hour, or until the crust is a light golden brown and the filling is quite bubbly.
Rest the pies for a few minutes and serve.