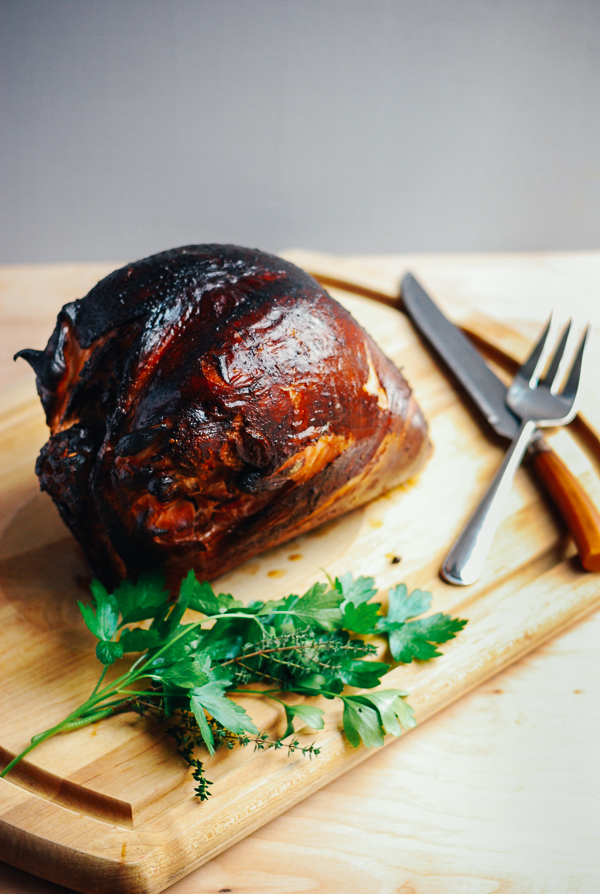 A simple smoked turkey breast recipe for Thanksgiving – all you need is a charcoal grill, charcoal, and wood chips – and a defense of slow food. Jump to recipe.
Last weekend, Brian and I had a few friends over for a Friendsgiving feast. We planned a pared down menu and approached the gathering in a pretty laid back way.
It was a small crowd, so instead of a whole bird, Brian and I opted for a bone-in turkey breast. We've roasted up a pretty spectacular breast in years past, but with a warm fall Saturday ahead of us, we decided to smoke this one. Brian and I don't have a fireplace, so it's nice to have the grill going all day – we all need a hearth.
But there's something else. Something good and slow – lots of flavor, lots of smoke, plus plenty of time for beers and whiskeys and jackets and scarves. It not only made for a lovely supper, it was a lovely way to spend an afternoon. And it brought to mind a trend in online food writing that I've really struggled with – variations on the five-minute, two-ingredient recipe.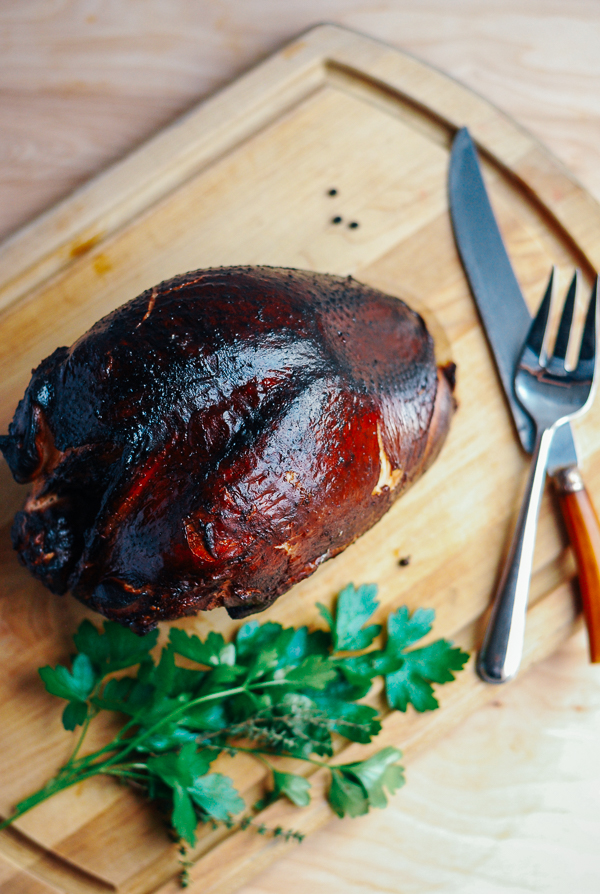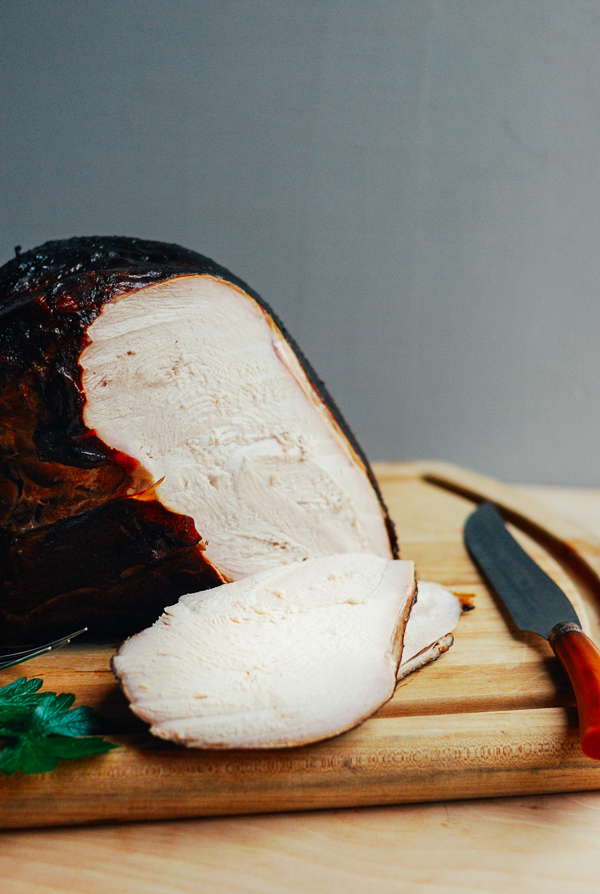 I find the focus on fast and easy at the expense of quality to be so disheartening because it reflects an emphasis on superficial results like a Pinterest-ready photo or a life where everything is perfect — a place where dinner is ready, the house is immaculate, the flowers are freshly cut and set upon a perfectly set table — because nothing takes any time. But lots of dishes do take time. And that should be OK. When I see those Fast! Simple! recipes, I worry that it's another way of setting the bar even higher for home cooks. And with so many families turning to processed or fast foods, I think it's pretty clear that home cooking already feels out of reach for too many.
Instead of the fast and easy, I think home cooks need to know that it's fine to take an evening to make something good. (And that slow food really is good. Please do not try to tell me a microwaved cake has anything like the texture of a baked one.) I fully understand busy people need fast solutions. My husband and I are busy people and we whip up plenty of quick meals during the week. The time for good food is something we need to create – just as we have time for the Walking Dead, or brunch, or exercise. I don't want to villainize those of us in search of easier eats, but I do want to stand up for great meals that aren't easy, too. Like everything in life, it's about balance. And being kinder to ourselves.
Good food takes time, just as good living takes time. So, this Thanksgiving season, I'm doubling down on slow cooking and from scratch goodness. Let's start with the turkey.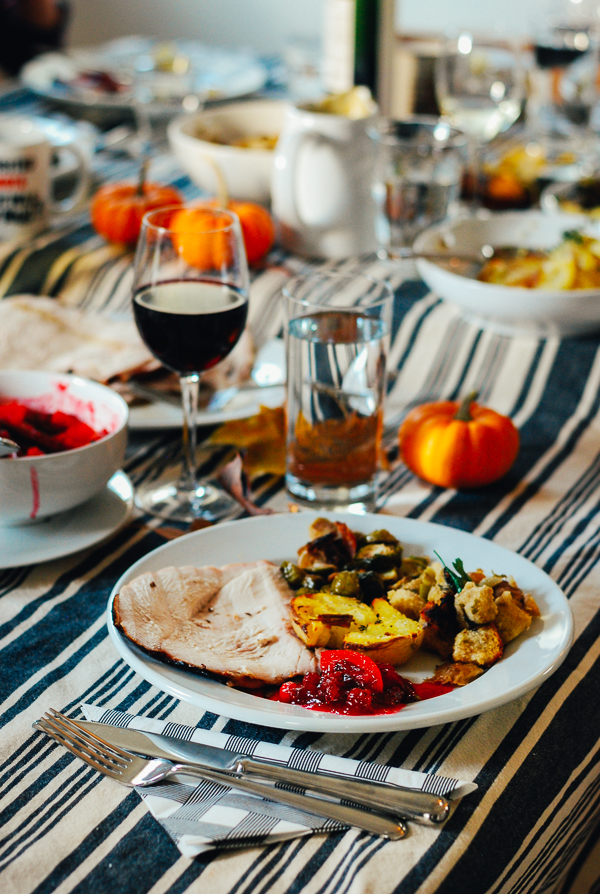 A turkey breast is a good option for those who don't want to deal with the hassle of a whole bird. It's also ideal for a smaller crowd. Our feast numbered four adults and four kids, and we had just enough turkey afterwards for a round of sandwiches. And I know smoking seems complicated, but it's actually really easy. Just be sure you have good company or a great book to keep you busy while you watch the grill. And anyway, the main thing about smoking a turkey breast is that the flavor is insane. Smoky, of course, but also incredibly tender, and yes, moist. Legendary turkey can be yours.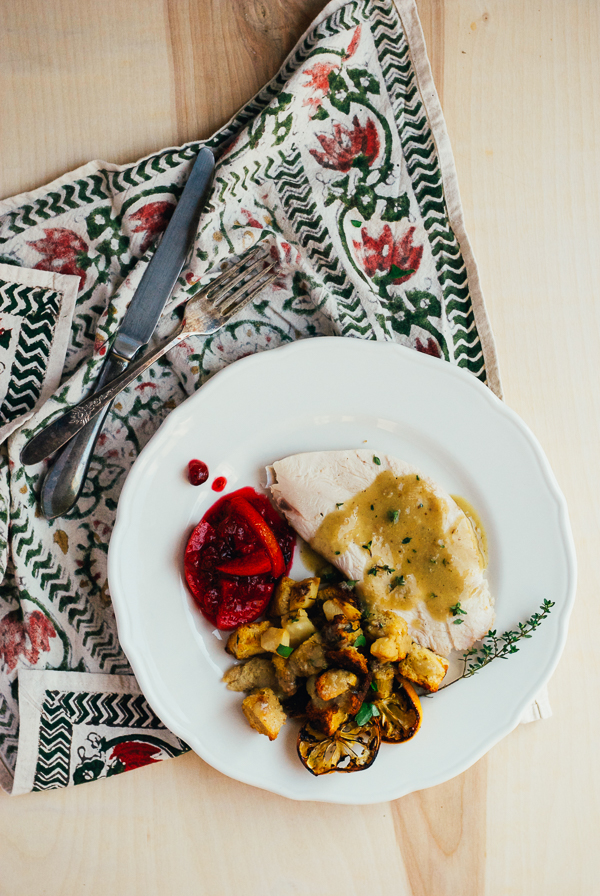 If you're planning your own Thanksgiving feast, we'll be rolling out some of our favorite Thanksgiving recipes over the coming weeks. In the meantime, here's a recipe for a classic roasted turkey breast, and an irreverent early-years recipe (and still our Thanksgiving go-to) for whole roasted heritage breed turkey.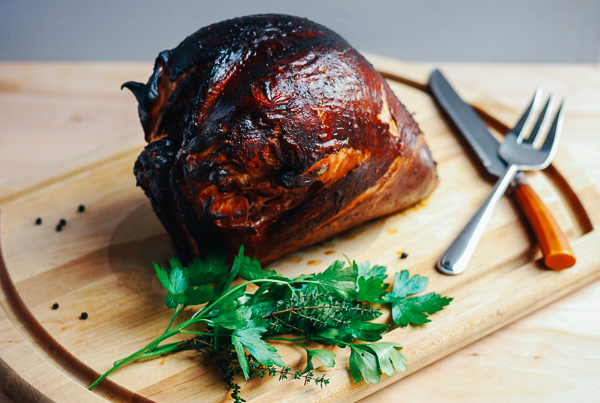 A note on smoking: instructions below are for a full size, plain old charcoal Weber. We're grilling purists.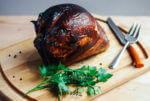 Grill-Smoked Turkey Breast
A simple smoked turkey breast recipe for Thanksgiving – all you need is a charcoal grill, charcoal, and wood chips.
Ingredients
1

bone-in turkey breast

, 7 - 10 pounds

kosher salt

ground black pepper to taste

applewood chips

, soaked in a bowl of water

charcoal

2 9

x 13-inch foil roasting pans
Instructions
The night before you're planning to smoke the turkey, brine it either in a small bucket or large stock pot. Use a ratio of 1 cup salt to 1 gallon water, adding enough liquid so the breast can be fully immersed. Keep brining turkey covered in the fridge overnight.

Before smoking, remove turkey breast from brine and place it in one of the roasting pans. Sprinkle both sides liberally with salt and pepper.

Light the charcoal in your grill. When the coals are hot, bank them all to one side of the grill. Fill the second foil roasting pan most of the way up with water and place it next to the coals.

Toss a large handful of applewood chips onto the coals, place the grate on the grill, then put the roasting pan with the turkey breast on top of the grate on the side that's not directly over the coals. Place the lid on the grill.

Every 20 - 30 minutes, remove the turkey and add some more wood chips. Flip the turkey, return to the grill, and cover. The total cook time will be about 2 - 3 hours, but after about an hour and a half, start checking turkey with a thermometer to see if it's done. When the turkey breast reaches 165 degrees F, remove it, rest for 10 - 20 minutes, carve, and serve.
SaveSave
SaveSave