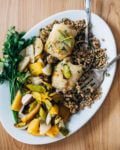 The perfect wintry weeknight dinner: savory sheet pan chicken and vegetables over a bed of nutty broth-infused farro.
4

skin-on

bone-in chicken thighs (1 1/2 - 2 pounds)

1

medium to large rutabaga,

peeled and cut into 1/4-inch wedges (about 1 cup)

2

small to medium turnips,

peeled and cut into 1/4-inch wedges (about 1 cup)

2

medium leeks,

cut into 1/2-inch thick rounds, white and light green parts only

4

tablespoons

extra virgin olive oil,

divided

1/2

teaspoon

sea salt,

plus more to taste

1/2

teaspoon

freshly ground pepper

1

cup

farro

1

quart

Organic Imagine® Free Range Chicken Broth

2

tablespoon

minced parsley

zest of 1 lemon

cut into thin strips
Preheat oven to 425 degrees F. Set out a large rimmed baking sheet.

Rinse leeks thoroughly in a mesh sieve, then pat dry.

Set chicken thighs, rutabaga, turnips, and leeks in a large bowl; drizzle with 2 tablespoons olive oil, 1/2 teaspoon sea salt, and pepper, and turn so that ingredients are evenly coated. Arrange on baking sheet with chicken thighs skin side up, slide into oven, and roast 15 minutes. Remove from oven, flip vegetables, nudge chicken thighs (but don't flip), and roast another 20 - 25 minutes or until chicken skin is crisp and golden, and thighs reach an internal temperature of 165 degrees F. Vegetables should also be cooked through and crispy at this point, but feel free to pull chicken or vegetables and allow the other to continue cooking.

While vegetables roast, cook the farro. Set a large saucepan over medium-high heat. Add 2 tablespoons olive oil and dry farro. Stirring often, toast 2 - 3 minutes or until farro has darkened a shade or two and smells nutty and fragrant. Add chicken broth and bring to a boil. Turn heat down to a lively simmer and cook until farro is al dente, 20 - 30 minutes. Strain and toss with parsley and lemon zest. Taste and add sea salt as needed.

To serve, spoon farro onto a large platter, arrange vegetables alongside, top with chicken thighs, and garnish with parsley, lemon zest, and ground pepper.