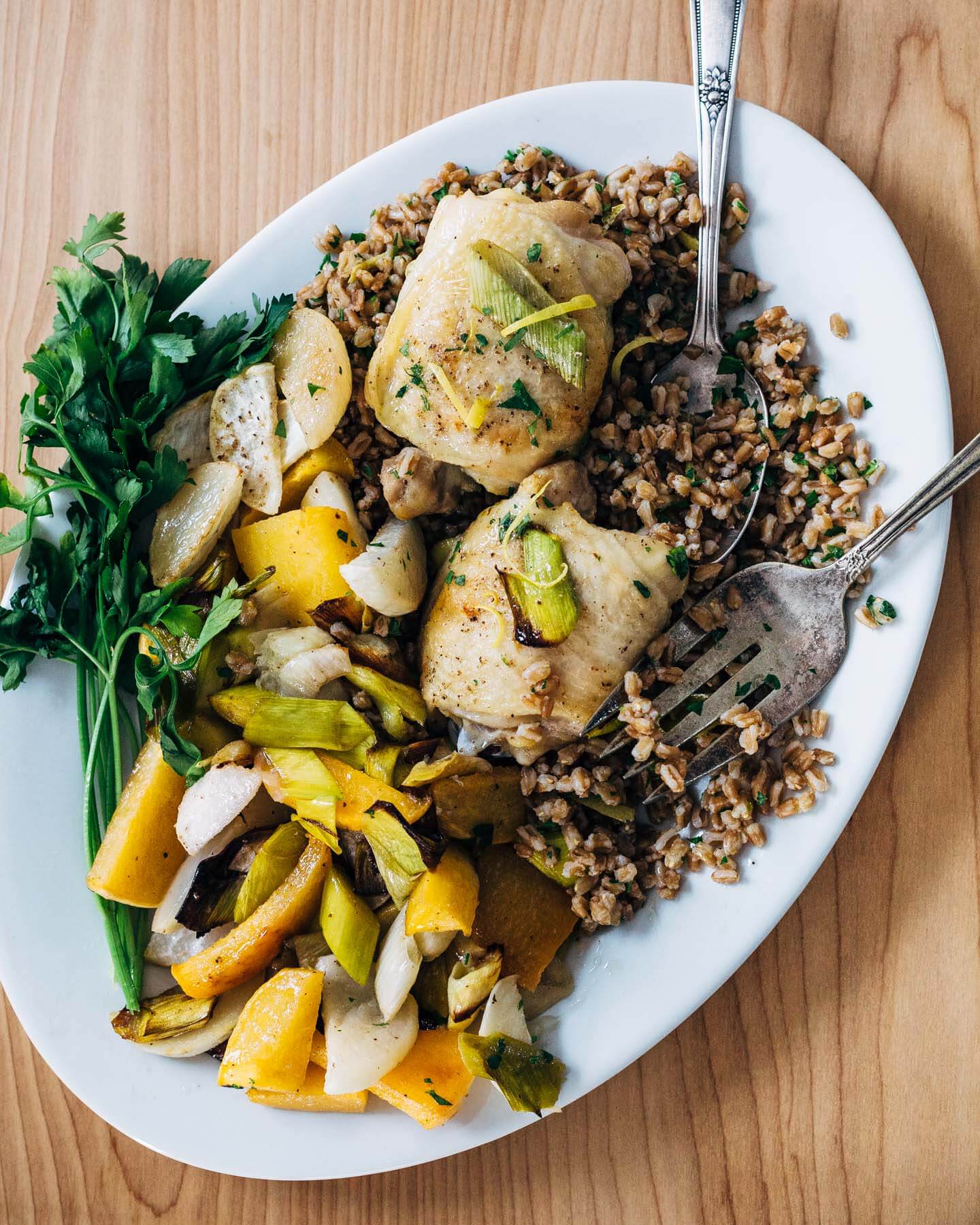 We've partnered with Imagine® to bring you the perfect wintry weeknight dinner: sheet pan chicken and vegetables over a bed of nutty broth-infused farro.
I didn't know it, but I've been looking forward to January all year. We had our first snowfall, followed by a frigid cold snap, and I've been heartened to discover all that weather just made our little house cozier.
For many, January is a month of penance; for me, it marks a shift toward more thoughtful eating. Bitter temperatures make us crave food that is not just good, but nourishing. These days, I'm creating meals that leave everyone sated, replenished, and ready to face another day in the elements.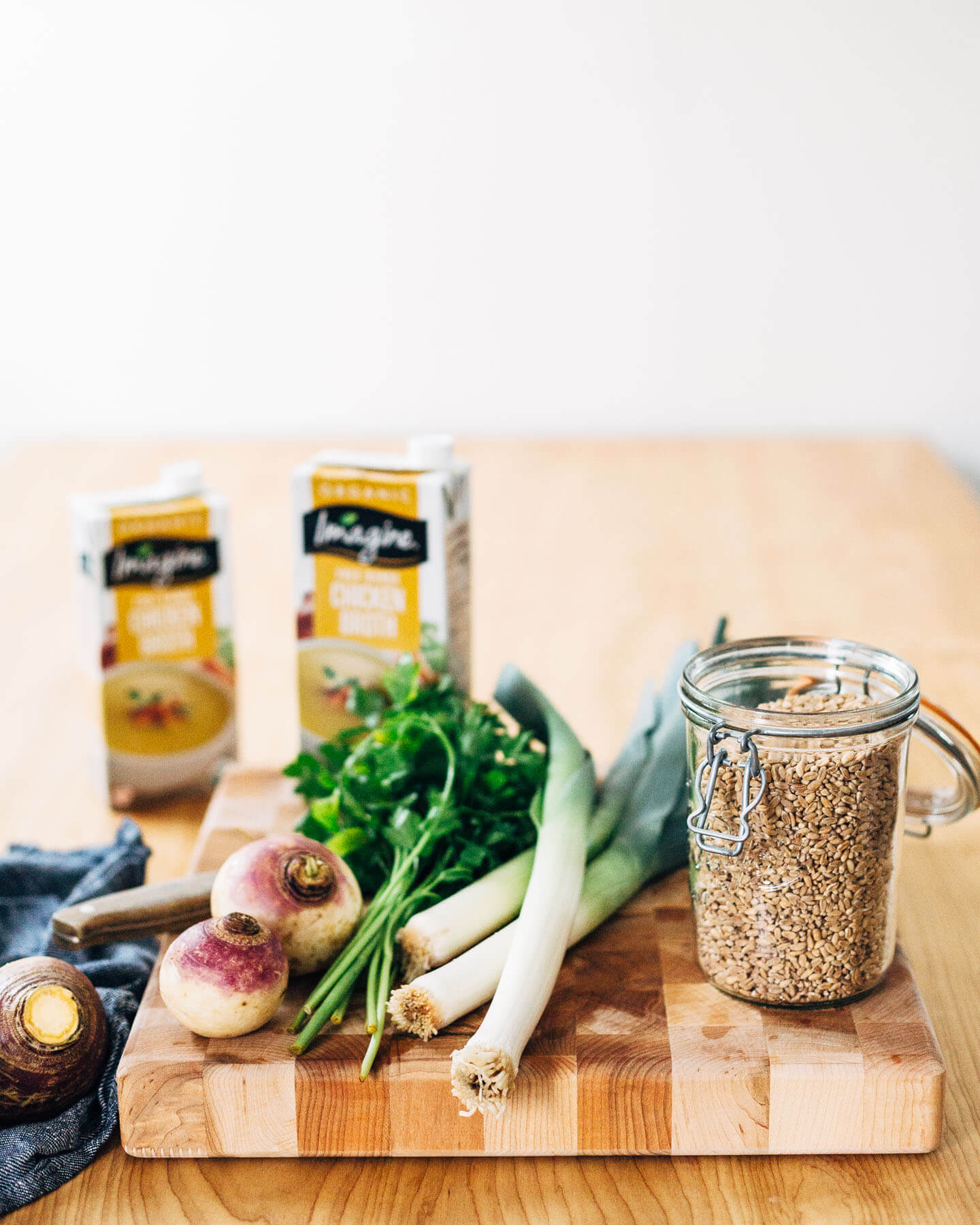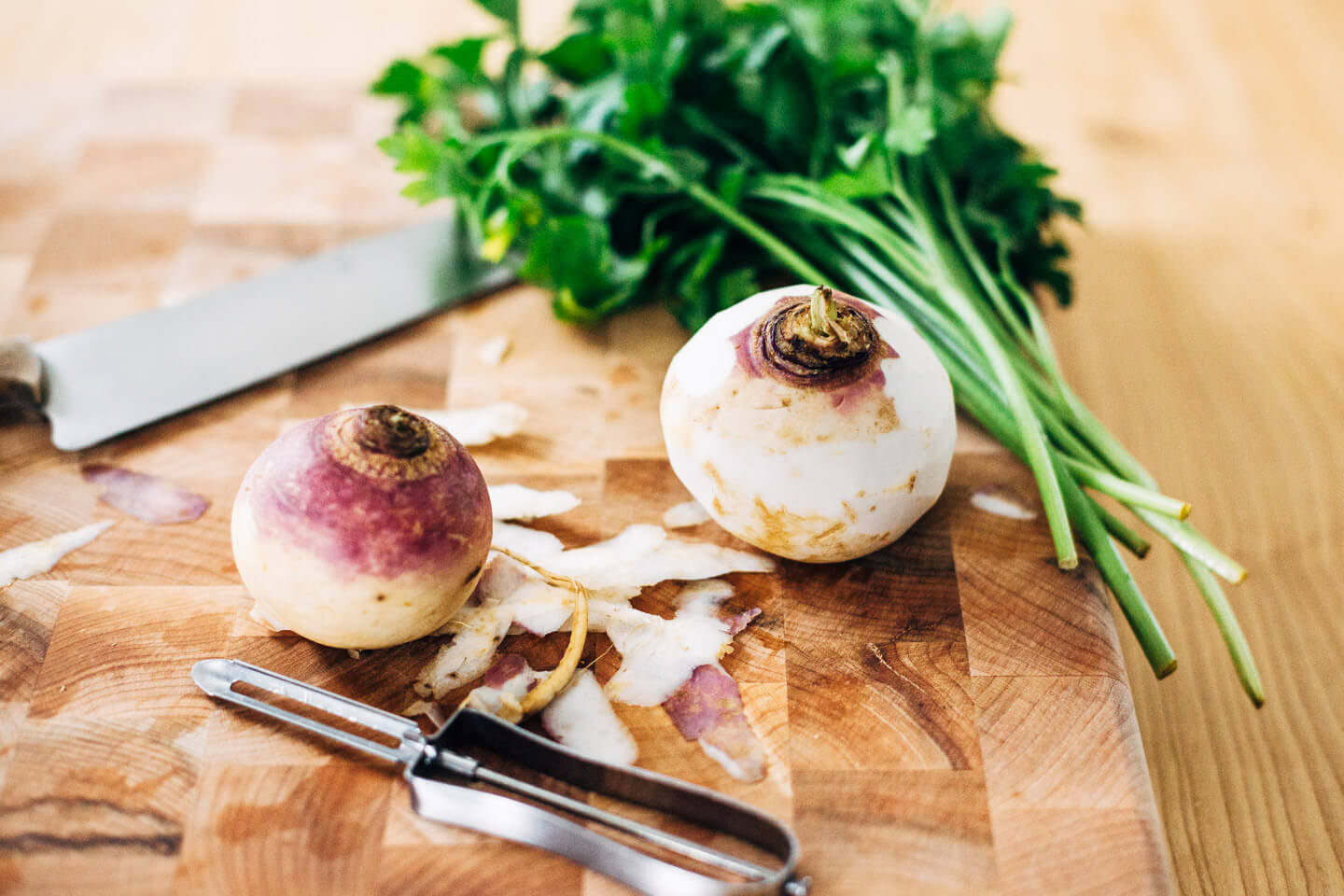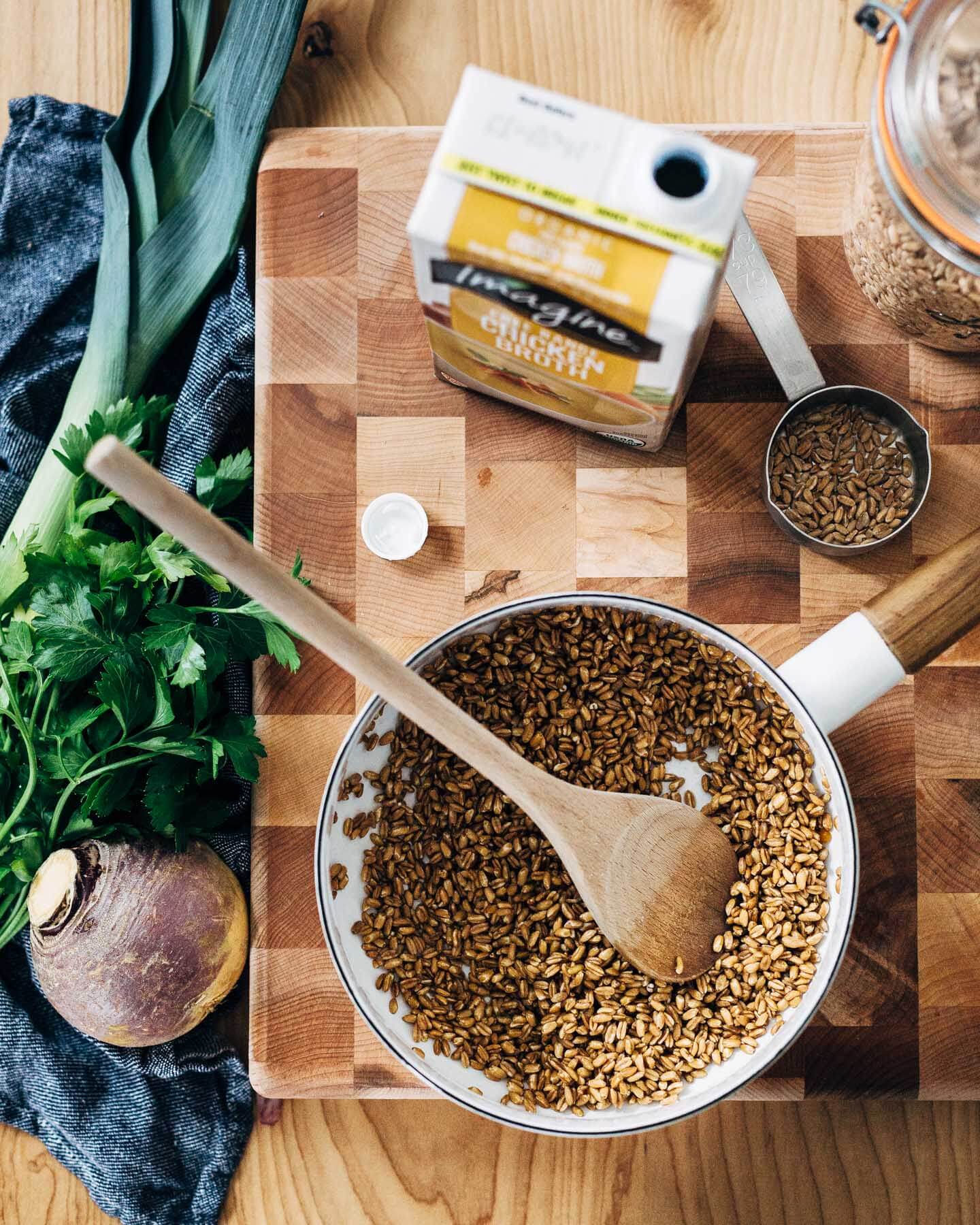 This particular recipe makes the most of winter roots and dark meat chicken, roasting them up all at once. The sweet roots meld beautifully with the savoy chicken drippings. The perfect winter meal is nothing if not hearty, so the sheet pan chicken and roasted vegetables are served on a bed of herbed farro cooked in a wonderfully rich chicken broth. Fresh herbs and lemon zest lend a little punch, while Organic Imagine® Free Range Chicken Broth suffuses each chewy grain with vibrant flavor. Add an egg and this farro's a showstopper in itself.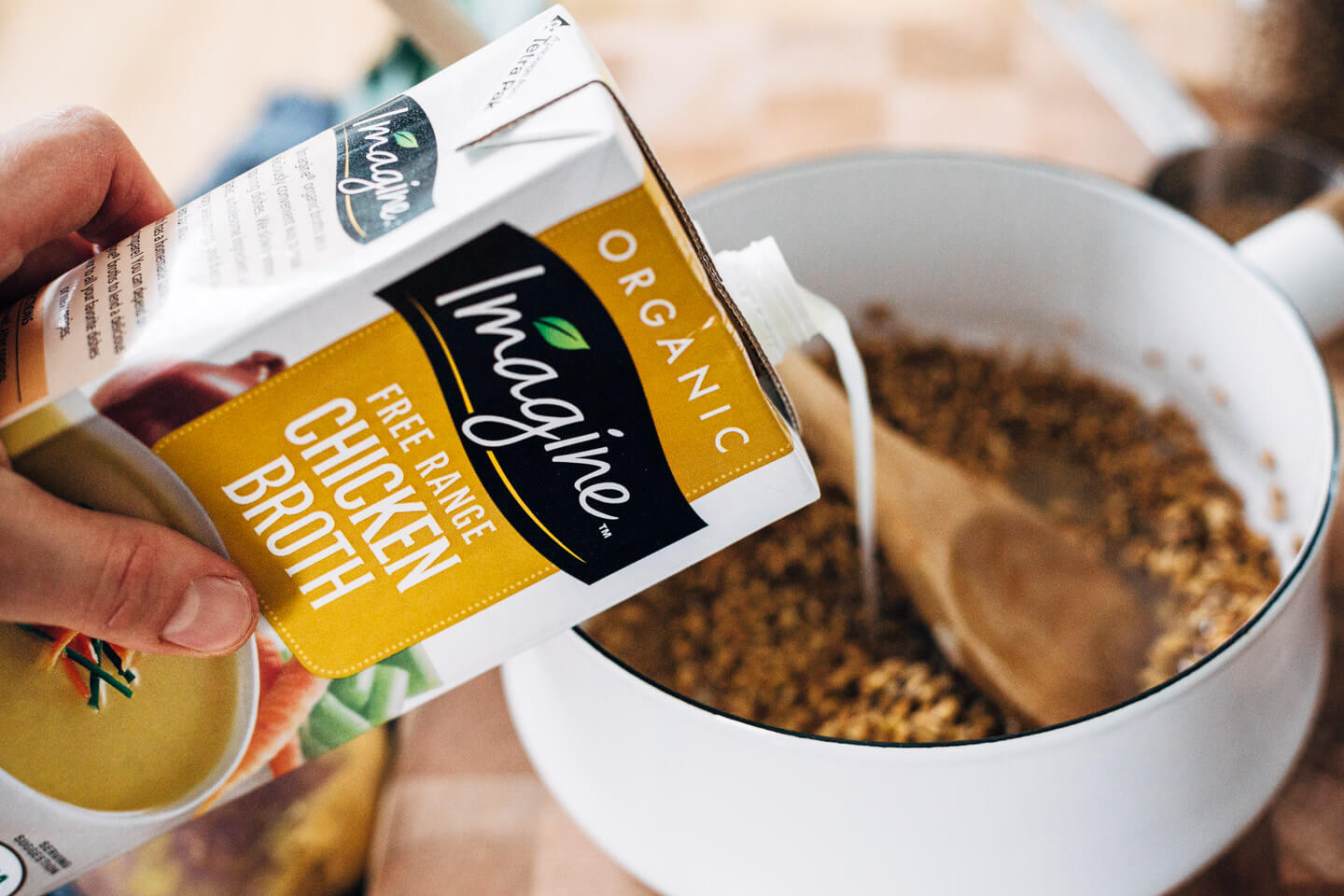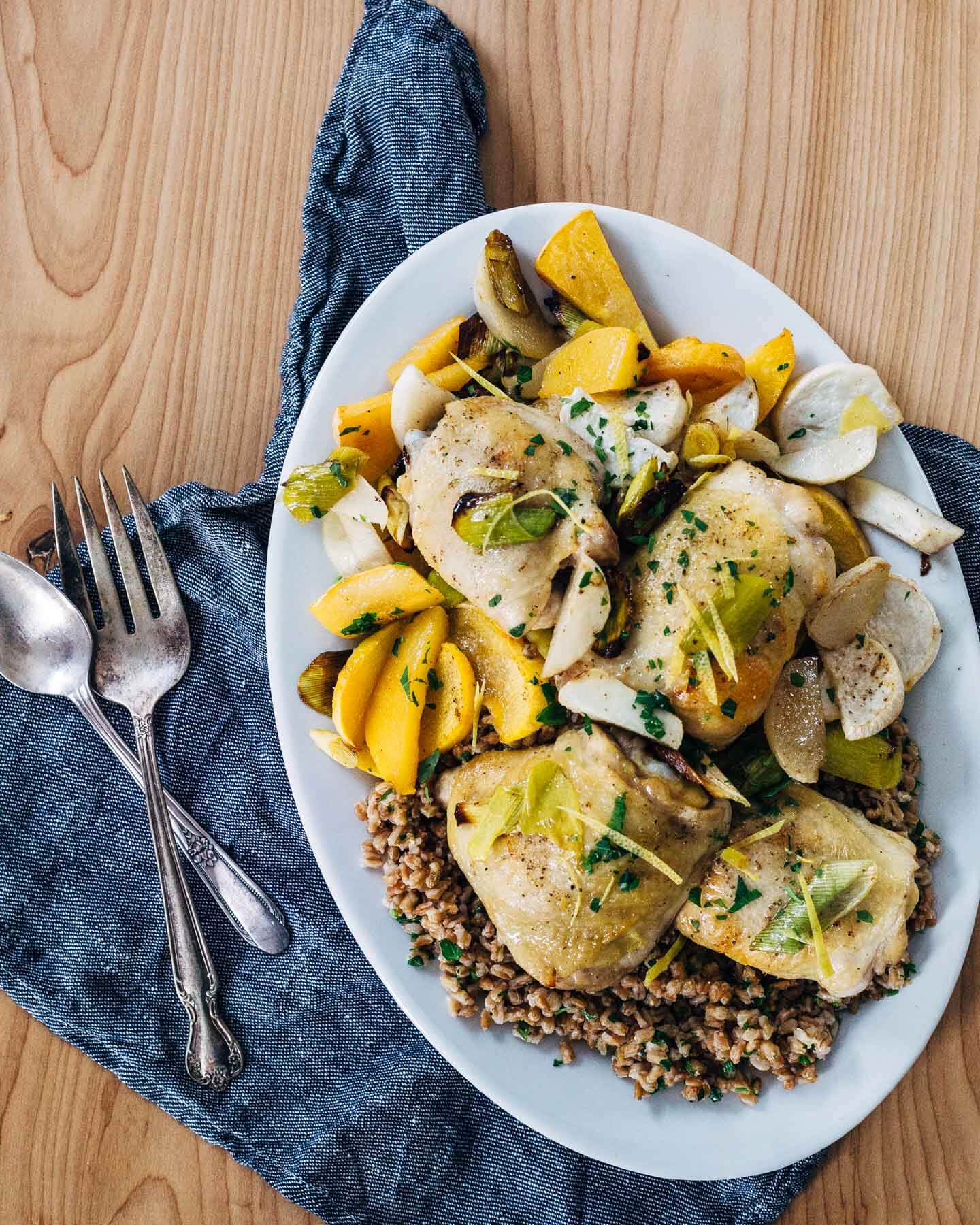 In the depths of winter when there are so few fresh herbs and vegetables to be had, I look for other ways to make my meals pop and have found that a great broth can really make a dish sing. The robust flavors of Organic Imagine® Free Range Chicken Broth are the closest in flavor to my own homemade broth and in a season of long cook times and difficult ingredients, it's nice to have a really great broth right there in my pantry. Made with organic free-range chicken and other whole food, quality ingredients, Imagine® broth is a staple in my kitchen.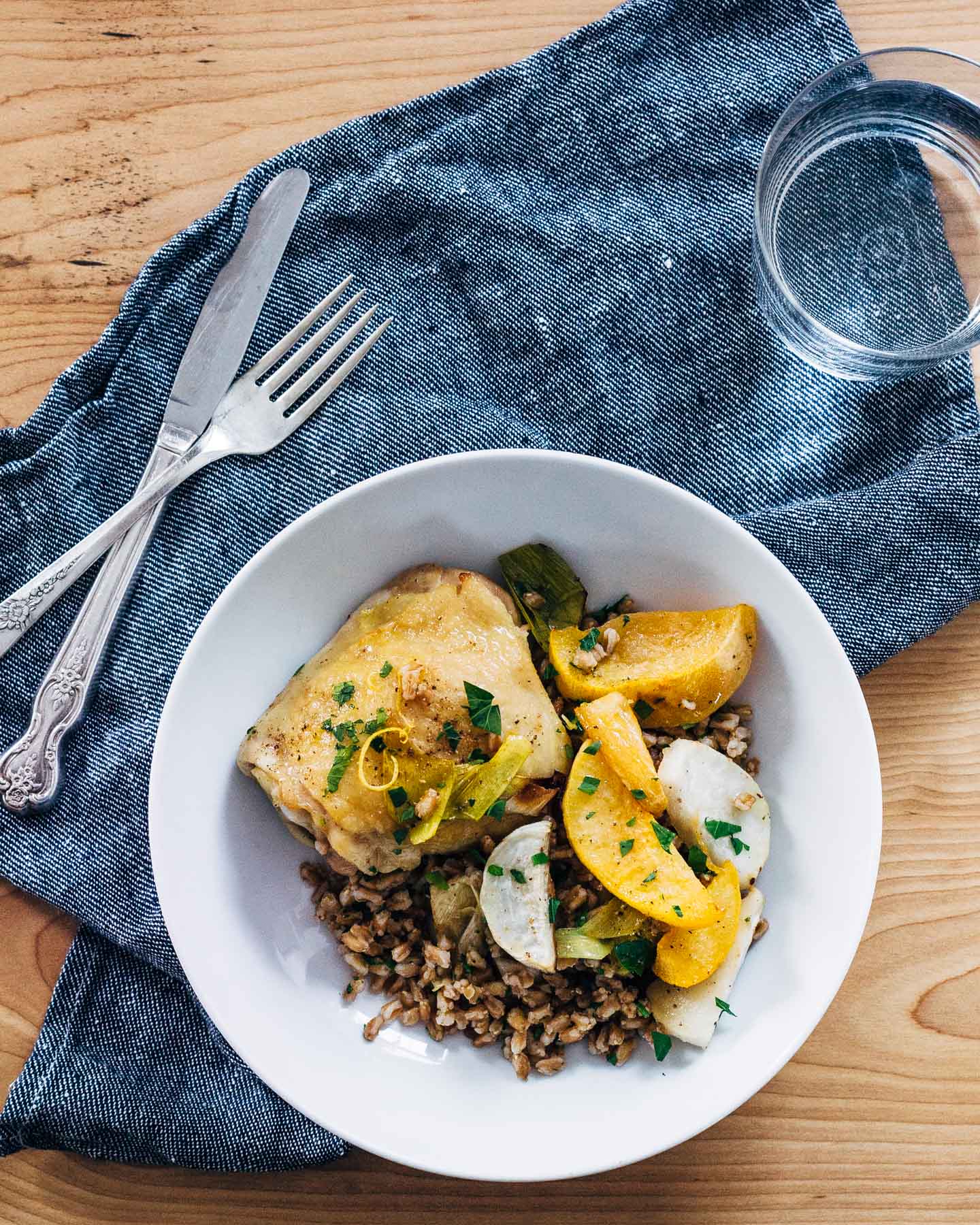 This sheet pan chicken and vegetables over farro is sating enough for a Sunday dinner, but cooks up in about 30 minutes, making it ideal for any night of the week. Dark meat chicken thighs are very forgiving, even if slightly overcooked; if needed, cook thighs a bit longer to get a golden, crispy skin.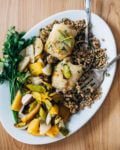 Sheet Pan Roasted Chicken and Vegetables over Herbed Farro
The perfect wintry weeknight dinner: savory sheet pan chicken and vegetables over a bed of nutty broth-infused farro.
Ingredients
4

skin-on

bone-in chicken thighs (1 1/2 - 2 pounds)

1

medium to large rutabaga,

peeled and cut into 1/4-inch wedges (about 1 cup)

2

small to medium turnips,

peeled and cut into 1/4-inch wedges (about 1 cup)

2

medium leeks,

cut into 1/2-inch thick rounds, white and light green parts only

4

tablespoons

extra virgin olive oil,

divided

1/2

teaspoon

sea salt,

plus more to taste

1/2

teaspoon

freshly ground pepper

1

cup

farro

1

quart

Organic Imagine® Free Range Chicken Broth

2

tablespoon

minced parsley

zest of 1 lemon

cut into thin strips
Instructions
Preheat oven to 425 degrees F. Set out a large rimmed baking sheet.

Rinse leeks thoroughly in a mesh sieve, then pat dry.

Set chicken thighs, rutabaga, turnips, and leeks in a large bowl; drizzle with 2 tablespoons olive oil, 1/2 teaspoon sea salt, and pepper, and turn so that ingredients are evenly coated. Arrange on baking sheet with chicken thighs skin side up, slide into oven, and roast 15 minutes. Remove from oven, flip vegetables, nudge chicken thighs (but don't flip), and roast another 20 - 25 minutes or until chicken skin is crisp and golden, and thighs reach an internal temperature of 165 degrees F. Vegetables should also be cooked through and crispy at this point, but feel free to pull chicken or vegetables and allow the other to continue cooking.

While vegetables roast, cook the farro. Set a large saucepan over medium-high heat. Add 2 tablespoons olive oil and dry farro. Stirring often, toast 2 - 3 minutes or until farro has darkened a shade or two and smells nutty and fragrant. Add chicken broth and bring to a boil. Turn heat down to a lively simmer and cook until farro is al dente, 20 - 30 minutes. Strain and toss with parsley and lemon zest. Taste and add sea salt as needed.

To serve, spoon farro onto a large platter, arrange vegetables alongside, top with chicken thighs, and garnish with parsley, lemon zest, and ground pepper.

Disclosure: This post was created in partnership with Imagine®. Thanks for supporting the brands we love!