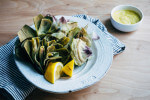 A rich and creamy homemade roasted garlic aioli recipe with a hint of lemon.
1

medium head garlic

1/2

cup

plus 1 tablespoon extra virgin olive oil

sea salt

1

egg yolk

1

teaspoon

lemon zest plus 1 - 2 tablespoons juice

freshly ground pepper
Preheat oven to 400 degrees F.

Slice the root end off the head of garlic, doing your best to reveal the bottom of each clove. Add 1 tablespoon olive oil and a pinch of sea salt to the bottom of a small, oven-proof ramekin. Add the trimmed head of garlic and cover tightly with foil. Set onto a rimmed baking sheet (not essential, but helpful in removing ramekin from the oven) and slide into the oven.

Bake until garlic cloves are very soft, 20 - 25 minutes. (Garlic cook time varies depending on size and texture of cloves, so check as you go, and pull if garlic gets at all brown.) When removing foil, take care to avoid steam plume.

Set garlic aside until cool enough to handle, then squeeze cloves out of papery skins and mash with a fork.

Meanwhile, set egg yolk in a large mixing bowl. Whisk in a tiny pinch of sea salt and a 1/2 teaspoon lemon juice. Whisking all the while, add olive oil a few drops (really) at a time, until you've added about 1/4 cup. Mixture should be pale and thick. At this point, you can splash in a bit more olive oil, whisking all the while. If your mixture breaks at any point, just set aside and begin process again with another yolk. Once you've added 1/4 cup olive oil, you can slowly whisk the broken aioli mixture into the new one.

At this point, aioli should be thick and creamy. Add lemon zest and a pinch of sea salt. Fold in mashed roasted garlic, whisking until smooth. Finally, add enough lemon juice to thin mixture (you want it to be thick, but dippable too), and sea salt and ground pepper to taste.

If possible, allow aioli to mellow in the fridge overnight. Aioli will keep well sealed in the fridge for up to 5 days.