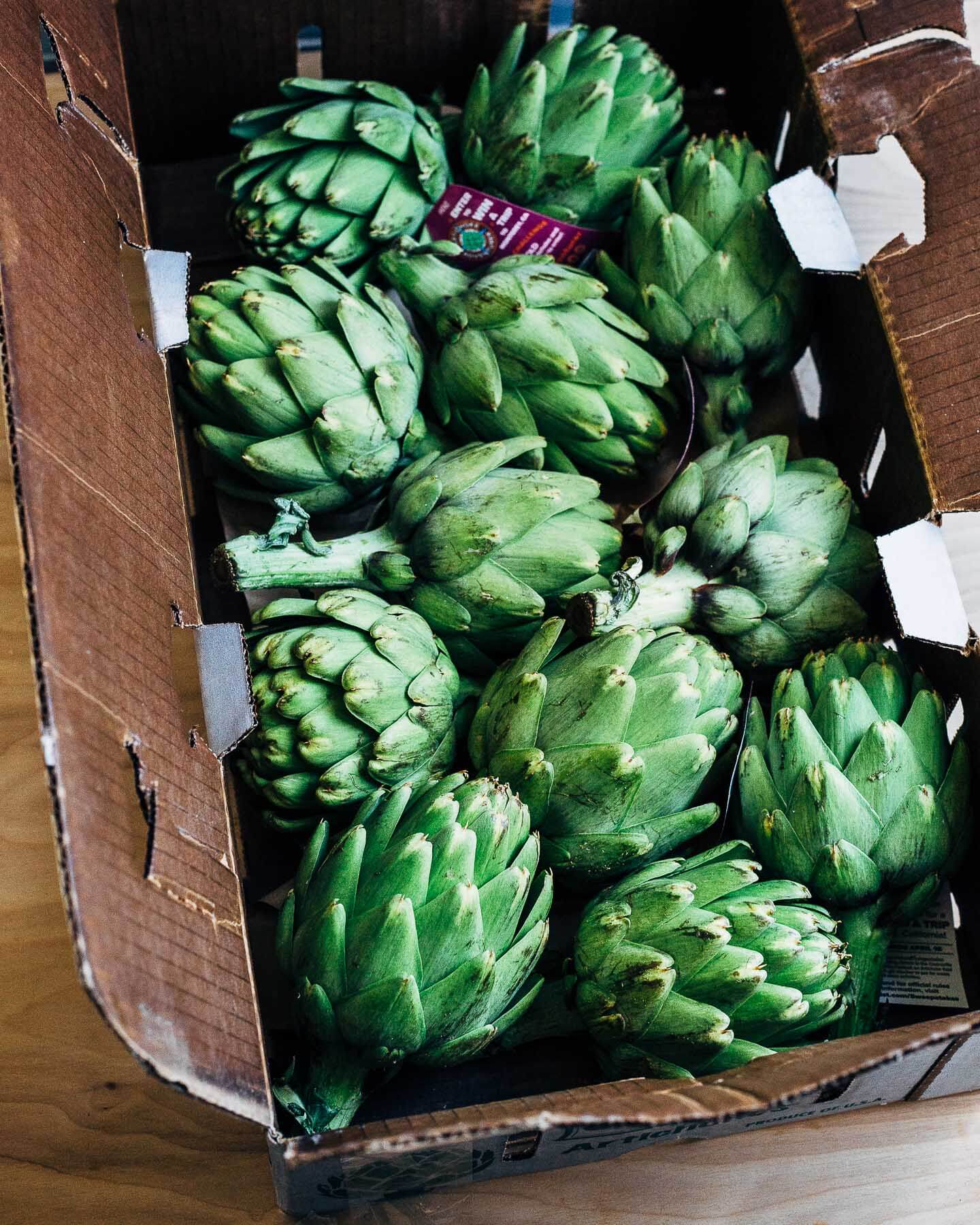 An approachable recipe for steamed artichokes with roasted garlic aioli. Recipe includes a simple step-by-step how-to for prepping artichokes. Jump to recipe. 
For me, the first step to making a perfect aioli is making an imperfect one. On the first go-round, my patience doesn't hold and after an errant splash of oil, I find the emulsion broken. So, I crack a second egg, extract a second yolk, and begin again. This time around, I wondered if I should just start with two yolks, but feared that would just turn my two egg aioli into a three egg affair. My technique may be faulty, but in the end it works well enough. Which is good, because the ability to whip up an aioli or a creamy, yolky dressing, is an important kitchen skill to have.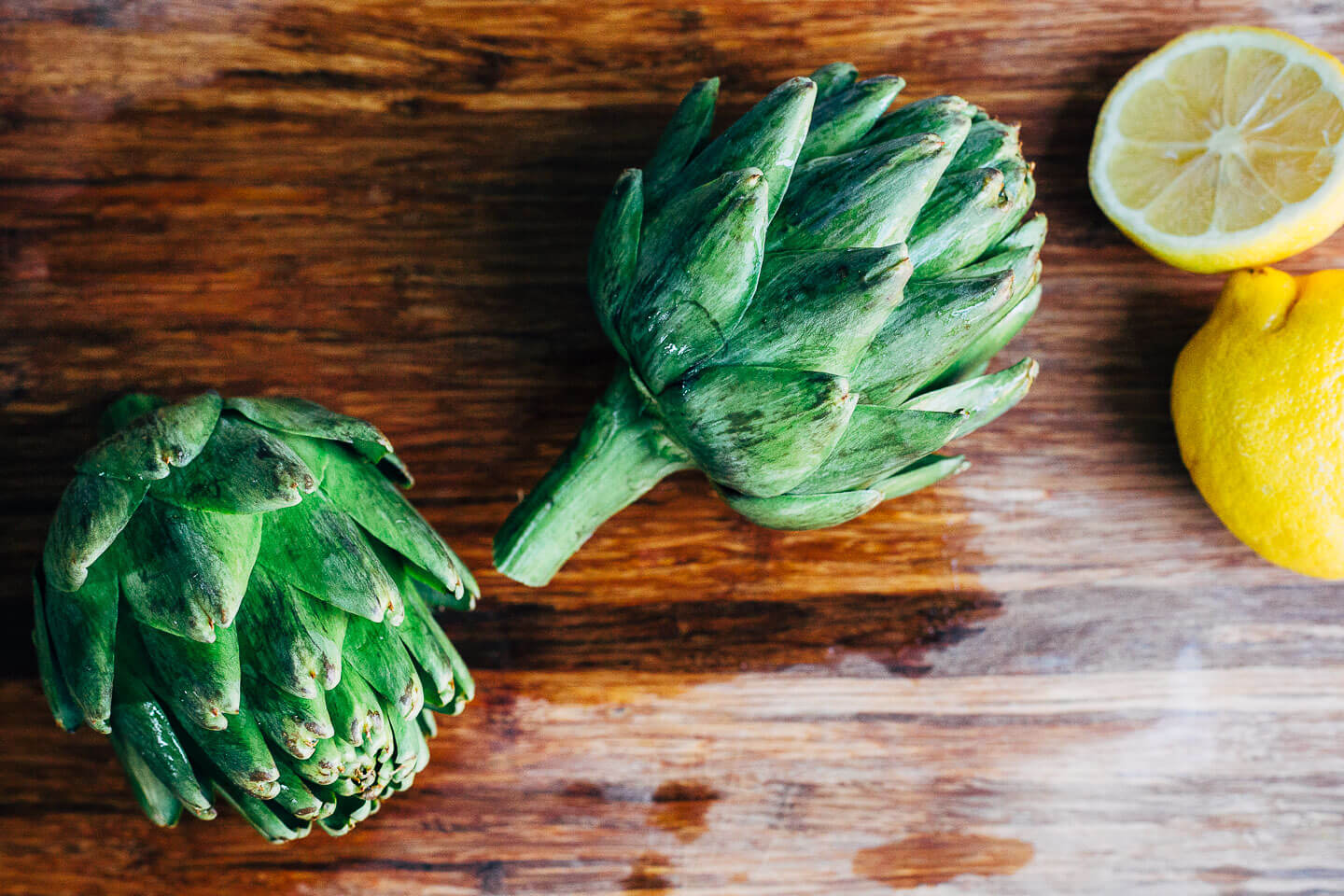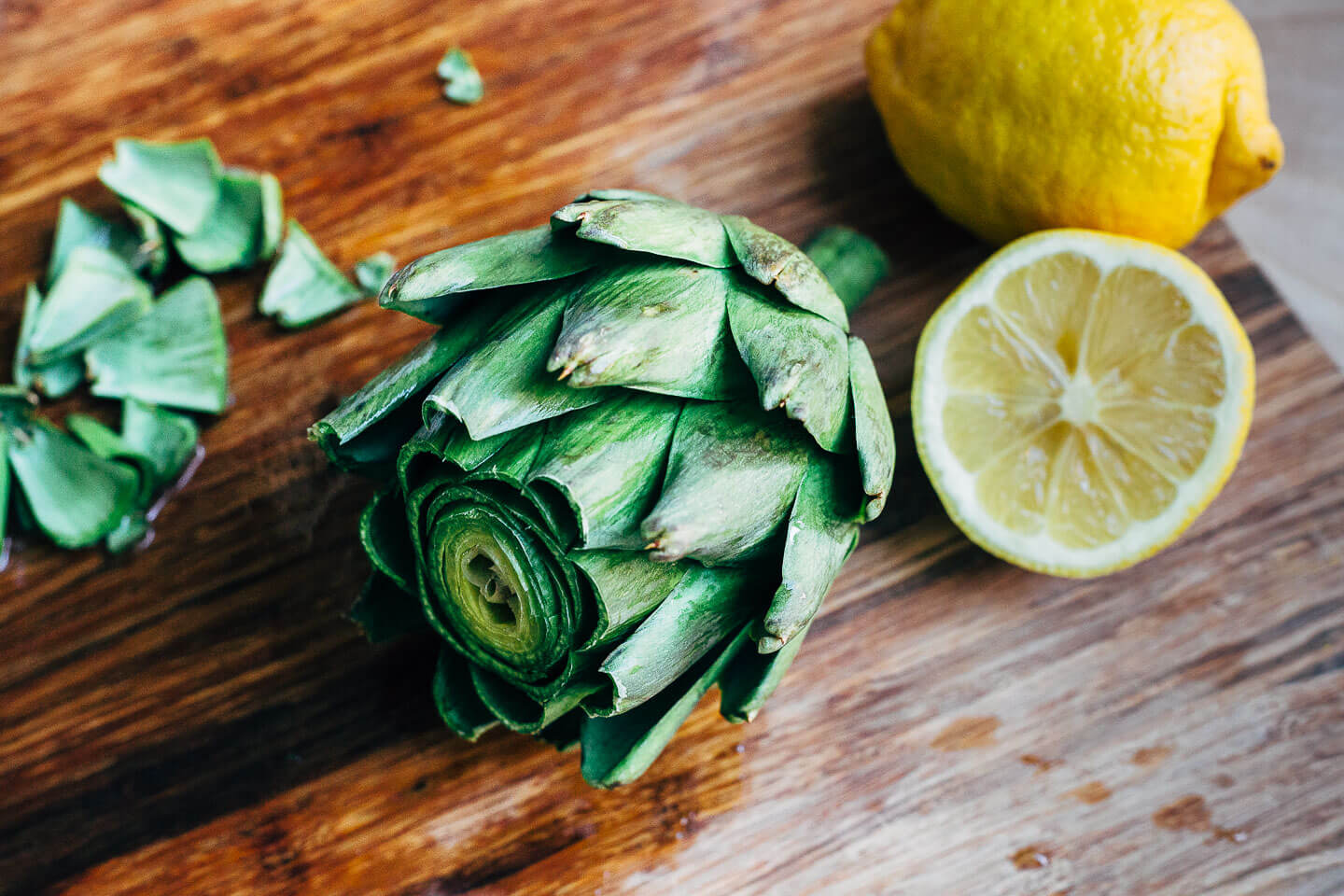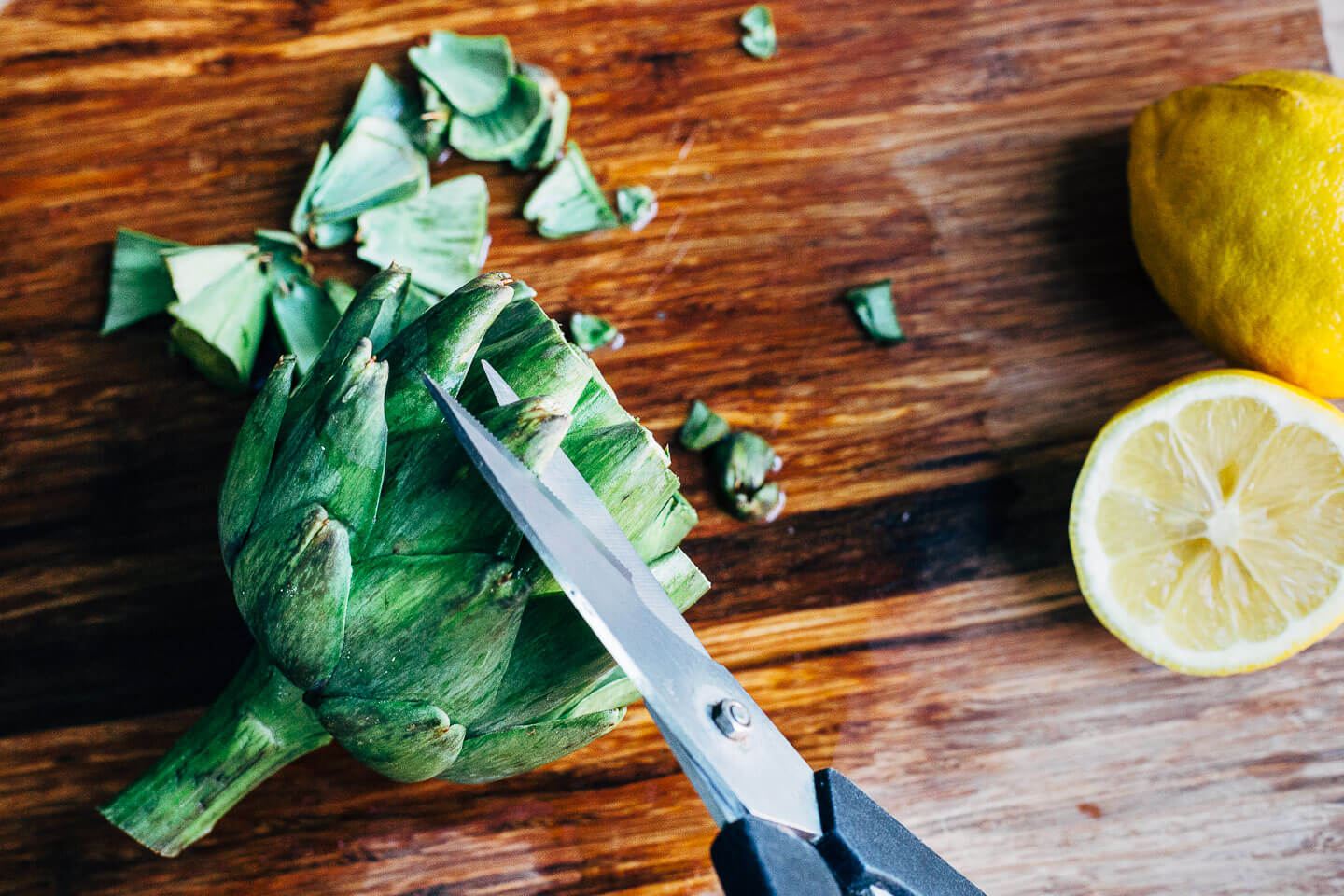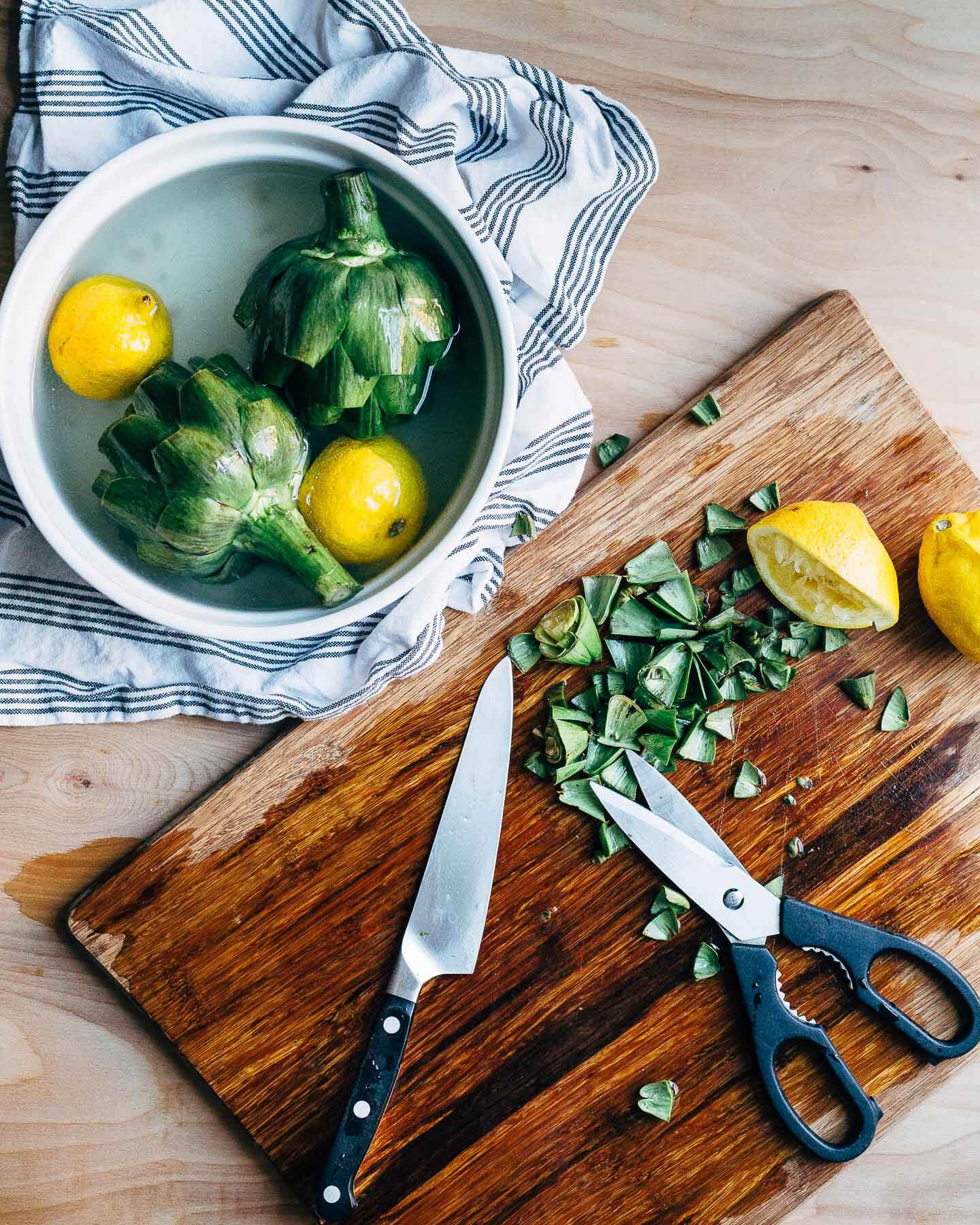 With all the aiolis I've made in my life, I can't believe it's taken me this long to add roasted garlic. Yesterday, when I spread some of this leftover aioli on a slice of bread, a single bite was enough to make me close my eyes and sigh. Even the children, usually skeptical of garlic, ate it with gusto – my oldest said it was like salt butter only better, which from her is a high compliment. If you too want to experience this bliss but are daunted by aioli,  you could add lemon and garlic to store bought mayo. (It's not quite the same, but will do in a pinch.)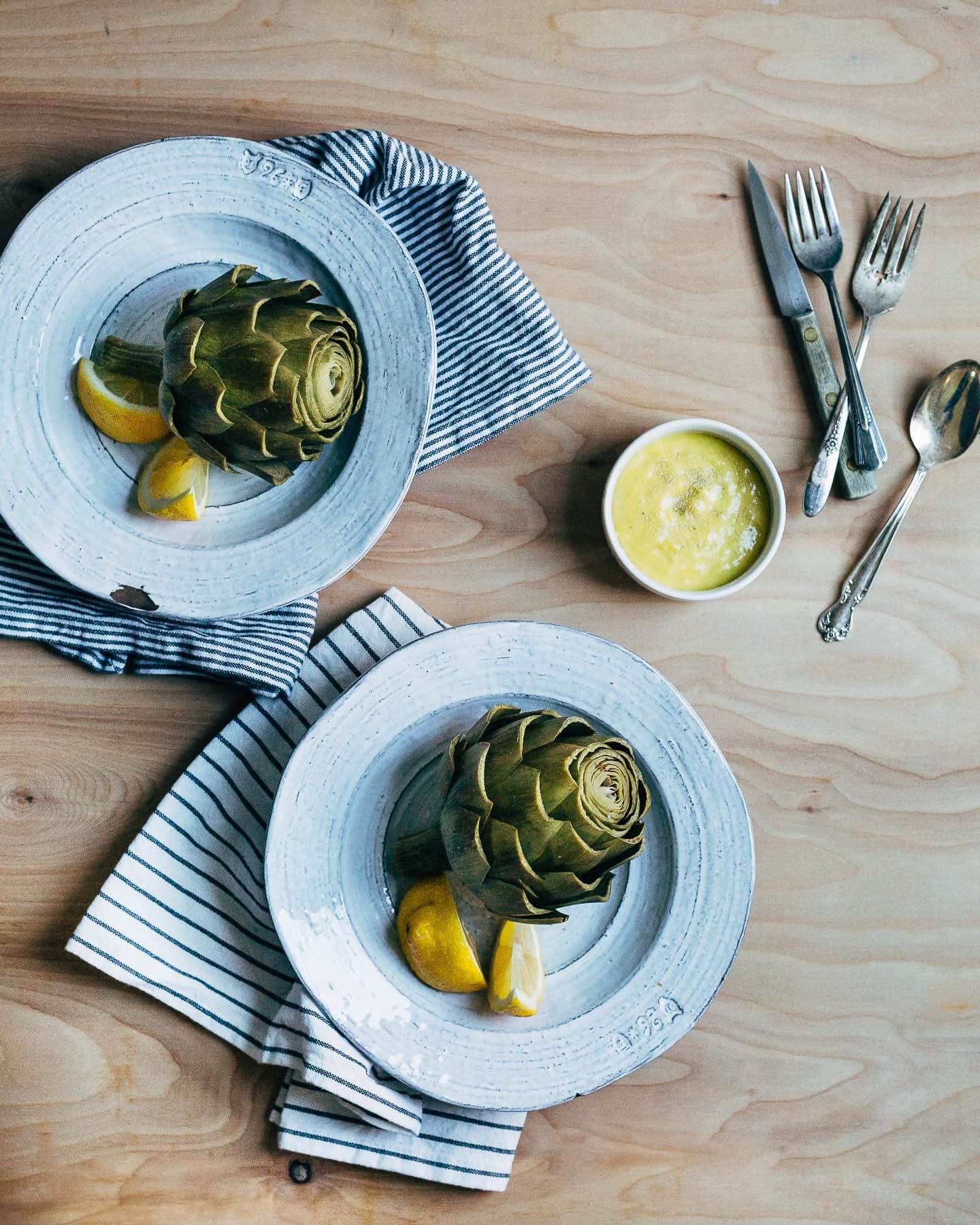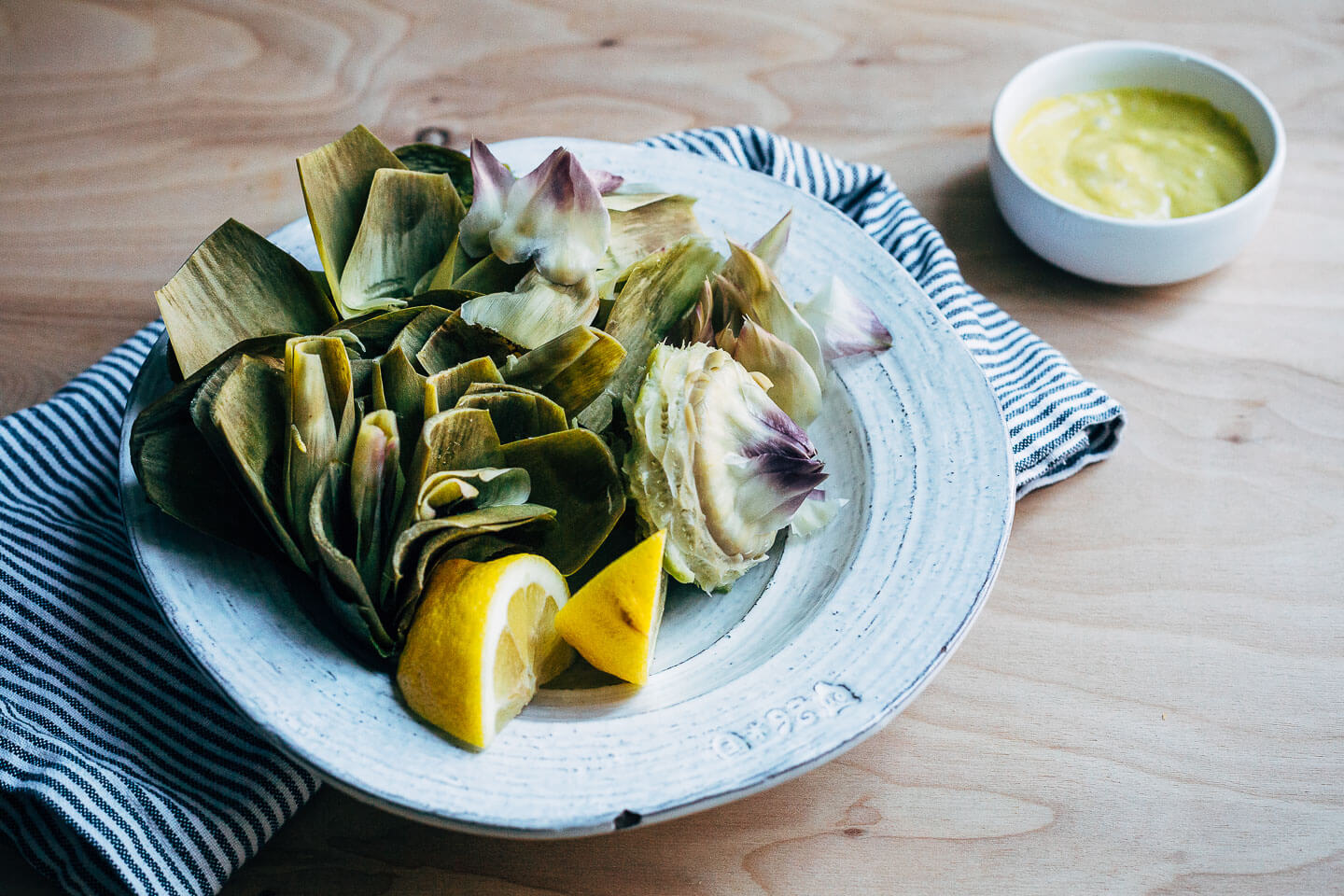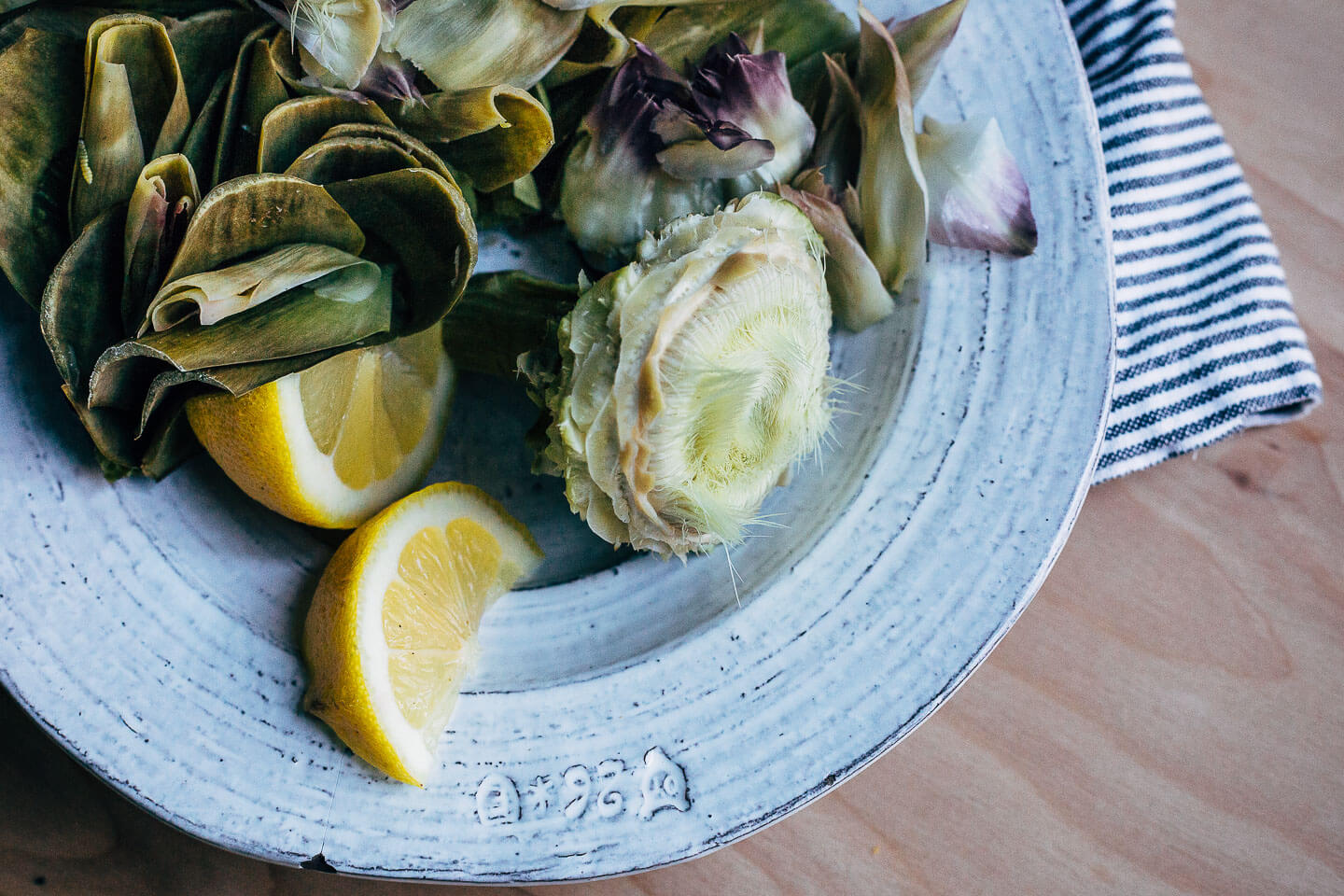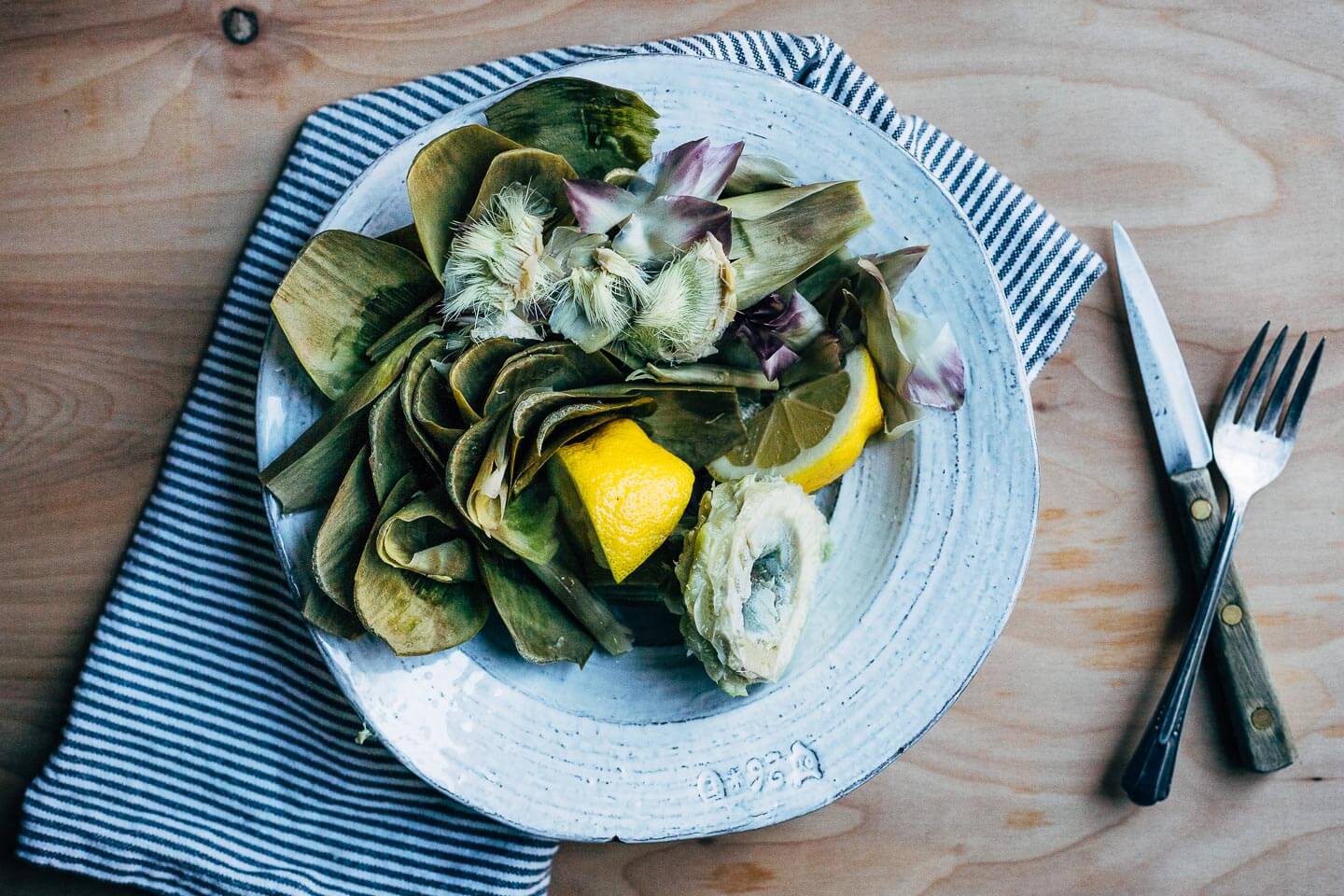 As for the artichokes, they have a reputation for being complicated, but really they're not. Just trim the tops (I take about an inch off of large artichokes) and use kitchen scissors to snip any thorns. Artichokes brown quickly, so a lemon water bath is nice to have on hand. I made a batch with and without lemon, and the only difference was in the color of the finished 'choke, with the lemon-dipped ones being a tad greener. Once they're prepped, set them in a basket, and steam away. These took 20 – 25 minutes. I recommend pulling them as soon as the base of the stem can be pierced easily with a fork. Once you've pulled the leaves and dipped them in something salty and lemony, you'll get to the heart. There's a fuzzy flower thing that should be sliced off, and then the heart and stem are all yours.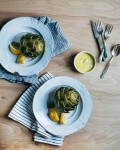 Steamed Artichokes with Roasted Garlic Aioli
A straightforward recipe for vibrant steamed artichokes dipped in a creamy roasted garlic aioli.
Ingredients
4

large artichokes

3

lemons
Instructions
Fill a large bowl two-thirds full of water. Halve one of the lemons and squeeze all the juice into the water; toss in lemon rinds too. Halve another lemon and set on cutting board.

With a vegetable brush, gently brush artichoke leaves and stem in an upward motion under cold running water (watch out for thorns). Next, use a large, sharp knife to slice 1-inch from the top of artichoke. Immediately squeeze lemon juice over the fresh cut. Next use kitchen scissors to trim thorny tips of artichokes leaves. Immerse prepped artichoke in lemon water. Repeat process until all artichokes have been prepped.

Fill a large stock pot with 2-inches of water, add a steaming basket, cover, and bring to a boil. When water's boiling, add artichokes so that the stems are pointing up. Recover pot. Steam artichokes 20 - 30 minutes, or until leaves peel off easily and the base of the stem is easily pierced with a fork. (Depending on size, cook time can vary – keep a close eye out toward the end.)

Remove from pot and serve right away with a small bowl of roasted garlic aioli (recipe below) and remaining lemon cut into wedges.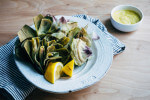 Roasted Garlic Aioli
A rich and creamy homemade roasted garlic aioli recipe with a hint of lemon.
Ingredients
1

medium head garlic

1/2

cup

plus 1 tablespoon extra virgin olive oil

sea salt

1

egg yolk

1

teaspoon

lemon zest plus 1 - 2 tablespoons juice

freshly ground pepper
Instructions
Preheat oven to 400 degrees F.

Slice the root end off the head of garlic, doing your best to reveal the bottom of each clove. Add 1 tablespoon olive oil and a pinch of sea salt to the bottom of a small, oven-proof ramekin. Add the trimmed head of garlic and cover tightly with foil. Set onto a rimmed baking sheet (not essential, but helpful in removing ramekin from the oven) and slide into the oven.

Bake until garlic cloves are very soft, 20 - 25 minutes. (Garlic cook time varies depending on size and texture of cloves, so check as you go, and pull if garlic gets at all brown.) When removing foil, take care to avoid steam plume.

Set garlic aside until cool enough to handle, then squeeze cloves out of papery skins and mash with a fork.

Meanwhile, set egg yolk in a large mixing bowl. Whisk in a tiny pinch of sea salt and a 1/2 teaspoon lemon juice. Whisking all the while, add olive oil a few drops (really) at a time, until you've added about 1/4 cup. Mixture should be pale and thick. At this point, you can splash in a bit more olive oil, whisking all the while. If your mixture breaks at any point, just set aside and begin process again with another yolk. Once you've added 1/4 cup olive oil, you can slowly whisk the broken aioli mixture into the new one.

At this point, aioli should be thick and creamy. Add lemon zest and a pinch of sea salt. Fold in mashed roasted garlic, whisking until smooth. Finally, add enough lemon juice to thin mixture (you want it to be thick, but dippable too), and sea salt and ground pepper to taste.

If possible, allow aioli to mellow in the fridge overnight. Aioli will keep well sealed in the fridge for up to 5 days.