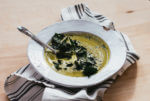 A hearty winter kale soup recipe made with roasted celery root and cauliflower, and topped with crispy kale chips.
1

bunch Lacinato kale

, washed and patted dry

1

small head cauliflower

, cored and cut into 1/2-inch florets

1

large celery root

, peeled and cut into 1/2-inch cubes

5

tablespoons

plus one teaspoon extra virgin olive oil

, divided

sea salt

ground black pepper

2

shallots

, sliced thin

4

large cloves garlic

, smashed and peeled

6

cups

low-sodium vegetable or chicken broth

1/4

cup

freshly squeezed lemon juice

1

tablespoon

soy sauce
Arrange racks in the top third of the oven and preheat to 400 degrees F.

Toss cauliflower florets with 2 tablespoons olive oil. Spread on a large rimmed baking sheet; sprinkle with sea salt and pepper. Toss the celery root with 1 tablespoon olive oil. Spread on a small rimmed baking sheet; sprinkle with sea salt and pepper. Slide both baking sheets into the oven. Flip vegetables after 15 minutes. Roast for a total of 25 – 30 minutes, or until both are a golden with crisp brown edges. Set aside to cool.

Turn oven down to 300 degrees F.

Divide the bunch of kale in half, selecting the smallest, most tender leaves for the chips. Trim the stems from these smaller leaves and discard. Tear leaves into 2 – 3-inch pieces and toss with a drizzle of olive oil (about a teaspoon). Arrange kale on a rimmed baking sheet, sprinkle with sea salt and pepper, and bake until crisp but not brown, 15 – 20 minutes, turning once halfway through. Rough chop all remaining kale.

Meanwhile, heat a Dutch oven or soup pot oven medium heat. Add 2 tablespoons olive oil, and then the shallots and a generous pinch each sea salt and pepper. Cook, stirring often, for 5 minutes. Add the garlic and cook 1 minute more. Next, add the chopped kale, stirring and sprinkling with sea salt as you go. Cook for 5 minutes. Stir in roasted vegetables and then the stock. Bring liquid to a boil, turn heat to medium-low, and simmer for 20 minutes.

Working in batches, puree the soup. If needed, add a couple ladlefuls of water to thin soup to desired consistency. Stir in lemon juice and soy sauce, and adjust salt and pepper levels as needed. Reheat soup and ladle into bowls. At the table, crumble kale chips on top.