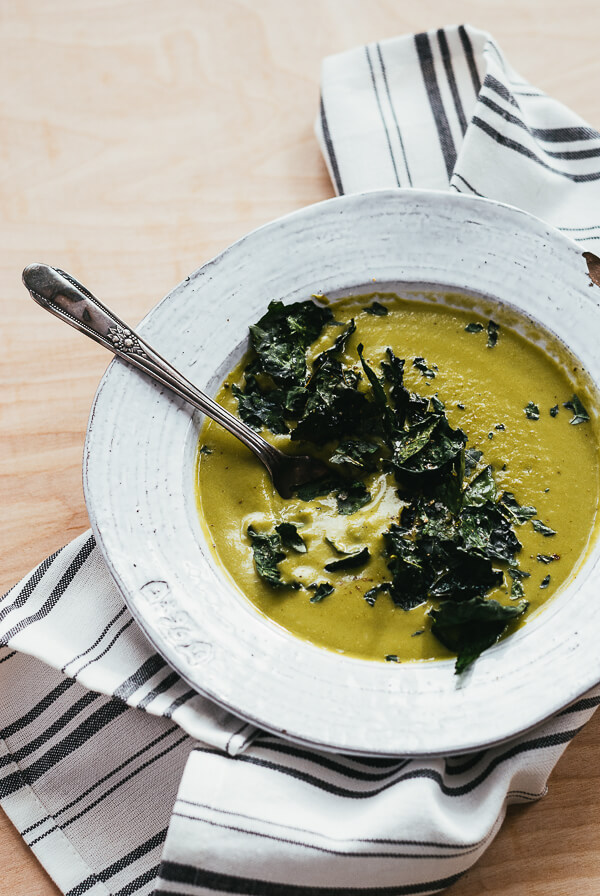 A hearty winter kale soup recipe made with roasted celery root and cauliflower, and topped with crispy kale chips. This post is sponsored by Wolf. Jump to recipe.
There are lots of little ways to reclaim our kitchens, and those I relish most are the daily battles and small victories. One of my favorite kitchen triumphs is the MacGyver dinner. You know that one –– you realize you have nothing to eat for dinner: no plan, no protein, and hardly any time. But then, with a bit of ingenuity, or at least a nicely chopped onion and some olive oil, a good meal is suddenly underway. Home cooks know the braises we've planned or the pasta sauce that's cooked all day will be delicious, but these surprise meals, these takeout near misses, these dinners that make use of all the odds and ends, are always the most gratifying.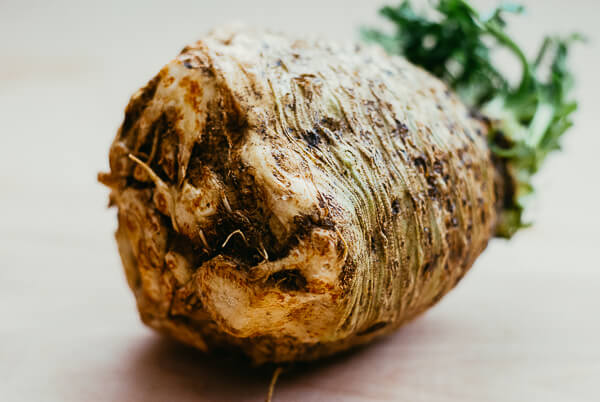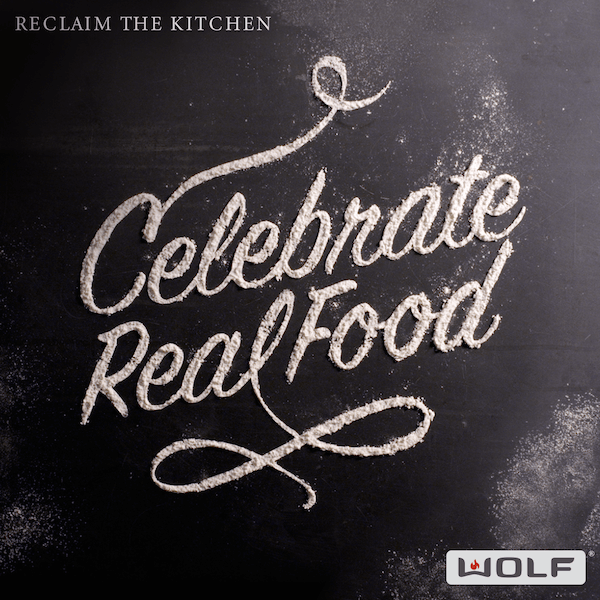 This idea that getting into our kitchens, even if it's just to quickly cobble something together, is at the heart of Wolf's Reclaim the Kitchen campaign. Over the years, our diets have changed and moved away from homemade foods. And though we may love reading about great meals or watching them get made on television, we lack the confidence to get into our own kitchens and feed ourselves well. But good food doesn't have to be fancy. In fact, simple, wholesome meals –– the kind we can make on a daily basis –– are an important part of healthful eating. In the interest of encouraging us all to cook more, the folks at Wolf have pulled together a host of resources over on ReclaimtheKitchen.com. There, you'll find recipe ideas, meal planning tips, and inspiration for eating better, one simple meal at a time.
This roasted cauliflower and kale soup is one of those simple recipes –– nothing fancy, just wholesome ingredients cooked well. It's made with one bunch of Lacinato kale (my favorite), a celery root, and a small head cauliflower, and turns these tough winter vegetables into a velvety vegan soup with earthy undertones. True, it takes a little time to come together, but most of this is unattended, so you'll have plenty of time to clean up or do whatever else your evening demands. Big bowls of delightfully green soup are finished with crunchy kale chips (or "salad chips" as my three year-old calls them) along with a pinch of grainy sea salt and a few twists of black pepper. Throw some crusty bread slathered with salted butter or maybe herbed olive oil into the mix, and you've got a humble feast.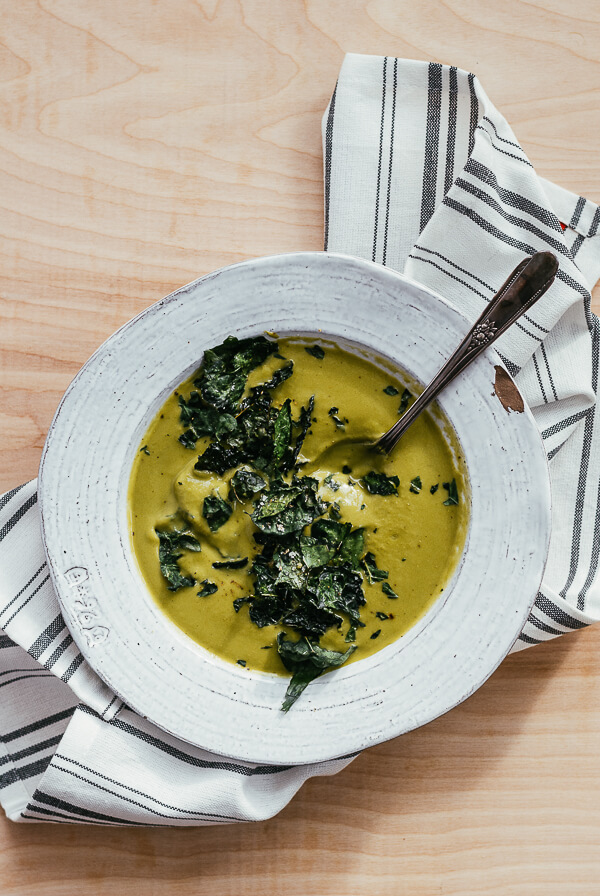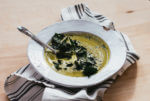 Cauliflower Kale Soup with Kale Chips
A hearty winter kale soup recipe made with roasted celery root and cauliflower, and topped with crispy kale chips.
Ingredients
1

bunch Lacinato kale

, washed and patted dry

1

small head cauliflower

, cored and cut into 1/2-inch florets

1

large celery root

, peeled and cut into 1/2-inch cubes

5

tablespoons

plus one teaspoon extra virgin olive oil

, divided

sea salt

ground black pepper

2

shallots

, sliced thin

4

large cloves garlic

, smashed and peeled

6

cups

low-sodium vegetable or chicken broth

1/4

cup

freshly squeezed lemon juice

1

tablespoon

soy sauce
Instructions
Arrange racks in the top third of the oven and preheat to 400 degrees F.

Toss cauliflower florets with 2 tablespoons olive oil. Spread on a large rimmed baking sheet; sprinkle with sea salt and pepper. Toss the celery root with 1 tablespoon olive oil. Spread on a small rimmed baking sheet; sprinkle with sea salt and pepper. Slide both baking sheets into the oven. Flip vegetables after 15 minutes. Roast for a total of 25 – 30 minutes, or until both are a golden with crisp brown edges. Set aside to cool.

Turn oven down to 300 degrees F.

Divide the bunch of kale in half, selecting the smallest, most tender leaves for the chips. Trim the stems from these smaller leaves and discard. Tear leaves into 2 – 3-inch pieces and toss with a drizzle of olive oil (about a teaspoon). Arrange kale on a rimmed baking sheet, sprinkle with sea salt and pepper, and bake until crisp but not brown, 15 – 20 minutes, turning once halfway through. Rough chop all remaining kale.

Meanwhile, heat a Dutch oven or soup pot oven medium heat. Add 2 tablespoons olive oil, and then the shallots and a generous pinch each sea salt and pepper. Cook, stirring often, for 5 minutes. Add the garlic and cook 1 minute more. Next, add the chopped kale, stirring and sprinkling with sea salt as you go. Cook for 5 minutes. Stir in roasted vegetables and then the stock. Bring liquid to a boil, turn heat to medium-low, and simmer for 20 minutes.

Working in batches, puree the soup. If needed, add a couple ladlefuls of water to thin soup to desired consistency. Stir in lemon juice and soy sauce, and adjust salt and pepper levels as needed. Reheat soup and ladle into bowls. At the table, crumble kale chips on top.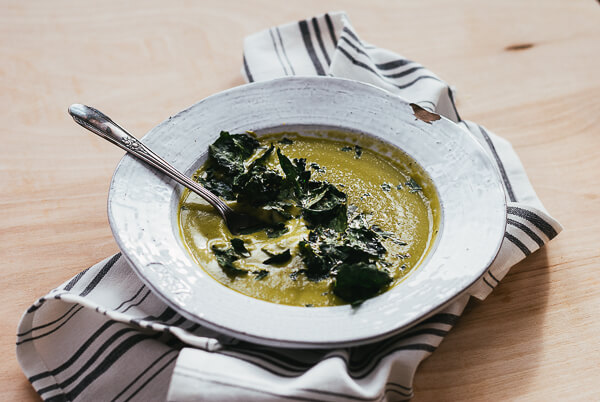 Disclosure: This is a sponsored post written in partnership with Wolf.