A surprisingly simple roast goose recipe with everything you need to know to make and carve a classic Christmas goose at home.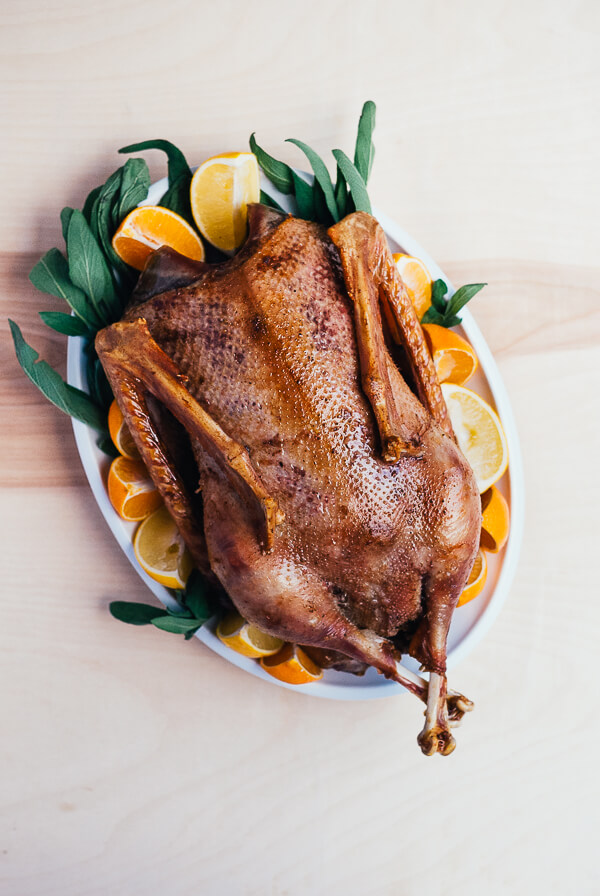 Elizabeth and I spend hours each December discussing which version of A Christmas Carol is best (This year I'm kind of leaning toward the Muppets one?). It's a tough choice because they all have their moments. But the 1951 version is in the running for me every year because of the Cratchit family's reaction to the goose Bob's bought –– the sheer joy of a family in tough times savoring a simple pleasure gets me misty every time. I've always wanted to get in on some of that Christmas goose joy. But the Christmas goose is a weird thing.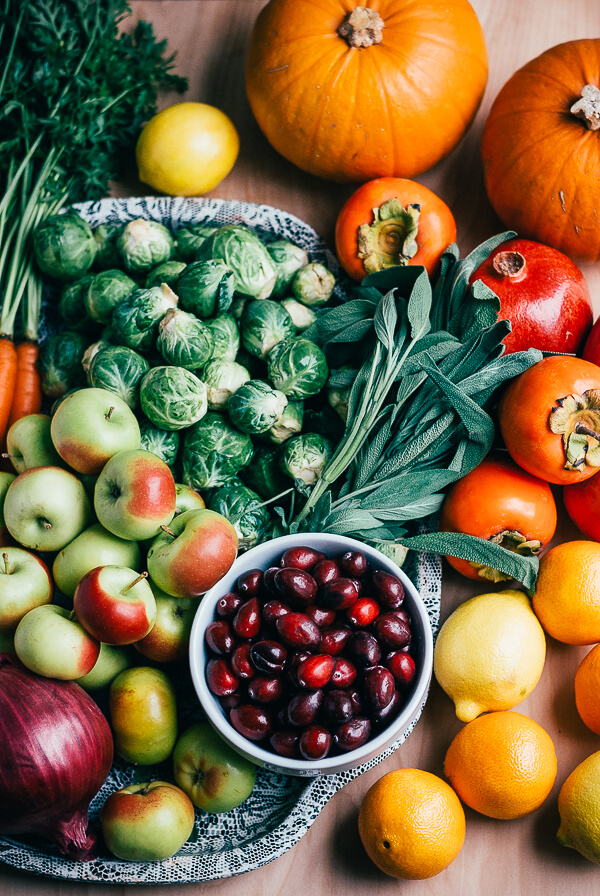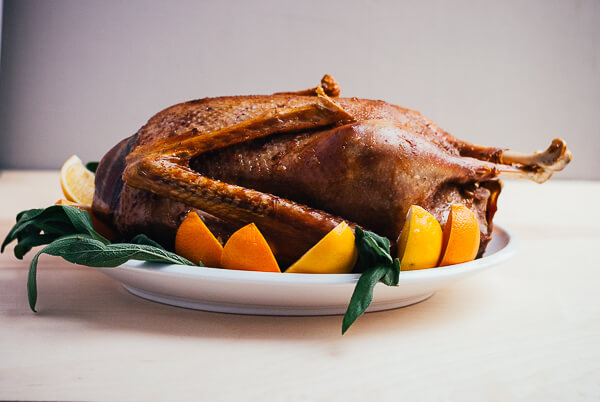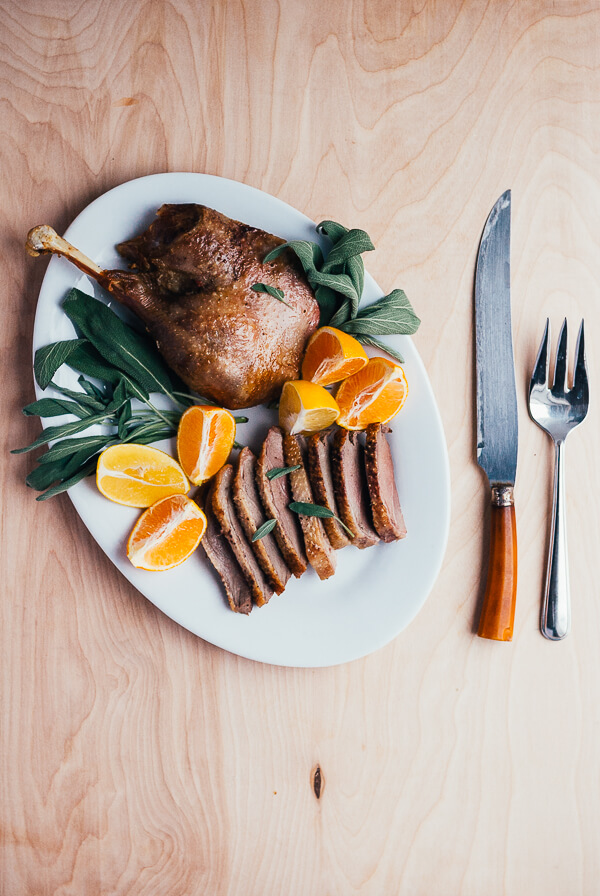 As far as Christmas trappings go, it's as familiar as mistletoe, but when you start asking around, you discover that absolutely no one actually makes it (I'm talking America here, I don't know what the rest of you do). Even the guy who sits in the cube next to me who used to be a sous-chef at some pretty good places had never made one before and he's my go-to guy for discussing any culinary adventures I'm planning.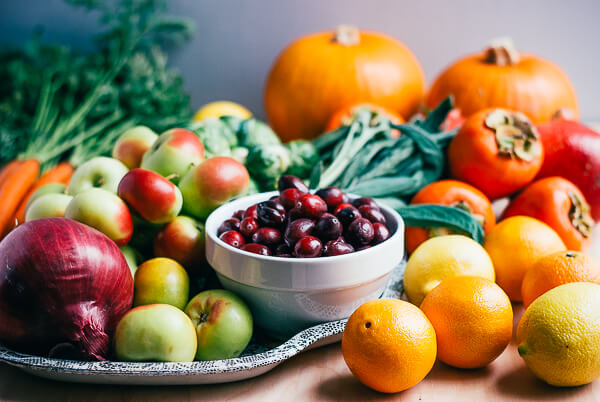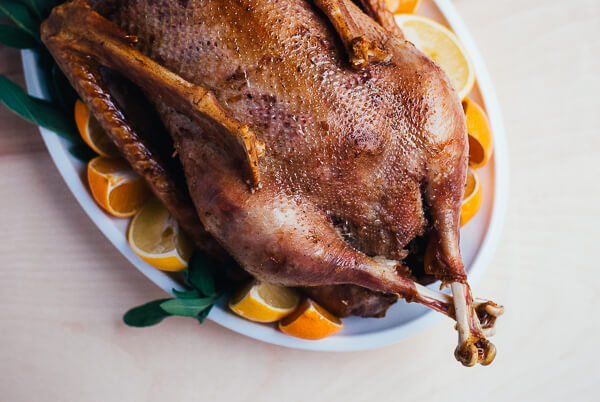 In fact, the only goose-related advice I've ever gotten is from a butcher in Brooklyn and it was: don't. It's too fatty to cook easily. So for years, I've avoided it, but after my success smoking a turkey breast earlier in the fall, I was feeling confident about my poultry skills. To keep things simple, I made the most basic roast goose I could. And the truth is, a goose is trickier than a chicken, but not any harder than a turkey (although much different). There is a lot of fat to deal with and that requires some prep work, but as a bonus, we ended up with a pint of rendered goose fat.
(By the way, any ideas for making use of a pint of goose fat? Confit something?)
Roasting a goose requires some attention throughout the cook time, but nothing crazy. You'll want to set aside roughly 2 1/2 hours for roasting, plus time to rest. A simple goose gravy can be made with the neck, giblets, and fat, much the same way you would turkey gravy. Since it's not likely that you'll have goose stock on hand, any rich poultry stock will do nicely.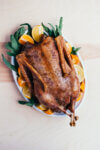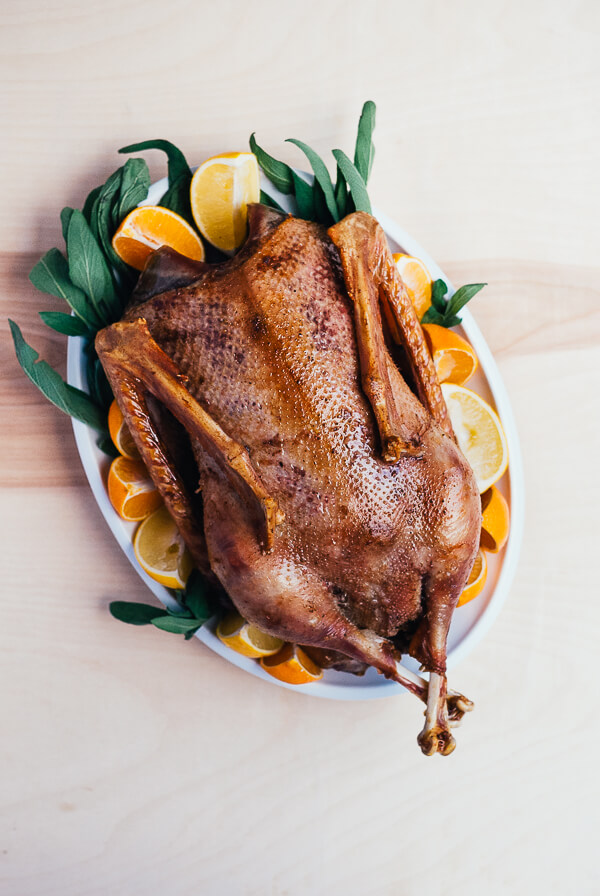 Roast Goose
Everything you need to know to roast and carve a classic Christmas goose in this surprisingly simple roast goose recipe.
Ingredients
one goose

(chilled but not frozen), 10 - 12 pounds

sea salt

black pepper
Instructions
2 hours before you plan to cook the goose, remove goose from fridge to get it up to room temperature. Check cavity and remove giblets. The goose has probably had the oil glands (which can give the meat a bad taste) removed when it was processed, but if it still has a tail, remove that (which will take care of the oil glands). If you have a culinary torch, use it to singe off any pin feathers. Otherwise, use tweezers.

Preheat oven to 350 degrees F.

While oven is heating, massage goose firmly to weaken the fat so it will render more easily while it cooks. Prick skin all over on both sides with a fork, paying special attention to breast. You're creating a way for rendered fat to escape, so you just want to prick the skin while taking care not prick the meat. To best avoid puncturing the meat, try going in at an angle.

Rub a generous amount of sea salt and freshly ground black pepper all over goose skin. Salt cavity as well.

Truss goose

as you would a turkey

and place it breast-side down in a roasting pan. When oven is up to temperature, slide roasting pan in.

After 20 - 25 minutes, pull goose and prick the side facing up with a fork again. Use a baster to suck out any fat that has rendered thus far and save it in a jar.

After another 25 - 30 minutes, the back should be getting brown. If not, leave it in a little longer. Otherwise, remove more of the fat from roasting pan and reserve. Flip goose (I used a pair of tongs and an oven mitt), prick breast again, and put goose back in oven.

Every 20 - 25 minutes, pull goose and remove some of the fat. For beautifully browned skin, brush some of the fat over goose skin. Pull goose when a thermometer inserted where the thigh meets the breast reads 170 degrees F, after roughly 2 1/2 hours total cook time.

Rest goose for at least 20 minutes, so that it's cool enough to handle. Remove trussing twine. Using a knife or poultry shears, cut thighs and legs away from the breast. Then cut drumstrick away from the thigh. Cut off wings and set them aside for making stock.

Use a sharp knife to cut down the center of the breast, then cut each side of breast away from rib cage. Take the two halves of the breast and cut them into medallions as you would a duck and serve.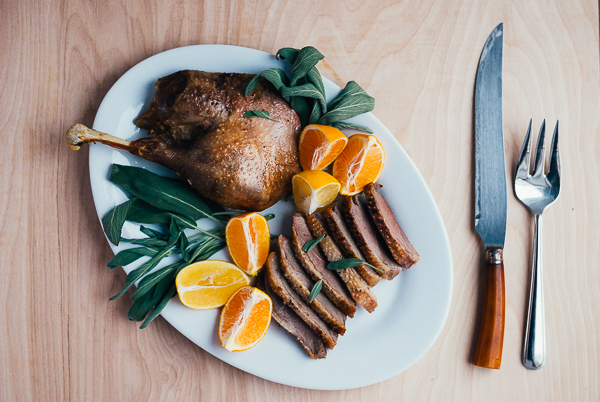 SaveSave