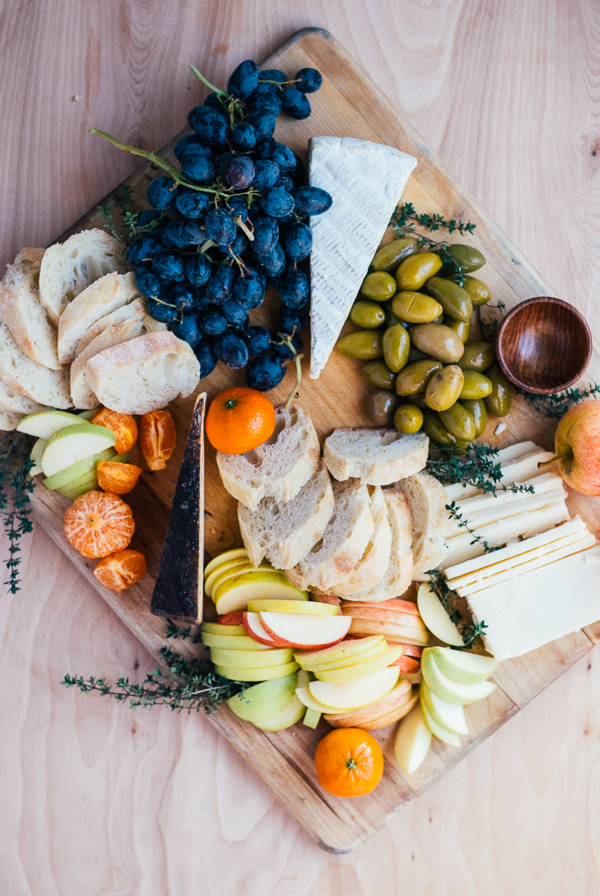 My favorite cheese plates are the simplest. Three or so good varieties of cheese, lots of fruit, something salty, and fresh baguette. I love the welcoming vibes and abundance of a board piled with the good stuff, and some version of the one presented here is in effect any time I host.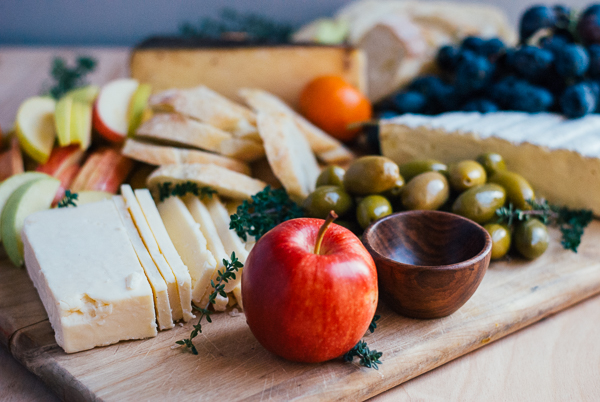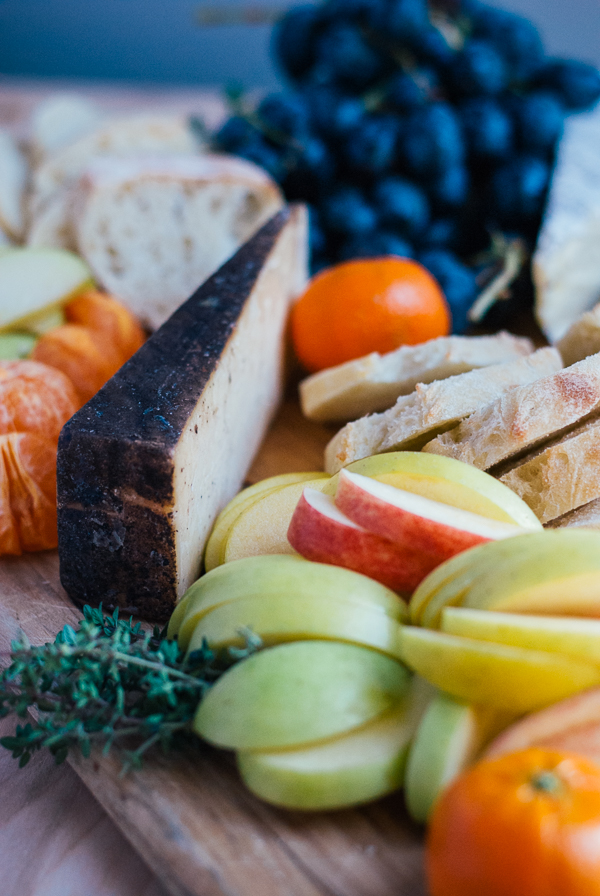 This simple cheese plate plays to my love of hard cheeses and cheddar, with a nod to soft cheese for good measure. I recently traveled to Wisconsin for a tour of creameries with the Wisconsin Milk Marketing Board, and fell in love with many of the cheeses I sampled. Accordingly, I've featured an espresso-rubbed BellaVitano and MontAmore from Sartori cheese in Antigo, as well as a triple-cream Saint-André, from France. I threw in plenty of sliced baguette, green olives, plus piles of sliced apples, mandarin orange segments, black seedless grapes, and fresh herbs for garnish.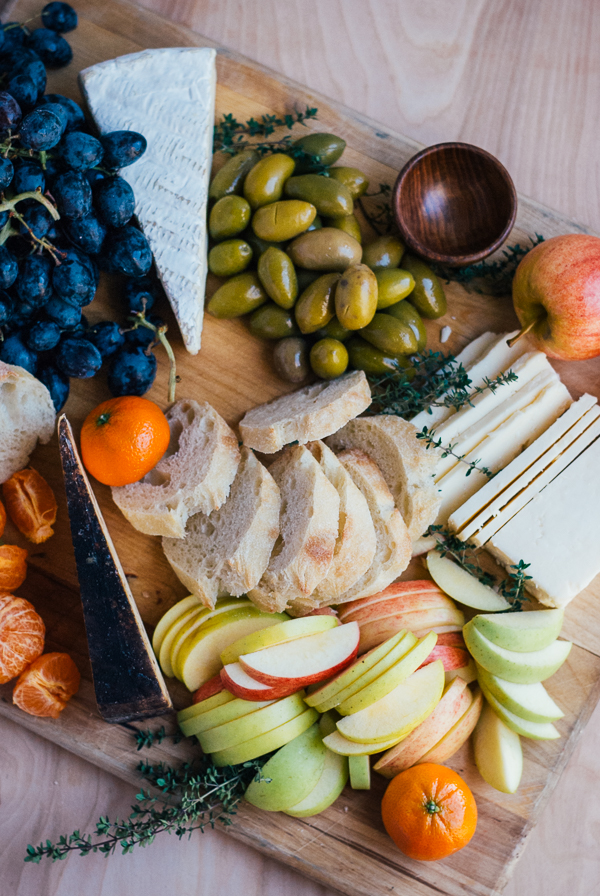 I've always been a fan of Wisconsin cheese, but after traveling there and seeing how seriously cheesemakers take the Wisconsin cheese lable and how much pride they take in their work, I have a new appreciation of their superior product.
On the first day, our group of food industry writers, bloggers, and magazine professionals stopped for a great locally-sourced lunch at Engine Company No.3, a breakfast and lunch only spot in the Walker's Point neighborhood of Milwaukee. Later that day, we toured the Clock Shadow Creamery, a LEED-certified urban cheese factory. To avoid the need for caves, Clock Shadow focuses on fresh cheese varieties like quark, curds, ricotta, and chèvre. They've also got a rooftop garden with a gorgeous view of Milwaukee.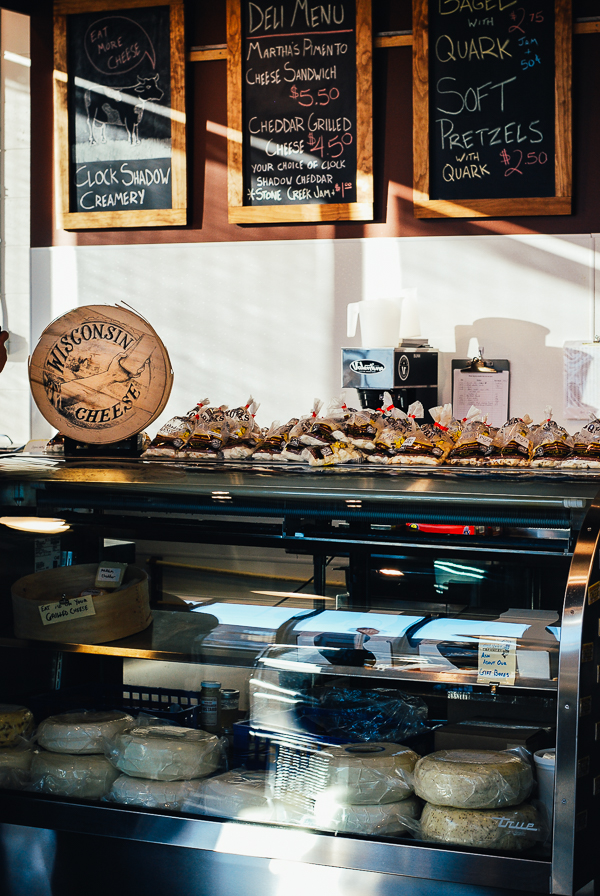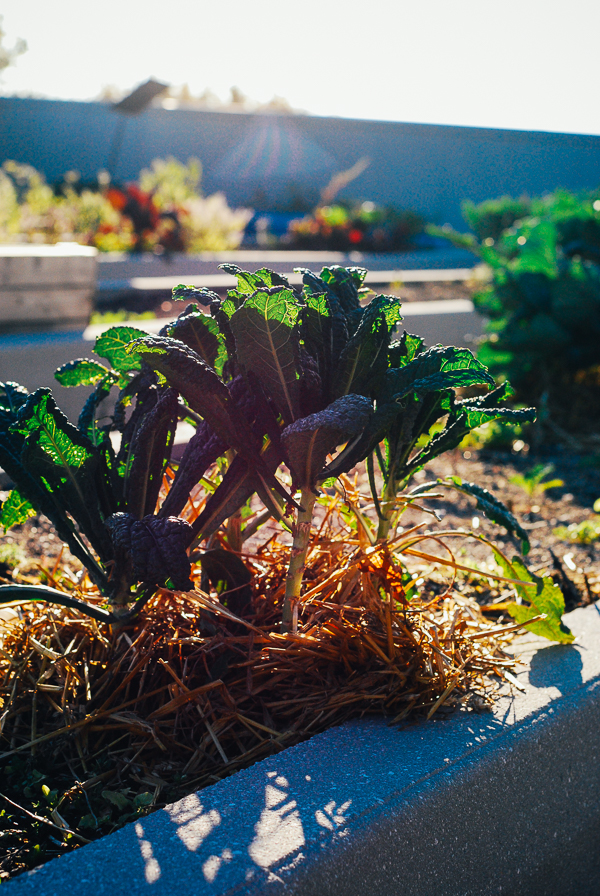 Next, we toured the Great Lakes Distillery. Our tour guide Matt was both informed and opinionated, which is always a good combination, and at the tasting I found the Great Lakes Whiskey to be especially impressive. Following the tasting, we settled into a sublime multi-course dinner at Bacchus.
The next morning, we were off for a day of serious cheese eating and headed north to Henning's Cheese in Keil. Henning's is a family business dating to 1914, and they take their traditionally made, hand-cheddared cheese very seriously. We met their master cheese maker, Kerry Henning, and were treated to an engaging tour (and delicious tasting) with Kert Henning.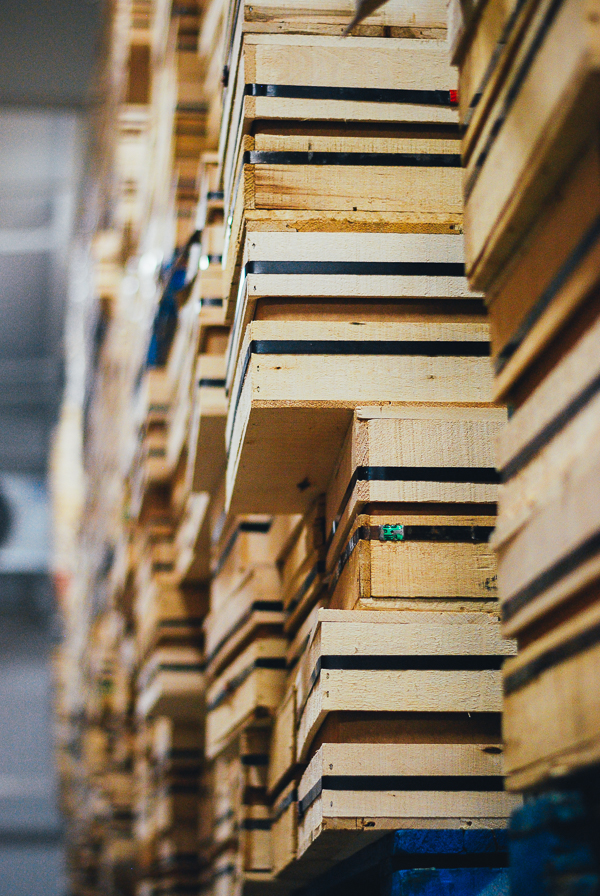 We then headed to Saxon Creamery. I was impressed with the Saxon product and their care for the single herd of cows – whom they affectionately called their "girls" – that make the milk for their cheese. Saxon uses only pastured, grass-fed cows, making sure that a seasonal mix of various grains, grasses, or legumes is always available, even in the winter months. Each cheese variety is made to complement the changing flavors of grasses and levels of milk fat throughout the year, meaning that the aroma and texture of each cheese told the story of the season in which it was produced, with cheeses made in the summer or winter seasons conveying incredibly distinct flavors.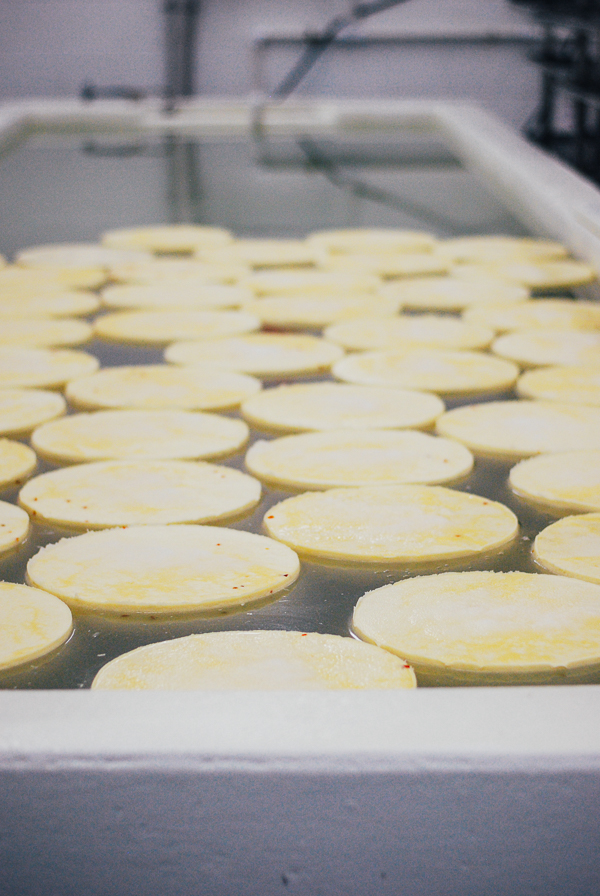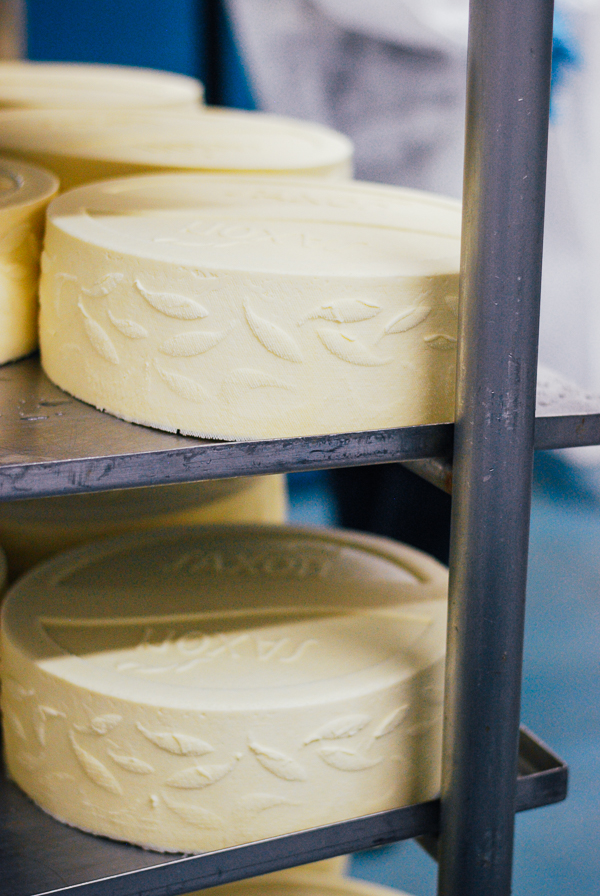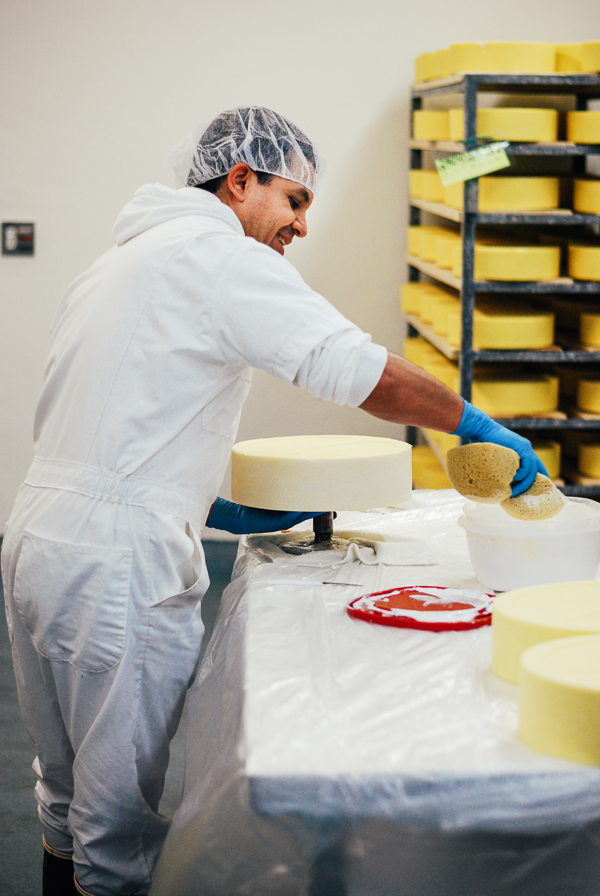 We stopped in for lunch at La Clare Farms, and were drawn in to the story of family cheese making as told by Katie Fuhrman. She showed us around their newly expanded facility, and then gave us the chance to sample some of her many award-winning goat and cow milk cheeses.
On the last day, we toured the Sartori cheese plant in Antigo. We donned full factory gear –– hair nets, boots, and lab coats – and jumped in on the factory line. I flipped cheese out of molds, tossed wheels into brining tanks, and rubbed espresso onto Sartori's signature Espresso BellaVitano cheese wheels. It was pretty cool to see the inner workings of a specialty cheese factory. The line workers were also incredibly kind to help as our group stepped in, and slowed down, their production line. After the tour, we got to sample Sartori's cheeses, and were so impressed with the great flavors. Parmesan is one of my favorite cheeses, and I loved their product. Other standouts included the MontAmore and classic Asiago.
After coming home from Wisconsin, I was surprised to see how many of the cheeses I had gotten to know in Wisconsin were available at my local groceries. So much of our industrialized food system seems geared to taking the personal out of food, so it was quietly thrilling to see products with which I had a personal connection on the store shelves.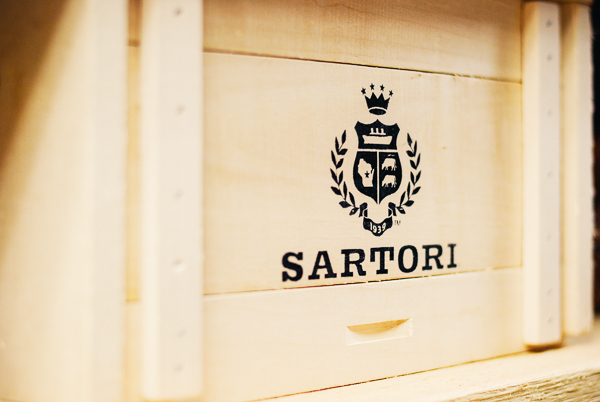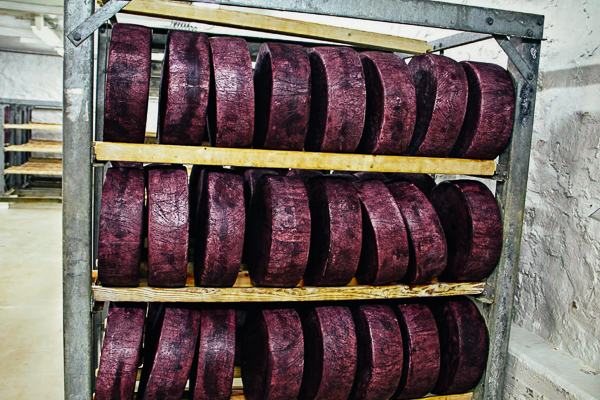 Disclosure: I was not compensated for this post, though my trip to Wisconsin was sponsored by the Wisconsin Milk Marketing Board. In addition, Sartori provided me with cheese samples. All opinions are my own. Thanks for supporting the brands that make Brooklyn Supper possible!
Since we weren't able to photograph inside the factory, the bottom image was provided by Sartori Cheese.