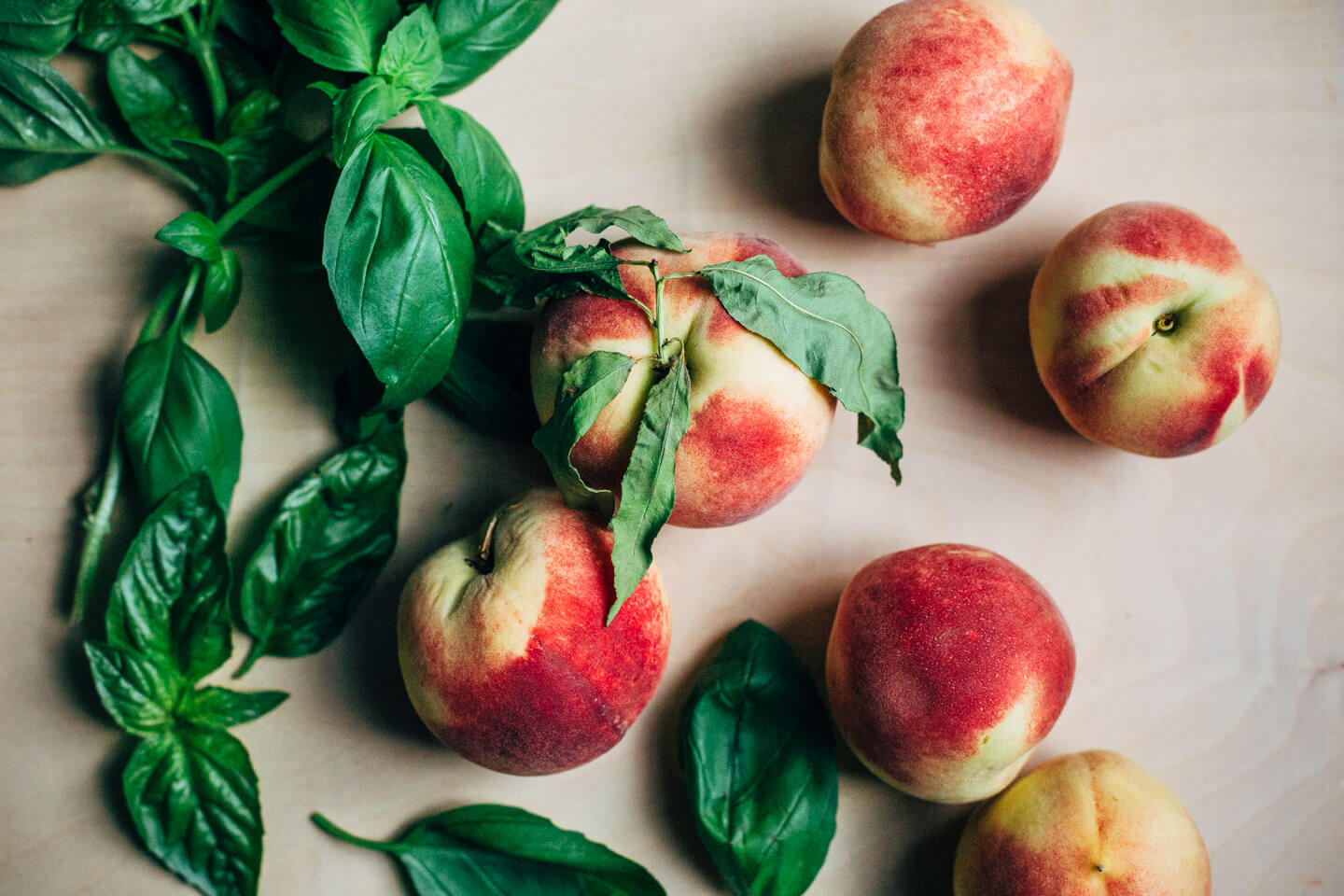 In the late 60s, one of my favorite painters, Philip Guston abandoned his sublime abstract paintings for images of clumsy cartoonish klansmen driving around smoking, painting, and looking for trouble. Of the transition, Guston said "… when the 1960s came along I was feeling split, schizophrenic. The war, what was happening in America, the brutality of the world. What kind of a man am I, sitting at home, reading magazines, going into a frustrated fury about everything – and then going into my studio to adjust a red to a blue." Guston's topsy-turvy compositions, wry humor, and acrid-yet-beautiful palette are good enough reasons to love any painter, but I love him most because he threw away the beautiful and confronted the ugliness of the real world instead.
I've been feeling like Guston lately. I'm deeply angry and sad about Alton Sterling and Philando Castile. I'm horrified by Dallas. And all the while, I've been repositioning basil leaves, scattering crumbs and pepper flecks, and selecting just the right rustic yet modern utensils. It feels hollow. I've always shied from discussing the wider world on Brooklyn Supper because it's not the right forum for weighty issues and I don't want to trivialize real problems by making them the intro to a recipe.
But even if this is an imperfect forum, it's the one I've got and silence just isn't an option. My friend Lily wrote beautifully of the need for all of us to speak out, even if we may trip over our words. Things have to change. Black Lives Matter and we have to fight injustice. We have to acknowledge the disparities in white and black lives in the US. I have to acknowledge, and grapple with, my own white privilege. It's not pretty or fun, but I hope with all my heart that we can work for truth and freedom and justice.
I hope you'll read this article about the racial divide in police shootings. I hope you'll read this transcript and feel your heart break when a little girl, age 4, tells her mom, "It's OK, I'm right here with you." If there are words or writings that have helped through the past week or educated you or confronted you with an uncomfortable truth, please share them below.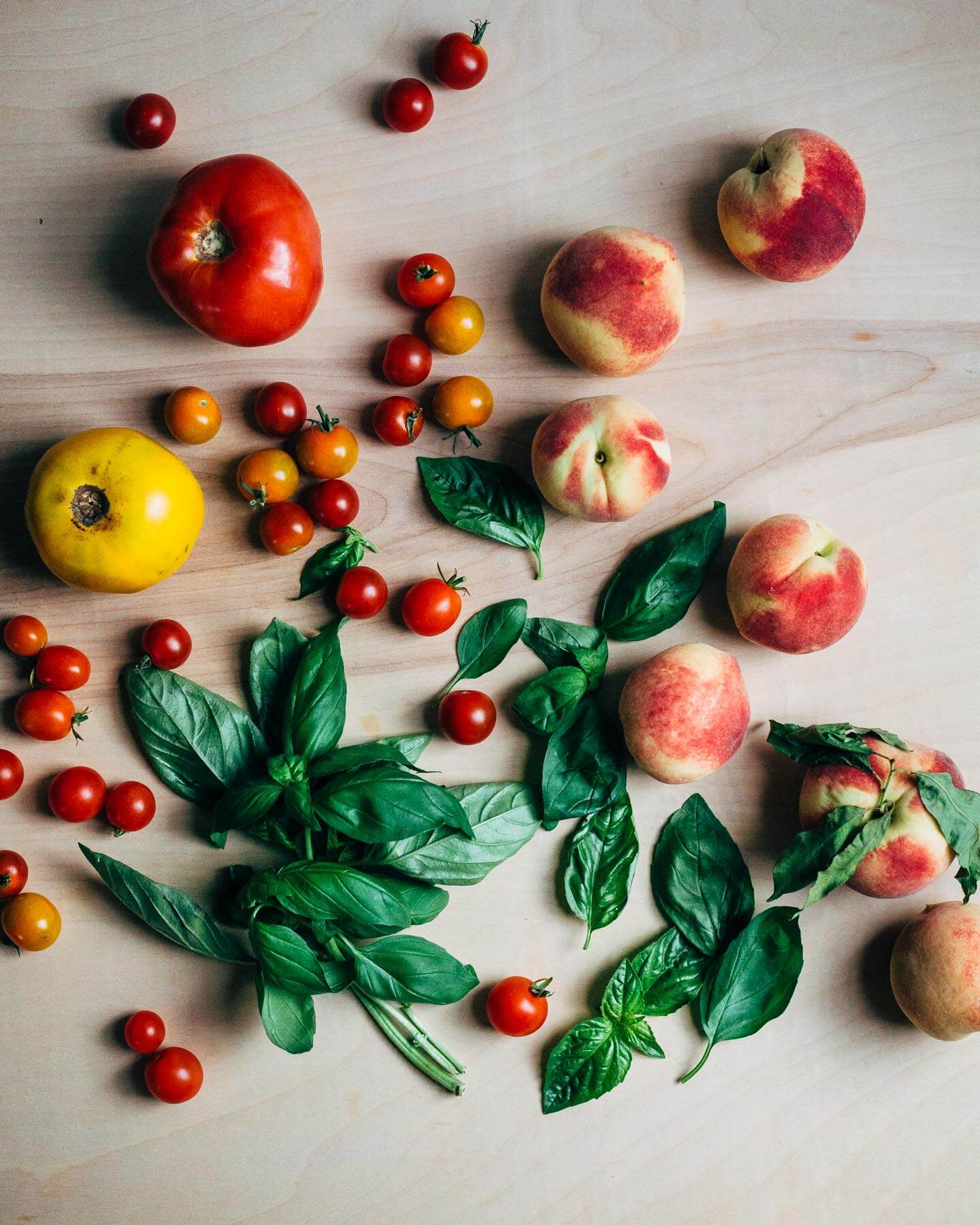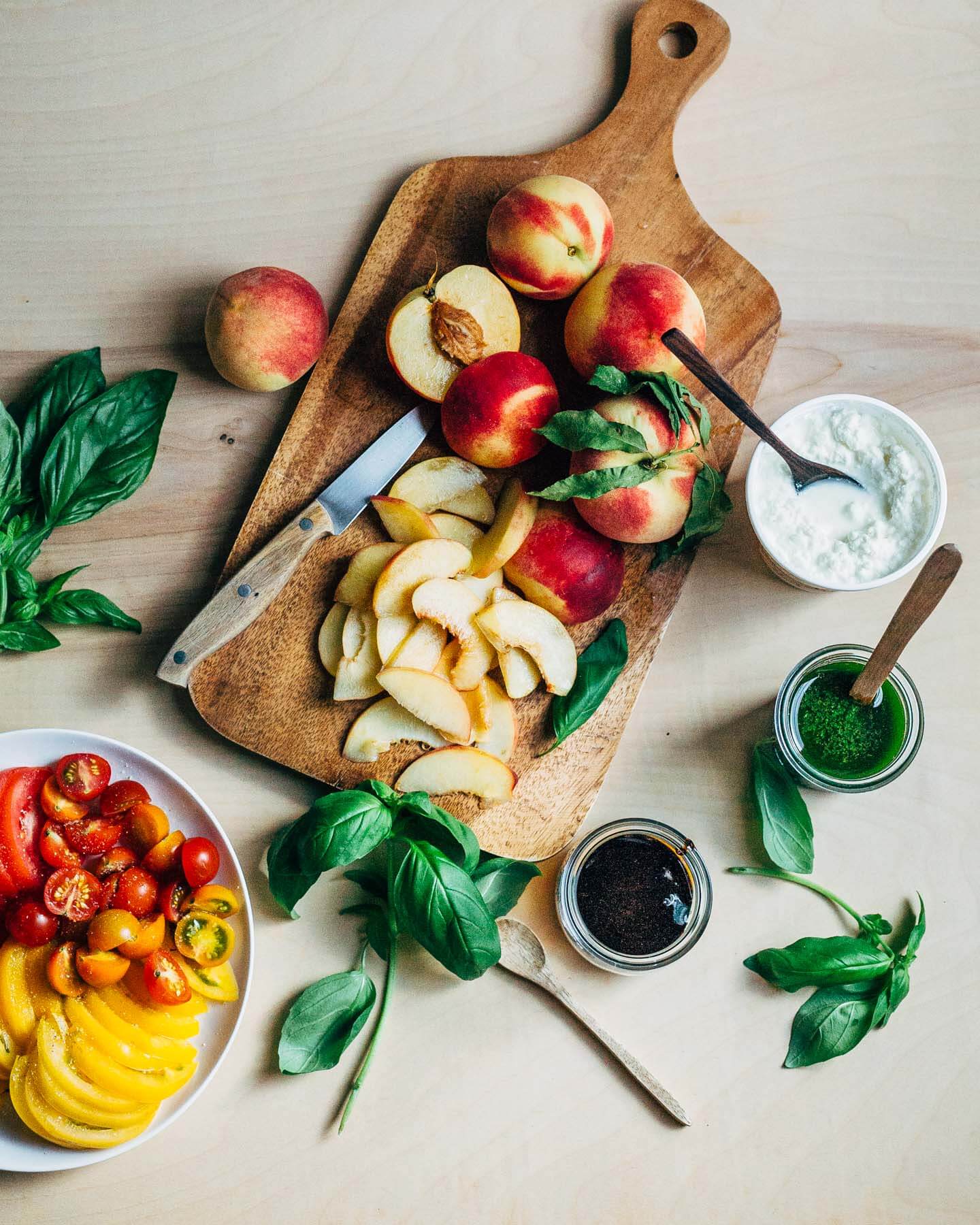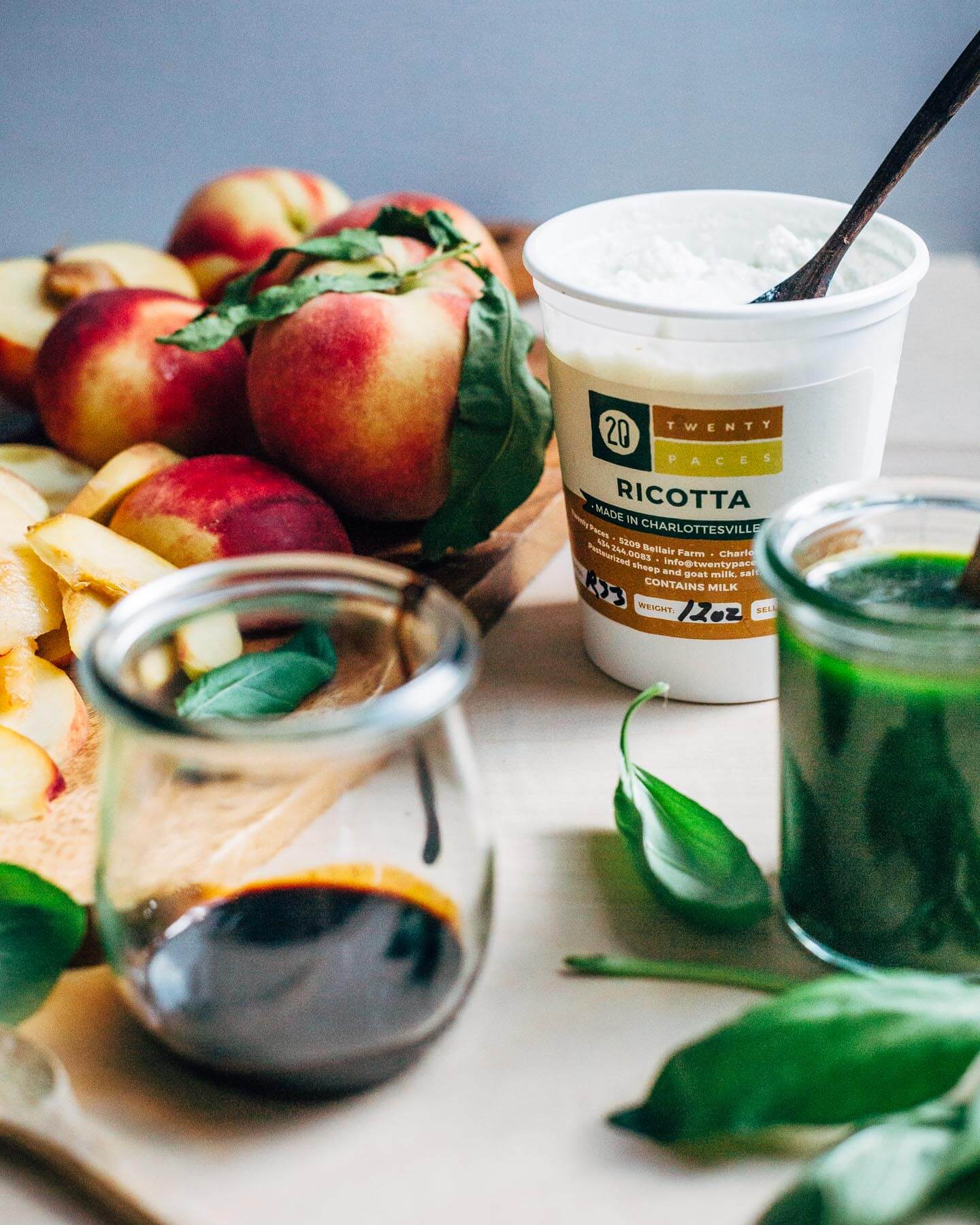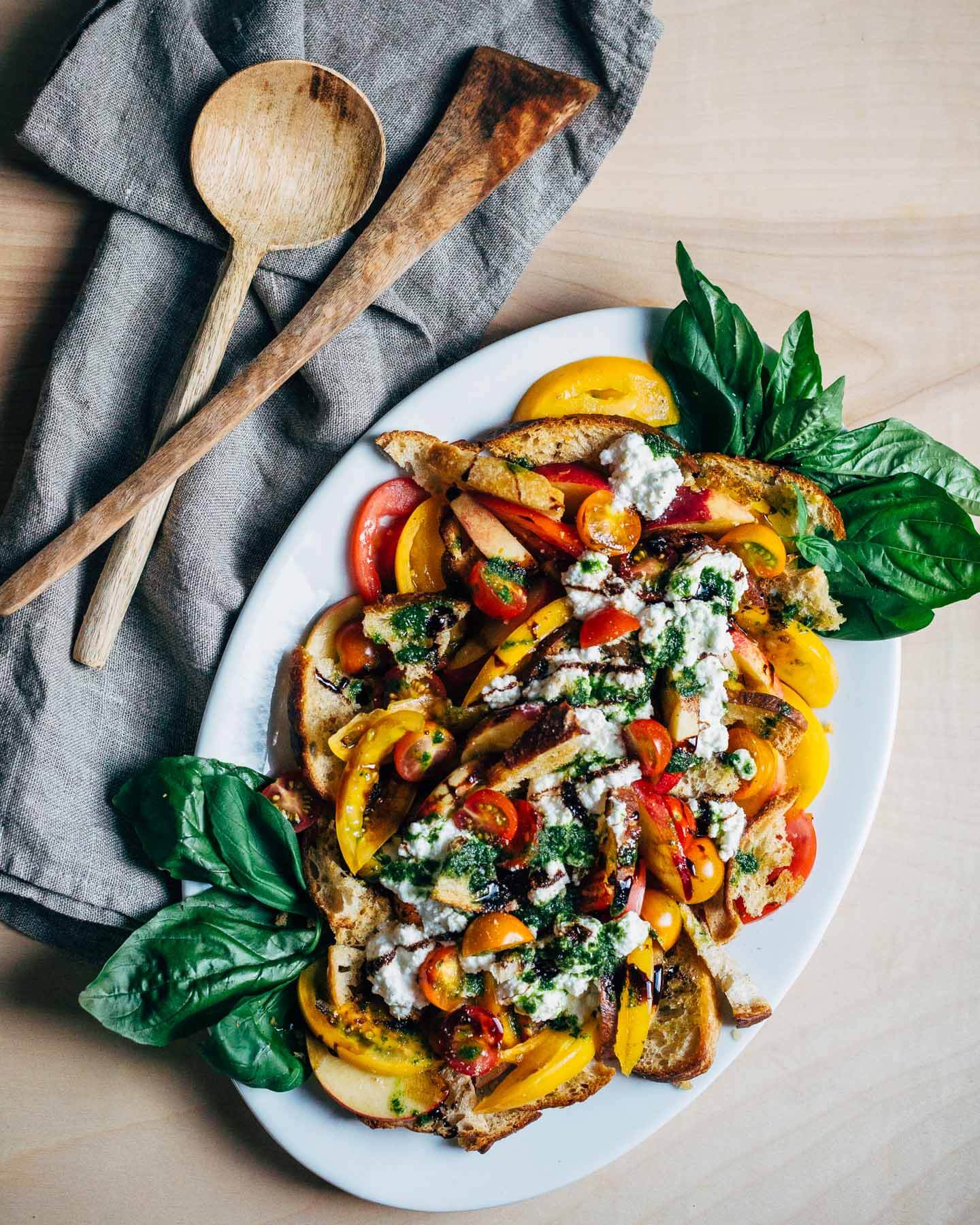 There's no good way to transition from heartbreak to a salad. But sharing recipes is what I do, so here goes. This is a layered salad made with ricotta from my friend Bridge's cheese operation, Twenty Paces. I see these sheep grazing and frolicking each week out at Bellair Farm and this cheese tastes good. Sheep's milk ricotta has a deep, buttery profile that's worth seeking out, but don't worry – cow's milk ricotta will be wonderful too. Layered in with ricotta are peaches, slicers and cherry tomatoes, and thin twists of perfectly crunchy and soggy croutons (think: panzanella and croutons, together at last). It's all drizzled with basil oil and balsamic reduction.
The salad starts off quite pretty, but as the layers are mixed, as second and third helpings are served, the layers meld, making a messy, delicious, perfect and also imperfect summer salad.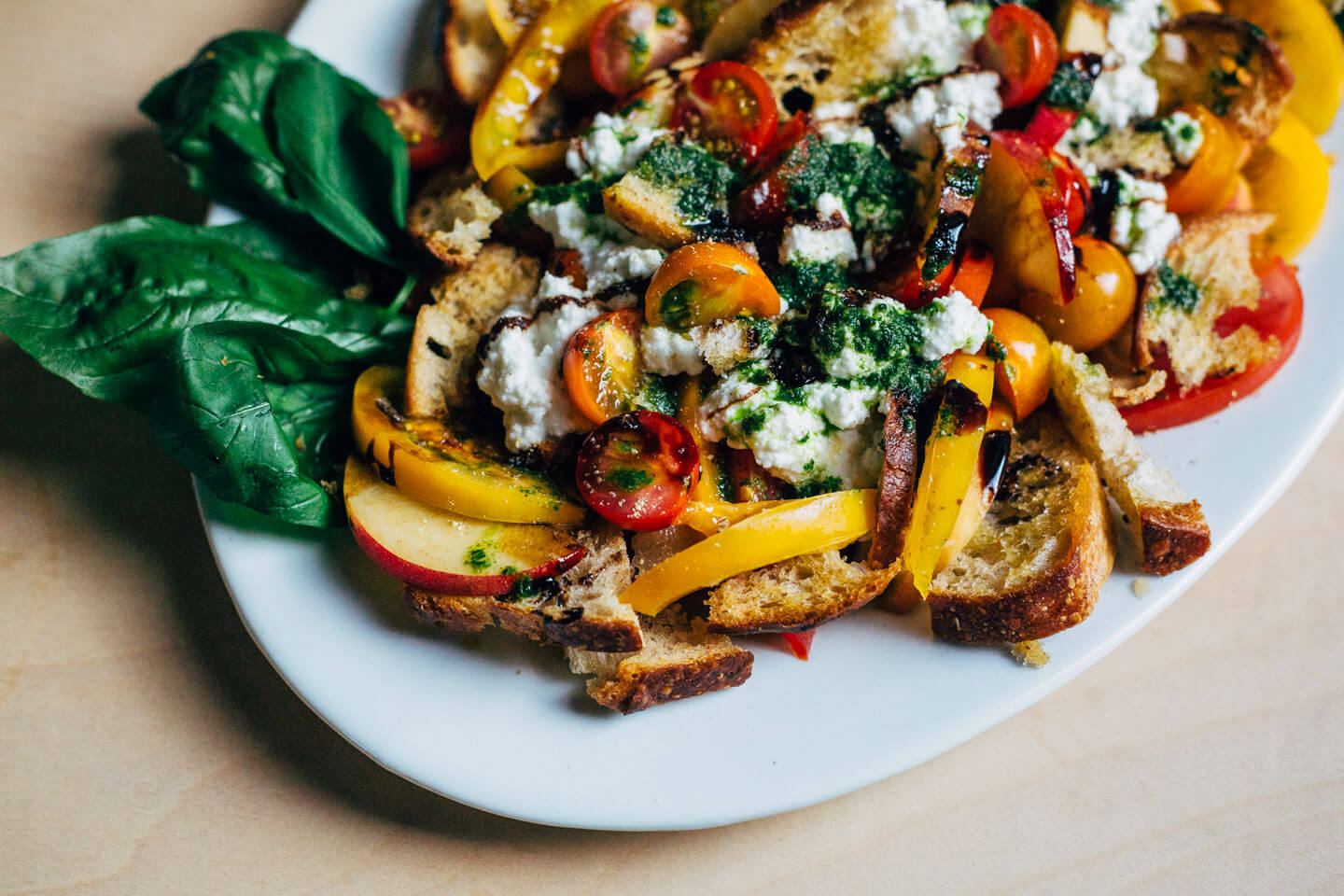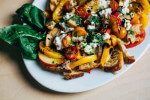 Peach, Tomato and Ricotta Salad with Crouton Slivers
A summer ricotta salad layered with sweet peaches, sliced tomatoes, crispy crouton slivers, basil oil, and balsamic vinegar reduction.
Ingredients
For the Croutons
1/2

small loaf stale sourdough bread

3

tablespoons

extra virgin olive oil

1/4

teaspoon

sea salt
For the Basil Oil
1

cup

loosely packed basil leaves

(about 2 ounces)

1/2

cup

extra virgin olive oil
For the Salad
2

ripe peaches,

sliced thin

2

slicing tomatoes,

cut into 1/4-inch thick slices

1

pint

cherry tomatoes,

halved

sea salt

freshly ground pepper

1/2

cup

ricotta

basil leaves for garnish

1/2

cup

aged balsamic vinegar
Instructions
To make croutons, preheat oven to 350 degrees F.

Leave the crust on the bread and slice as thinly as you can manage. You'll have a few good size slices and a few bits and twists of bread – it will all taste good. Brush everything on both sides with olive oil, sprinkle with sea salt, and arrange on a rimmed baking sheet. Toast 12 - 15 minutes or until bread is crisp and golden edged. Set aside to cool.

To make basil oil, immerse basil leaves in boiling water for 15 seconds. Immediately submerge in ice water. Wring water from leaves and press with paper towels to dry. Set leaves and olive oil in the pitcher of a blender and blend until smooth. Pour into a small jar and set aside. (Leftovers can be kept sealed in the fridge for a week.)

Sprinkle tomatoes with sea salt and pepper to taste.

To arrange salad, layer peach and tomato slices with croutons, dot with ricotta, and top with cherry tomatoes. Set aside while you make the balsamic reduction.

Set a small sauce pan over medium/medium-high heat and add vinegar – adjust heat so that vinegar bubbles moderately. Cook until reduced by two-thirds, 7 - 10 minutes. At the end of cook time, the bubbles will grow in size and the sauce will darken in hue – pull as soon as this happens. Set aside briefly to cool.

Drizzle salad with 2 - 3 tablespoons basil oil and several tablespoons of the reduction. Finish with a pinch each sea salt and black pepper, give everything a gentle toss, and serve immediately.
SaveSave
SaveSave