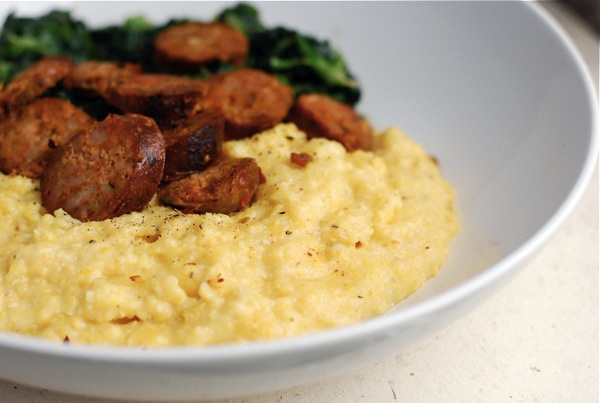 Things got a little rough for us last Sunday night. Our 14 month-old went to sleep with a cold, and quickly took a turn for the worse. By 2 am, she was struggling to breathe and throwing up. A call to our doctor confirmed that we needed to head to the emergency room. Big sister took the news well, popped out of bed, and was waiting patiently by the door, shoes on, toys packed. We dashed out and, with a few dramatic moments, wrong turns, and scary stops along the way, made it to the hospital. After that, things got better. We were admitted to the Pediatric unit, and the baby's smile slowly returned. Over the next few days she improved wonderfully, and was released Tuesday night. Now we're happily back at home, she's breathing well, and our little family feels as though it was taken apart and put back together.
And you know what? I think we're better for it. Our four-person team did great, all things considered. We rallied to do what we needed to for our littlest one and made it through. And there's something else. I feel so lucky, to have this family, these kids, their health, our health. Everything can change in an instant, and Sunday night was my giant reminder not to sweat the small stuff, to be more patient, and to really enjoy the everyday moments that make up our life.
Another marvelous thing about being home–food. You don't need me to tell you that hospital food is gross. Microwaved, saltless, gray, and bleh. Once we got home, and regrouped, cooking up some good, healing food was a top priority. And that's where this acorn squash polenta comes in. It's a versatile base for any number of fall favorites, from braises, to tomato-based sauces, to sautéed sausage. Roasted acorn squash adds sweet and buttery notes, and blends seamlessly into the polenta, making it so much more delicious.
We served our polenta with sautéed sausage and garlicky greens. It's the perfect reminder that there really is no place like home.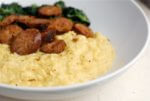 Roasted Acorn Squash Polenta
A wonderfully flavorful roasted acorn squash polenta recipe.
Ingredients
1/2

acorn squash

rinsed

olive oil

1

teaspoon

sea salt plus more to taste

divided

4

cups

water

1

cup

polenta

1/4

cup

grated Asiago cheese

1

tablespoon

butter
Instructions
Preheat the oven to 400 degrees F.

Using a large, sharp knife, carefully cut acorn squash in half. Scoop out seeds and discard or save for another use.

Place halves face up on a rimmed baking sheet. Brush flesh with a little olive oil and sprinkle with sea salt. Cover with foil and bake for 40 - 50 minutes, until the squash is incredibly soft and tender. Uncover and set aside to cool. Reserve the second half of squash for another use.

Meanwhile, bring 4 cups of cold water to a boil. Whisk in 1 cup polenta (we like the rustic farmer-ground polenta from

Cayuga Pure Organics

), and 1 teaspoon sea salt. Bring to a boil and then turn heat to low. Simmer 30 minutes, whisking often.

As soon as squash is cool, scoop flesh out of shell and whisk it in to polenta. Add Asiago and butter, and continue to simmer until the polenta is perfectly soft and creamy. My usual cook time is 35 - 40 minutes total.