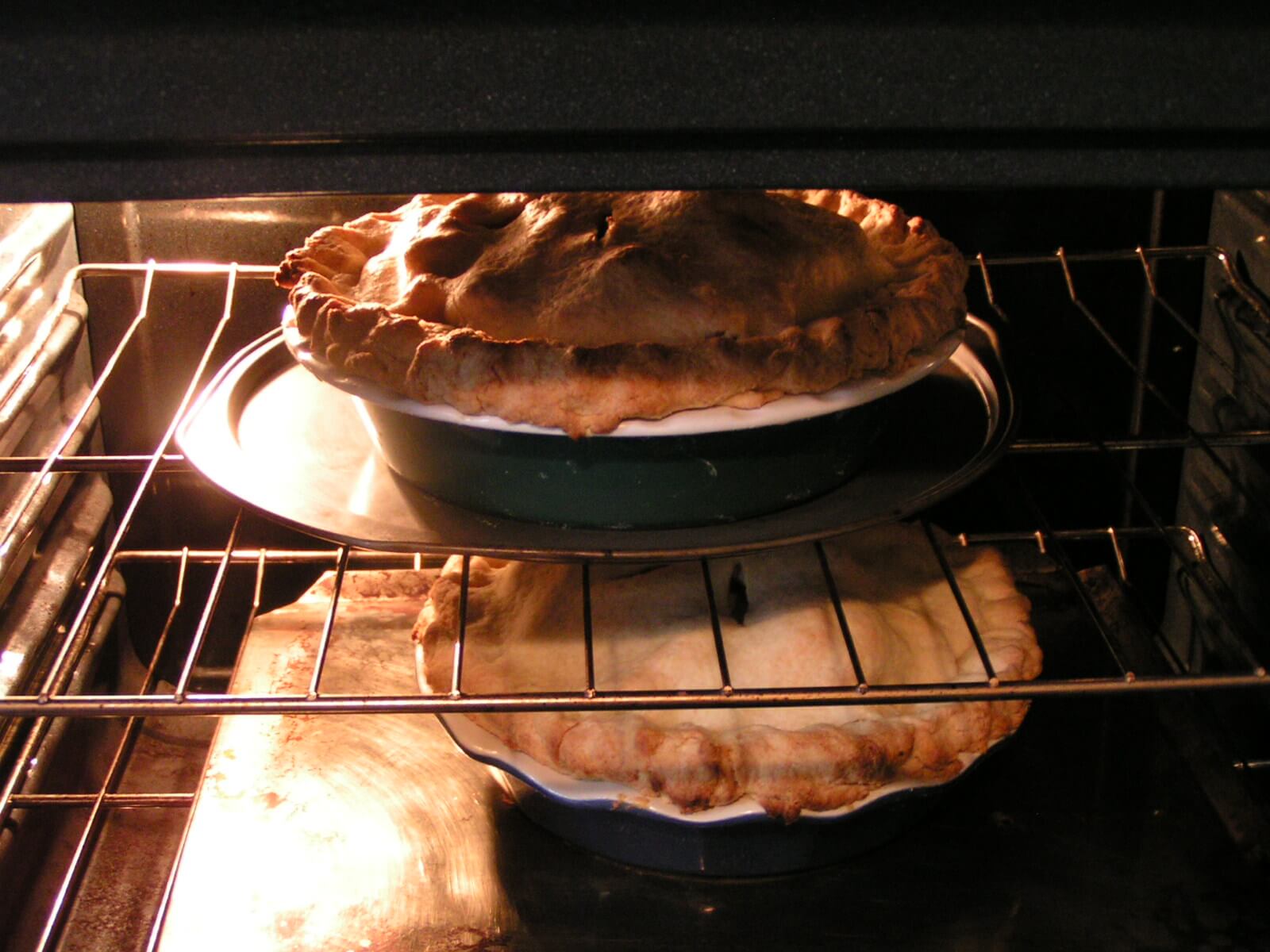 Last Sunday Brian and I were happy to participate in the annual Enid's apple pie contest. Traditionally, the previous year's winner (that's me) is one of the judges. But, because I am super allergic to nuts and eating strange pies is not my cup of tea, Brian took my place at the judge's table. I am glad it was him because there were over 40 pies entered this year. Just the smell of all the pies was a little overwhelming.
This year's winner was a nice guy who made an absolutely delicious, slightly salty pie. I didn't get to sample any of the other winner's pies, but the third place winner did tell me she had made a brown butter and sage pie and that sounds absolutely fantastic. Check out her site for a great recap of the night from a participant's point of view.
The day after the contest I was feeling a little jealous that I didn't get to make a pie. Brian and I had a party to go to Monday evening and I decided to make a couple apple pies for the occasion. In fact, I made two apple and two non-key lime pies. It was kind of exhausting, but the crowd really liked everything so I was glad to do it. Needless to say, Brian did not have any apple pie. He says it will be a while before he indulges in pie of the apple variety.
This has been a great year for New York apple farmers, so get out to the farmer's market and pick some up!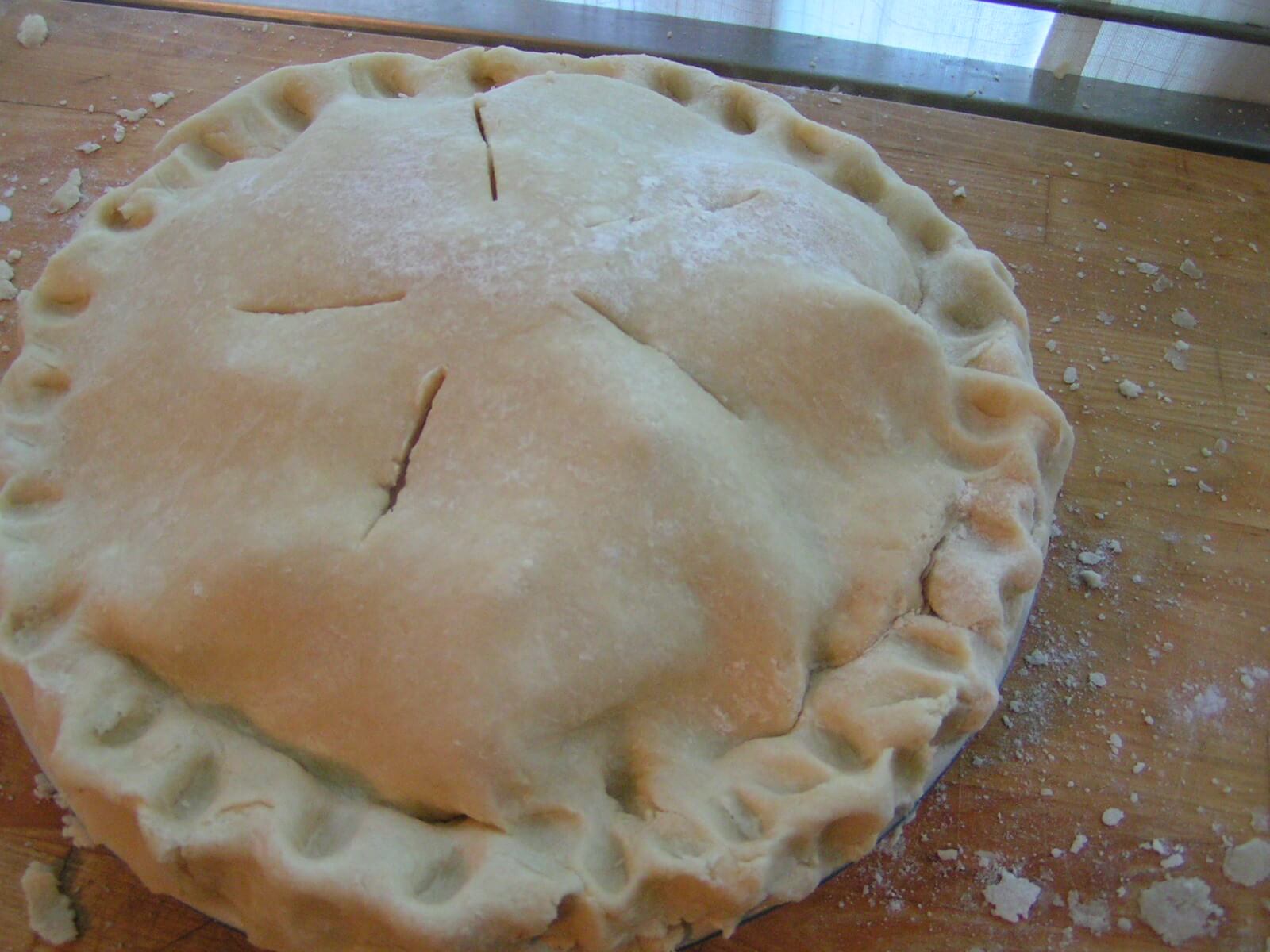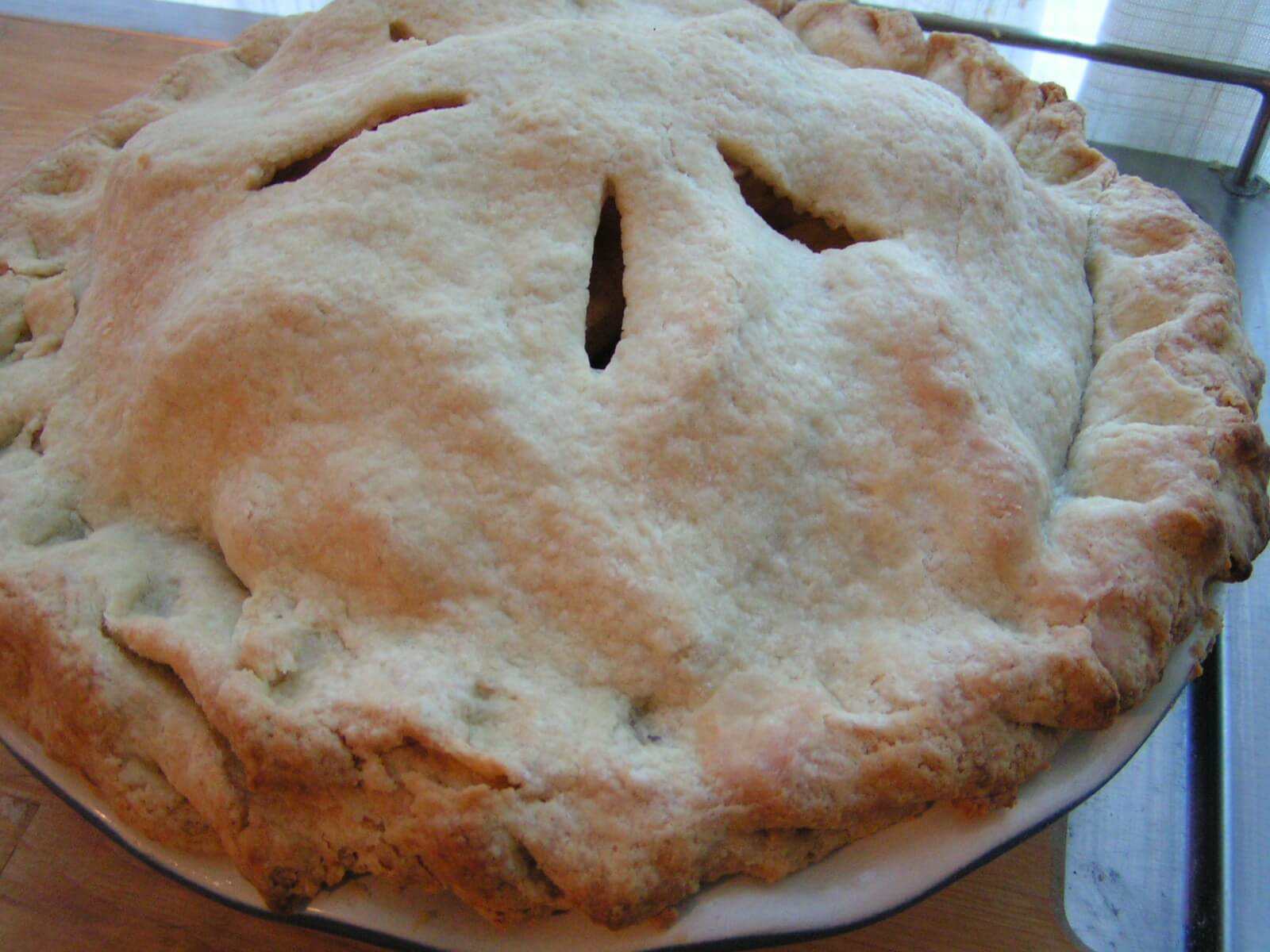 I like a simple pie. The apples need to have some bite, hence the very thick cut. The pie should capture the flavor of the apples without overwhelming them. I am very picky about my apples, largely because one can afford to be this time of year. My preference is macintosh and/or empire apples enhanced by citrus zests for the bitterness. Because these guys are relatively sweet, you can also hold back on the sugar.
And so, here is my 5th annual Enid's apple pie contest 1st place recipe:
Apple Pie
for the crust (adapted from Cooks Illustrated)
2 1/2 cups unbleached all-purpose flour
1 teaspoon salt
1 tablespoon sugar
16 tablespoons unsalted cold butter, cut into 1/2″ cubes
3 tablespoons sour cream
1/3 cup ice water, or more if needed
1 egg white (optional)
for the filling
5 fresh macintosh apples
5 fresh empire apples
1/2 cup (or less) turbinado sugar
1/4 cup flour
zest of 1 lemon
1 tablespoon orange zest
2 tablespoons fresh squeezed lemon juice
1 tablespoon fresh squeezed orange juice
1 teaspoon salt
1 1/2 teaspoons fresh ground cinnamon
1/4 teaspoon nutmeg
dash of allspice
Process the flour, salt, and sugar together in food processor until combined, about 10 seconds. Drop in the butter and use quick pulses to cut up the butter until it is the size of large peas.
Gently whisk the sour cream and 1/3 cup ice water in small bowl. Drizzle half of the sour cream mixture into the flour mixture, and give 3 quick pulses. Add the second half of the sour cream mixture, just until ingredients are combined. At this point you have a choice–the more crumbly and dry your dough, the flakier your crust will be; keep in mind, though, that dry dough can be hard to work with, so I sometime err on the wetter side if I am in a hurry. Gather the dough together on a clean work surface and divide into 2 4 inch discs and wrap tightly with plastic. Chill dough for several hours of you can, but at least 1/2 hour.
Adjust oven rack to center position and heat oven to 425 degrees. Place cookie sheet into oven for preheating.
Remove one dough round from the refrigerator and roll on a on a lightly floured surface or a large piece of parchment paper into a 14 inch circle. Fold dough in quarters, then place dough point in center of a buttered deep dish pie pan. Unfold dough. Gently press dough into sides of pan leaving portion that overhangs lip of pie plate in place. Refrigerate while preparing fruit.
Peel, core, and cut apples into 1/2 – 3/4 inch slices and toss with the sugar (minus 1 tablespoon), flour, citrus juices, zests, and spices, and set aside. Roll out the other dough round, spoon the filling, including juices, into the chilled pie shell, arrange the slices so they fit well in the pie with a slight mound in the center. Cover with the second dough round. Trim top and bottom edges to 1 inch beyond pan lip. Tuck this rim of dough underneath itself so that folded edge is flush with pan lip. Flute edge to seal. Cut four or five slits at right angles on dough top. If you like, brush egg white onto top of crust and sprinkle evenly with remaining 1 tablespoon sugar and a little salt (I didn't do this for the pies pictured, but did do it for the winning pie).
Place pie onto preheated cookie sheet and into the oven. Bake until top crust is golden, about 25 minutes. Reduce oven temperature to 375 degrees, turn pie, and continue baking until juices bubble and crust is deep golden brown, 30 to 35 minutes longer. Transfer pie to wire rack and cool to almost room temperature for 3 hours or so.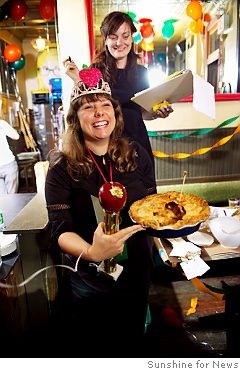 (dork alert!)