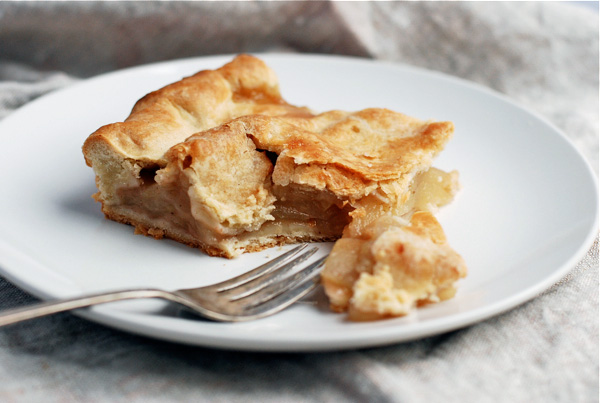 This weekend, I made this apple slab pie. It's an enormous creation, replete with perfectly crisp fall apples and a buttery crust. It holds up beautifully for a crowd, with absolutely no worries about the filling setting up right. In this uncertain world it's a fact that you can't ever go wrong with a slab of pie. Try it.
Brian and I made this dish for Brunch for Barack, which we co-hosted with Veronica Chan of the Chan Deck. We are incredibly grateful to Veronica, as well as Jeff of Jeffrey Tastes and Andrew of Zokos for all of their help in making the event so great. The event also had some fantastic sponsors and participants, and we'll be checking in later in the week with a full wrap-up of the event. For now, go make a (giant) pie.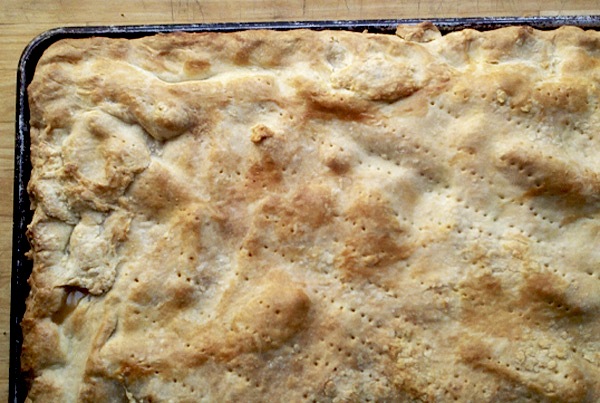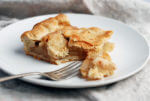 Apple Slab Pie
Make apple pie for a party with this classic apple slab pie recipe.
Makes
:
12
generous or 25 small servings
Ingredients
For the all-butter crust

proportions listed for one layer, you'll need to make two

Because I have a regular size food processor

I made my dough in two batches. Below are the proportions for one batch–you'll need to make two. If you have a huge food processor, go ahead and double up.

2 1/2

cups

unbleached all-purpose flour

1/2

teaspoon

salt

2 1/2

tablespoons

sugar

15

tablespoons

cold butter

2/3

cup

ice water

For the filling

10

cups

peeled

1/4-inch thick apple slices (something crisp and flavorful like Empire, McIntosh, Cortland, or Braeburn)

zest of 1 lime

zest of 1 orange

3

tablespoons

fresh squeezed lime juice

3

tablespoons

fresh squeezed orange juice

1

cup

sugar

or more according to taste

3/8

cup

all-purpose flour

3/4

teaspoon

sea salt

1/2

teaspoon

allspice

1/2

teaspoon

cinnamon

1

egg white

lightly beaten
Instructions
To make dough, combine flour, salt, and sugar in the bowl of a food processor. Rough chop butter, and add to flour mixture by pulsing 5 or 6 times. Drizzle in the ice water, pulsing food processor 2 or 3 times or just until dough holds together.

Turn dough out onto a lightly floured surface and gather into a ball. Flatten into a disc and wrap tightly with plastic wrap.

Repeat for the second batch of dough.

Chill both discs for 30 minutes, or more, in the refrigerator. Meanwhile prepare filling.

Preheat oven to 400 degrees. Butter a 12 x 17 x 1-inch rimmed baking sheet and set aside.

In a large bowl, fold together all filling ingredients (excluding egg white) and set aside.

On a large, lightly floured surface, roll out one of the dough rounds into a 14 x 19-inch rectangle. Fold into quarters and unfold inside prepared baking pan. Leave any excess dough overhanging edge. Place in refrigerator while you roll out top layer.

Roll out second disc into a rough 14 x 19-inch rectangle. Remove bottom crust from fridge, carefully spoon in and arrange the apple slices, and then cover with top crust. Fold the edge of bottom crust up around the top crust and crimp to seal the pie. Take the time here to make a well-sealed crust – it will help to seal in juices and make for a better-tasting pie.

Working quickly, brush top crust with egg white, and then prick all over with a fork. Bake 45 - 55 minutes, or until filling is bubbling and crust is a light golden brown.

Cool 2 hours, and then serve.