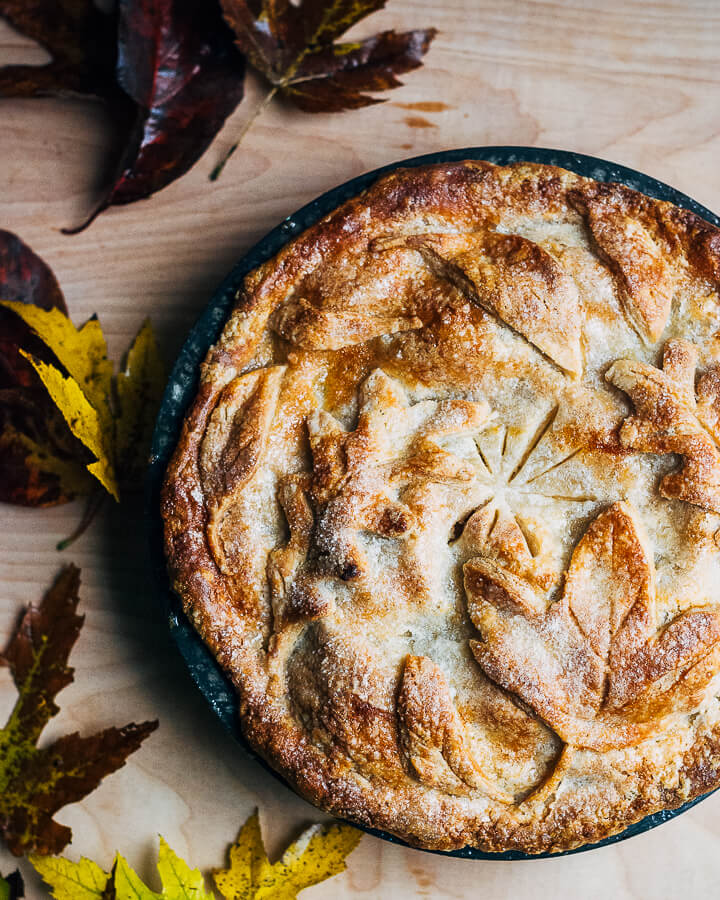 Change up the classic apple pie with this asian pear and apple pie recipe made with freshly grated nutmeg and bay leaf butter. Jump to recipe. 
Before I'm mired in Thanksgiving shopping and to-do lists, I'm taking the time to pause. Thanksgiving at its best is about gratitude and calls for a little reflection. This year, even more than most, I have much to be grateful for. My work on the blog and elsewhere has been going swimmingly, Brian has a new job he loves, and the girls are healthy and happy. There are a few struggles on the horizon for those I love most, but optimism still rules the day. With all this in mind, I'm planning to prioritize gratitude on Thanksgiving by exchanging the stress of an epic feast for something smaller, simpler, and more considered. I'm trading perfection (which I've never been great at anyway) for presence.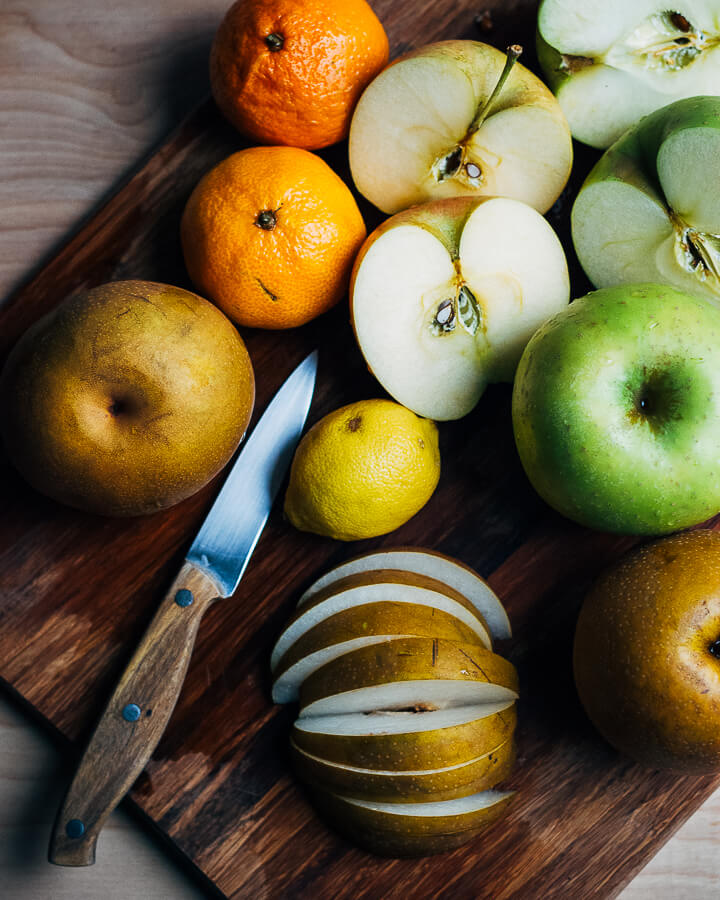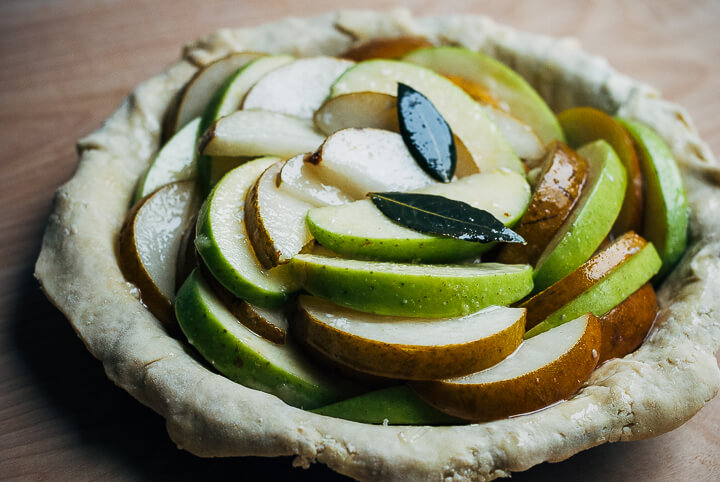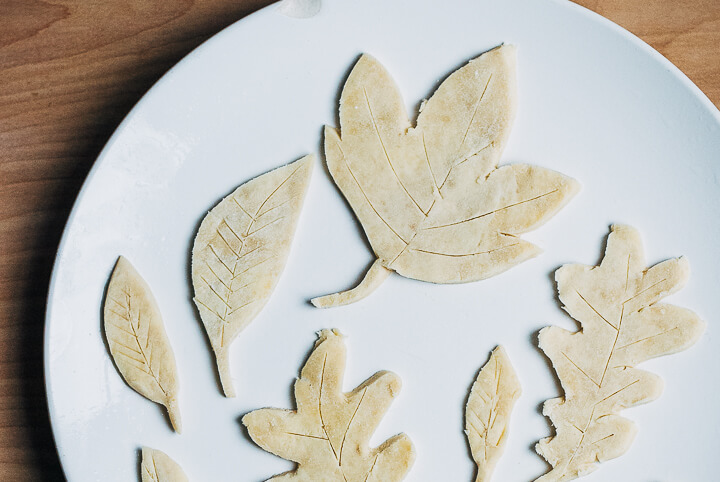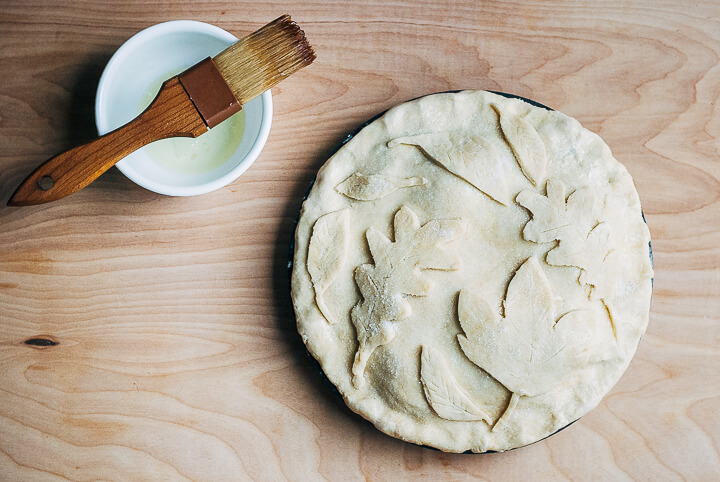 I'm also focusing on the things I love most. Chief among them, apple pie. This beauty is made with a mix of Asian pears and crisp Goldrush apples. The flavors are buttery and bright – bay-infused butter, freshly grated nutmeg, and citrus zest. The all butter crust has just a bit of amaranth flour, but you can use all-purpose too. I took some time to create and cut out my own leaf patterns for a decorative leaf crust and love how they turned out. If freehand leaf design isn't your thing, you can make simple stencils with leaf tracings or clip art.
In the past week we've all been reminded just how fleeting time and life can be. We've also seen powerful reminders of how devastating the war in Syria and the resulting refugee crisis have become. As we get ready to celebrate a holiday of overwhelming abundance, I'm donating to UNICEF as well as taking action in my community to support the refugees that are already here. I hope you'll consider doing the same.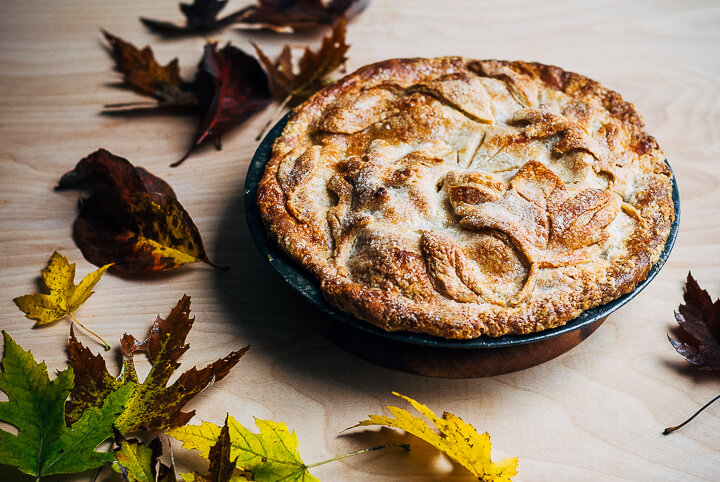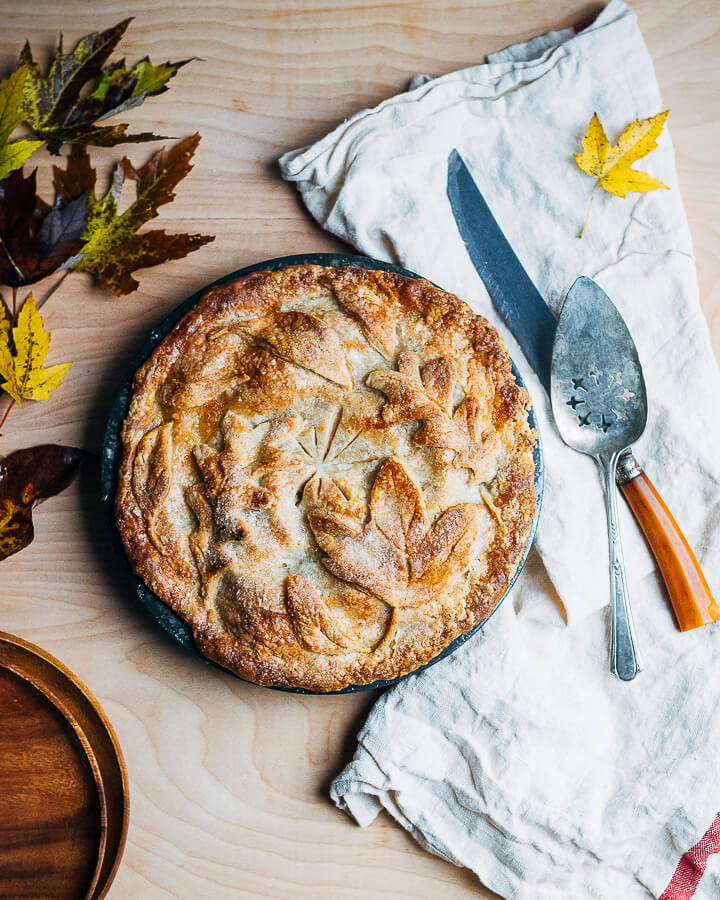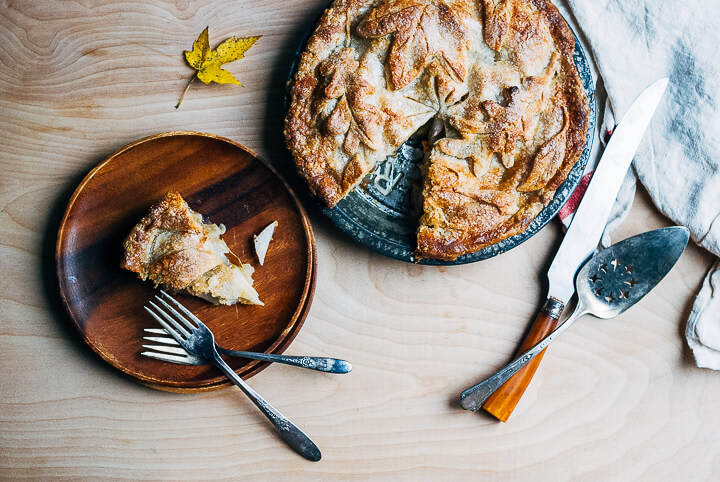 This pie uses a mix of Asian pear and crisp apples. Asian pears are not considered an ideal baking apple because they stay crisp even when cooked and have a high water content, but I love the texture and flavor they lend to the pie. To bring the best out in them, they're mixed with apples, which lend a nice jammy sweetness to the filling. If you can't find Goldrush apples, look for apples with a crisp flesh and sweet, grassy undertones like Golden Russet or Jonagold.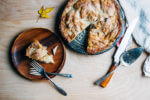 Asian Pear and Apple Pie with Bay Leaf Butter
Change up the classic apple pie with this asian pear and apple pie recipe made with freshly grated nutmeg and bay leaf butter.
Ingredients
For the crust
2

cups

all-purpose flour

, plus more for dusting

1/2

cup

amaranth flour

(or sub all-purpose)

2

tablespoons

sugar

1

teaspoon

sea salt

16

tablespoons

unsalted butter

, cold

2/3

cup

ice water
For the filling
1

tablespoon

unsalted butter

2

fresh bay leaves

2 - 3

large Asian pears

, cored and cut 1/4-inch thick (3 cups sliced)

1 - 2

large Goldrush apples

, cored and cut 1/4-inch thick (2 cups sliced)

1/4

cup

all-purpose flour

zest of 1 lemon

, plus 1 tablespoon juice

1

tablespoon

orange zest

1/2

cup

turbinado sugar

, plus 2 tablespoons more for top

1/2

teaspoon

freshly grated nutmeg

1/2

teaspoon

sea salt

1

egg white

, lightly beaten
Instructions
To make the crust, combine flour, sea salt, and sugar in a large bowl. Grate in cold butter, using fingertips to blend into flour until mixture has a crumbly texture. Turning dough with a silicone spatula, drizzle in water, adding just enough for dough to hold together.

Turn out onto a lightly floured surface and gather into a mound. Divide dough in half, flatten each round into a disc, and wrap each tightly with plastic. Chill in fridge for 30 minutes or up to 5 days.

Set a small saucepan over low heat. Add butter and bay leaves. Turn heat to the lowest setting; steep leaves until pie is filled.

Position oven rack in the center of oven and preheat to 425 degrees F. Slide a rimmed baking sheet in to preheat as well. Generously butter a 9-inch metal pie pan (you will be freezing shell, and ceramic or glass dishes can shatter).

Prepare pears and apples, tossing with all the remaining filling ingredients except bay butter and egg whites. Set aside while you roll out dough.

On a lightly floured surface, roll one of the dough discs out into a 14-inch round. Press into pie pan, trimming all but a 1-inch overhang. Set pie shell in freezer while you roll out the top.

To make leaf design, pile leftover dough trimmings into a disc and roll into a 5 x 7-inch rectangle. Set on a flat surface (like a plate) and slide into the freezer.

Roll the second disc into a 14-inch round. Fill frozen pie shell with filling, leaving behind any excess juices. Remove bay leaves from butter; drizzle bay-infused butter over pie filling. Place top crust over filling. Trim any overhanging dough; tuck top dough layer under along the edges and flute. Set pie shell back in freezer. Remove reserved 5 x 7-inch dough rectangle.

With a sharp knife, cut out leaf patterns and trace vein designs.

Remove pie from freezer. Brush all over with egg white. Arrange leaves, brush those with egg white, and sprinkle the top with sugar. Cut several slits in center of pie.

Set on preheated baking sheet, slide into oven, and bake for 25 minutes. Rotate baking sheet, turn heat down to 350 degrees, and bake 30 - 35 minutes longer, or until crust is a rich golden hue.

Cool 2 hours, slice, and serve.