An easygoing asparagus gratin made with spring onions, chives, and aged gouda, and topped with toasted panko.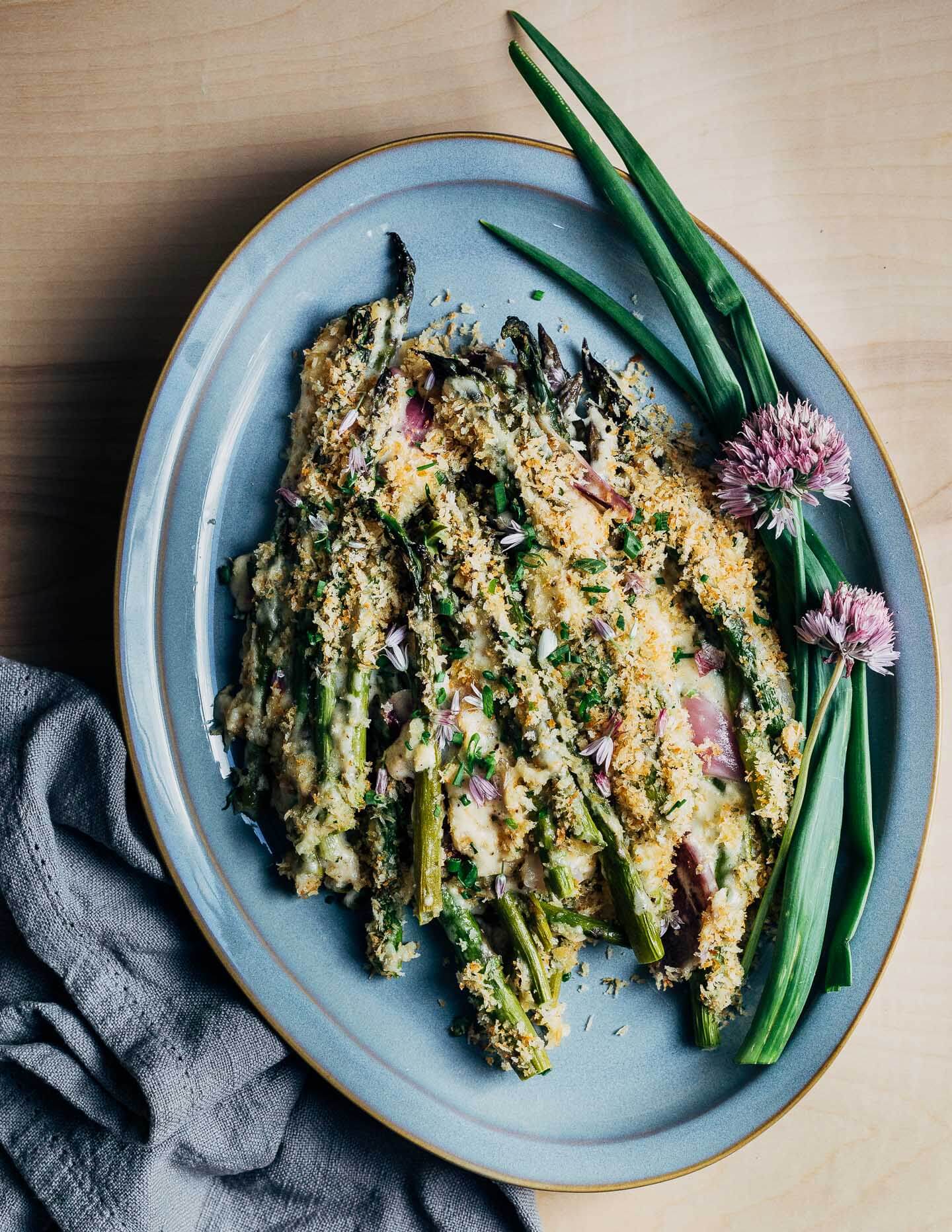 I'm thinking of this as a low-key asparagus gratin. You still need to make a roux and bake everything, but the recipe is unfussy and adaptable. It's an ideal way to enjoy imperfect or very large asparagus. And though I'm calling it an asparagus gratin, it features tender spring onions (aka salad onions), and chives and chive blossoms, too.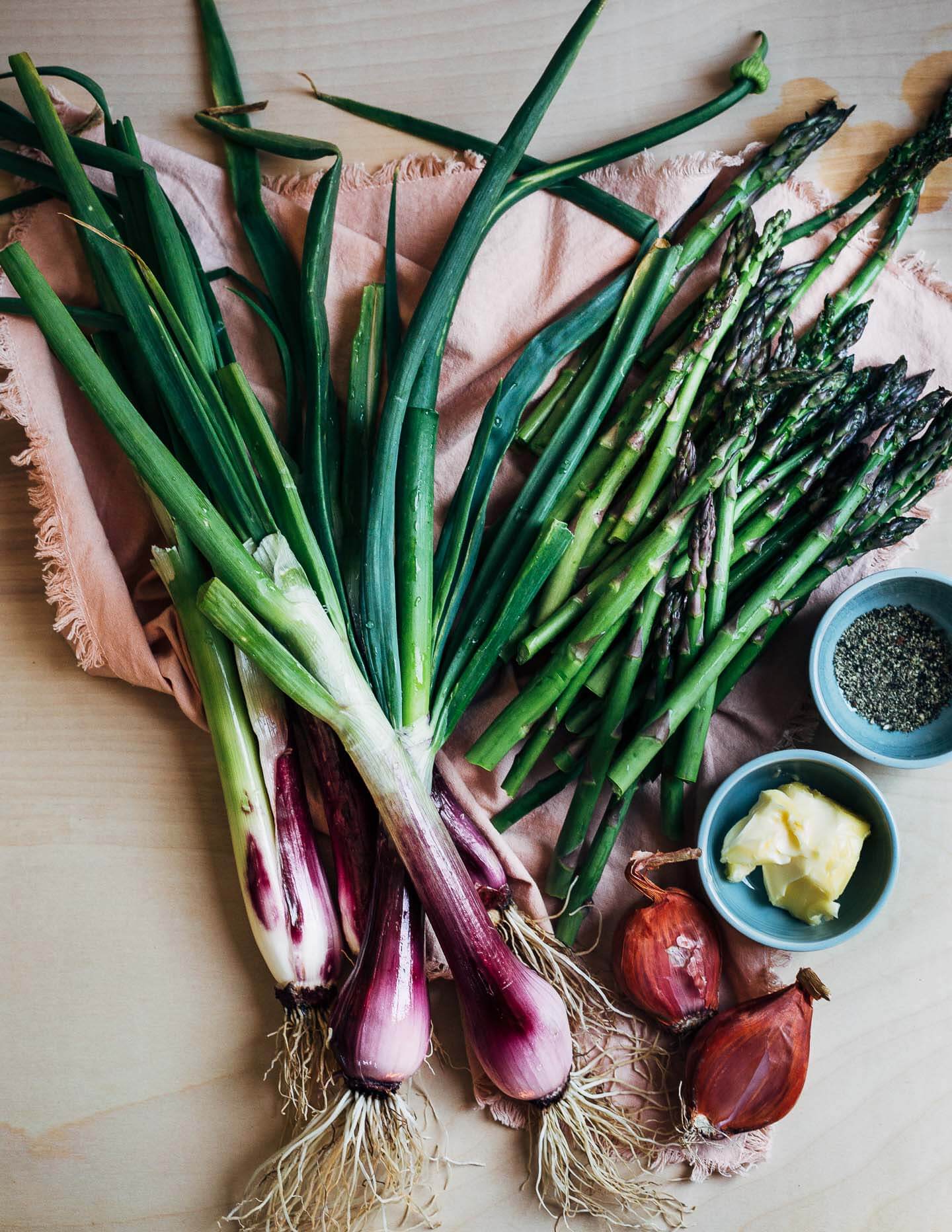 The vegetables play a starring role, but it's the cheese that brings the depth and irresistible deliciousness. I used a mix of aged Gouda and Parmesan; Fontina or a mild Gruyere would work well too. Starting with a simple roux, the cheese sauce takes just a few minutes on the stove. As the butter melts, I folded in lots of freshly cracked black pepper and grated nutmeg so all that heat and flavor would be carried by the fat.
Once the asparagus gratin is in the oven you'll want to toast the panko in a little bit of butter. I like to get the breadcrumbs to a nice deep golden hue. But be careful not to push it too far since they'll continue to brown in the oven.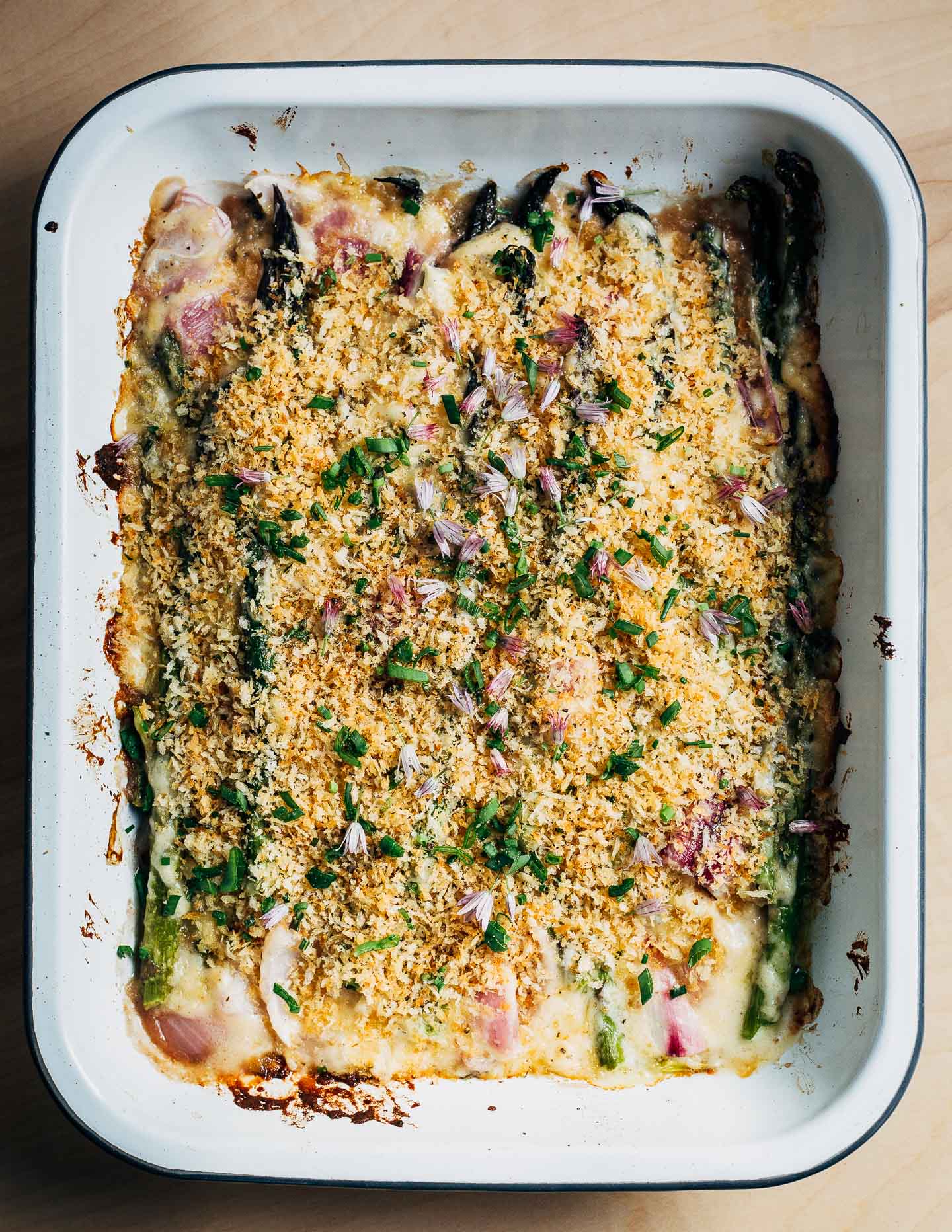 On Asparagus
I've read that the thickness of asparagus doesn't have to do with the time of year, but more the age of the asparagus plant. Even so, I do tend to notice thicker asparagus later in the season. Thicker stalks are ideal here. Note that some thick stalks can have a fibrous exterior, if that's the case, just lightly peel them before baking. No matter the thickness of the stalk, take care to find asparagus that are mostly the same size since you will want them to cook through at the same rate. 

Many asparagus gratin recipes call for you to blanch the asparagus ahead of time, but I found this step unnecessary. The asparagus were wonderfully tender with just the oven bake.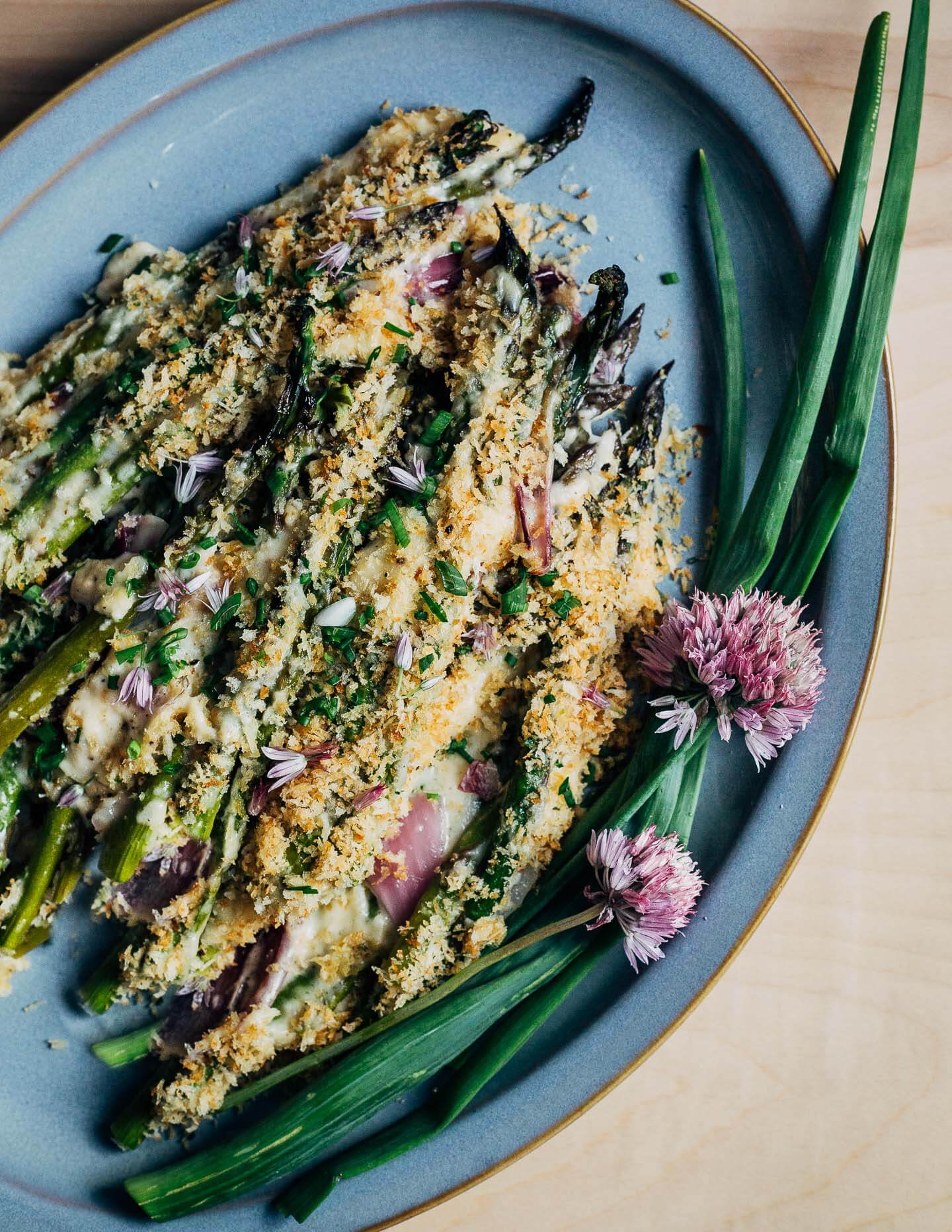 Variations and Spring Produce
This freewheeling asparagus gratin can be a jumping off point for all kinds of spring vegetables. Halved or quartered Hakurei turnips or kohlrabi, sliced fennel, chopped spicy greens, and any kind of spring allium (ramps, green garlic, garlic scapes, etc) can all be added to the mix. 

The idea that what grows together goes together is especially true of spring produce. And the combination of spring's robust, deeply green flavors are even more delicious when paired with a rich, pepper-flecked cheese sauce.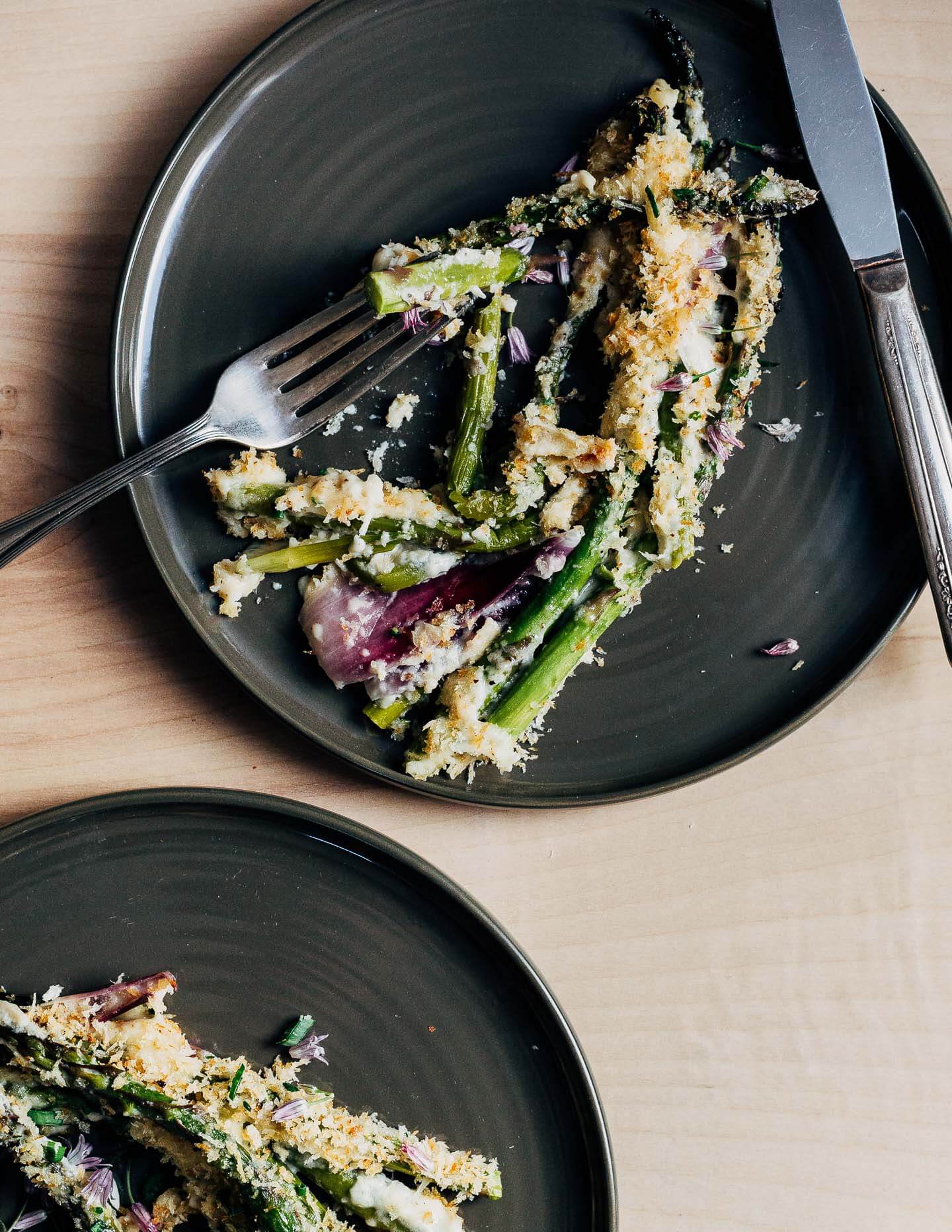 Asparagus Gratin with Spring Onions and Chives
An easygoing asparagus gratin made with spring onions, chives, and aged gouda, and topped with toasted panko.
Keyword:
asparagus gratin
Makes
:
6
generous servings
Ingredients
2

pounds

asparagus

1

bunch spring onions

3

tablespoons

unsalted butter,

divided

1

shallot,

minced

1/2

teaspoon

nutmeg

1/2

teaspoon

black pepper

2

tablespoons

all-purpose flour

1

cup

milk

1

teaspoon

Dijon mustard

1

cup

grated gouda

1/2

cup

grated Parmesan

1/2

cup

panko breadcrumbs

2

tablespoons

minced chives and/or chive blossoms
Instructions
Preheat oven to 375 degrees F. Set out an 11 x 7 baking dish.

Start with the vegetable prep. Snap the woody ends off the asparagus (about 1/3 of the way from the bottom). Soak the asparagus top down in a big bowl of cold water and swish several times to get any sand out of the tips. Pat dry. If spears are very thick or look fibrous, use a peeler to lightly remove the outermost layer.

Trim the root end from the spring onions. Cut off the dark green part and reserve for garnish. Rough chop the purple and white section.

Arrange asparagus and spring onions in baking dish.

Set a medium-sized saucepan over medium heat. When hot, add 2 tablespoons butter. Once butter has melted, fold in the shallot, nutmeg, and pepper, and cook 1 minute. Stir in the flour, and cook 2 minutes more, stirring all the while. Edge heat down to medium-low and slowly add the milk. Stir until the mixture is quite thick, about 5 minutes. Remove from heat, fold in the cheese, and stir until cheese is melted.

Pour cheese mixture over the vegetables, nudging the asparagus as needed to get everything coated in cheese sauce. Bake about 30 minutes.

While the gratin bakes, set a small skillet over medium heat. Add the remaining tablespoon butter, and when hot, add the panko. Cook, stirring frequently, until breadcrumbs are a deep golden hue. Remove from heat, fold in a teaspoon minced chives, and set aside to cool.

When the gratin has about 10 minutes left to cook, remove from oven, top with toasted panko, and cook until the gratin is bubbling and the edges of the cheese sauce have turned golden brown.

Garnish with chives and chive blossoms, chopped spring onion greens, or the herbs of your choice. Serve immediately.