A creamy, mild asparagus pesto that tastes like spring! Made with garden chives, soaked sunflower seeds, and Parmesan, it's perfect served alongside broiled salmon and lemony fennel slaw.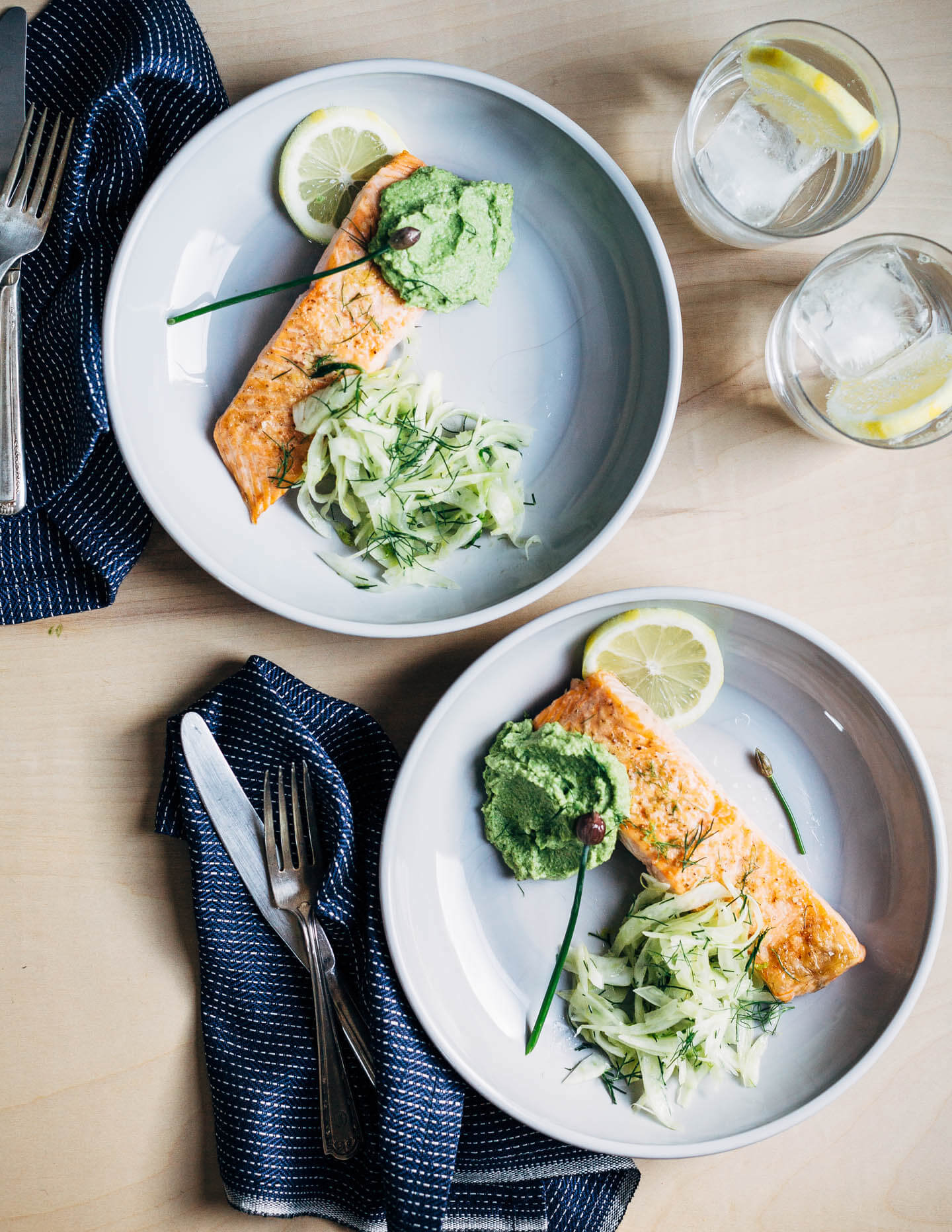 Saturday, at the farmers market, it happened: strawberries, piles of spinach, and the very first local asparagus. After months of making do with grocery store produce from afar, we finally have good, local things to eat. I manage to forget it every winter, but local produce really is my weird passion. After months of questioning my work and the necessity of adding yet another recipe to the internet each week, the Saturday market set me right. Asparagus stalks in hand, I've settled back into my own skin. It's really good to be back.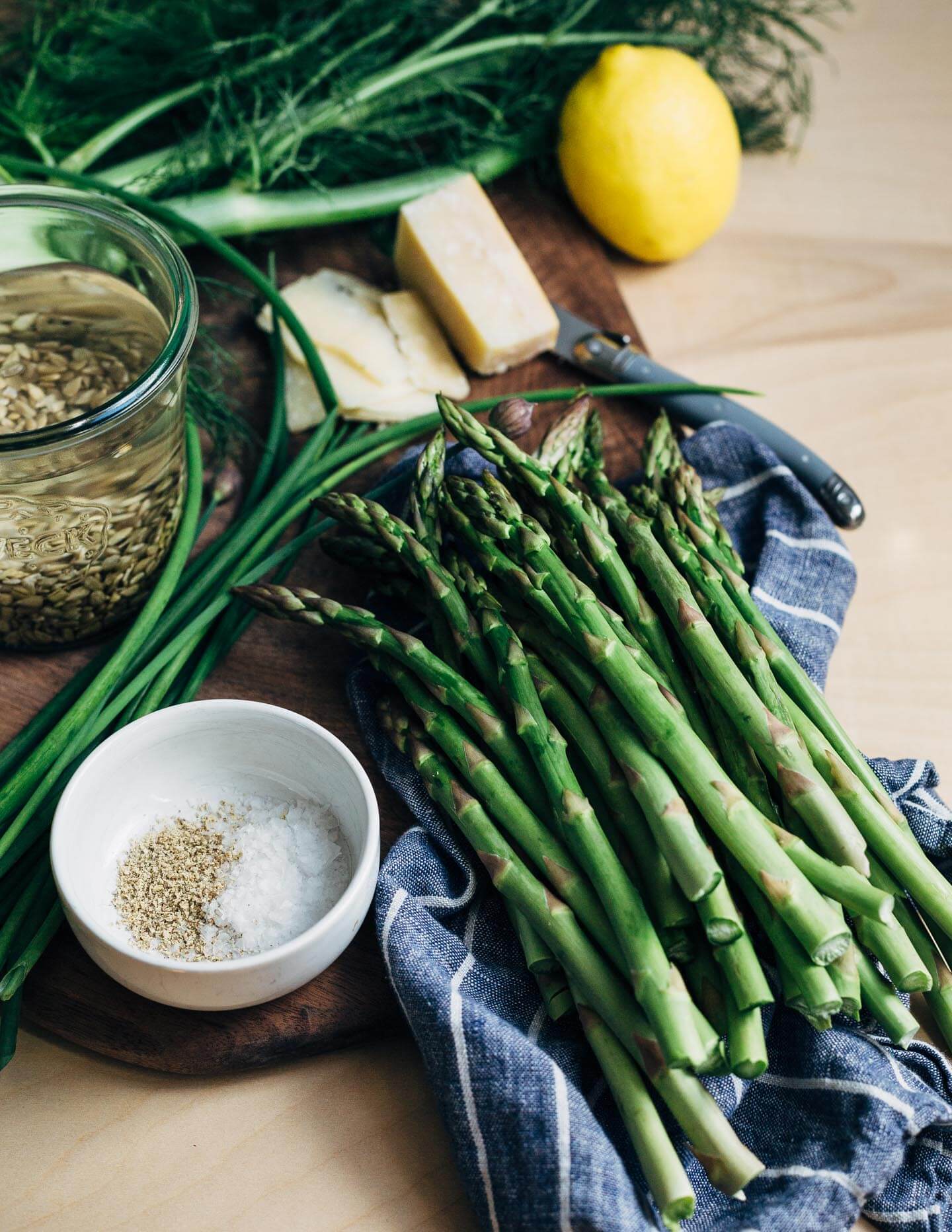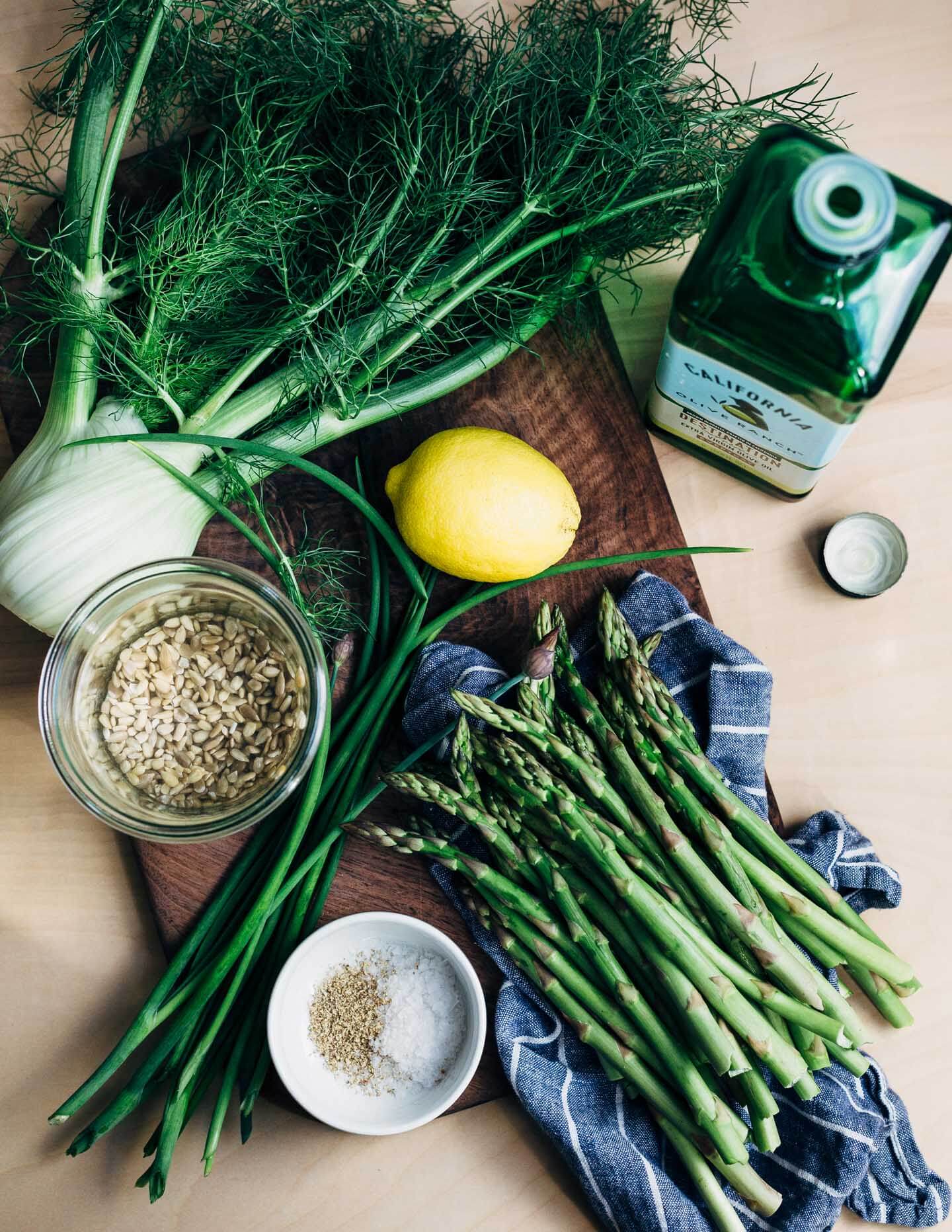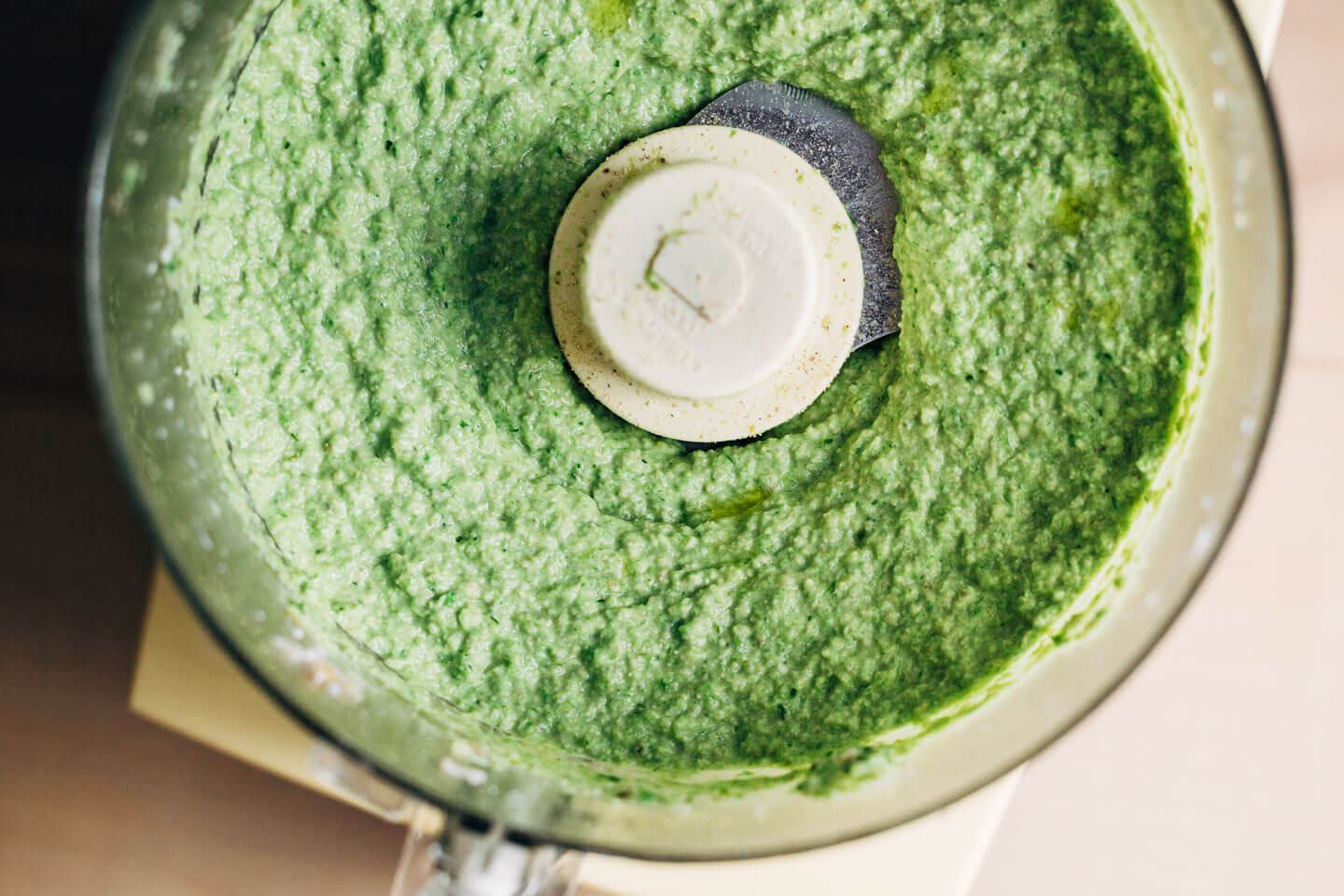 I'm going to call this recipe asparagus pesto, but it's nearly a puree. A lovely shade of spring green, it's made with chives, soaked sunflower seeds, olive oil, and just a bit of Parmesan. It's creamy and green tasting and goes with nearly anything you'd want to eat in spring. I served my asparagus pesto alongside delicate broiled salmon and a simple fennel slaw, and had all the immediacy and green-ness that a spring meal should. Though this spring dinner is easy enough for a weeknight, it's also perfect for a dinner party since the asparagus and fennel can be made ahead and the salmon roasts in the oven in about 10 minutes. If you like, add a grain to round things out.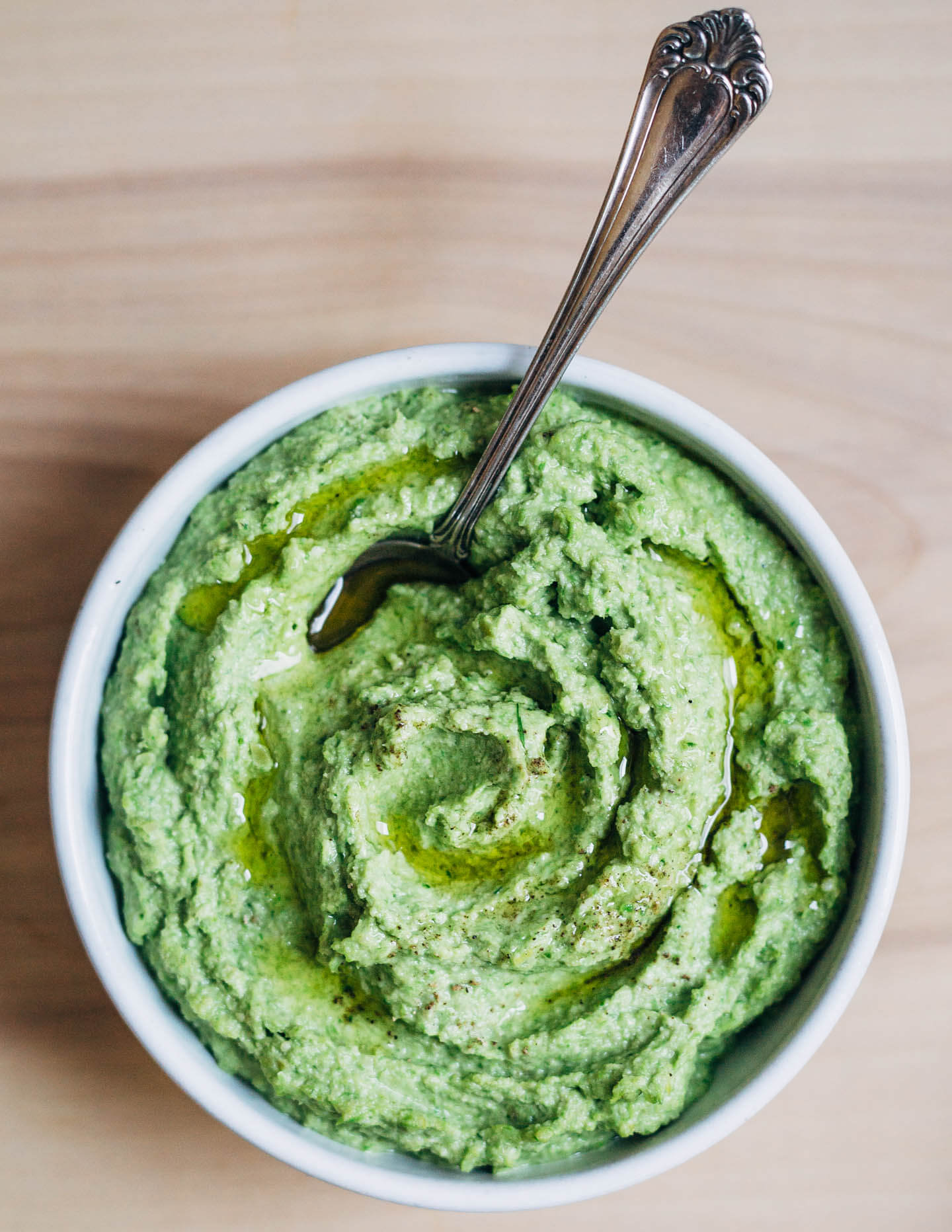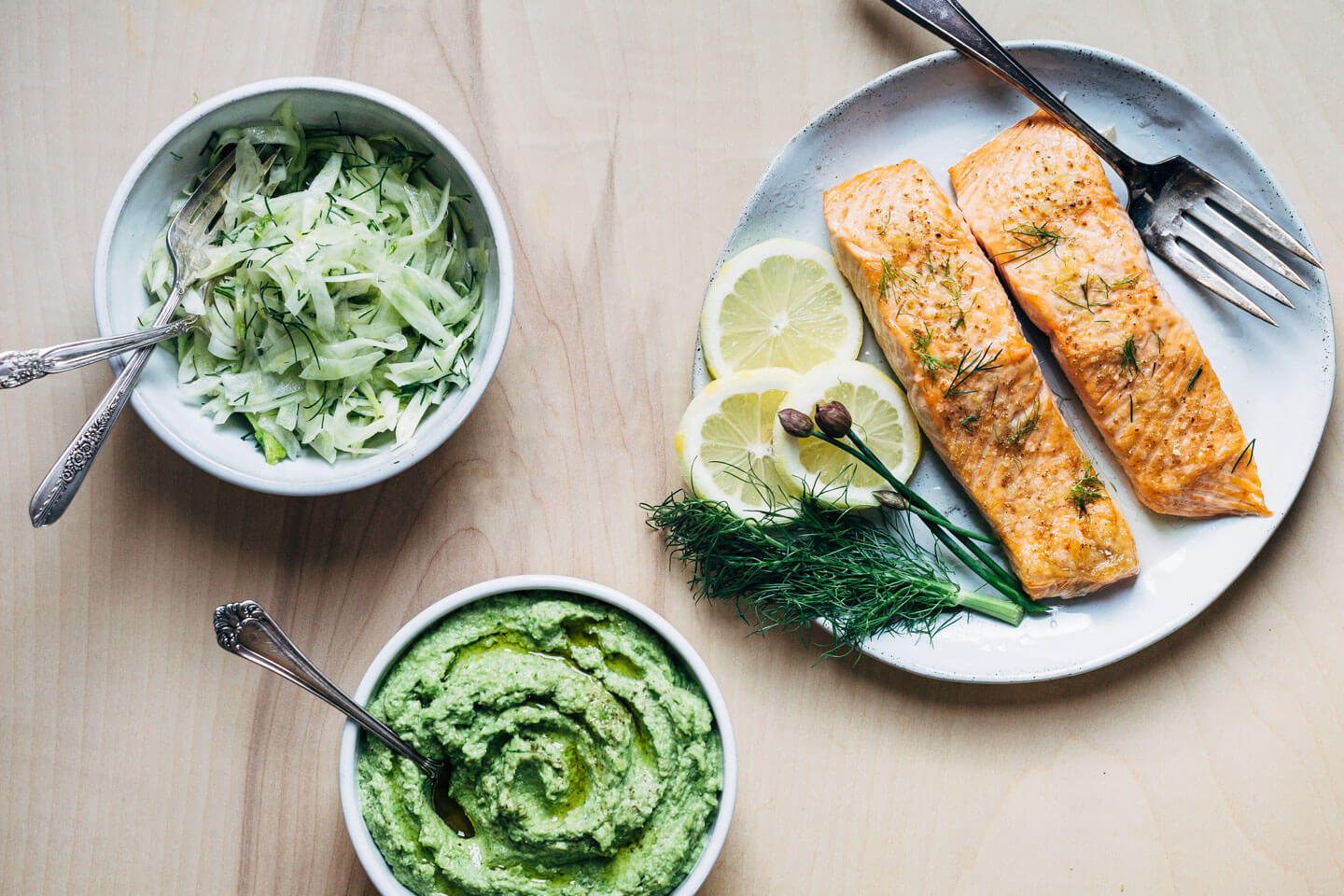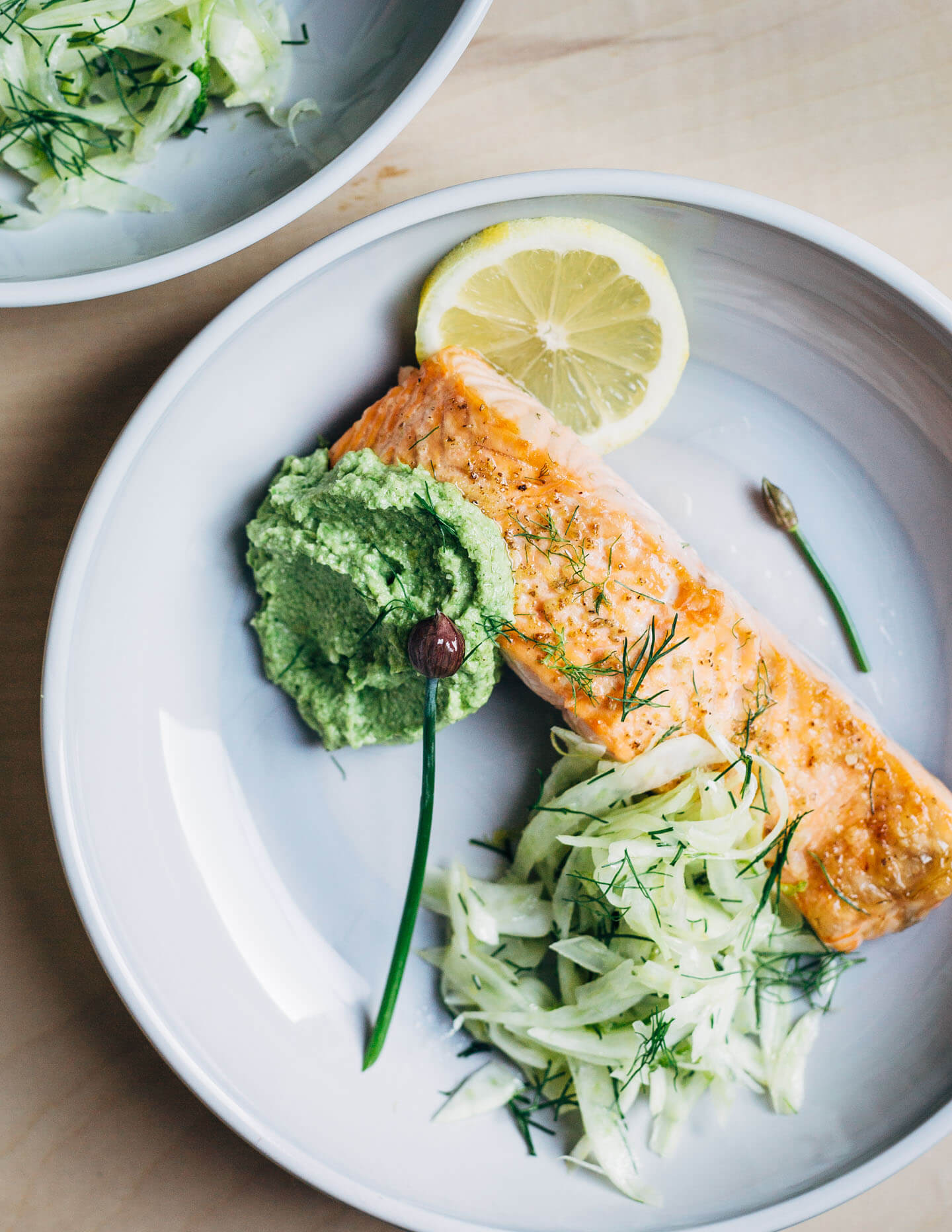 Asparagus pesto keeps well sealed in the fridge for about 3 days. Tonight, it's destined for pasta and later in the week, grilled cheese.
Don't miss a recipe! Follow Brooklyn Supper on Instagram, Facebook, and Pinterest.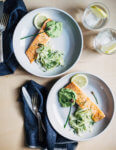 Asparagus Pesto with Broiled Salmon and Fennel Slaw
A creamy, mild asparagus pesto that tastes like spring! Made with garden chives, soaked sunflower seeds, and Parmesan, it's perfect served alongside broiled salmon and lemony fennel slaw.
Ingredients
Pesto
1/2

cup

raw,

hulled sunflower seeds, soaked at least 4 hours and rinsed

1

pound

asparagus

2

ounces

grated parmesan cheese

(*see note)

1/2

cup

chopped chives

3

tablespoons

extra virgin olive oil,

plus more for drizzling

1/2

teaspoon

sea salt,

plus more to taste

1/2

teaspoon

fresh ground pepper,

plus more to taste

Zest of 1/2 a lemon

(reserve the other half for the fennel slaw)
Slaw
1

fennel bulb,

cored with green fronds reserved

Zest of 1/2 a lemon

(reserved from pesto0, plus 1 tablespoon juice

Sea salt

Extra virgin olive oil for drizzling
Salmon
2

pounds

salmon,

sliced into 8-ounce fillets

Extra virgin olive oil

Sea salt

Pepper
Instructions
Pesto
At least 4 hours ahead, soak sunflower seeds, or set them in the fridge to soak overnight. Before using, rinse and strain.

Immerse asparagus in cold water and swish to dislodge any sand. Snap off the pale, woody ends, about 2/3 to 3/4 of the way down. (You'll easily feel the right place.) Set up a pot of boiling water with a steamer basket, and steam asparagus, covered, for about 2 minutes, or just until asparagus are cooked through but still a vibrant shade of green. Remove from steamer and immerse asparagus in ice water until chilled through.

In the bowl of a food processor, pulse to combine sunflower seeds and parmesan. Rough chop asparagus, and pulse to combine. With food processor running, add chives, olive oil, zest, sea salt, and pepper and process until smooth. Taste, and add sea salt or pepper as needed.

Pesto can be stored in an airtight container in the fridge for 3 days. Before serving, allow it to come to room temperature, then stir and drizzle with olive oil.
Slaw
To make the slaw, use a mandoline to shave the fennel paper thin. Toss with 1/4 teaspoon sea salt, lemon zest, and juice. Mince 3 tablespoons green fennel fronds and toss with shaved fennel. Set in the fridge to chill until ready to serve.
Salmon
To make salmon, position a baking rack 10 - 12 inches under the broiler and set heat to high. Drizzle salmon with olive oil (1/2 - 1 teaspoon per fillet), and sprinkle with sea salt and pepper. Arrange fillets on a rimmed baking sheet. Slide under the broiler, leaving door cracked, and cook 5 - 8 minutes (or longer for fillets thicker than 1 inch). Fillets should have a bit of give when touched and be very light golden on top. If in doubt, carefully cut into the fish to see that it's cooked through – flesh should be soft, flaky, and barely opaque.

Before serving, toss fennel slaw with a drizzle of olive oil, and sea salt or pepper to taste.

Serve salmon fillets alongside fennel slaw and topped with a big dollop of asparagus pesto. Garnish with minced fennel fronds and lemon slices.
Recipe Notes
*To make recipe Whole30 compliant, omit Parmesan and add 1 additional tablespoon olive oil.