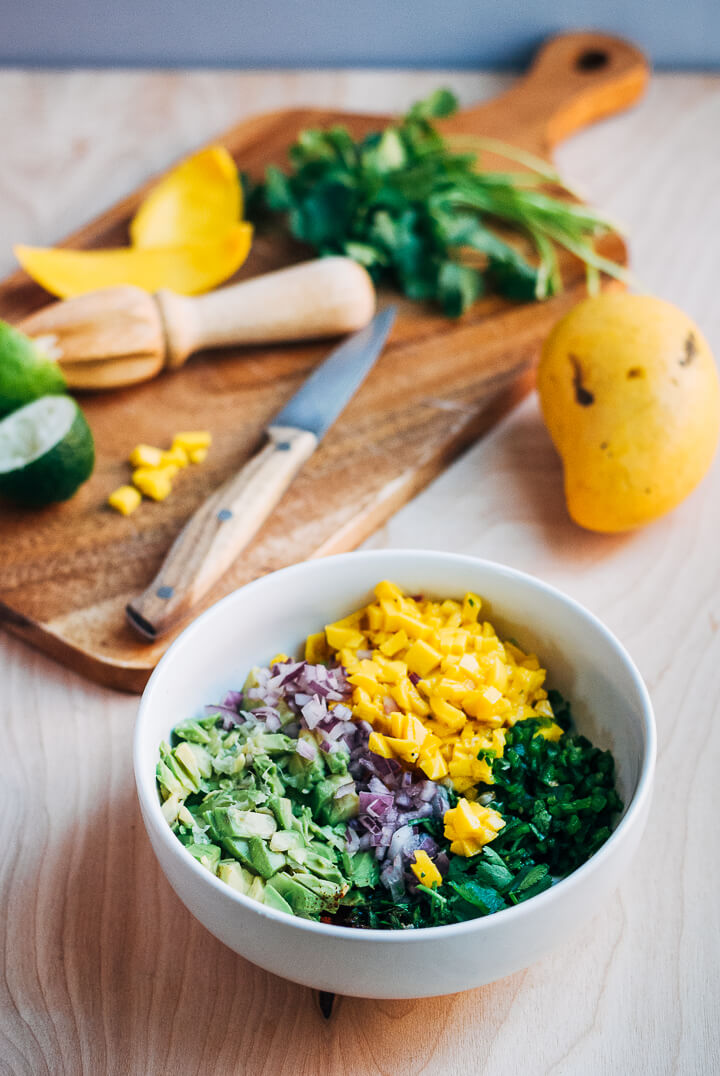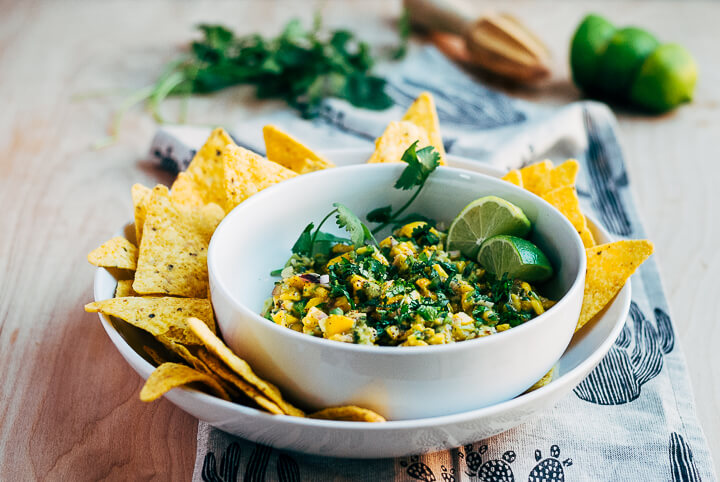 A vibrant avocado and mango salsa recipe for Cinco de Mayo, or anytime you need a really delicious appetizer. Jump to recipe. 
This past week has been a series of minor inconveniences building on one another to form one massive nest of problems. I'm trying to step back and remind myself that, on a global scale, I'm pretty lucky to have a car or a dishwasher (even if they do suddenly have a dent and broken hinges, respectively). And if my littlest one is sick, at least I'm in a position to get her back on her feet soon. Dealing with all these little troubles is just what life is. By taking troubles as they come and seeking out the small pleasures that balance them, we can build a pretty happy little life in spite of everything.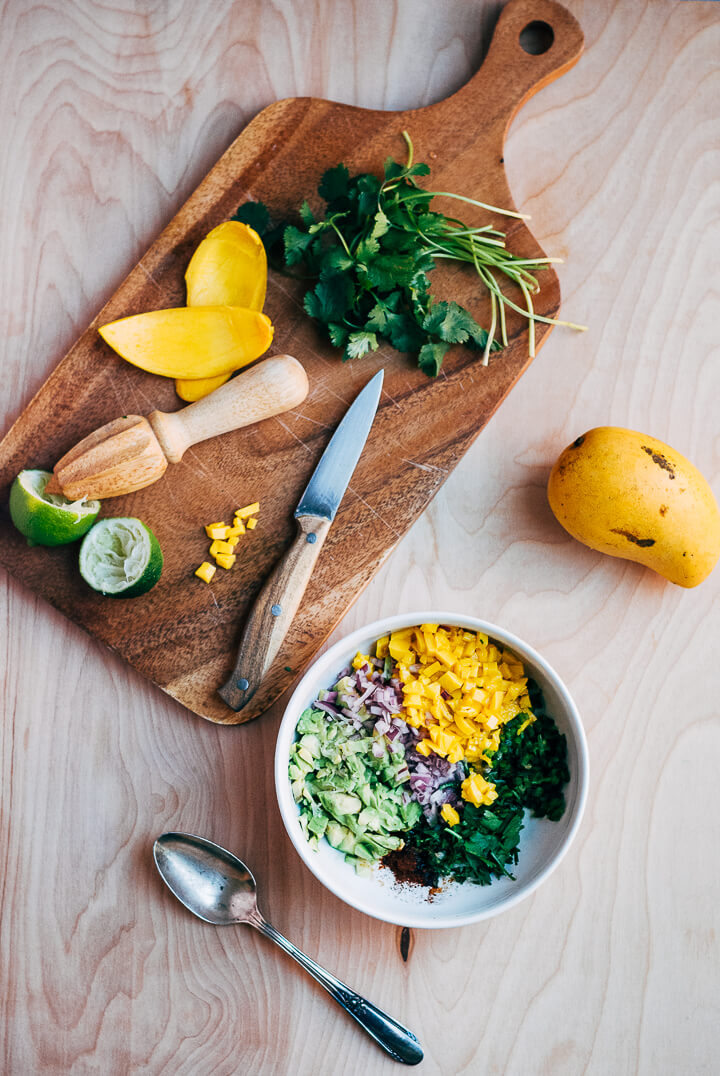 In the spirit of creating small, enjoyable moments, I made this avocado and mango salsa. By their nature, daily staples can be repetitive, but a few small additions enliven staid dishes like eggs or bean tacos, drawing us back into the moment. The creamy sweetness of ripe mangoes blends beautifully with rich bits of avocado, spicy poblano pepper, and lots of fresh lime. It's brimming with bright flavors and aromas, and, when paired with a really good tortilla chip, makes for the perfect bite.
I'm not usually one to go for hype around a holiday, but one where tequila and chips and salsa are encouraged is totally cool with me. Get into the Cinco de Mayo thing with this mango salsa, or make it anytime you want to enjoy something simple, bright, and delicious.
P.S. Head below for a list of delicious Cinco de Mayo food links from some of our faves.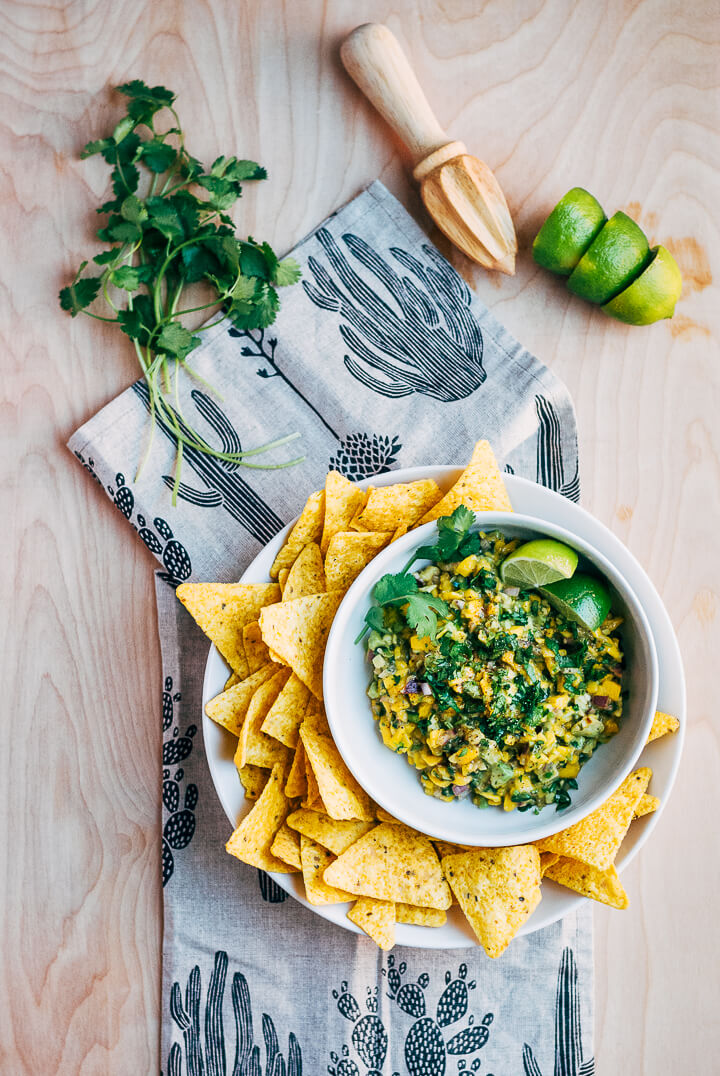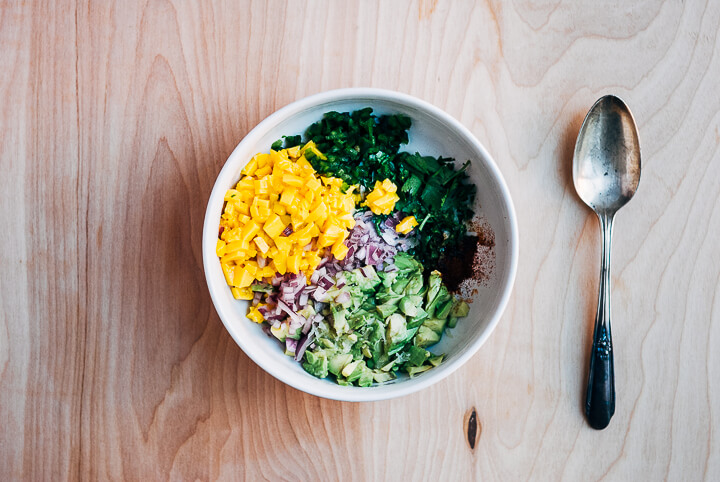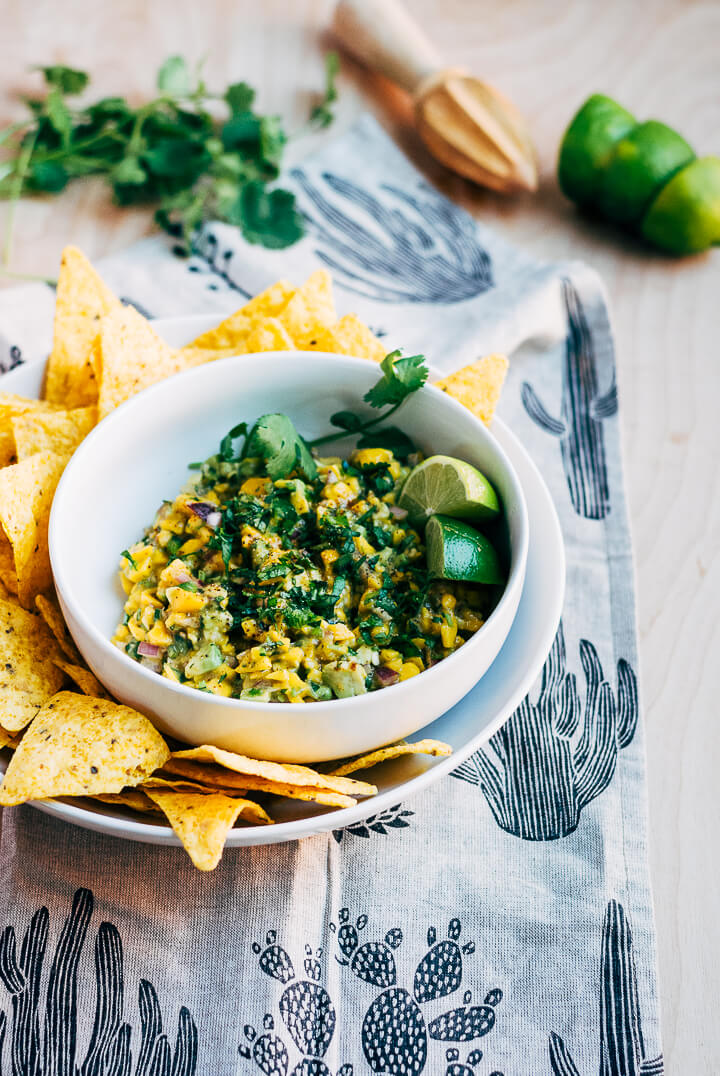 Finally, a rant of sorts. This recipe is best made with ripe – possibly overripe – mangoes, finely diced. A Google search on the subject of mango salsa turns up all kinds of weirdness, things I'd be far more comfortable calling salad, made with enormous cubes of mango against which no chip would stand a chance. Let's stop this madness, K?
And if you need an even simpler mango salsa recipe, check out this pantry-driven recipe from the archives.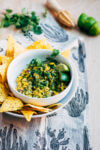 Avocado Mango Salsa
A vibrant avocado and mango salsa recipe for Cinco de Mayo, or anytime you need a really delicious appetizer.
Ingredients
2

Ataúlfo mangoes

, peeled, pit removed, and finely diced (about 1 cup diced)

1/4

cup

minced red onion

1/4

cup

minced fresh cilantro

2 - 3

tablespoons

minced poblano pepper

, seeds removed

1/4

teaspoon

paprika

1/4

teaspoon

chili powder

(use the good stuff)

1

avocado

, finely diced

sea salt to taste

2 - 3

tablespoons

freshly squeezed lime juice
Instructions
Note that Ataúlfo mangoes are smaller than the more common Tommy Atkins mango. If using the Tommy Atkins, you may only need one, depending on the size of the pit.

In a medium bowl, combine the mango, onion, cilantro, poblano, and spices. Fold in the avocado, sea salt to taste, and lime juice. Serve right away.

To make ahead, combine all ingredients but the avocado, cover, and refrigerate. Just before serving, fold in avocado, and add sea salt or lime juice as needed.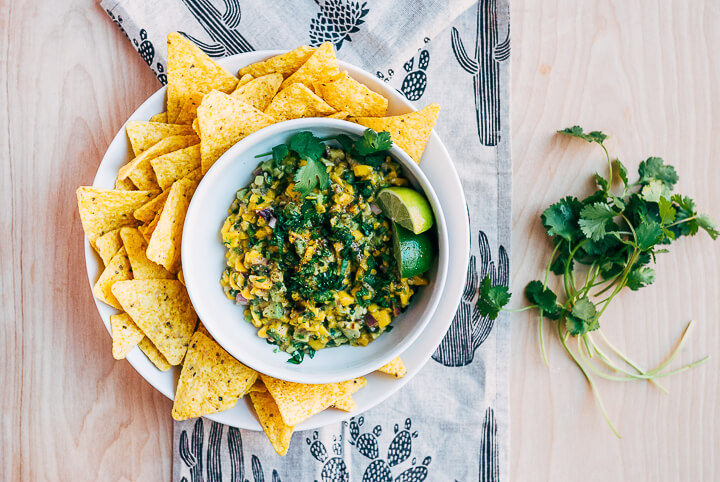 For more Cinco de Mayo food and drink goodness, check out these festive recipes:
Baked Chilaquiles with Black Beans and Kale // The Bojon Gourmet
Beans and Greens Tacos // With Food + Love
Black Bean Enchiladas // Turntable Kitchen
Braised Short Rib Tacos // Dash and Bella for Food52
Breakfast Tacos with Avocado Radish Salsa // The Year in Food
Cauliflower Tacos with Cumin and Za'tar // A Brown Table
Chipotle Black Bean Lettuce Wraps // A Couple Cooks
Cilantro Lime Salad // The Fauxmartha
Cornmeal-Crusted Fish Tacos // Brooklyn Supper
Green Rice Salad with Nectarines and Corn // Not Without Salt
Green Tofu Tacos // Earthy Feast
Margaritas on the Rocks // Flourishing Foodie
One-Pan Vegan Enchilada Bake with Cauliflower Nacho Sauce // Edible Perspective
Quinoa Jalapeno Poppers // Vegan Yak Attack
Roasted Cherry Tomato Salsa // Brooklyn Supper
Tempeh Tacos // 80twenty
Tortilla Casserole // Savory Simple
Vegan Enchiladas with Lime Cream // The First Mess