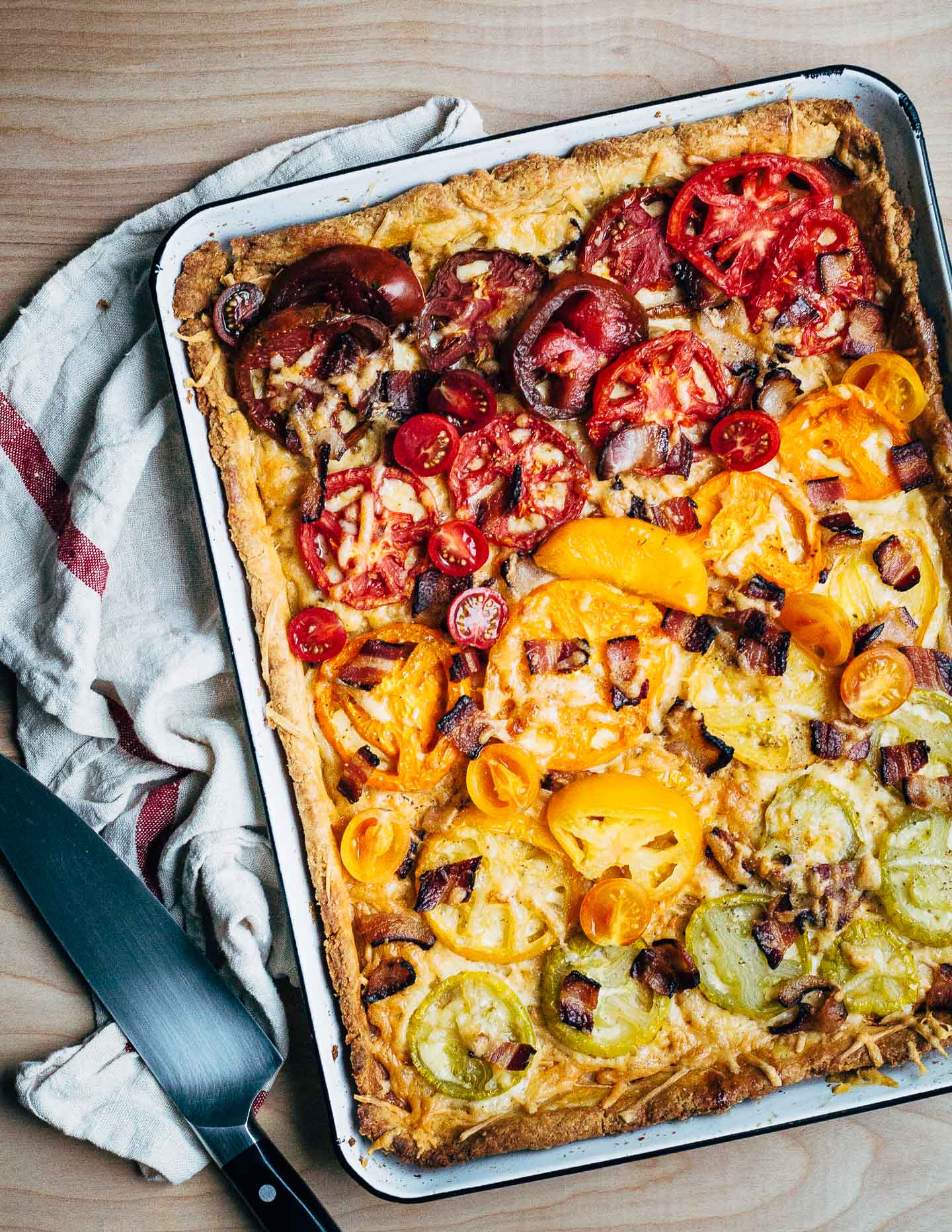 Enjoying summer to the last with a bacon and cheddar heirloom tomato tart that features roasted and fresh tomatoes and a crisp, flaky butter crust. Jump to recipe.
The crickets sang in the grasses. They sang the song of summer's ending, a sad, monotonous song. "Summer is over and gone, over and gone. Summer is dying, dying."
The crickets felt it was their duty to warn everybody that summertime cannot last forever. Even on the most beautiful days in the whole year – the days when summer is changing into fall – the crickets spread the rumor of sadness and change. – E.B. White, Charlotte's Web

Saturday morning was chilly. I'd left the windows open overnight and the house was cold enough that I considered turning on the heat. That felt crazy, though, so I put on socks and turned on the oven to bake instead.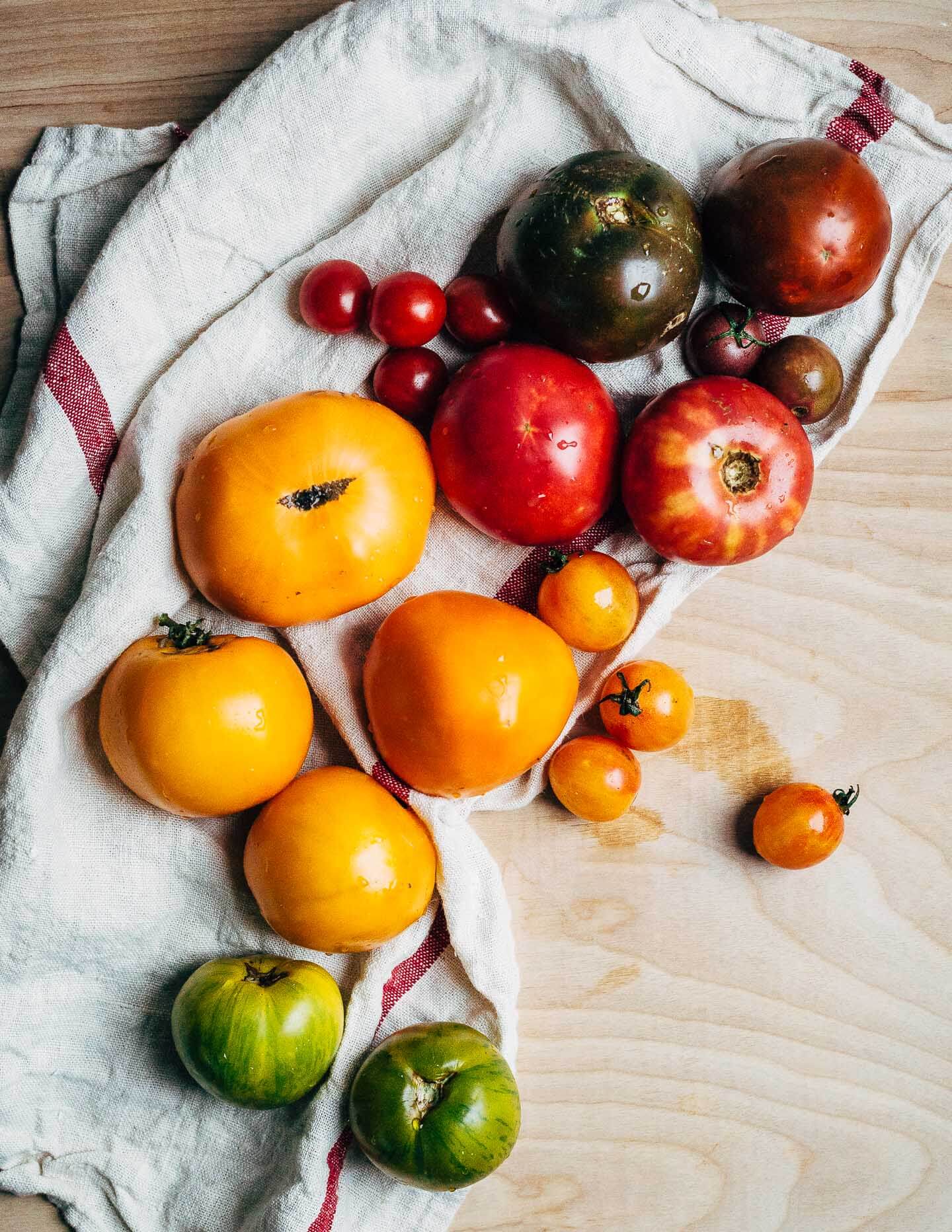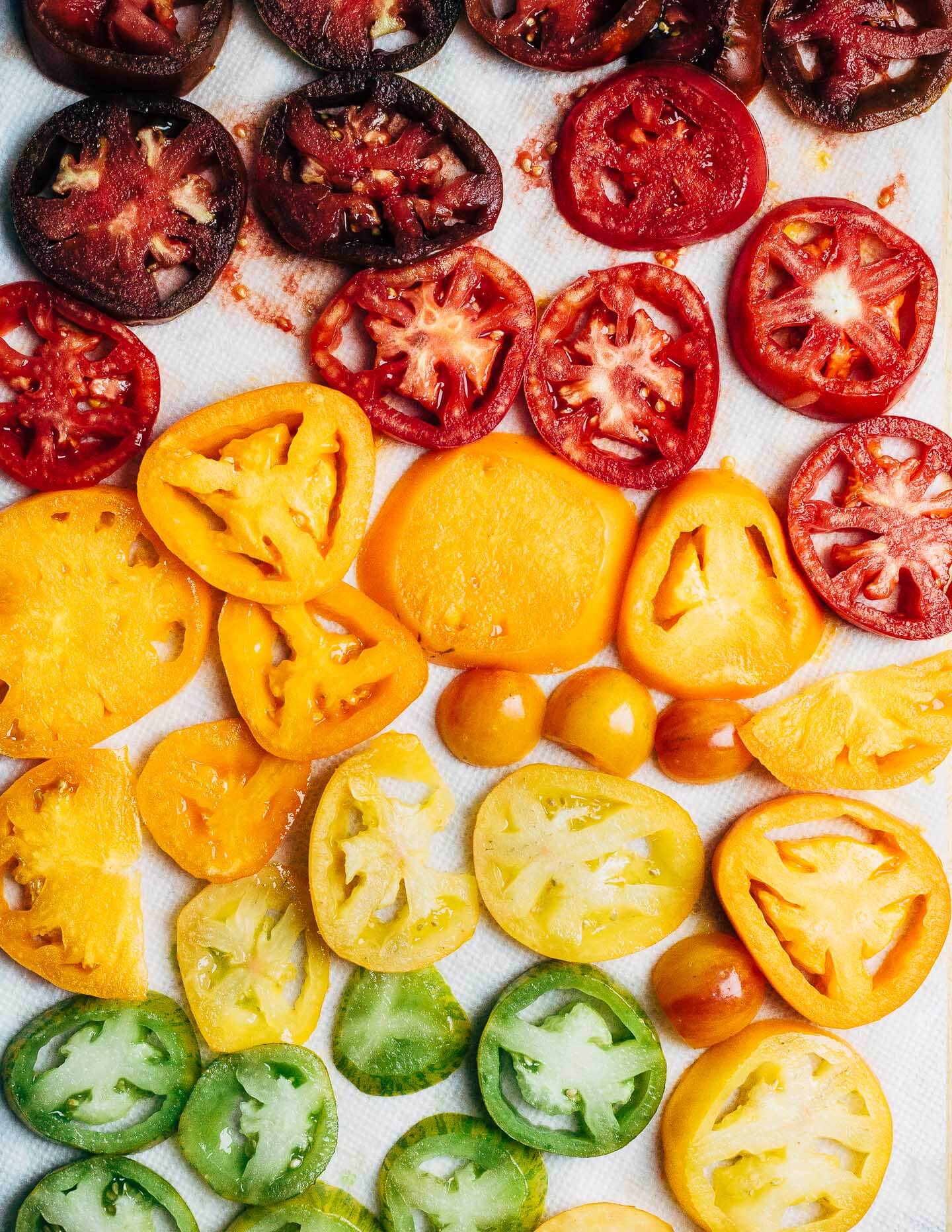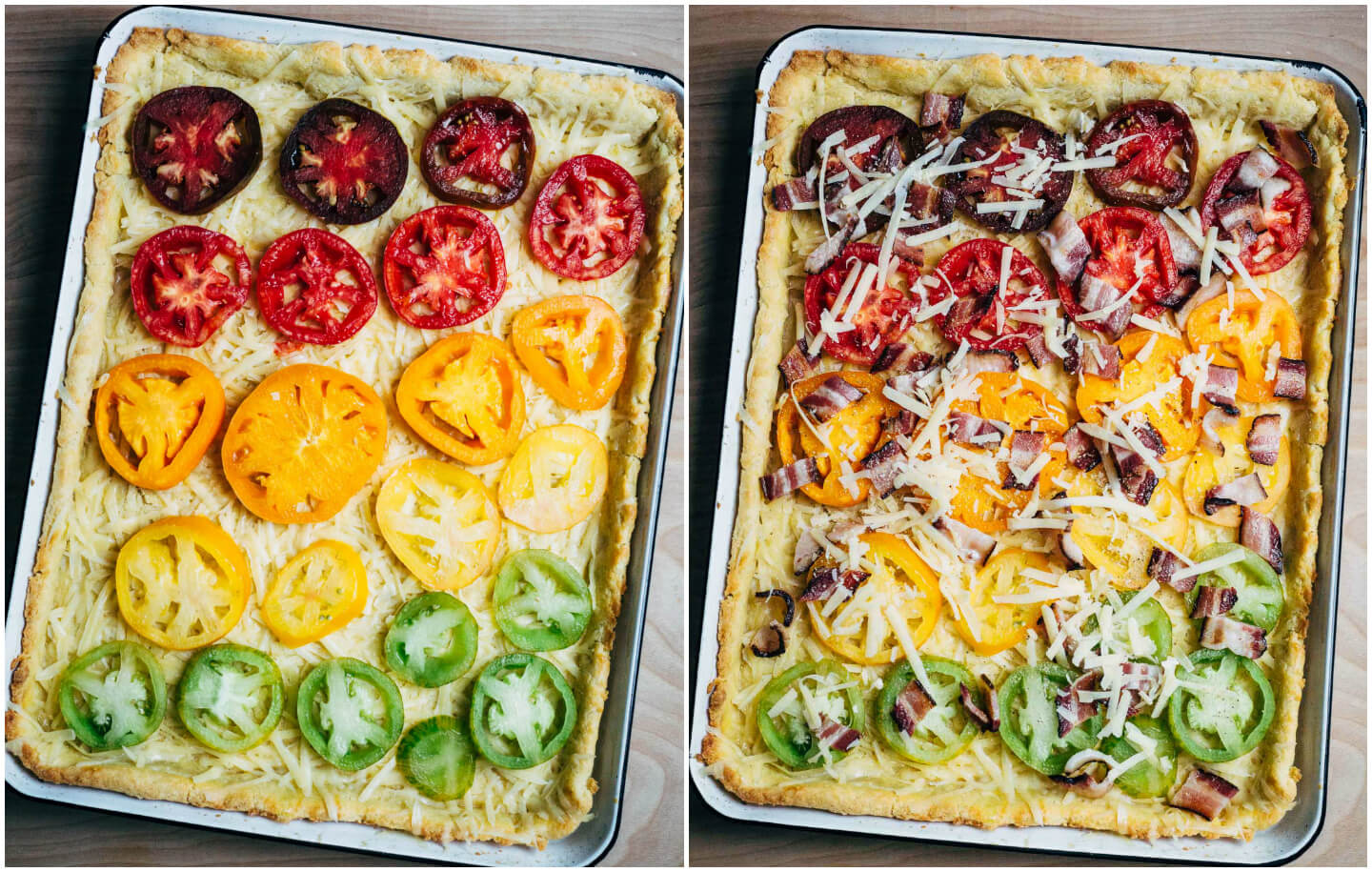 After two total failures and a few near-misses, I've finally perfected the tomato tart. My Instagram post on the matter provided a great deal of helpful feedback from seasoned tomato tart-ists out there, and I'm grateful for all the good advice.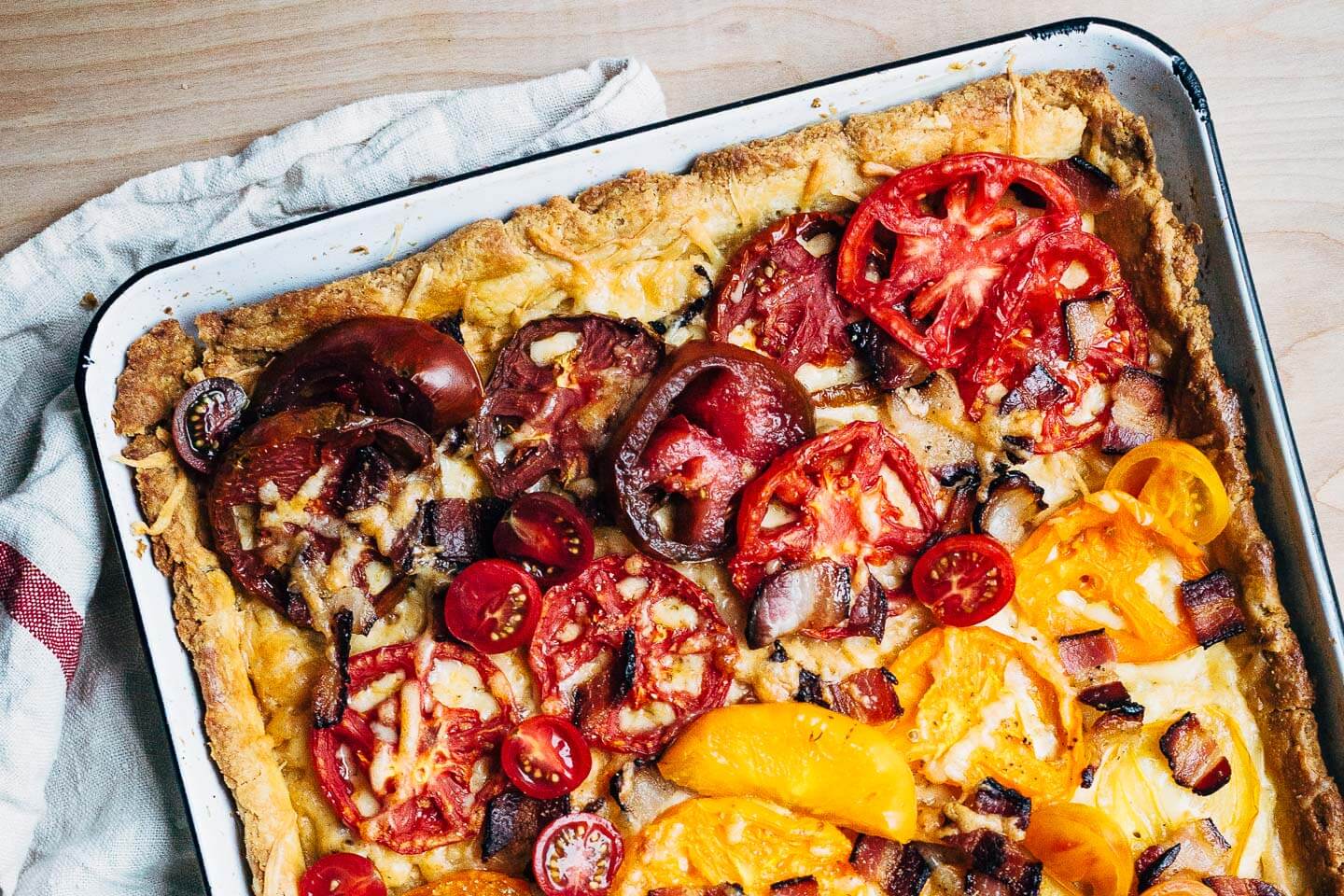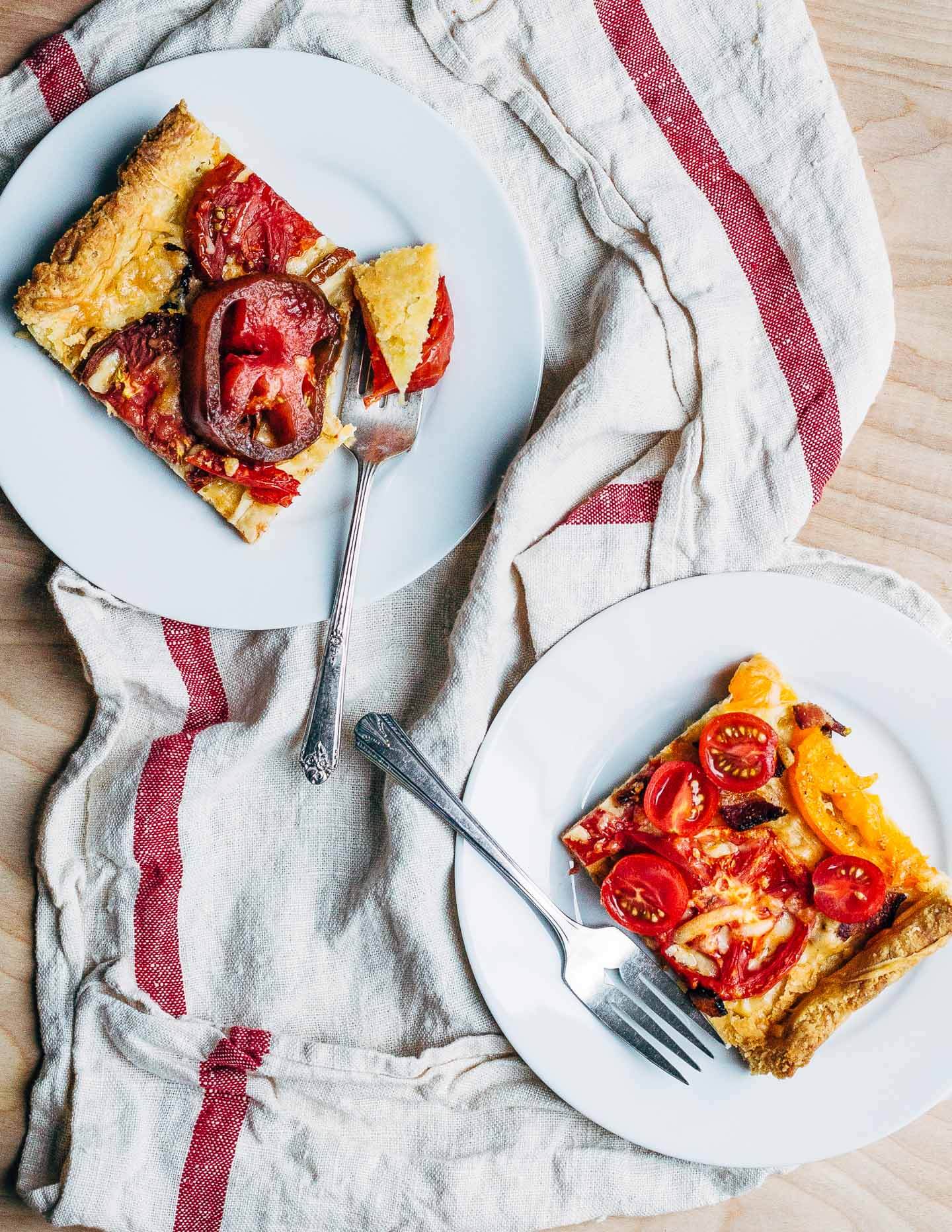 This bacon and cheddar heirloom tomato tart combines the deep, concentrated acidity of roasted heirloom tomatoes with the delicate flavors of fresh ones. Owing to a blind bake, a coat of egg wash, and a layer of nutty cheddar cheese, the flaky butter crust is crisp enough to crackle with each bite. The very top is layered with smoky bacon, a smattering of cheddar, flaky sea salt, and freshly cracked pepper.
Summer's end may be near, but we have a least a few weeks of lovely tomatoes left; let's savor every second.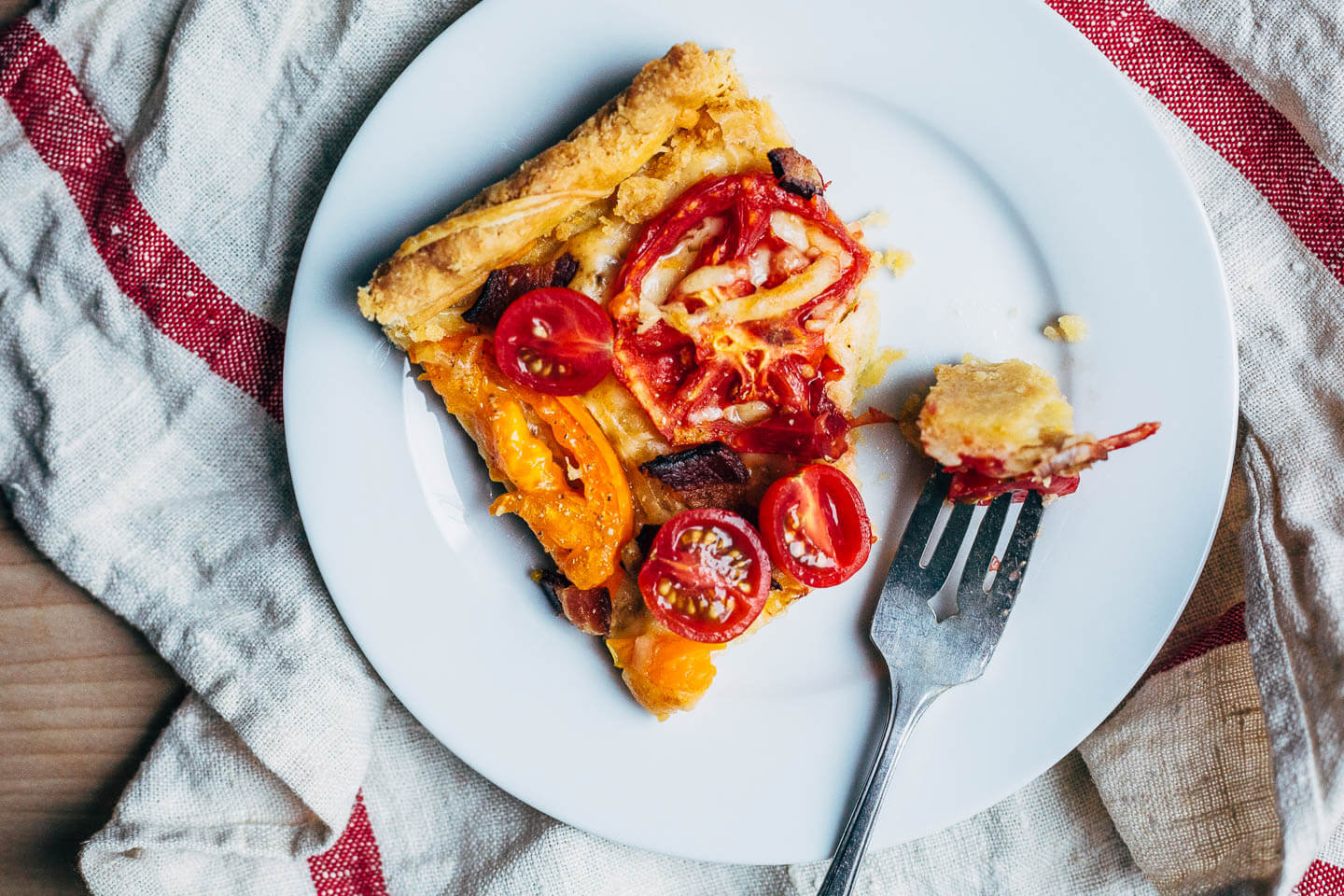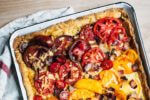 Bacon, Cheddar and Tomato Tart
Enjoying summer to the last with a bacon and cheddar heirloom tomato tart that features roasted and fresh tomatoes and a crisp, flaky butter crust.

Ingredients
Dough
2 1/2

cups

all-purpose flour

2

tablespoons

sugar

1

teaspoon

sea salt

1 1/4

cups

unsalted butter (2 1/2 sticks or 20 tablespoons)

cut into 1/4-inch pats

4

ounces

ice water (1/2 cup)

plus more, if needed

2

eggs,

separated, divided
Tart
6 - 8

medium heirloom tomatoes

, seeded and cut into 1/8-inch thick slices

8

ounces

grated cheddar cheese

, divided (2 heaping cups)

2

ounces

grated Parmesan

(about 1/2 cup)

6

strips bacon (optional*)

sea salt

fresh ground black pepper
Instructions
To make the crust, measure flour, sugar, and sea salt into the bowl of your food processor and pulse to combine. Scatter butter pats over flour mixture and pulse several times until butter is well-incorporated and mixture has a crumbly appearance. Mix egg yolks with 4 ounces ice cold water (reserve egg whites) and drizzle liquid in through the feed tube while pulsing to combine. Pulse just until dough begins to form a large shaggy ball (about 10 pulses total). Test mixture by squeezing a couple tablespoons in your hand; if it holds together easily, it's ready, otherwise, pulse in 1 - 2 more tablespoons water. Turn dough out onto a lightly floured surface and gather into a disc. Press into a large rectangle and wrap tight with plastic wrap. Set in fridge to chill for at least 30 minutes.

Arrange tomato slices over 2 layers of absorbent paper towels. Sprinkle lightly with sea salt. After 5 minutes, cover salted tomatoes with another 2 layers of paper towels and gently blot. Set tomatoes aside to release their juices while you prepare the crust.

Preheat oven to 400 degrees F. Set out an 11 x 17-inch baking sheet.

Cook bacon strips over medium heat, just until the edges begin to crisp. Cool on a paper towel-lined plate. Chop into 1/2-inch slices and set aside.

Take crust out of the fridge and set on a large, lightly floured sheet of parchment. Roll into a 13 x 19-inch rectangle (it's OK if it's rough). Place dough in an 11 x 17-inch rectangular baking pan, folding any overhanging dough into the sides. Poke all over with the tines of a fork, and either set another, slightly smaller, baking pan on top or line with foil and fill with dried beans or pie weights. Bake 15 minutes.

Remove crust from oven and take out baking sheet or foil and pie weights. Brush crust all over with reserved egg white, then slide back into the oven, and bake 8 - 10 minutes more or until crust is a light golden hue.

Turn heat down to 375 degrees F.

Scatter about 3 1/2 cups of shredded cheddar over the hot crust. Add the prepared tomato slices, being careful not to crowd them or use too many (I used about 20 slices total). Sprinkle tomatoes with sea salt and pepper. Top with sliced bacon and remaining cheddar and parmesan.

Bake tart 25 - 30 minutes, or until cheese is melted and bubbling, and the tomatoes are fragrant and cooked through.

Cool 15 minutes, then arrange the remaining fresh tomatoes around the cooked ones. Slice and serve.
Recipe Notes
Tart is best enjoyed the day of, but will keep for 1 day covered in the fridge. Reheat before serving.
Recipe adapted from Ina Garten at the advice of Shelby on Instgram. 
*If serving a vegetarian crowd, omit the bacon – the tart will still be delicious. 
SaveSave
SaveSave
SaveSave
SaveSave
SaveSave
SaveSaveSaveSave
SaveSave
SaveSave
SaveSave
SaveSave
SaveSave
SaveSave
SaveSave
SaveSave