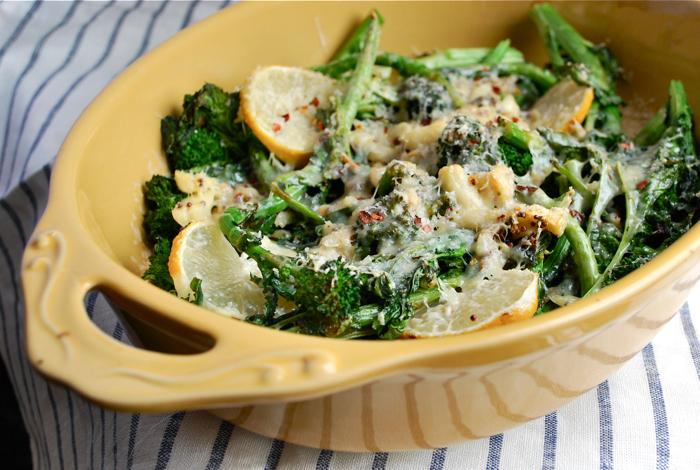 As winter finally settles on the city, and the seasonal menu shifts ever more toward rich meats, braises, and gratins, it's a good time to have a few healthy sides at the ready. One such side is baked broccoli rabe. These distinctly nutty, vivid greens are the perfect counterpoint to some of the season's richer foods, and creamy Asiago and plenty of garlic just sweeten the deal.
In spite of the name, broccoli rabe is actually related to the turnip, and turnip greens therefore provide a better model for how you should cook them, because the goal is to highlight the nuttiness and some of the pungency while minimizing the bitterness. In this recipe, I mellow the broccoli rabe out by cooking it twice, first by sauteing and then by baking with lemon, mustard, and red pepper which blend beautifully with the creamy Asiago to really bring out the complex, robust flavors that make broccoli rabe such a treat. The final dish should be enjoyed immediately after coming out of the oven, and the bitter, creamy tanginess savored to the last.
Baked Broccoli Rabe with Garlic and Asiago (adapted from The New York Times)
1 large bunch broccoli rabe
8 cloves garlic, peeled, smashed, and chopped
2 tablespoons olive oil
1 teaspoon brown mustard seed
1 teaspoon salt (or to taste)
1 tablespoon white wine vinegar
1/2 lemon, sliced
1/2 teaspoon red pepper flakes
1/2 teaspoon fresh ground pepper
2/3 cup grated Asiago
Preheat oven to 400 degrees. Move rack to the top of your oven.
Heat a large skillet over medium-high heat. Add 1 tablespoon olive oil and then the mustard seeds. Cook for a minute, and add the garlic. Saute for 1 minute and remove to a bowl. Place half of the broccoli rabe in the pan, sprinkle with a good-sized pinch of salt, and cook, turning a few times, until it has wilted slightly, about 4 minutes. Do the same for the second half, adding another tablespoon of oil if needed.
Place the sauteed broccoli rabe in a large oval baking dish. Sprinkle with the garlic. Quickly deglaze the saute pan with the vinegar, and pour over the broccoli rabe. Intersperse the lemon slices throughout the rabe, sprinkle with cheese, and finish with the pepper and red pepper flakes. Bake for 10 – 12 minutes, until the cheese has melted and browned just a bit.
Serve immediately for optimal taste and texture.