This vibrant chicken tenders board features juicy oven-baked chicken tenders in three delicious flavor profiles: garlic and herb with yogurt ranch, sesame-ginger with a sweet and sour dipping sauce, and classic honey mustard with a spicy sweet Dijon dipping sauce. This post is created in partnership with Farmer Focus.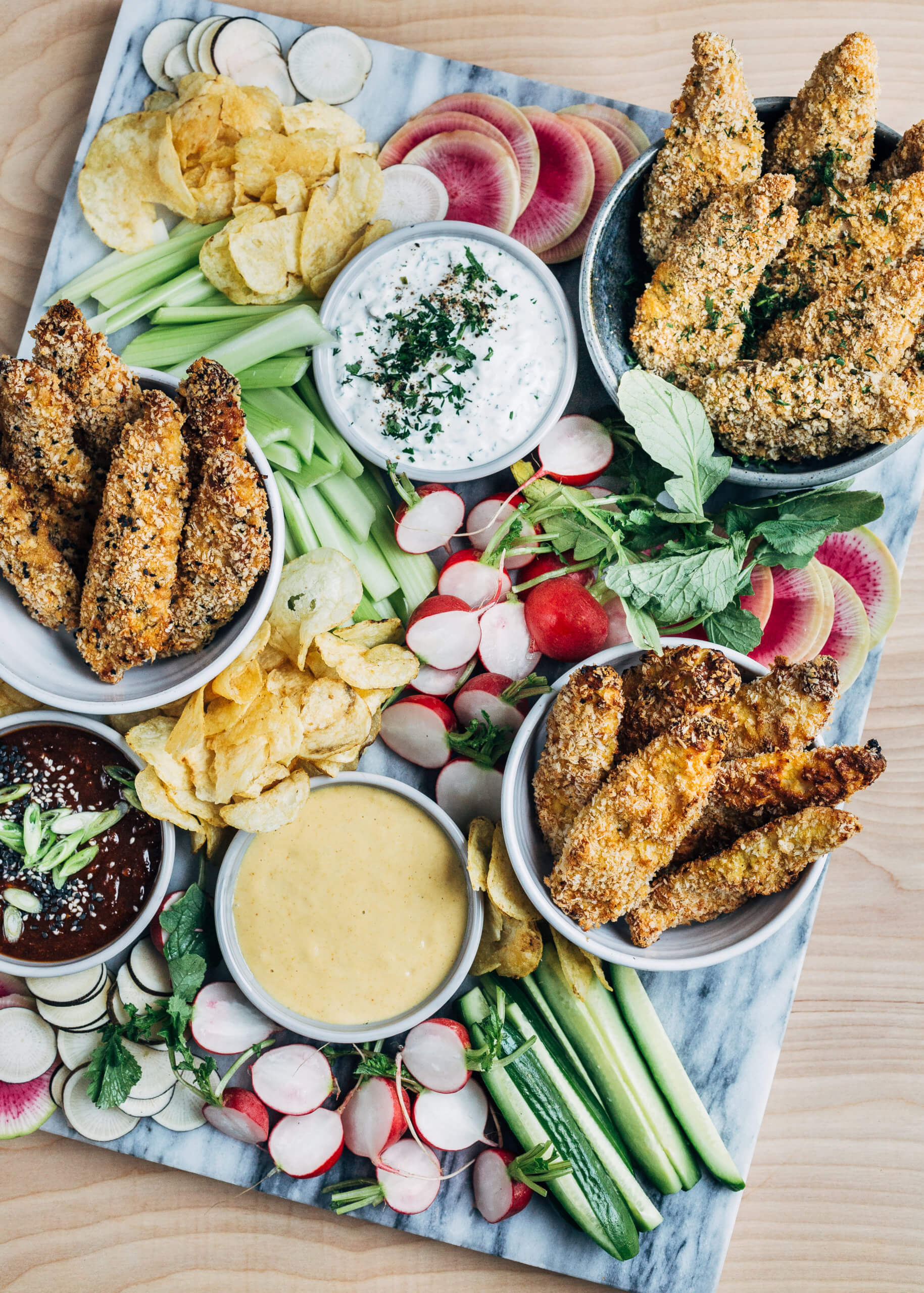 While I'm not the biggest football fan, I do take immense pleasure in all the trappings of the big game. Pop culture, pomp, a sense of the national temperature, the halftime shows (I may have actually cried the year Prince played Purple Rain in the rain), and of course, the snacks all make a certain February football game well worth watching.
You could also skip the game all together and just go really big on the snacks, maybe with a movie or family game night. The bottom line is: it's winter, we've been stuck at home, and I am absolutely going all out on the eats this year. If you are, too, consider this beautiful oven-baked chicken tenders board that's heaped with flavorful baked tenders, chips, all kinds of delicious dipping sauces, and actual vegetables.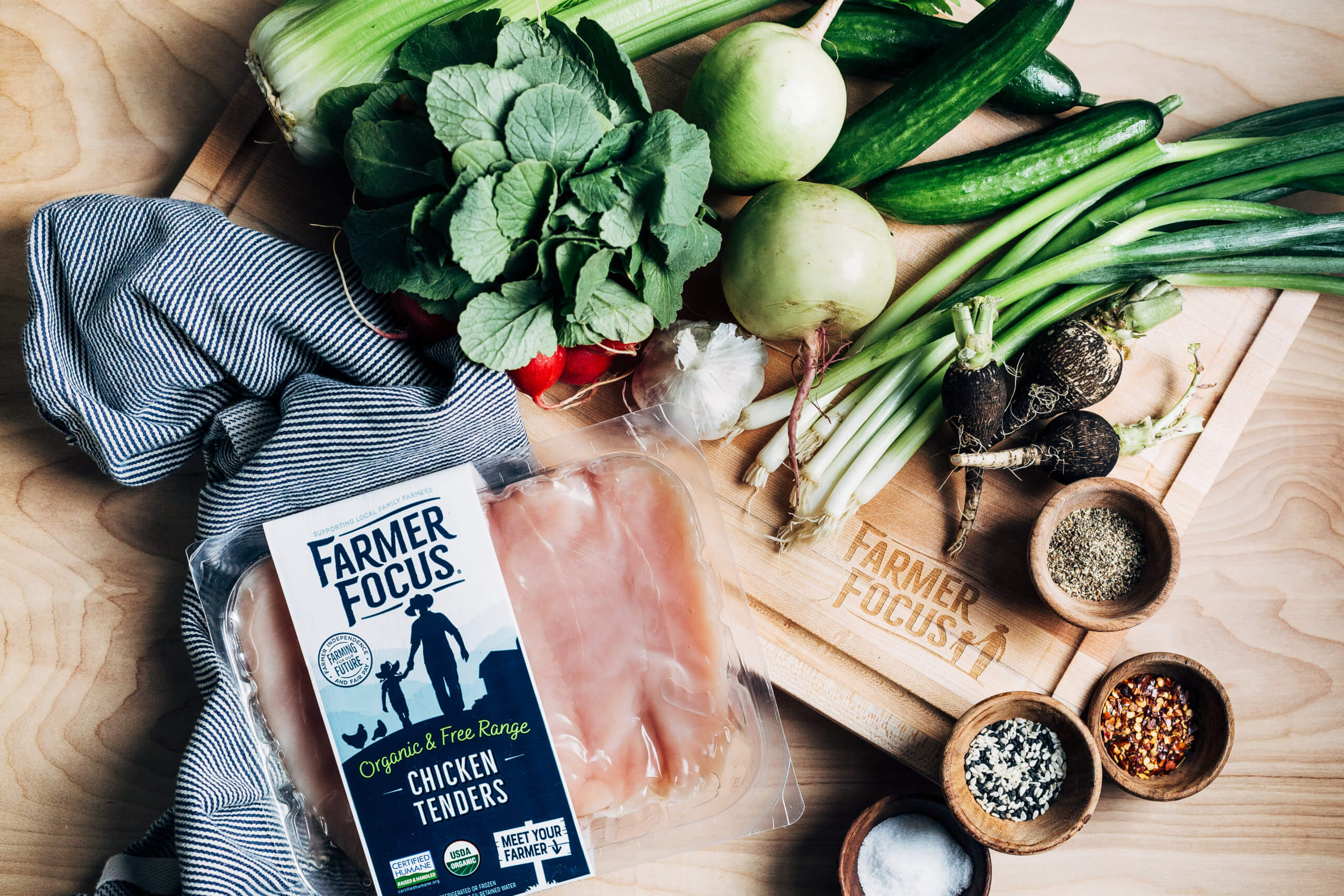 Start with the Best Chicken
These panko-breaded baked chicken tenders start with the best chicken: Farmer Focus. Farmer Focus organic, free-range chicken comes from independent partner farmers. Unlike most companies, the farmers who work with Farmer Focus own their chickens and make decisions about the best ways to care for them. They're compensated well above industry standards which makes better farming practices financially sustainable for the farmers and their families. Farmer Focus chicken is also 3rd party certified – all their family farms meet or exceed USDA Organic, Certified Humane, Halal, and Non-GMO Project standards. Farmer Focus chicken also has a Global Animal Partnership Step 3 rating.
Each Farmer Focus package comes with a Farm ID so you can look up and learn more about the farm your chicken came from. Learn more about Farmer Focus partner farmers right here!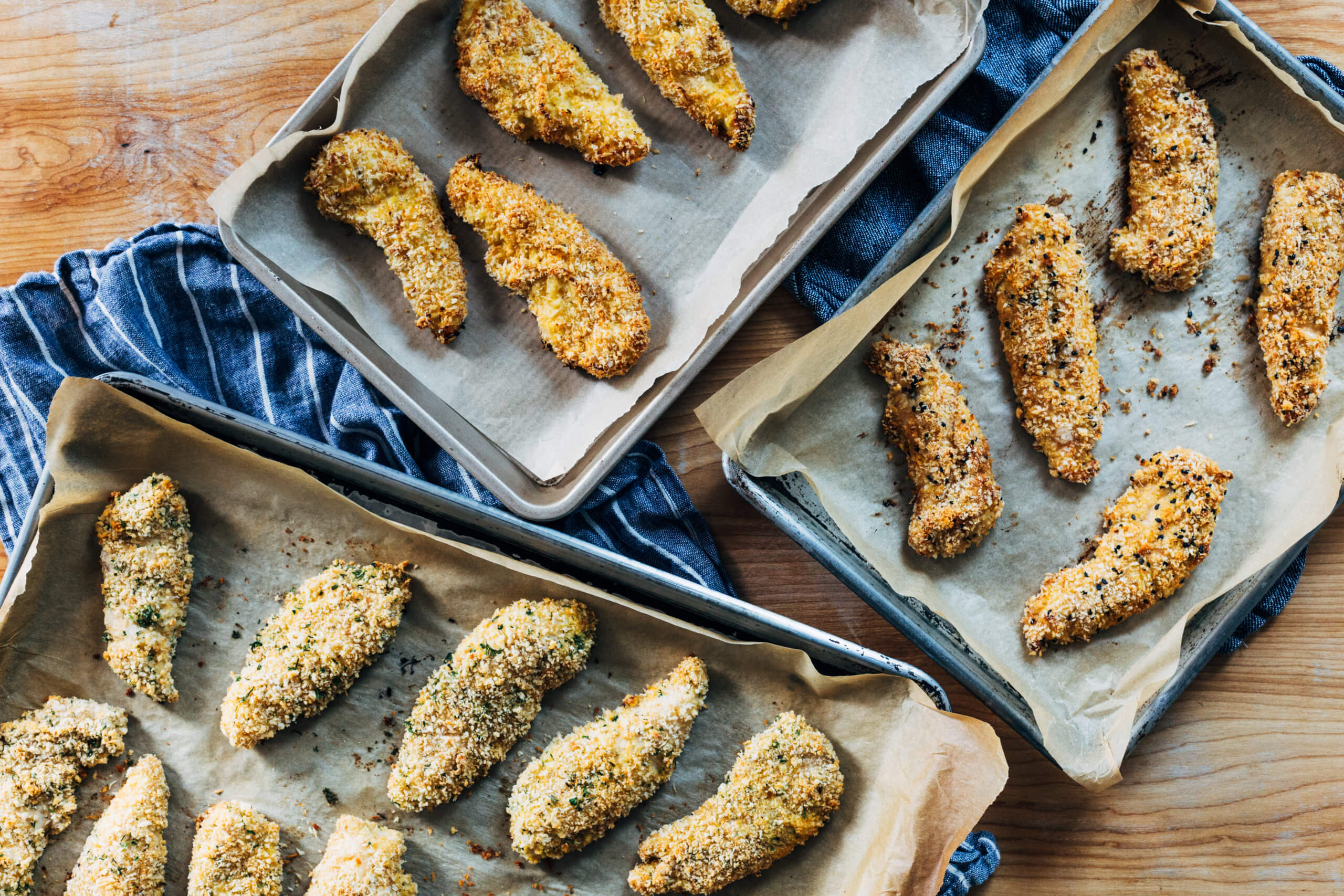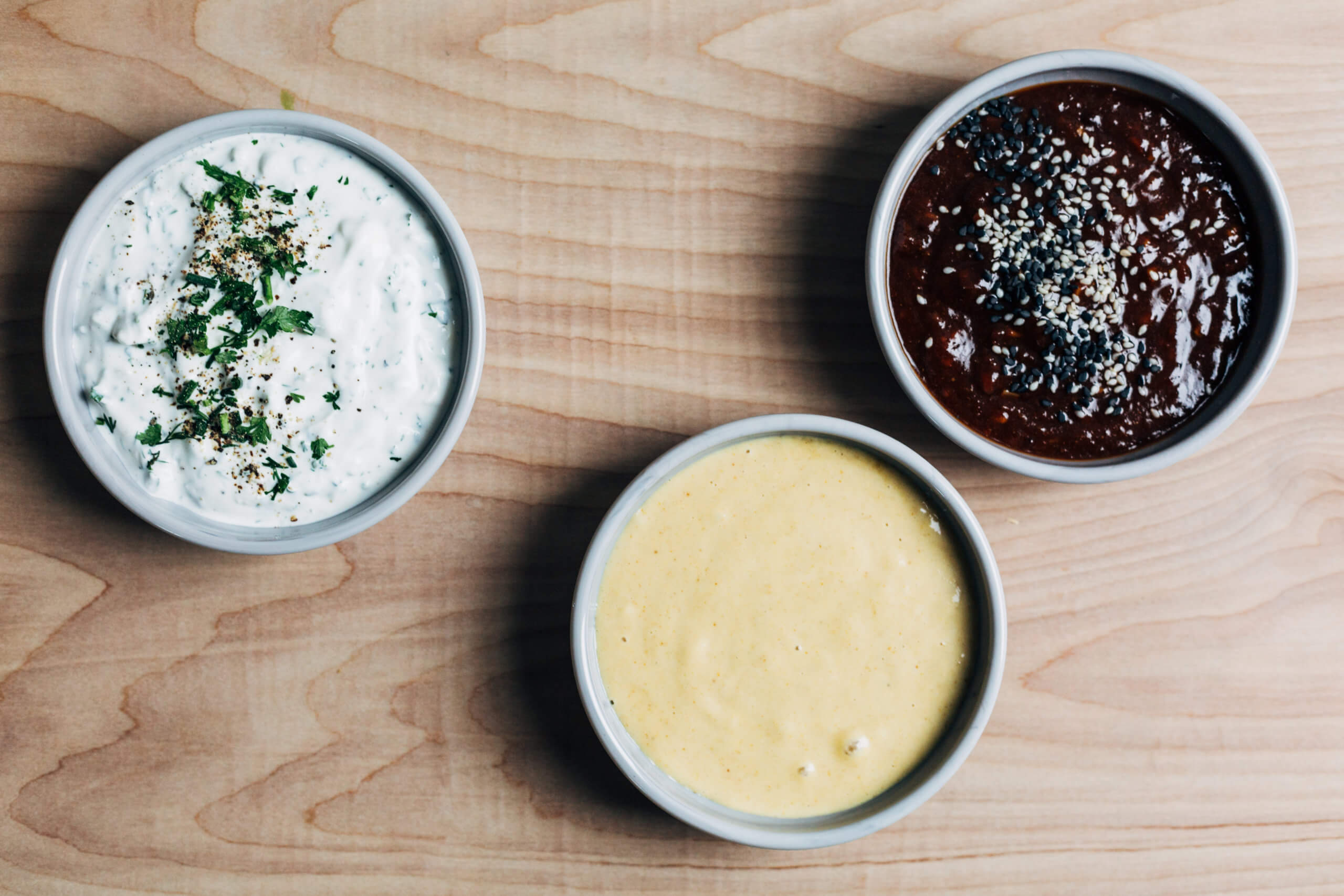 Baked Chicken Tenders with Big Flavor
I opted for three distinct flavor profiles, but the approach to each is pretty simple, especially with Farmer Focus pre-cut chicken tenders.
The herb and garlic tenders are tossed with fresh herbs, grated garlic, and a few spices, lightly breaded in herbed panko, and baked until golden. These tenders are served with a super simple herbed yogurt ranch dip.
The sesame-ginger tenders are marinated in a mix of soy sauce, toasted sesame oil, garlic, and ginger, breaded with a sesame panko mix, and baked until crisp. I put these tenders out with a sweet and sour sauce made from soy sauce, ketchup, rice wine vinegar, ginger, and garlic.
And finally, the honey mustard tenders have honey and mustard, sure, but also fresh garlic and a good-sized pinch of cayenne for kick. They're served with a creamy honey Dijon dip that comes together in a minute flat.
Head below for all the recipes – make one or all three!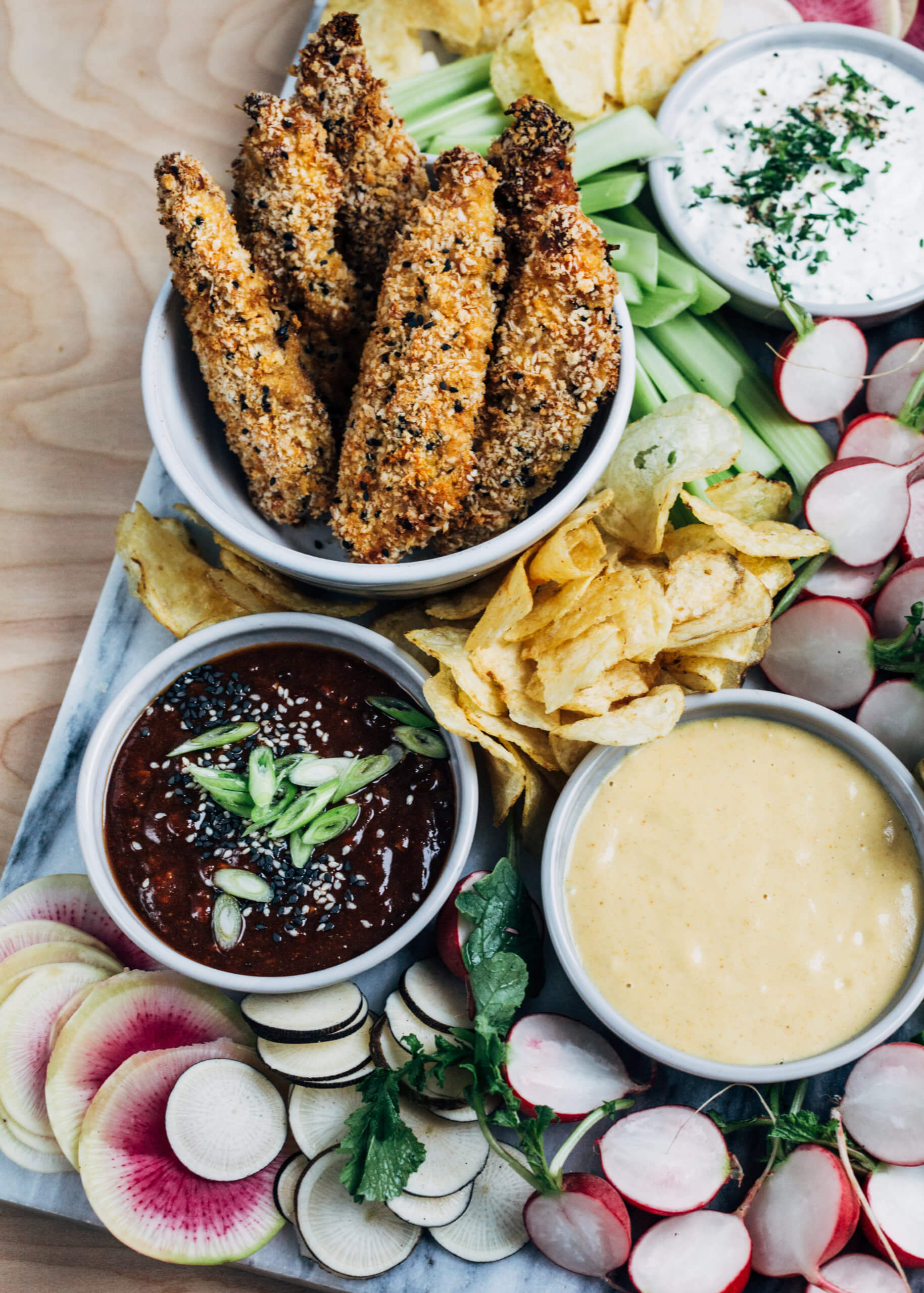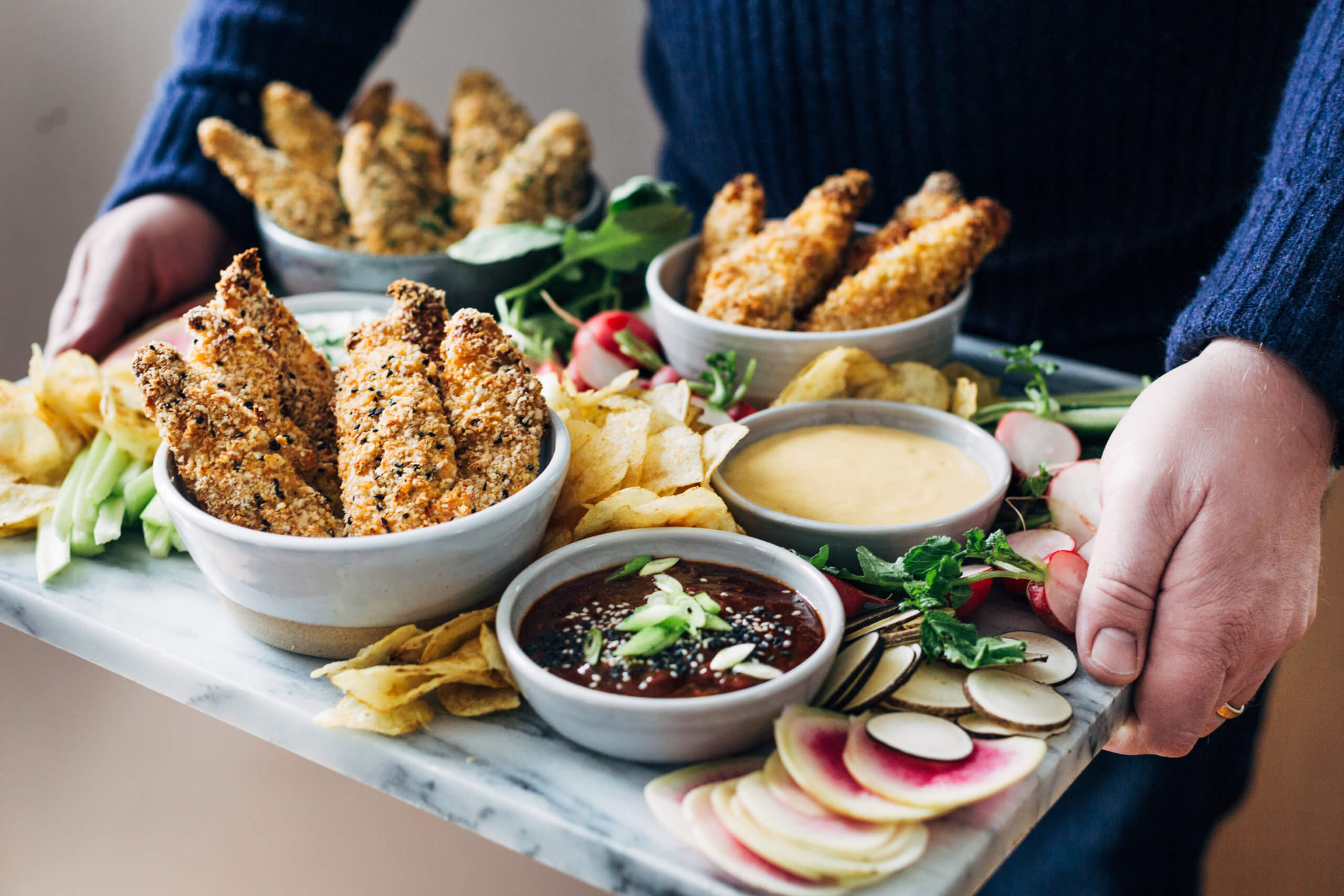 How to make a Vibrant Chicken Tenders Board
Your chicken tenders board should center the flavors and dips that you love. I love the crunch and contrast the fresh veggies lend, and went with a semi-seasonal mix of celery and radishes, plus hothouse cucumbers. I also piled on my favorite potato chips, because I really wanted to get to the most out of all those tasty dips. Other additions could include french fries, roasted vegetables, hot sauce or salsas, all kinds of chips, and whatever else suits your tastes.
For me, the core elements of a great chicken tenders boards are:
Baked chicken tenders: Tenders can be prepped and breaded a few hours ahead of time. They bake up in under 20 minutes, meaning they'll be piping hot and delicious at serving time.
Flavorful dips and dressings: Whether you go homemade or store-bought, consider adding a fresh garnish like herbs or green onions, or sesame seeds.
Fresh Vegetables: I like to play with what's in season, but any traditional crudités will do nicely here. Think about color – I went with a mix of green hues, with a pop of pink from watermelon radishes. Other options like radicchio, endive, carrots, green beans, or Bell peppers would all be gorgeous.
Other Dip-ables: I'm very partial to potato chips. Add a selection of your favorite crunchy snacks.