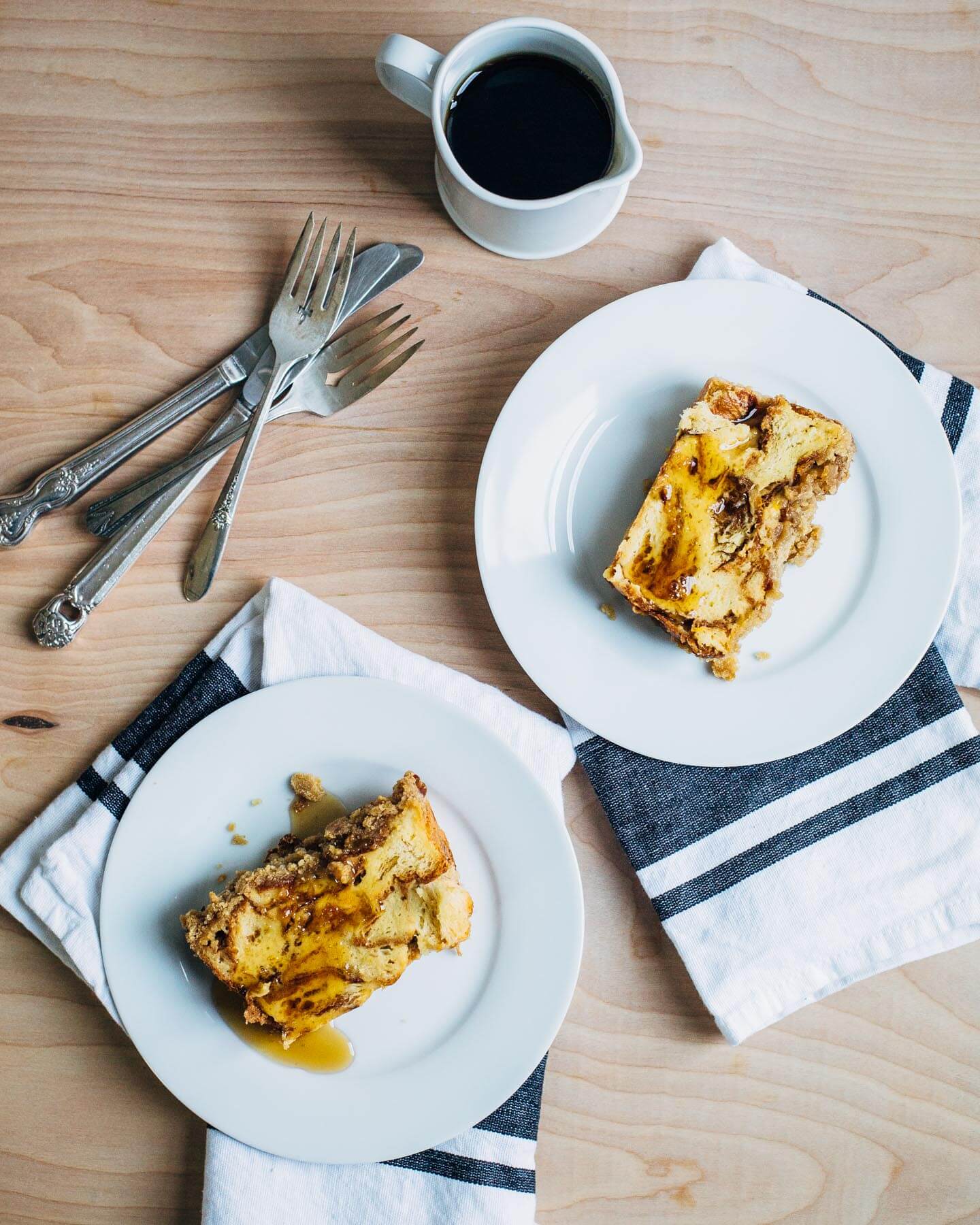 A simple and festive recipe for baked eggnog french toast from Jennifer Farley's gorgeous new cookbook The Gourmet Kitchen.
Three years ago, when Brian and I moved from New York to Charlottesville, we'd hit a low point. The recession had drained us financially and mentally – we had two kids smushed into a leaky 800 square foot, third-floor walkup apartment and felt worn down and powerless. Looking back on my posts from then, I see how much cheer and comfort making and sharing food brought when we really needed it. I loved creating something beautiful in spite of my drafty kitchen with its horrible green asbestos tile floor.
Here in Charlottesville, our space is still cozy, but it's cheery and bright. All the windows close completely and it doesn't leak. It's hard to express what it means to me, that we've made it back from our hard times. As 2016 wraps up and a year of unknowns looms, I want to tell you how much you mean to us. Every time someone lets me know they made one of my recipes, it warms my heart. Connecting with readers from all over the world, has made our lives richer and better. Thank you. We wish you a bright and happy holiday season and a really good year ahead.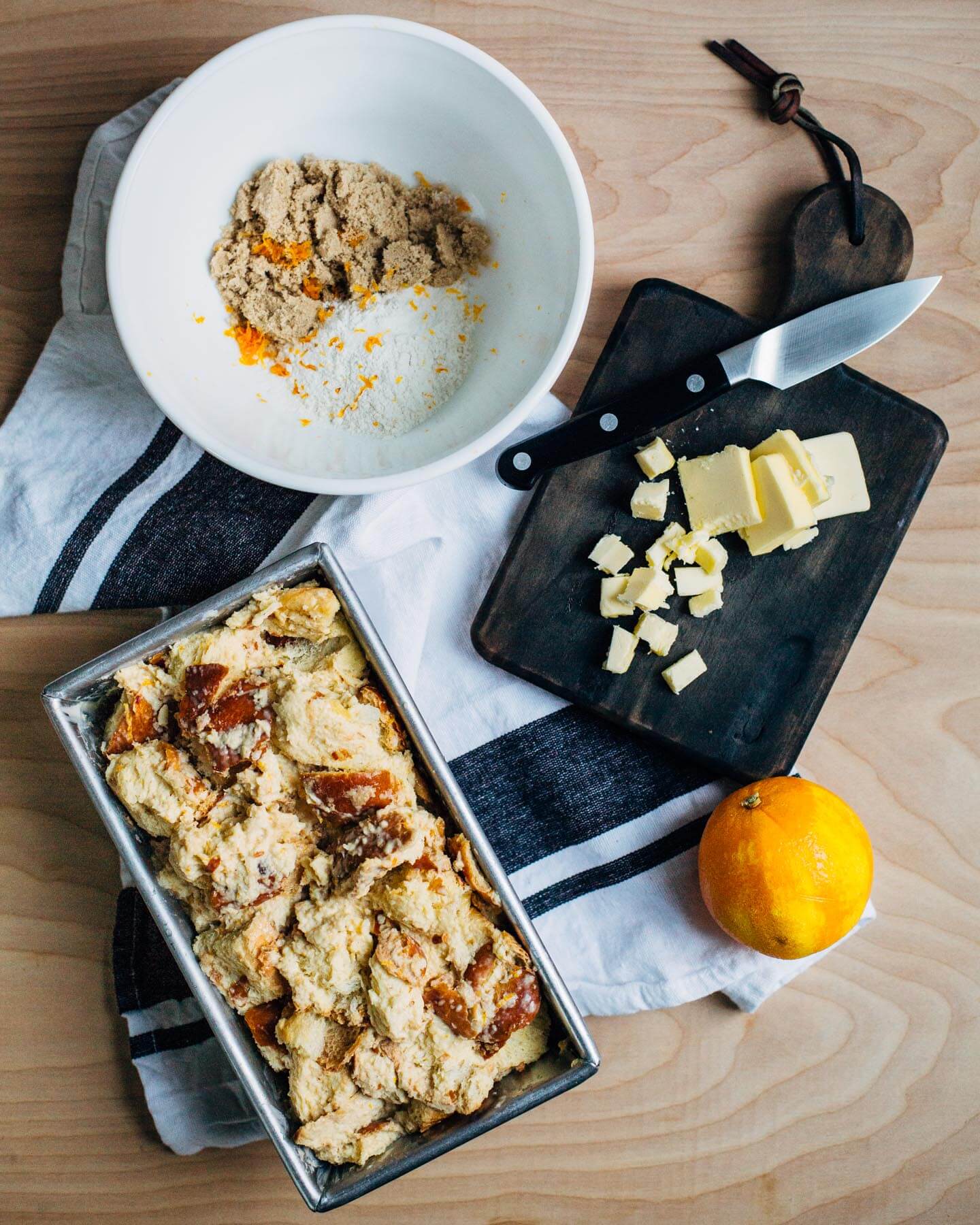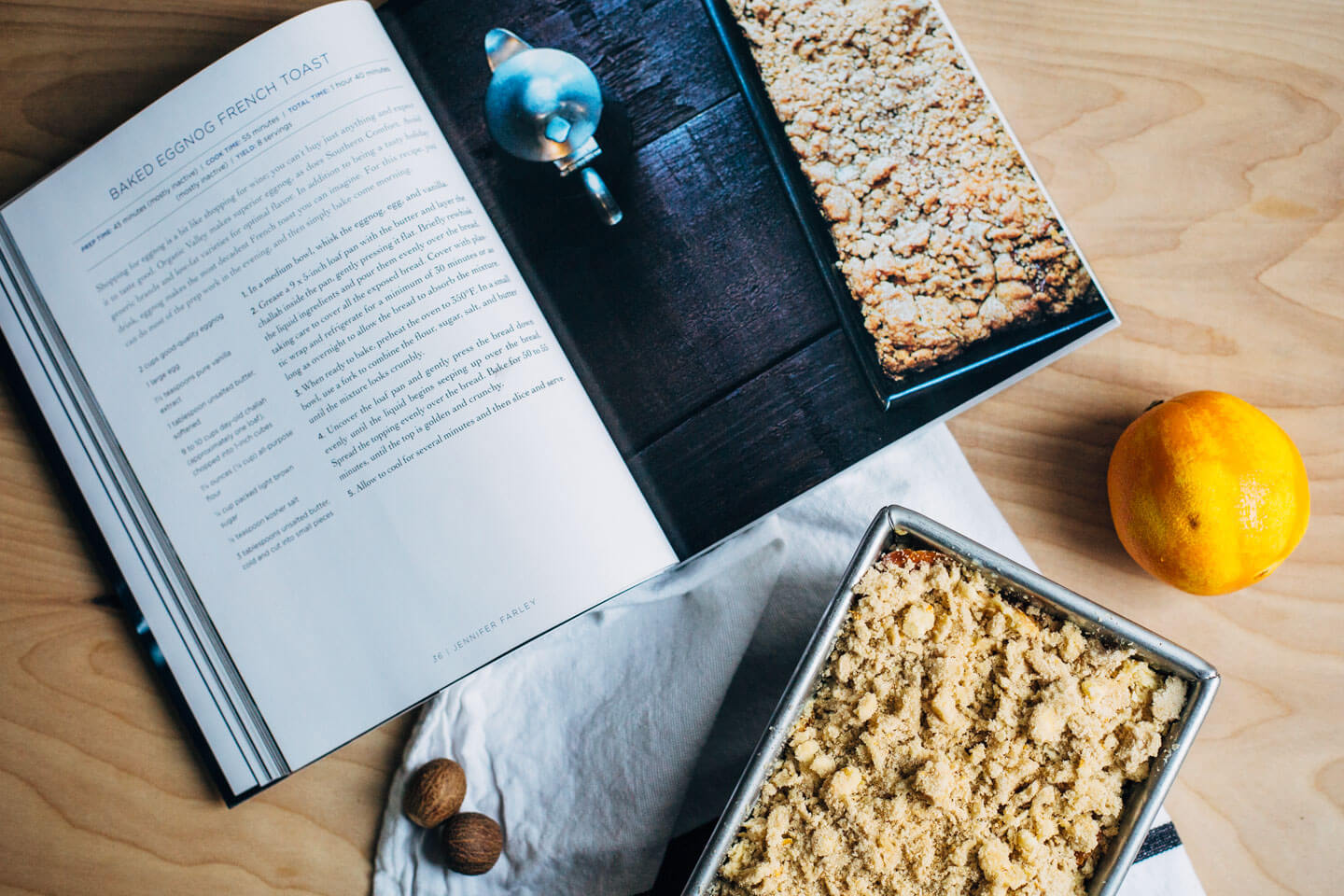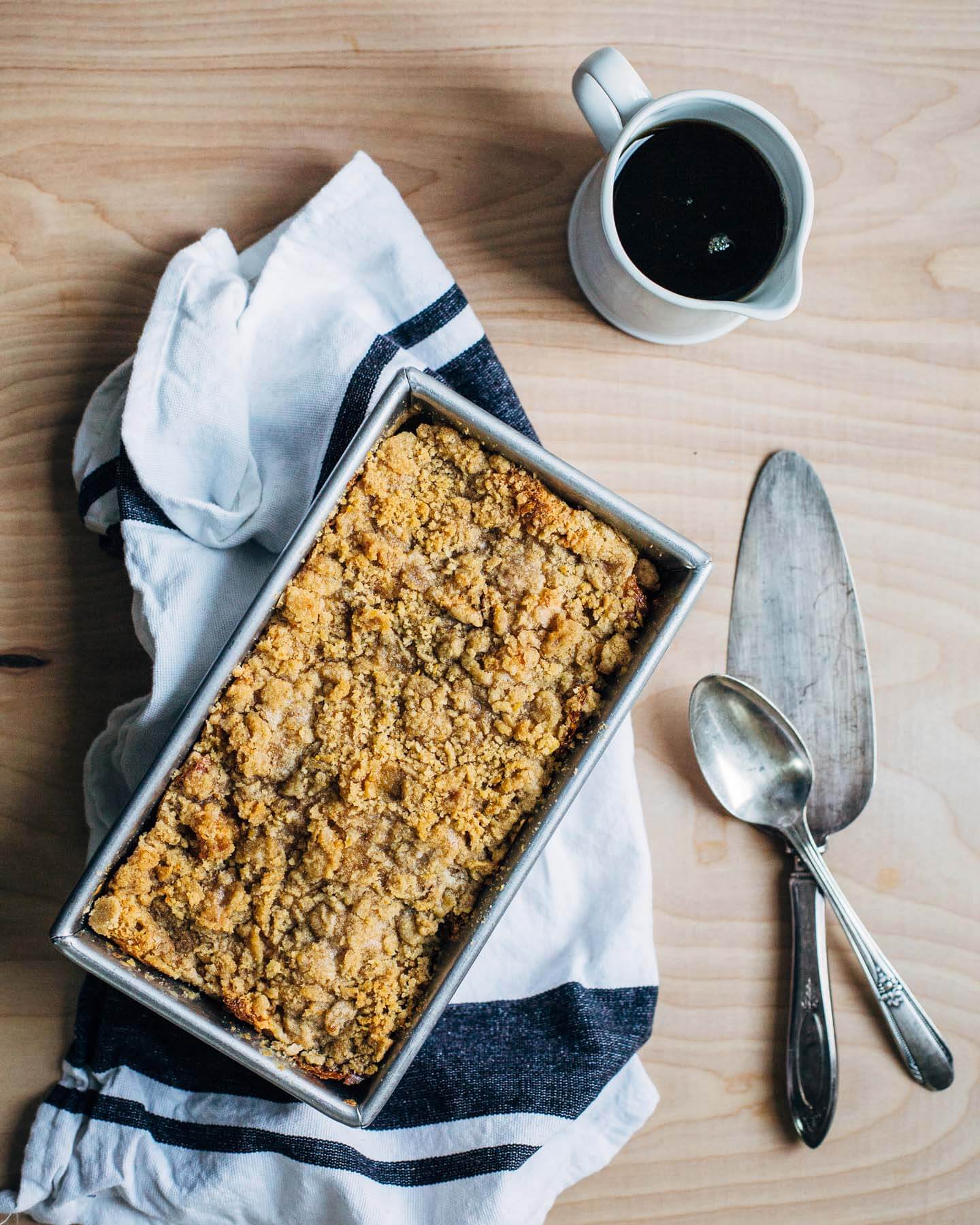 Longtime readers may know that a fancy family breakfast is one of our most beloved Christmas traditions. I especially like make-ahead baked french toast, since it's simple to assemble and bake, even during the chaos of Christmas morning. This recipe, from Jennifer Farley's brilliant cookbook The Gourmet Kitchen, is even simpler than my go-to recipe, as it harnesses the power of eggnog which takes care of most of the eggs, sugar, spice, and milk in one fell swoop. Her french toast is tender and airy, and is topped with a sweet crumble topping that lends sugary crunch to every bite.
The Gourmet Kitchen is an instant classic, filled with simple, smart recipes that are approachable and sophisticated, much like the beautifully-photographed recipes Jennifer shares on her blog Savory Simple. I nominate Jennifer's book as an ideal holiday gift both for novice cooks and those among us who want to eat well without spending the day by the stove.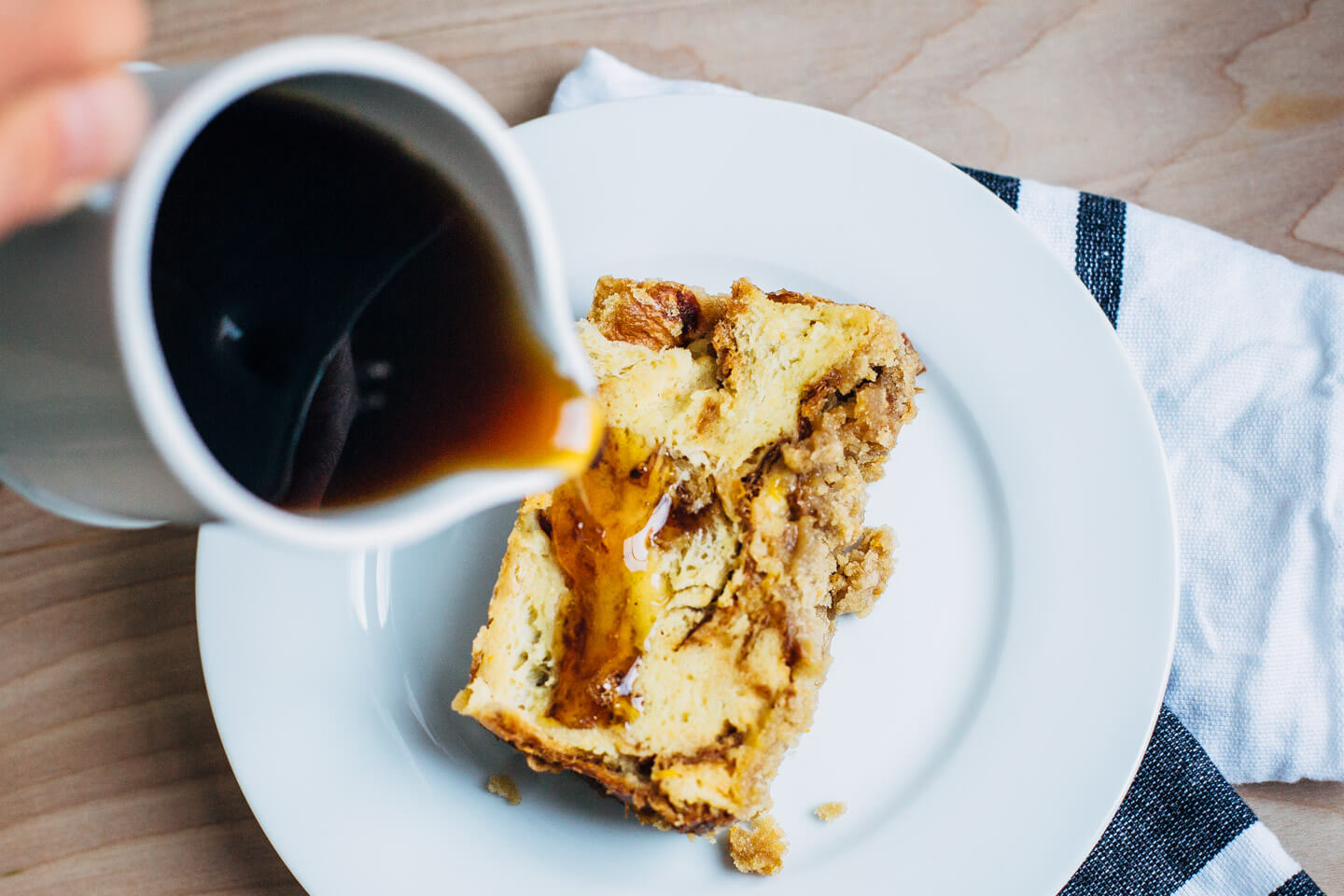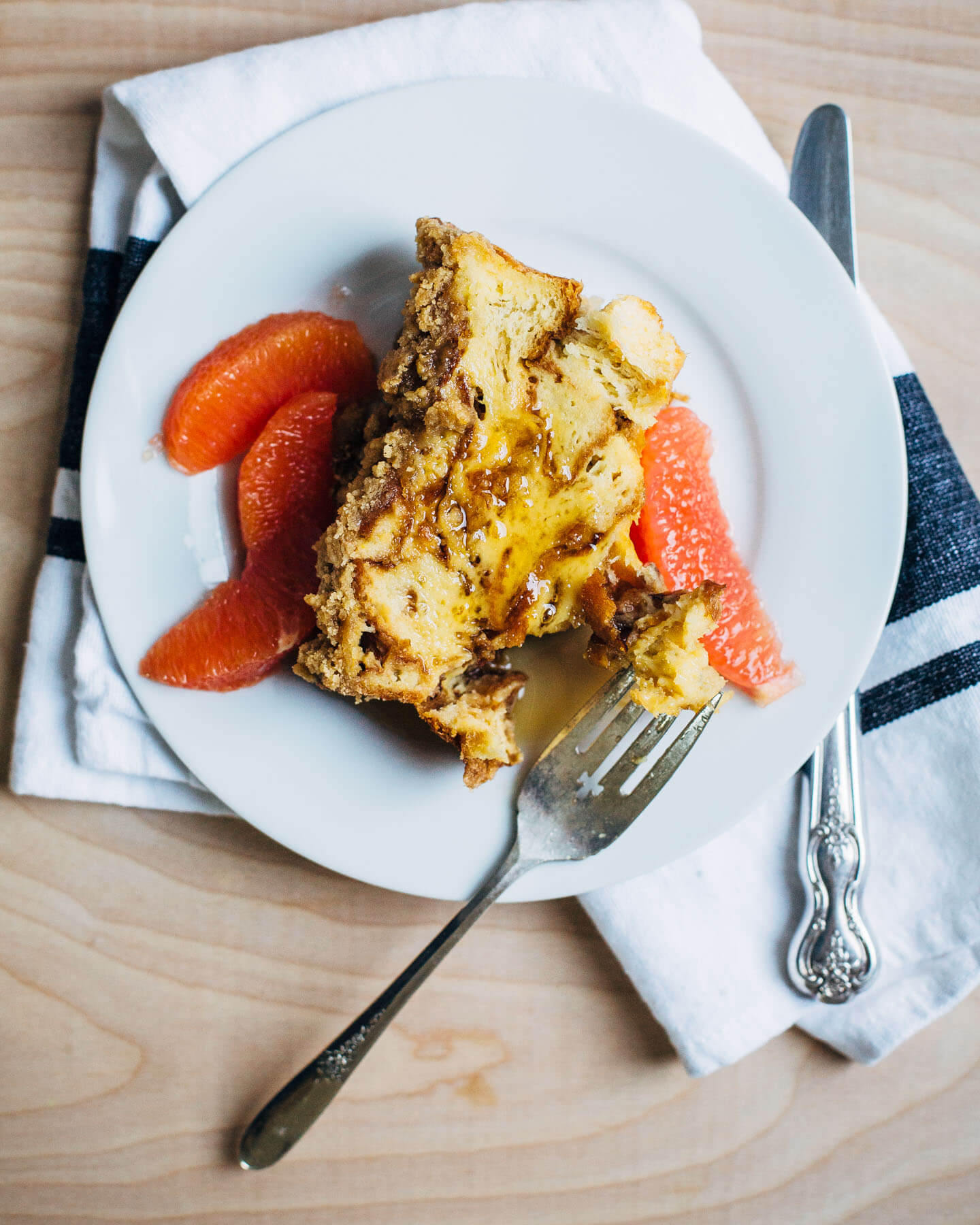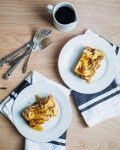 Baked Eggnog French Toast from The Gourmet Kitchen
A simple and festive recipe for baked eggnog french toast from Jennifer Farley's new cookbook,
The Gourmet Kitchen
.
Ingredients
For the French Toast
2

cups

good-quality eggnog

1

large egg

1 1/2

teaspoons

pure vanilla extract

1

teaspoon

orange zest

1

tablespoon

unsalted butter,

softened

9

cups

day-old challah,

cut into 1-inch cubes, approximately one loaf
For the Topping
1 1/4

ounces

all-purpose flour

(1/4 cup)

1/4

cup

packed light brown sugar

1/8

teaspoon

kosher salt

3

tablespoons

unsalted butter,

cold and cut into small pieces
Instructions
In a medium bowl, whisk to combine eggnog, egg, vanilla, and orange zest.

Grease a 9 x 5-inch loaf pan with 1 tablespoon butter and layer challah cubes inside pan, gently pressing flat. Briefly rewhisk the liquid ingredients and pour evenly over bread, taking care to cover all the exposed bread. Cover with plastic wrap and refrigerate for a minimum of 30 minutes or as long as overnight to allow the bread to absorb the mixture.

When ready to bake, preheat oven to 350 degrees F.

To make the crumb topping, in a small bowl, use a fork to combine flour, brown sugar, salt, and butter until mixture looks crumbly.

Uncover loaf pan and gently press bread down evenly until the liquid begins seeping up over the bread. Spread topping evenly over the bread. Bake 50 - 55 minutes, until top is golden and crunchy.

Cool several minutes, and then slice and serve with a drizzle of maple syrup