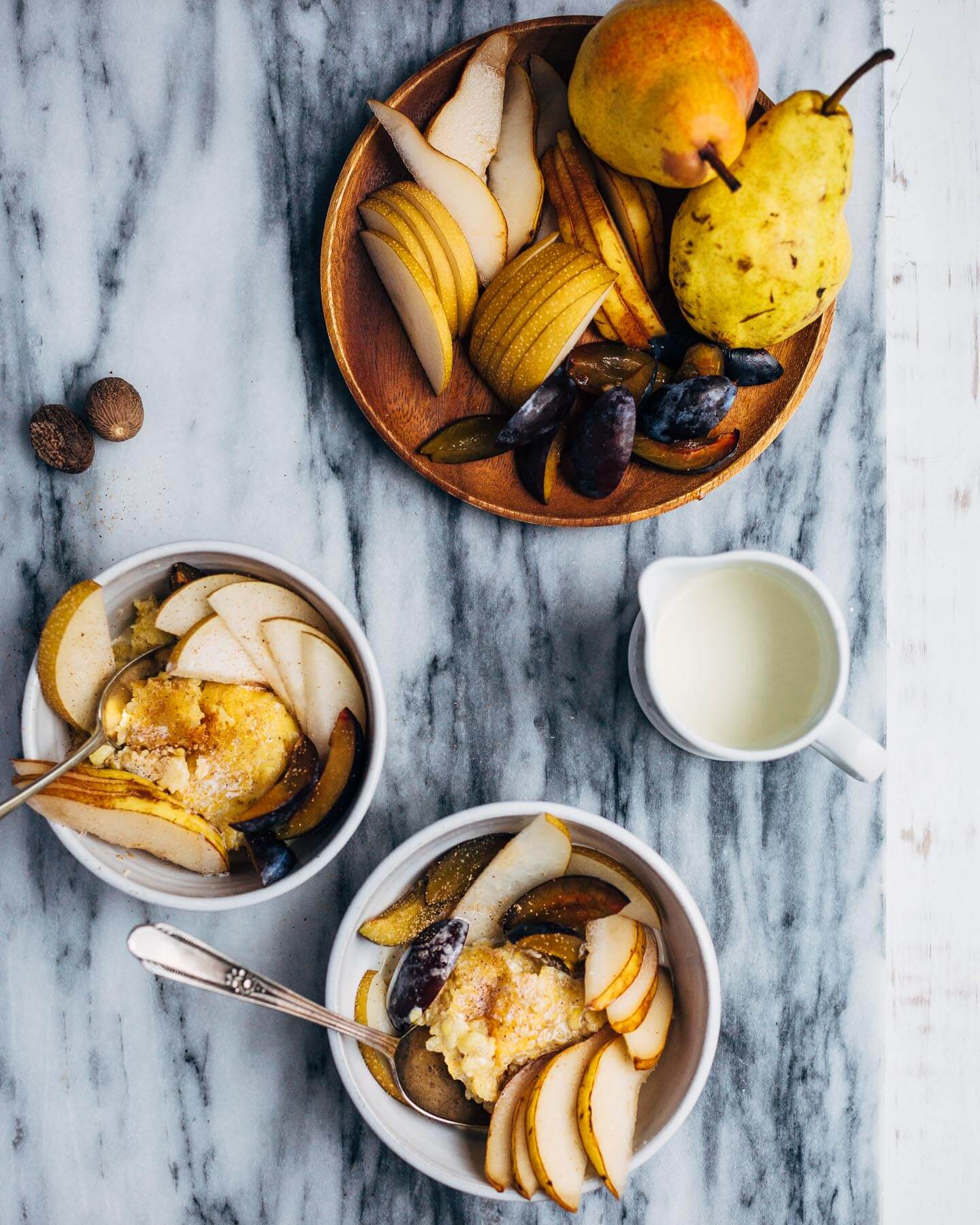 Creamy baked grits with sweet corn and fresh fall fruit from Alanna Taylor-Tobin's new cookbook, Alternative Baker. Jump to recipe.  
A few weeks back, Alanna Taylor-Tobin's beautiful new cookbook, Alternative Baker, landed on my doorstep and quickly earned a spot on my cookbook shelf. My cookbook shelf space is extremely limited, so that really means something. As you may have inferred, Alanna's book is dedicated to baking with gluten-free grain- and nut-based flour alternatives and features a stunningly-photographed array of creative sweets including tender muffins, golden fruit pies, and airy cakes.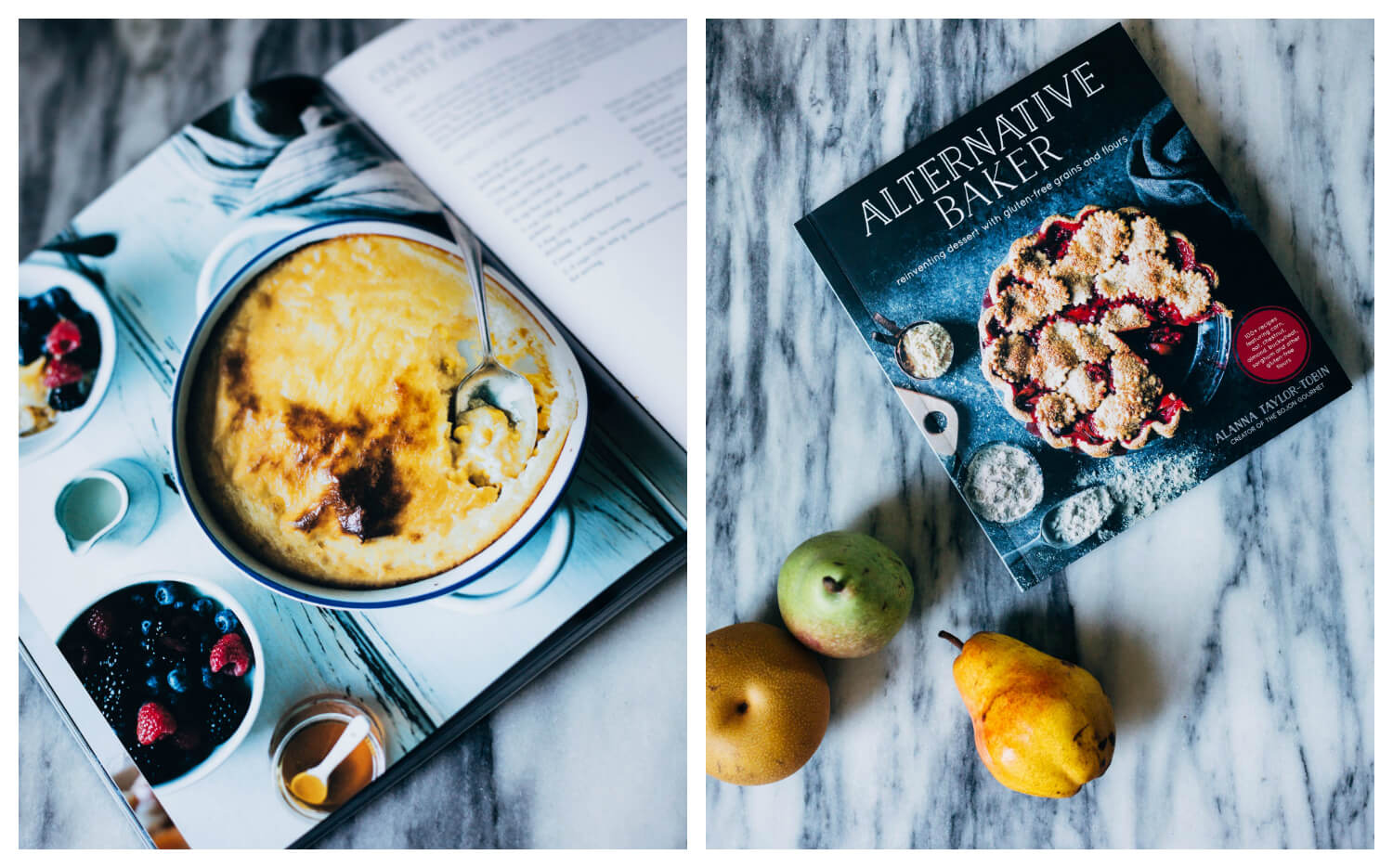 Alternative Baker goes well beyond the gluten-free basics, in that it doesn't just treat alternative flours as substitute ingredients, but explores the multifaceted flavors they can add to baked goods. Alanna's book is an education for everyone, not just those who need to eat gluten-free and offers home cooks of every stripe an education in baking fundamentals and creative ways to build flavor.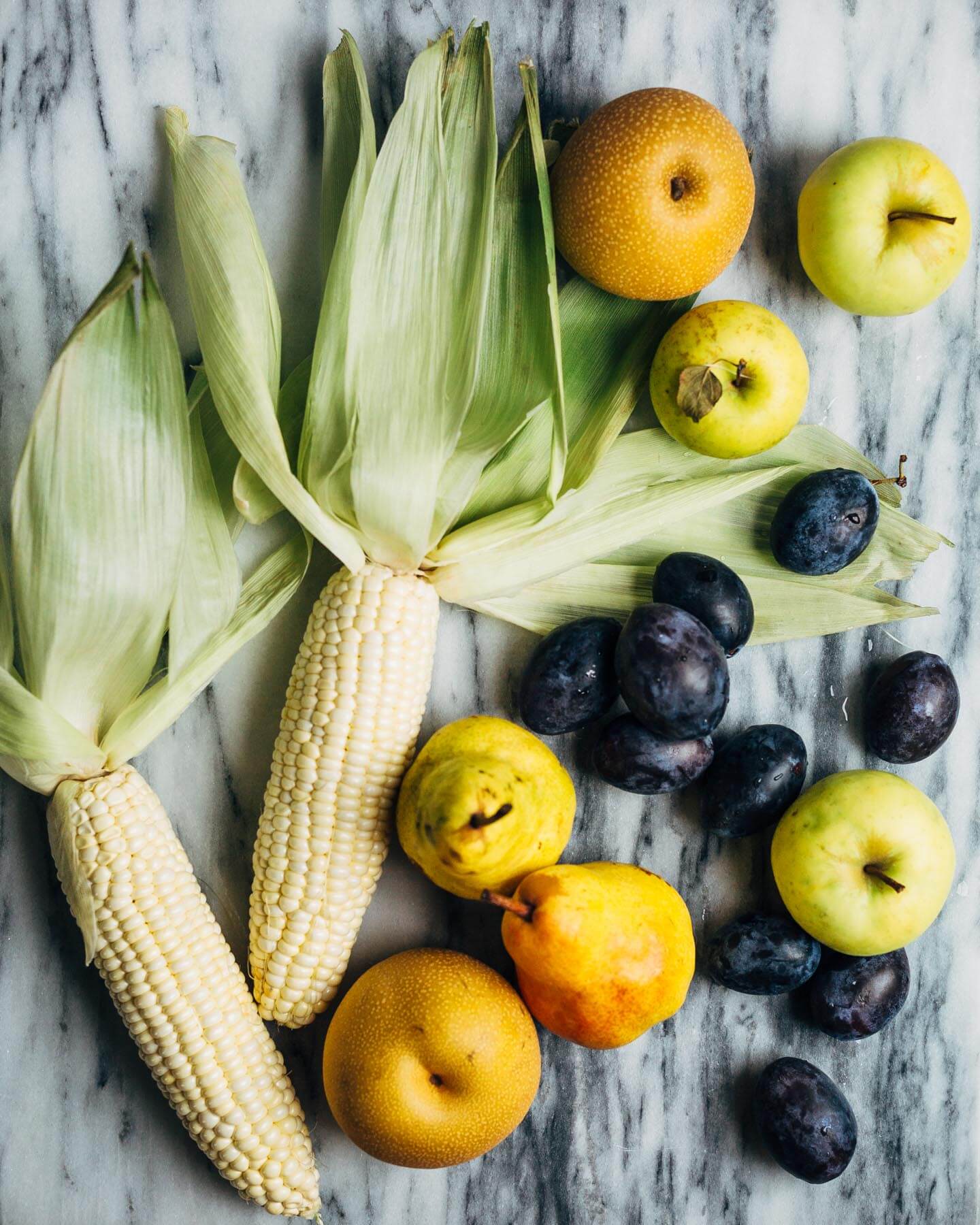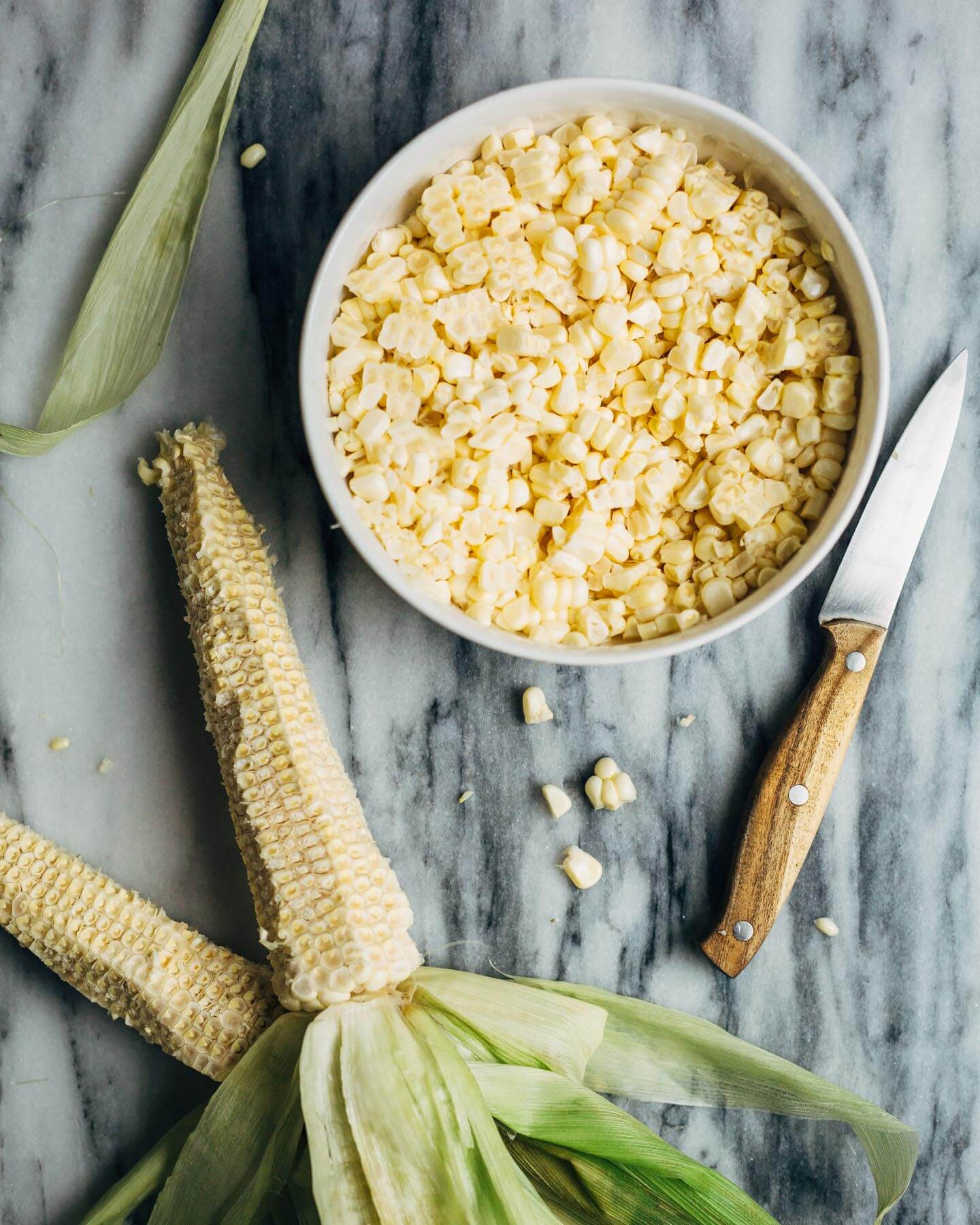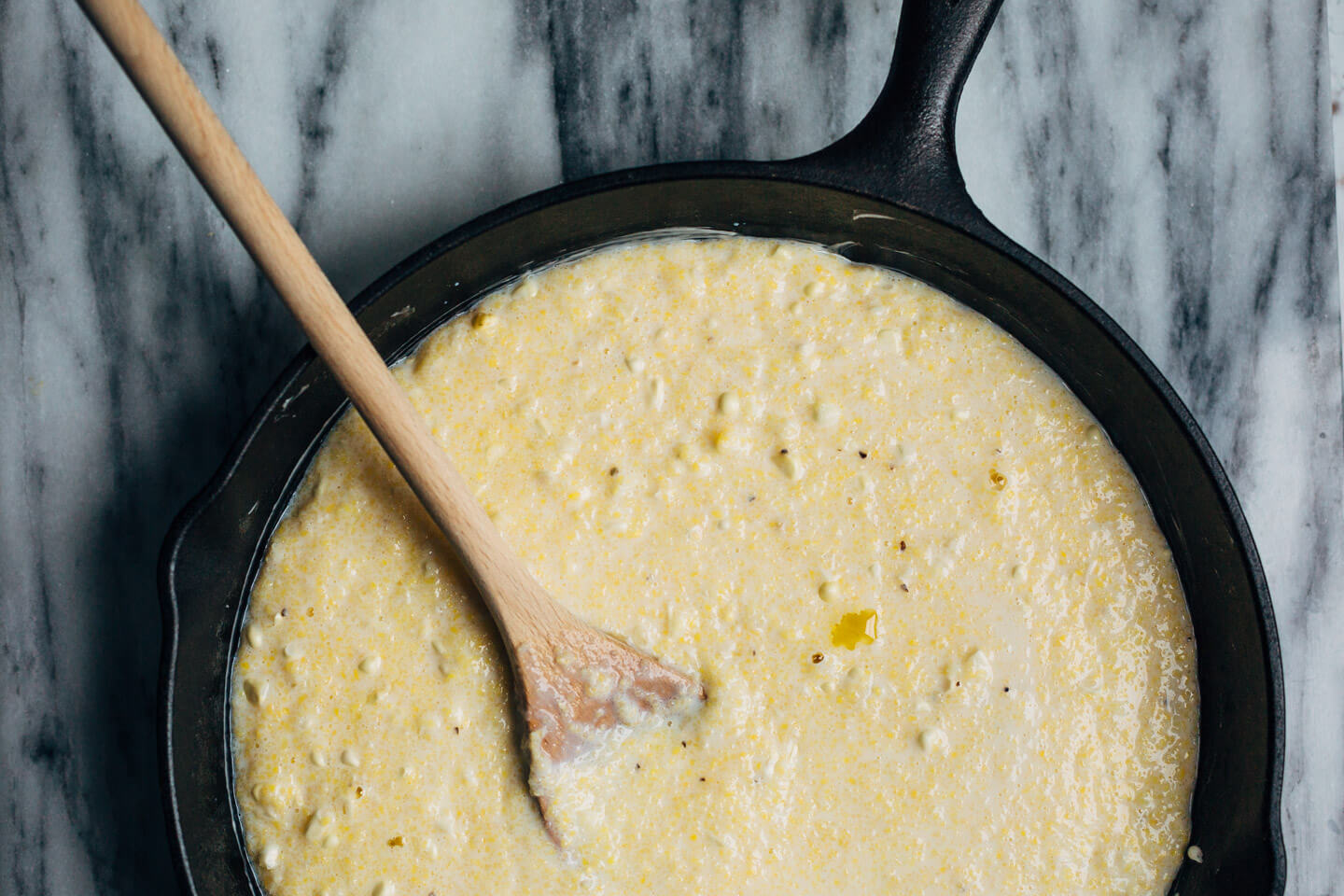 It was nearly impossible to select just one recipe to share here, but I found myself coming back time and again to Alanna's Creamy Baked Grits with Sweet Corn and Berries. Somewhere between a soufflé and a porridge, I thought Alanna's recipe was ideal for fall interpretation. So I gathered an array of October fruits – pears, Asian pears, apples, and plums – and got down to cooking. The grits were golden brown on the outside, and creamy sweet on the inside. I served them topped with sliced fall fruit, a drizzle of maple syrup, and a splash of cream. It was wholesome and comforting and exactly what you want to be eating as real deal fall descends.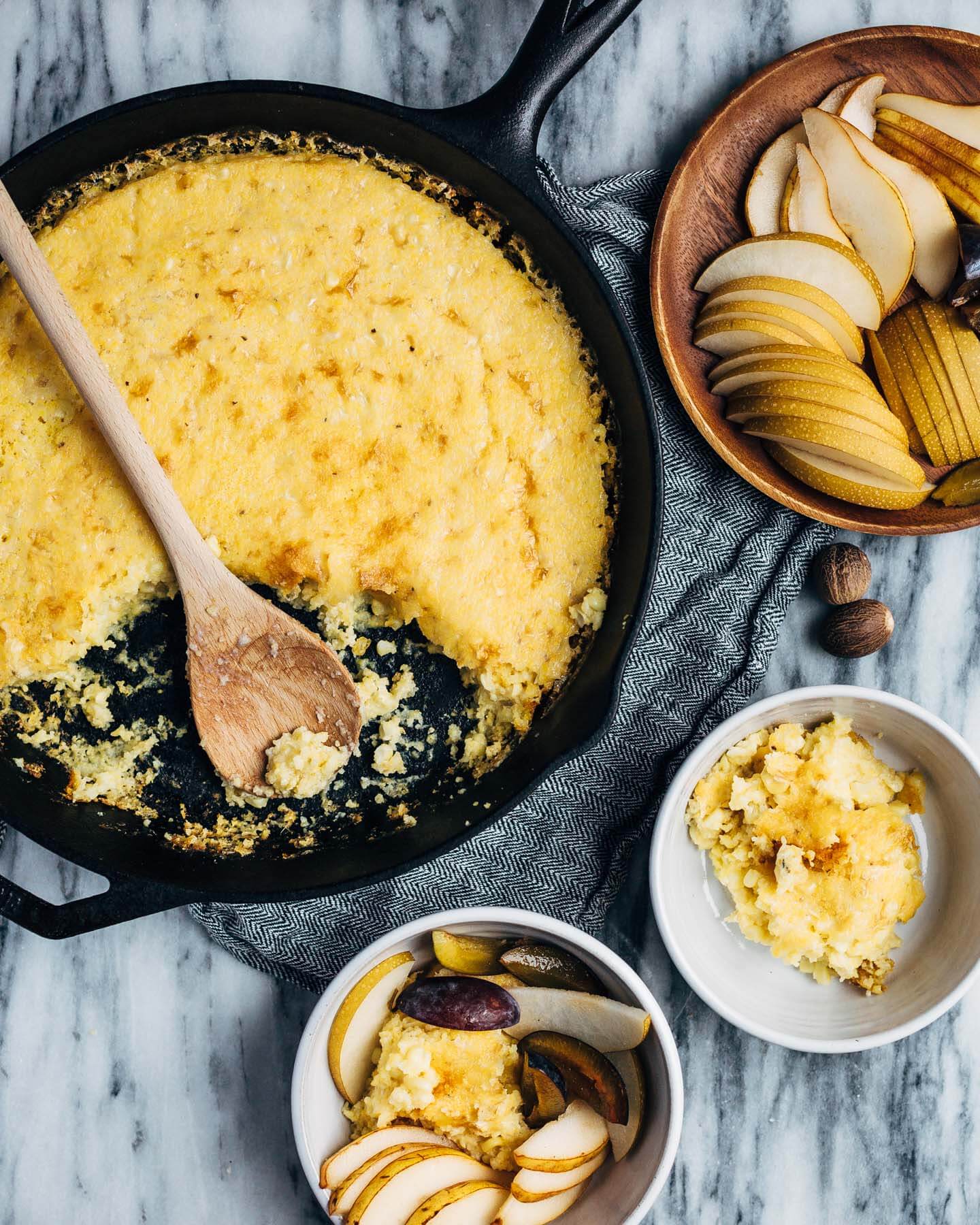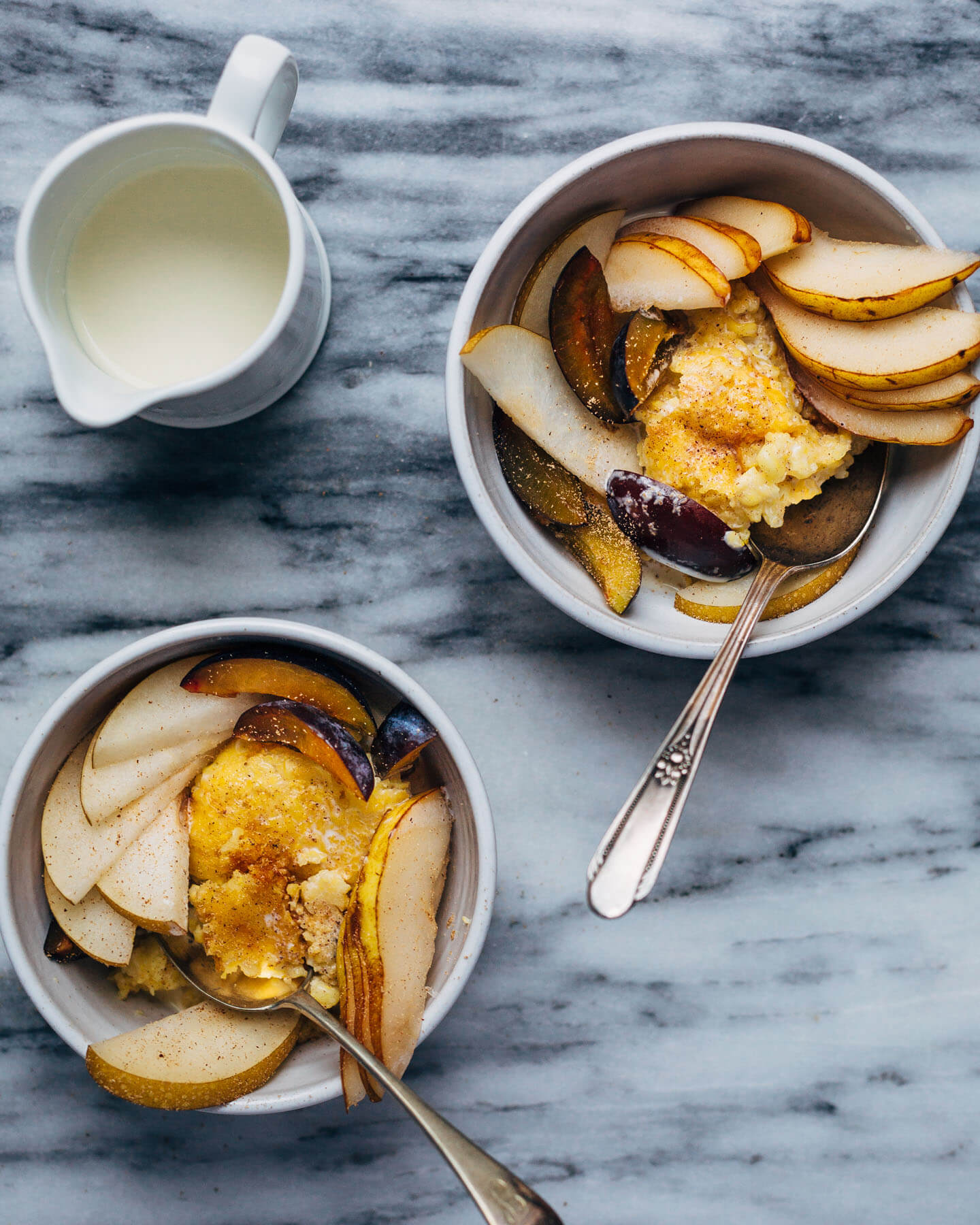 These grits have just a touch of sweetness, and can be eaten for breakfast, dinner, or dessert. The texture is quite nice right out of the oven, though it also reheats well. In a nod to fall vibes, my version subbed honey for maple syrup and added freshly ground nutmeg. I'm also planning to tuck this recipe away for spring, because I know it will be splendid piled with cherries.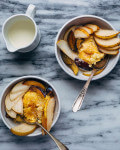 Baked Grits with Sweet Corn and Fall Fruit
Buttery, creamy baked grits with fresh corn and fresh fall fruit.
Ingredients
2

tablespoons

unsalted butter

plus 1 teaspoon for greasing the pan

2

large ears sweet corn

2 1/2

cup

water

2 1/2

cups

whole milk

3/4

teaspoon

fine sea salt

1

cup

uncooked yellow corn grits or polenta

3

tablespoons

honey or maple syrup

(I used maple syrup), plus extra for drizzling

1/2

teaspoon

freshly grated nutmeg

(optional), plus more for serving

cream or milk for serving

2 - 4

cups

mixed fall fruit

such as pears, apples, and plums, sliced
Instructions
Position a rack in the upper third of the oven and preheat to 350 degrees F. Rub a 2-quart gratin dish, 10-inch ovenproof skillet, or 9-inch square baking pan with 1 teaspoon butter.

Shuck corn and remove silk. Hold a cob upright in a shallow bowl and, with a downward sawing motion, use a small serrated knife to carefully slice off the top half of the kernels. Reverse the knife and use the back of the blade to scrape the remaining milk from the cob and into the bowl with the kernels. Repeat with the remaining cob. You should have about 1 1/2 cups kernels and scrapings.

In a medium, heavy-bottomed saucepan, heat water, milk, and salt over a medium-high flame until it comes to a simmer, stirring occasionally to prevent the milk from scorching and taking care not to let the pot boil over. Whisking constantly, slowly sprinkle in the grits, and cook, still whisking, until the grits have swollen into a thin porridge, about 10 minutes, decreasing the heat as needed to maintain a bare simmer. Remove form the heat and whisk in the corn kernels and scrapings, the 3 tablespoons honey or maple syrup, the remaining 2 tablespoons butter, and nutmeg.

Pour the grits into the greased pan and place on a rimmed baking sheet to catch any drips. Place in the oven and bake until the edges and top are golden and the grits have thickened, 60 - 70 minutes. The grits will soufflé up in the oven, but will settle back down when cool. Let the grits cool for 15 minutes – they will thicken considerably – then spoon into bowls and serve warm topped with a splash of cream, a drizzle of honey or maple syrup, a few grates nutmeg, and a mess of fresh fruit.

The grits will continue to thicken and firm as they cool. Leftovers can be chilled, cut into squares, and seared in a hot, buttery skillet to reheat. They will keep, refrigerated airtight, for up to 3 days.
Disclosure: The publisher sent me a free copy of Alternative Baker. It's been a pleasure sharing Alanna's gorgeous book with you!