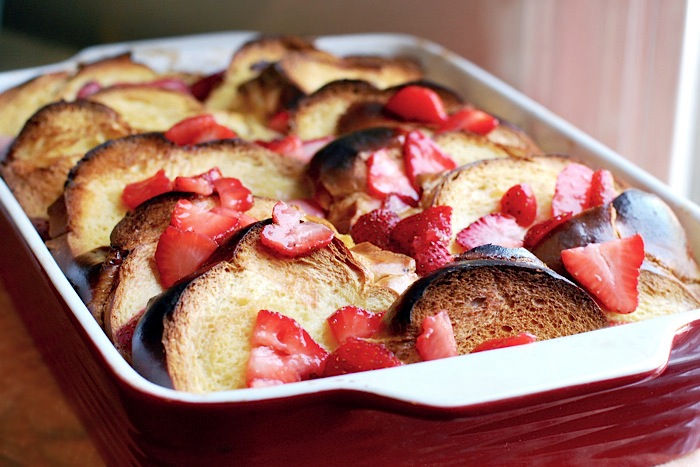 Things around here feel lighter lately. The blustery spring winds seem to have taken many of my worries with them. Life feels really right, and I'm grateful for it. I have a tendency to make things much more complicated than they need to be, but recently I've tried to streamline, keep my brain in check, and above all else, keep it simple. Also, our house has been clean for 5 days straight and that's seriously some kind of (wonderful) record.
For Mother's Day we're going to stay close to home, eat some brunch, and maybe fly a kite. If you have similar plans, let me suggest baked french toast. Essentially a less sweet version of bread pudding, this is the easiest breakfast possible. Just mix up the eggs and stuff, slice the bread, arrange it, pour, and cover. You can make it the night before, or early on in the morning. Then just bake and serve. How easy was that?
Whether you are a mom, have a mom, or have lost a mom, Mother's Day is a time to reflect on the amazing women who brought us all here in the first place (Thanks Mom! I love you. Now that I know what hard work it was I appreciate you more than ever.). Nice work ladies. Now, grab some coffee and pour yourself an extra generous slug of maple syrup.
1 loaf day old challah, sliced into 3/4" thick slices
1 cup strawberries, hulled and sliced, plus more for garnish
4 eggs
3 1/2 cups milk
3 teaspoons sugar
1 teaspoon salt
2 teaspoons fresh grated nutmeg
zest of 1 lemon
1 tablespoon vanilla extract
Butter a 9 x 13" baking pan. Arrange the challah slices so that they are overlapping, tearing a few pieces in half if needed. Tuck the strawberries between the slices.
In a medium mixing bowl, lightly beat the eggs. Whisk in the milk, sugar, salt, nutmeg, zest, and vanilla. Pour over the challah. Make sure that all of the slices are just about covered by the egg mixture–add more milk or rearrange the slices until they are. If refrigerating overnight, cover and chill. Otherwise, cover and refrigerate for a half hour, or longer if you have time.
Preheat the oven to 350 degrees and take the baking dish out of the fridge. Once the oven is up to temperature, bake for 40 – 45 minutes, until the french toast is a light golden brown and has puffed up nicely.
Slice and serve immediately with maple syrup and sliced strawberries.